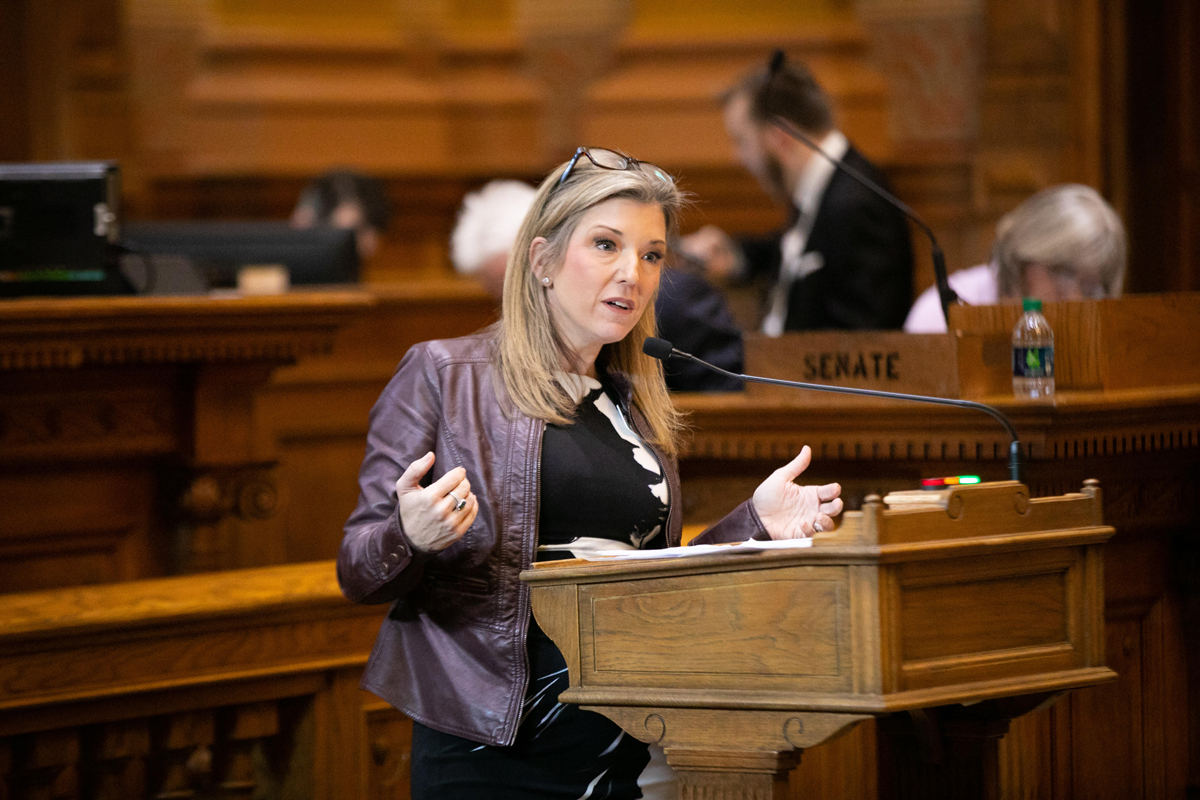 "It's been incredibly weird," says state Senator Jen Jordan of everything that's happened since March 22, when a video her dissent of Georgia House Bill 481, the "heartbeat bill" that criminalizes most abortions after six weeks of pregnancy, went viral.
In her speech, which has been viewed and shared thousands of times, the Democrat offered a lacerating critique of the bill and its legal implications for women and their physicians. Before she was elected senator in Georgia's 6th district (which includes parts of Cobb and Fulton counties, including Smyrna, Vinings, and Buckhead) in 2017, Jordan was known as a top-notch attorney, so her audience expected she'd make a powerful argument. What they didn't expect was what Jordan said next.
"I have been pregnant 10 times," Jordan told the audience, her voice never wavering. "I have seen what many of you in here have called a heartbeat 10 times. But I have only given birth twice. I have lost seven pregnancies in varying points of time before 20 weeks. And one after five months. Her name was Juliette.
I have laid on the cold examination table while a doctor desperately looked for a 'heartbeat.' I have been escorted out the back door of my physician's office so as not to upset the other pregnant women in the waiting area, my grief on full display and uncontainable."
Jordan says she wrestled for a long time about offering up her personal tragedies for public scrutiny—she crafted the speech so that she could remove the intimate details at the last minute if she needed to.
"A lot of this stuff, my best friends didn't know about. Some of my family didn't know," she says. "I have a 14-year-old son; he knew nothing about any of this."
For weeks, she had been listening to the debate around HB 481, but said she hadn't heard any talk—honest talk—about how the bill would impact women in real, messy terms: the toll that pregnancy takes on a woman's body, on her relationships, on her ability to get or keep a job or access healthcare. The anguish that mothers experience when their wanted pregnancies cannot be saved. The way that someone like her might be subject to prosecution if it was suspected that she may have caused her own miscarriage.
"The way men talk about pregnancy, it's like it's chewing gum," says Jordan. "But it's one of the most difficult things for women to go through in their lives. I thought, does anyone get this? It felt like we weren't even dealing with the same reality."
One night, at 2 a.m., she woke up and started writing. She didn't show the speech to anyone until the night before she was planning to testify, when she let her husband read it. She felt he had a right to know what was coming. It was his story, too.
"People were treating [the debate] like the same political back and forth. I thought they needed to understand—they being the men in the chamber—that this is something that is deeply personal for women," says Jordan. "Just like every woman I know has a Me Too story, every woman I know has a reproductive health story. It's just that nobody ever talks about it because it can be deeply painful."
Jordan's speech resonated with many women, who she says now approach her everywhere she goes to share their own experiences with abortion, miscarriage, and infertility. The speech also raised her political profile. Not long after, she was invited to testify before the U.S. Senate Judiciary Committee about the Pain-Capable Unborn Child Protection Act, a bill cosponsored by Republican Georgia U.S. Senators Johnny Isakson and David Perdue that would ban most abortions after 20 weeks of pregnancy. The Atlanta-Journal Constitution recently included her on their shortlist of potential Democratic challengers to Perdue, whose term is up in 2020.
Jordan says she's "absolutely" considering it. "I want everybody to be on notice that it's going to be me and a bunch of other women [running in the future]," she says. "When I was younger, I really couldn't give a great explanation for why I was pro-choice. Now as a 44-year-old mother, it's like I can finally give voice to this."
"Being a mom is hard," she continues. "Being pregnant is hard. Being a woman is hard. And the least that we should be given is the ability to control our bodies. You can tell there aren't a lot of women in the room when they're talking about this kind of public policy. In 2019, that's mind-boggling to me."
In the meantime, she's watching and waiting to see the outcome of litigation challenging HB 481, which she expects to be filed immediately after it is signed into law. [Governor Brian Kemp is expected to sign the bill on May 7.] Jordan knows that the bill was designed as a challenge to Roe v. Wade, and that the legal challenge may make its way up to the Supreme Court. If what she describes as "the worst-case scenario" comes to pass—the Court decides that abortion is a states' rights issue and Roe is overturned—she says pro-choice Georgia voters have to be ready.
"If it's going to be a states' rights issue, then we need to make sure that the people who are governing this state in 2020 are people that will repeal this law," she says, "and make sure that it never goes into effect here."