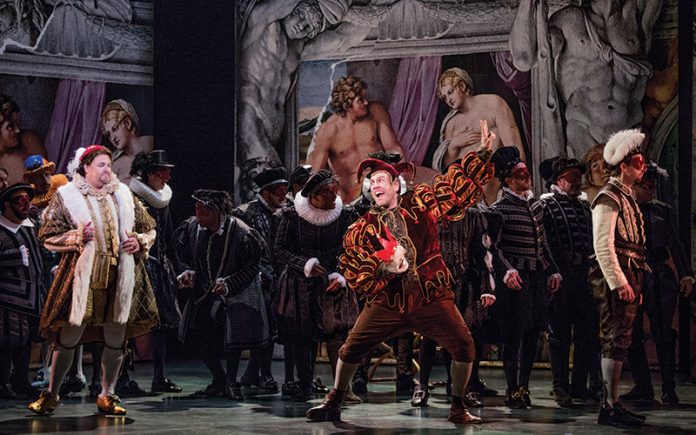 This month, the Atlanta Opera stages Verdi's Rigoletto. To help you impress (or entertain) your opera-going companions, a few nuggets you can drop before the curtain rises or during intermission.
The speedy synopsis: Rigoletto is the story of the licentious Duke of Mantua, the hunchbacked jester Rigoletto, and the jester's lovely daughter, Gilda. The duke seduces a courtier's daughter, the courtier curses the duke and Rigoletto, Gilda falls in love with the duke, and it all ends tragically (see: aforementioned curse).
The opera is based on the 1832 play Le Roi S'Amuse by Victor Hugo, best known for the novels Les Misérables and Notre-Dame de Paris (aka the book that gave us Quasimodo and Esmeralda).
Hugo's play was banned after just one performance, and the opera likewise ran into objections from censors displeased with the depiction of a lusty, ruthless royal protagonist. To mollify them, Verdi demoted the main character from king to duke.
"La Donna è Mobile," the opera's best-known aria, plays in Grand Theft Auto, that Doritos Super Bowl ad where a baby is slingshotted to steal his brother's chips, The Simpsons, and an Argentinean ad for Axe body spray. The aria has been performed by Luciano Pavarotti, Alvin and the Chipmunks, Three Mo' Tenors, and Stephen Colbert (with an assist by Plácido Domingo).
Since it debuted in 1851, Rigoletto has been reimagined in a host of settings, including mafioso-controlled 1950s Little Italy, Planet of the Apes, Rat Pack–era Vegas, the scandal-prone cabinet of Silvio Berlusconi, the Kennedy White House, and Prohibition-era Oswego, New York.
On the calendar: Catch Rigoletto at the Cobb Energy Performing Arts Centre on February 28, March 3, March 6, and March 8.
This article originally appeared in our February 2015 issue under "Your Rigoletto Crib Sheet."