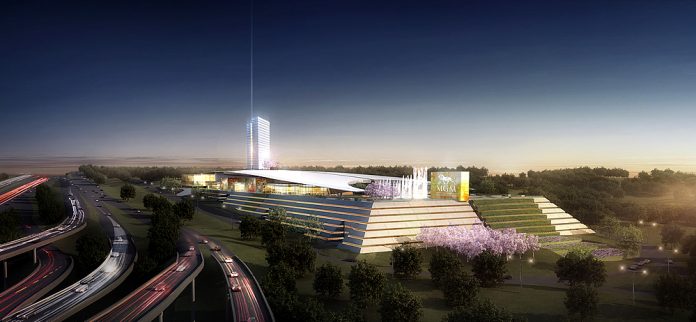 Courtesy MGM Resorts International
Casino proposals are nothing new to Georgia. For years, gambling supporters have touted the pros of expanding the state's laws to allow everything from slot machines at Underground Atlanta to horseracing at Turner Field—all of which have failed to date. Now casino lobbyists, making their strongest push in recent memory, earlier this week made overtures to state lawmakers during a study committee to examine at how legalized gambling could be used to increase education spending.
Here are some of the key takeaways from the two-day hearing—officially called the "Preservation of the HOPE Scholarship Program" study committee—that looked at the impact of casinos and horseracing. With several more hearings being scheduled, a full report is expected out before the legislative session gets underway next January. Place your bets, folks.
1. Georgia's casino industry could be huge someday.
How big, exactly? According to one industry-backed study, a plan for six casinos—two of which would be in metro Atlanta—could have a $5 billion economic impact, create over 30,000 permanent jobs, and bring in $288 million in gaming tax revenue. To place that into context, Georgia's film industry had a $6 billion economic impact during the most recent fiscal year. Jim Murren, CEO of MGM Resorts International, told the committee that casinos account for less than 10 percent of the footprints of the company's resorts—the bulk of their developments include convention halls, retail shops, hotel rooms, and entertainment facilities.
2. Don't underestimate horseracing either.
Of the nation's 20 largest metro areas, Atlanta is the only one without a horseracing track. If legalized, pari-mutuel betting advocates say, Georgia could be in line to host the Breeders' Cup, which could bring over 100,000 people to the state and have an economic impact of tens of millions of dollars. Such an event would likely bring in cash from outside Georgia, as 87 percent of all horseracing wagers nationwide happen out-of-state, and lead to the opening of off-track betting sites.
3. No tax incentives are needed to attract new gambling facilities—but look for tax rates to be a topic of debate.
Unlike sports stadiums, which aggressively negotiate for taxpayer dollars, casino and horseracing typically are built without public money. "It costs nothing," Murren said. The big fight instead would be over how much casinos and horseracing tracks are taxed. State tax rates on casinos vary dramatically across the country, from 7 percent in Nevada to over 50 percent in some northeastern states. Georgia lawmakers are eyeing a 12-percent tax out of the gate—something that could easily change.
4. Gaming tax revenue could support the HOPE scholarship program.
Expanding gambling would bring in hundreds of millions of tax dollars to the state. Where would that money go? Speculation has swirled that it might go to healthcare and transportation. More likely than not, the extra cash would help boost the HOPE, the state's merit-based scholarship program that's currently funded by the Georgia Lottery. According to state Rep. Ron Stephens, a Republican from Savannah who's the sponsoring the gambling legislation, casinos would bring in $250 million a year for the HOPE scholarship. A single horseracing track in metro Atlanta would chip in another $25 million a year to HOPE. If used right, the extra cash would help restore recent scholarship cuts.
5. Opponents voice concerns—but not in front of lawmakers.
Over the course of two days, about a dozen people offered their perspectives on different aspects of the casino proposal—but none were opponents of gambling. In the crowd, however, lobbyists for religious-right groups and other dissenters watched the proceedings closely. "It reminds me of a carpetbagger mentality, that all of the sudden Georgia's doing so bad that we need someone to come down here, sell us out to the gambling industry to get educating our children," Georgia Baptist Convention lobbyist Mike Griffin said after the hearing. Expect neighborhood groups to also stir up a fight if they get wind of specific pushes to place a casino or track near their homes.
6. Georgia voters will ultimately decide if casinos and horse racing will become legal.
If two-thirds of state lawmakers get on the same page next spring, voters will be asked in a statewide referendum to decide in November 2016 whether Georgia's gambling laws should be changed. Should Georgians approve enabling legislation, residents living in areas near casinos would then have to cast ballots, this time to allow individual casinos to be built.