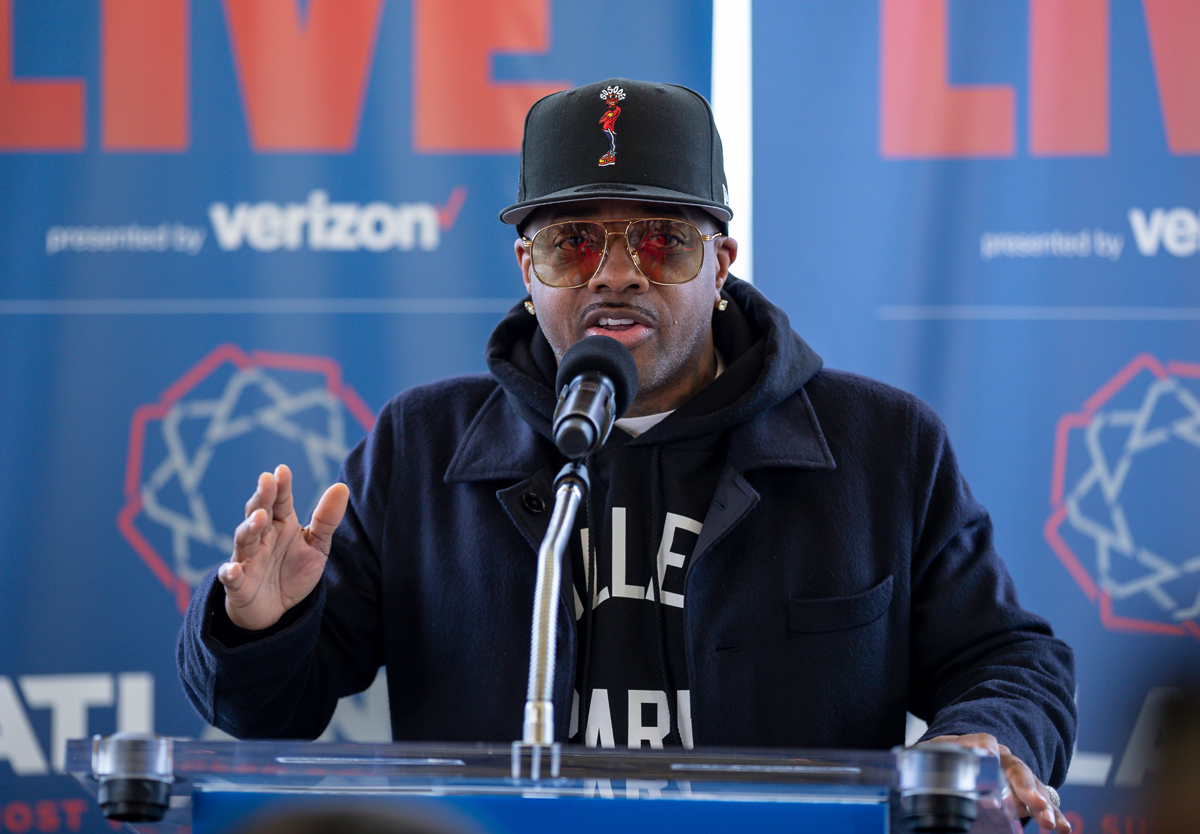 Looking for the full lineup of free concerts? Check it out in our Ultimate Super Bowl LIII Events Calendar!
Jermaine Dupri and the Super Bowl LIII Host Committee are clear about the fact that they want the upcoming Super Bowl LIVE concert series—a week of free shows that will take place in Centennial Olympic Park ahead of the Super Bowl—to incorporate and appeal to Atlanta's residents, not just the thousands of visitors who are expected to flood the city for the big game in 2019.
Each day of the series, which begins January 26 and runs through February 2, will be dedicated to highlighting the best of Atlanta music in a different musical genre, including hip-hip, country, R&B, rock, pop, and EDM. During a Wednesday afternoon press conference, the So So Def mogul announced the lineup for two of the six days of free concerts, which include hip-hop artists such as Goodie Mob, Waka Flocka, YFN Lucci, Ying Yang Twins, and more.
So far, the lineup is as follows:
Saturday, January 26, 11 a.m. – 10 p.m.: Hip-hop artists to be announced
Sunday, January 27, 12 p.m. – 7 p.m.: Country artists to be announced
Monday, January 28, 4 p.m. – 9 p.m.:  DJ Holiday & Friends: YFN Lucci, Waka Flocka, K Camp, Trinidad James, F.L.Y, Coca Vango, Light Skin Keisha, Derez Deshon, Goodie Mob
Thursday, January  31, 4 p.m. – 10 p.m.: Country and rock artists to be announced
Friday, February 1, 2 p.m. – 10 p.m.: Pop and EDM artists to be announced
Saturday, February 2, 11 a.m. – 10 p.m.: DJ Smurf & Friends: Tag Team, MC Shy D, Ying Yang Twins, Kilo Ali, KP & Envyi
While he's still working on the full lineup, Dupri says the inspiration was sparked in part by a conversation he had with a stranger at Waffle House. Dupri says the man asked him to make sure that even the Atlanta legacy artists, who are often forgotten in lieu of the current trending stars, get their shine, too.
"I don't care what anybody say besides what the people of Atlanta feel is being represented with this show," Dupri told Atlanta magazine following the press conference.
It's also very important for him to showcase the musical acts outside of hip-hop that make Atlanta a music capital, he says.
"Atlanta is a city where one thing becomes so popular and then it overshadows all of the other things that are happening in the city," Dupri says. "I wanted to make sure what I was doing didn't do that."
Offstage, one of the biggest ways that Dupri is hoping to incorporate Atlanta residents into the Super Bowl LIVE events is by allowing seven teenagers from Atlanta's westside to shadow him as he plans the concerts. The teenagers will be students from Tri-Cities High School, a school with significant ties to Atlanta's music industry. Big Boi and Andre 3000 of Outkast are amongst the now-famous musicians that attended Tri-Cities.
Dupri says he's working with Killer Mike to help incorporate the local students.
"It's kids out here that won't get an opportunity to go to the Super Bowl because the tickets are so expensive," he says.
Creating an affordable opportunity is one of his biggest goals with the Super Bowl LIVE shows.
"It's six days of free entertainment that would possibly cost you $150 a ticket if this was a show that was out somewhere else," Dupri says.
Correction: A previous version of this story stated that the DJ Holiday & Friends show is on January 26. It is on January 28.