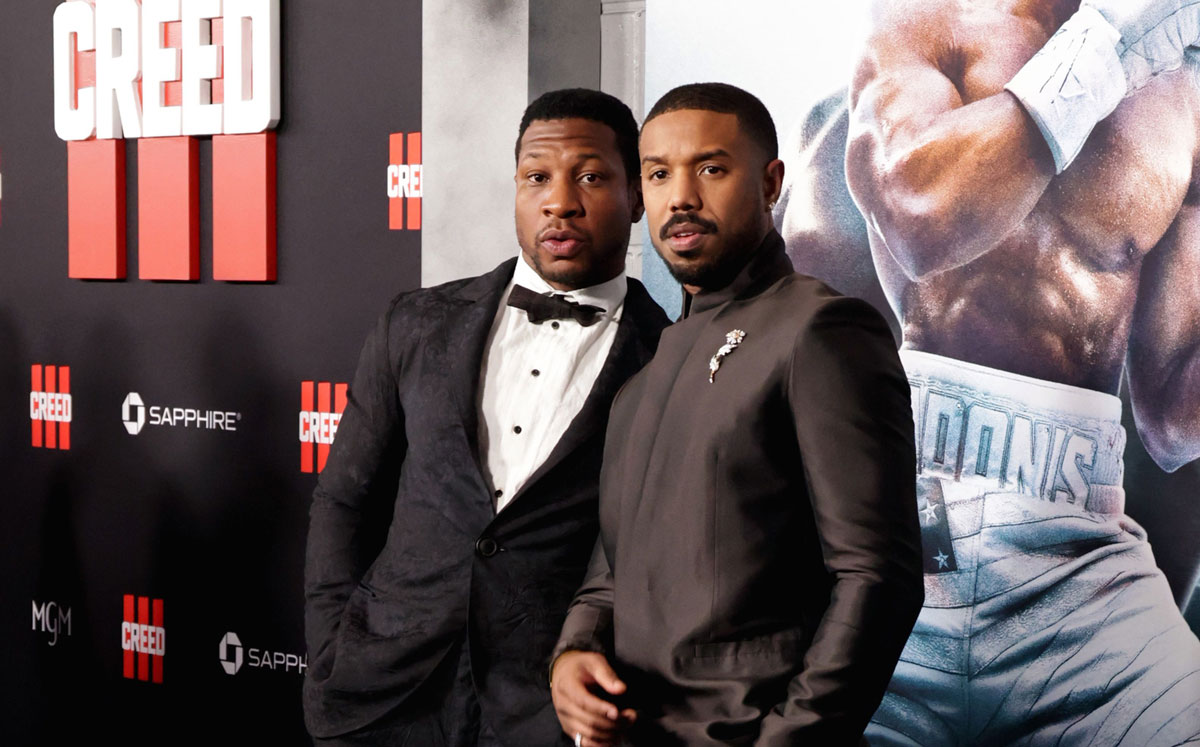 With the theatrical release of the Atlanta-filmed Creed III this Friday, actor Jonathan Majors' career lands a one-two punch. At last week's press screening for the latest film in the hit boxing film franchise, members of the media filed past a display for Ant-Man and the Wasp: Quantumania, the actor's other major motion picture currently in theaters. As the Marvel Cinematic Universe's latest villain, Kang the Conqueror, Majors' head is literally the size of the poster (and given the new film's post-credit scenes, Majors could play an integral role in the MCU for the foreseeable future).
In Creed III, directed by series star Michael B. Jordan, Majors brings a nuanced, three-dimensional portrayal to Damian Anderson, a manipulative childhood friend of Jordan's Adonis Creed, who ended up in prison for 18 years, sidelining his own dreams of boxing fame.
When asked about the two major roles hitting screens simultaneously while in town last week doing press for Creed III at the St. Regis hotel, Majors told Atlanta magazine, "The scheduling is just a magic trick. I never really planned this. You plan on the mission. I planned on acting for a living and I worked hard to do that. I would say it's luck, but I've worked very hard. I can't let anybody take that from me. The rest of it is just immaculate, divine."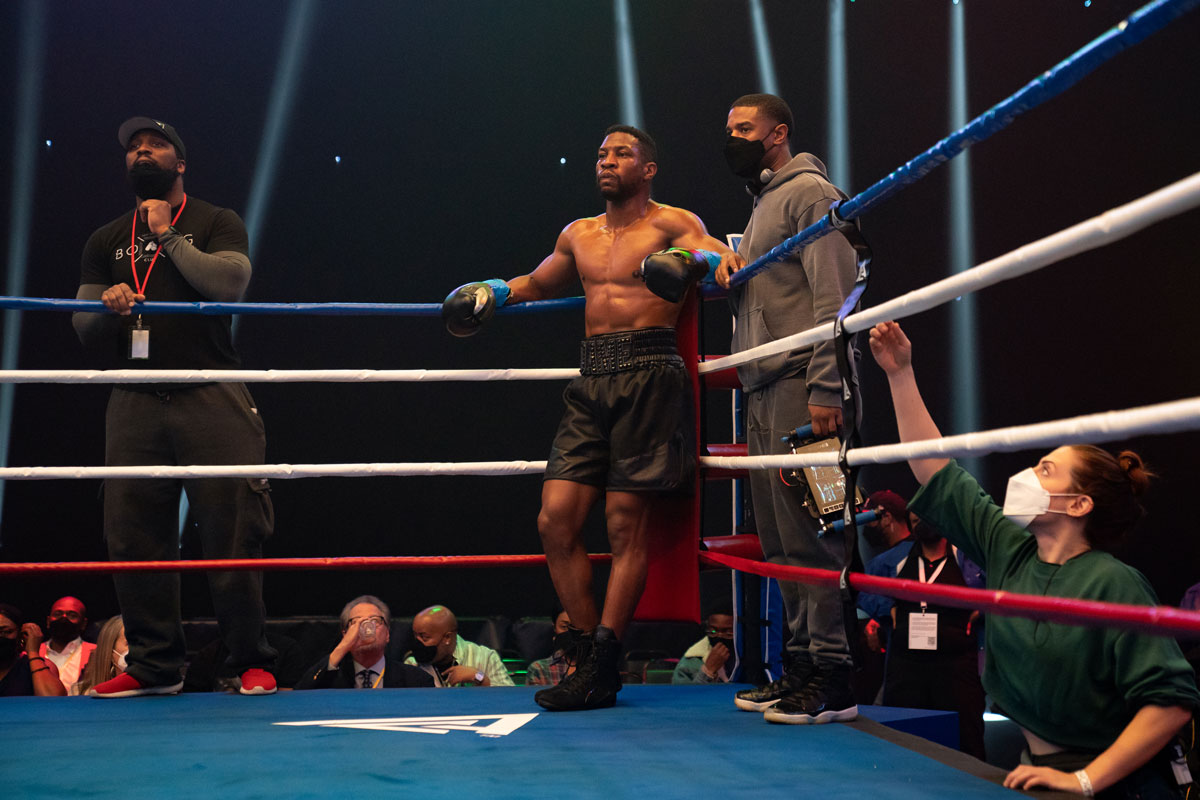 For his directorial debut, it would have been easy for Jordan to give audiences another run-of-the-mill entry in the hit 47-year-old Rocky film franchise. But between rounds in the ring—with help from screenwriters Keenan Coogler and Zach Baylin and story from Ryan Coogler—Jordan crafts a film about toxic masculinity, the challenges Black men face in communicating their emotions about past trauma, the lasting impact of childhood friendships, and the importance of forgiveness. In his director's statement for the film, Jordan says, "I wanted to tackle . . . what happens when you don't face your past, talk about it, and work through trauma. Forgiveness is the most integral part of any conflict. At the heart of Creed III is forgiveness."
With Jordan and Majors both now a part of the MCU, shooting in Georgia has become routine. Creed III is set in Los Angeles, so most of the shoot was limited to the soundstages here. There is, however, a key sequence filmed inside the now-shuttered Buckhead Diner and a blink-and-you'll-miss-it Atlanta skyline shot from the 17th Street bridge. For the film's finale, the Creed III filmmaking team even recreated Dodger Stadium via CGI in a Georgia studio.
Consequently, Jordan had a lot of praise for Georgia's filmmaking facilities.
"The soundstages, the infrastructure here is incredible," Jordan told Atlanta magazine last week while nursing a cup of caffeine, sitting beside Majors. "[Atlanta] also has different seasons, which is valuable. And then, the community here, the people here are awesome. Now, [Georgia] is tasked with replenishing those wells of crew and creating pipelines so the next generation can learn these positions. I think they've done a good job of creating mentorship programs that are able to [job] shadow in these high-level positions so we will have more people down here to fill the jobs. It's been great [filming] down here."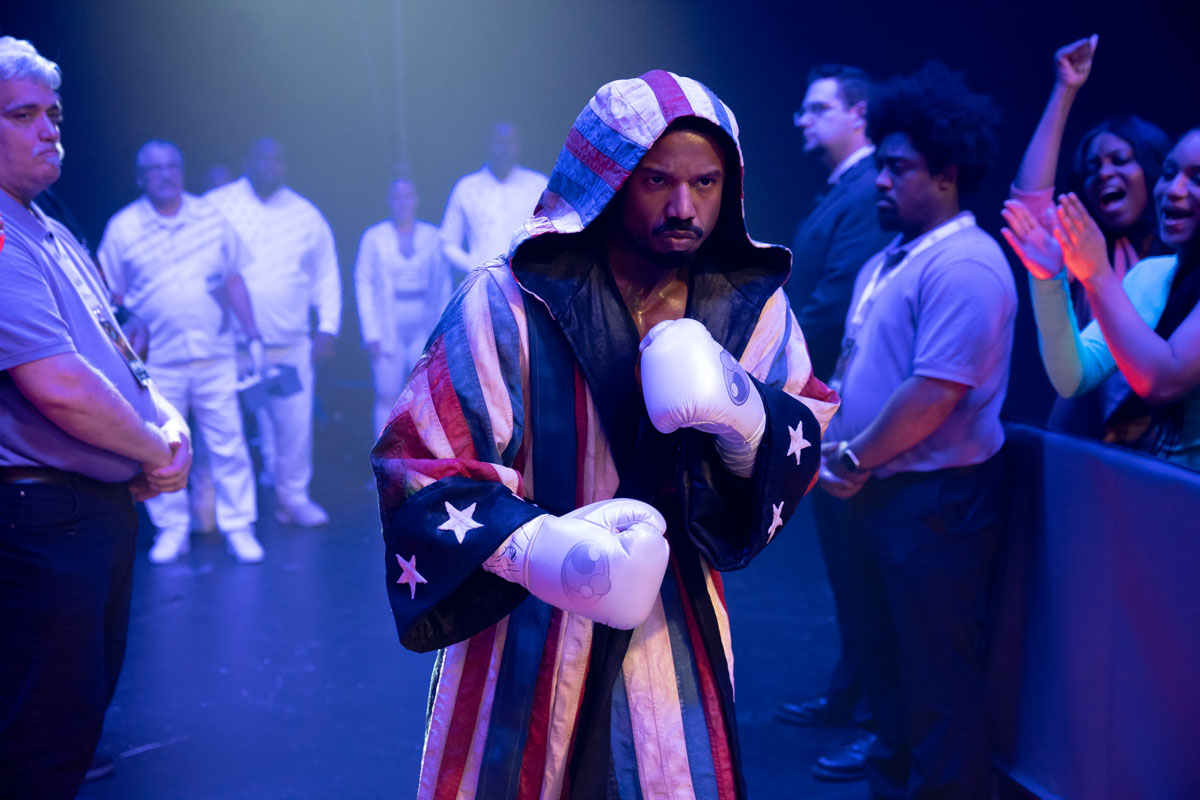 But what Creed III might ultimately be remembered for is providing the launch pad for Majors as a major force in Hollywood. In a pivotal scene between Damian and Adonis, the older character reminds the heavyweight champ who mentored who back in the day. "You put the gloves in my hand?," Majors as Anderson asks Jordan, incredulous. "You used to carry my gloves. Oh, you mad? Try living half your live in a cell while someone else lives your life."
Along with Adonis, the audience's relationship with Majors' character is consistently altered over the film's two-hour runtime. Majors brings shading and nuance to a role another actor might have played straight as a villain.
That's not a coincidence.
"That was never on the page," Majors told Atlanta. "As an actor, Michael understands that better than anybody. It's never on the page. The script is just an imprint. Damian had so much potential. Me and Mike got so invested in bringing that potential out. And all those gradations of character, of temperament, are a reflection of how surgical Mike and I were on building this thing out. It's a two-hander. I had to match the complexity of Adonis Creed, where he was in this iteration."
Creed III, directed by and starring Michael B. Jordan, along with Jonathan Majors, Tessa Thompson, and Phylicia Rashad, opens nationwide Friday, March 3.