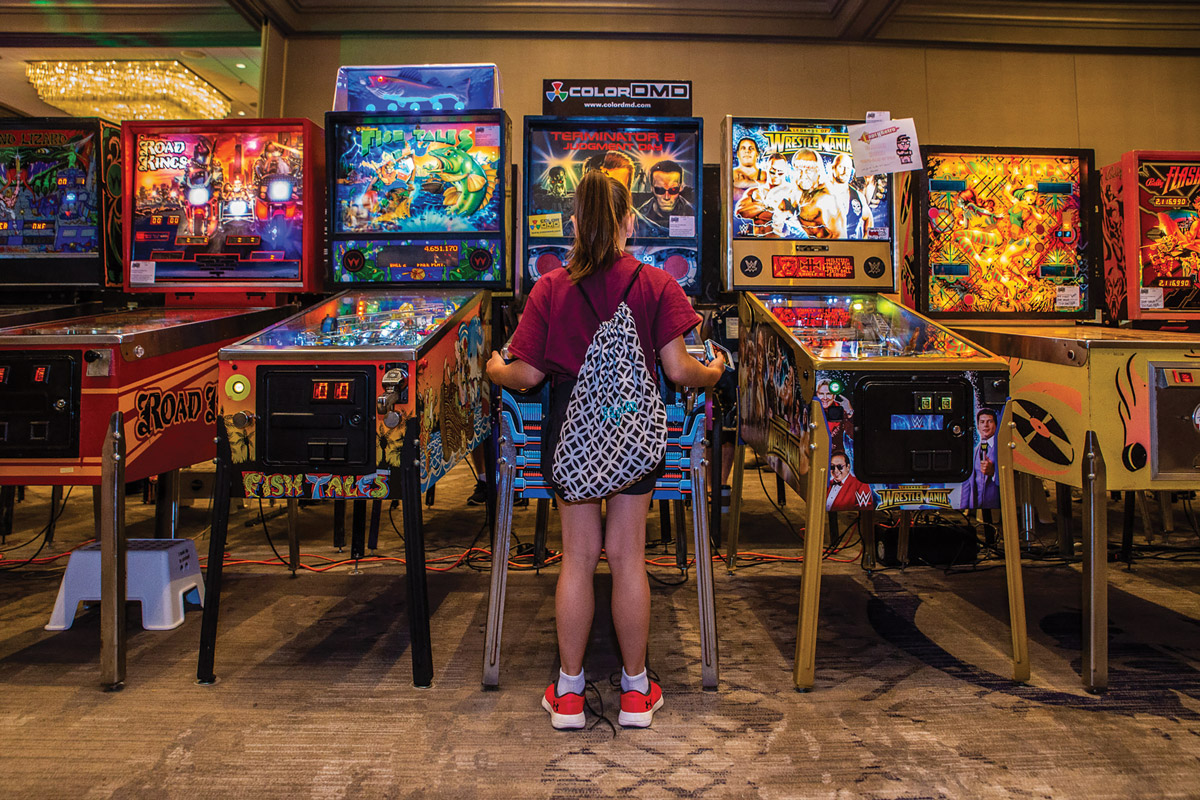 In 2014, five friends from metro Atlanta who collected old arcade games decided to show off their Galaga, Space Invaders, and Street Fighter cabinets to fellow vintage-gaming enthusiasts. Together, the team raised nearly $6,000 on Kickstarter to host their first convention at the Marriott Century Center. Billy Mitchell, the long-maned holder of Donkey Kong's highest-recorded score, even made an appearance.
Five years later, the Southern Fried Gaming Expo has become a three-day affair, drawing more than 3,000 attendees and hundreds of pinball-machine and arcade cabinets to the Renaissance Atlanta Waverly Hotel and Convention Center, where gamers can mix screen time with tabletop gaming and cornhole—plus some good old fashioned professional wrestling.
"It's not just these basement-dweller gaming types," says Preston Burt, one of the event's cofounders. "It's young families who want to do something fun for the weekend. It's people who want to share with their children this thing that was so important in their life as a kid."
With 36,000 additional square feet of space to pack in attendees and electronics, the event this year will host more than 250 games, including 1966's Pitch and Bat. Major distributors like Stern Pinball will show off brand new cabinets like 2019's Black Knight: Sword of Rage—replete with hand-drawn art and music by Scott Ian of heavy-metal band Anthrax—but the majority of the show's display games come straight from the rec rooms of Atlanta collectors and enthusiasts.
"It's a sense of pride that [these collectors] have restored something to its original glory, and you don't just look at it; you actually get to play it," Burt says.
Outside of a massive free-to-play game arcade, the event features amateur and professional pinball tournaments, vendors, a gaming-centric film festival, talks by video-game designers, and live music from acts like Bit Brigade. The Athens-based four-piece performs roaring rock covers of classic Nintendo soundtracks while an honorary gamer plays those games in real-time on a projector.
And for fans who enjoy analog combat, there's the wrestling. A mainstay of the event, SFGE invites local talent from Atlanta Wrestling Entertainment to battle it out inside a large ring in the middle of the show floor. "It has absolutely nothing to do with gaming; it's just really, really cool," Burt says. "The South has a strong history of wrestling, and there's a lot of crossover of people who are fans of gaming who also happen to be fans of wrestling."
The Southern Fried Gaming Expo runs from July 12-14 at the Renaissance Atlanta Waverly Hotel and Convention Center. Tickets range from $20 to $65.
This article appears in our July 2019 issue.