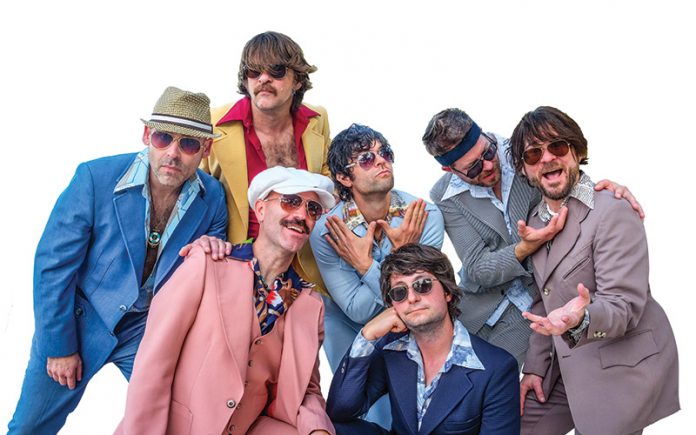 One night in 2008, singers Nicholas Niespodziani and Peter Olson and drummer Mark Cobb, then members of the Atlanta-based indie rock band Y-O-U, showed up to their weekly residency at 10 High with an unusual set list. "As a gag, we thought we'd play cheesy soft rock hits from the 1970s, stuff that you'd hear in the dentist's office," says Niespodziani. The fans ate it up, so they did it again. And again. It wasn't long before Y-O-U had given way to Yacht Rock Revue.
Today the Atlanta tribute band/comedy troupe has become a booming business. On August 22, the act returns to Piedmont Park for the fifth annual Yacht Rock Revival, where thousands of so-called Nation of Smooth faithful sing along to hits from Hall & Oates, Steely Dan, and other soft rock icons—some of whom show up to play alongside the band. To keep up with booking demands, they've even spawned Yacht Rock Schooner, a second cover act. Recently Niespodziani discussed their career trajectory.
On playing alongside recording artists like Robbie Dupree, Firefall, and Journey singer Steve Augeri . . .
They come and they realize that while we're not taking ourselves seriously, we are taking the music seriously. We approach Little River Band as if it's AC/DC.
On accidentally reuniting the Atlanta band Starbuck . . .
Jimmy Cobb, the bass player in Starbuck, played with us a few times, and we put him and another former band member on the poster for the 2012 show. Before the gig, the band's singer, Bruce Blackman, showed up with our flyer in his hand, asking, "What is this?" He was a little pissed. Backstage, these guys talked for the first time in 30 years. Bruce came on stage that night, and the next year they got the whole band back together.
On being named both "Best Overall Music Act in Atlanta" and "Best Place to Get Drunk With Your Dad" . . .
We're pretty proud of the "Drunk with Your Dad" distinction. We actually had a fan in Charlotte who came up to us with his pregnant wife and said, "Oh man, we got pregnant the last time you were here. We went in the club's bathroom while you guys were on stage!" Clearly, we're setting a mood.
On the calendar: On August 22, coast to the smooth sounds of easy-listening at Yacht Rock Revival at Piedmont Park. pleaserock.com
This article originally appeared in our August 2015 issue.