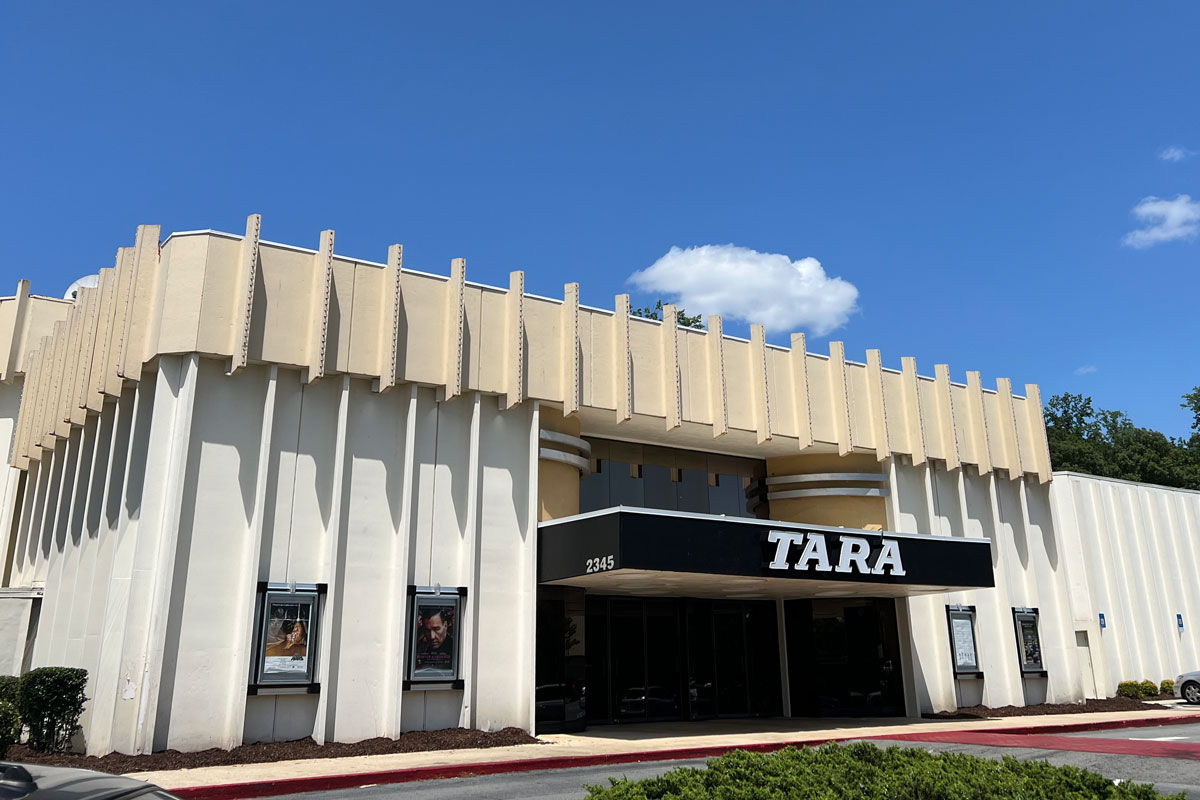 At first, when I pulled into the parking lot of the newly reopened Tara Theatre for a Sunday screening, the 55-year-old theater seemingly hadn't changed at all. The 1960s facade's glittering lights still illuminated an otherwise generic Cheshire Bridge strip mall, finally lit after a seven-month closure. The Plaza Theatre's owner, Chris Escobar, revived the Tara just in time for Memorial Day weekend, and I was excited to return to the place where I'd seen dozens of movies over the past decade, from obscure A24 indies to Oscar-winning dramas. But there was something off I couldn't quite put my finger on.
Then I figured it out—the outside ticket window was closed.
I opened the doors to reveal a spiffed-up, midcentury modern lobby that honored the theater's 1968 origins. With green velvet couches and globe lights suspended from the ceiling, it could've been a Mad Men set—or my own living room. It felt like home for a film lover, with walls covered in posters for classics like Scenes from a Marriage and Full Metal Jacket. Decorated with old projectors and film gear, the lobby is almost a museum to the movie experience, and the theater does screen cinema favorites like Star Wars as well as recent arthouse releases. (Escobar plans to coordinate future programming alongside the Tara's sister cinema in Poncey-Highland.) The Tara hadn't changed at all really; it had just become more itself—but with tickets purchased at a concession stand that now serves Coca-Cola.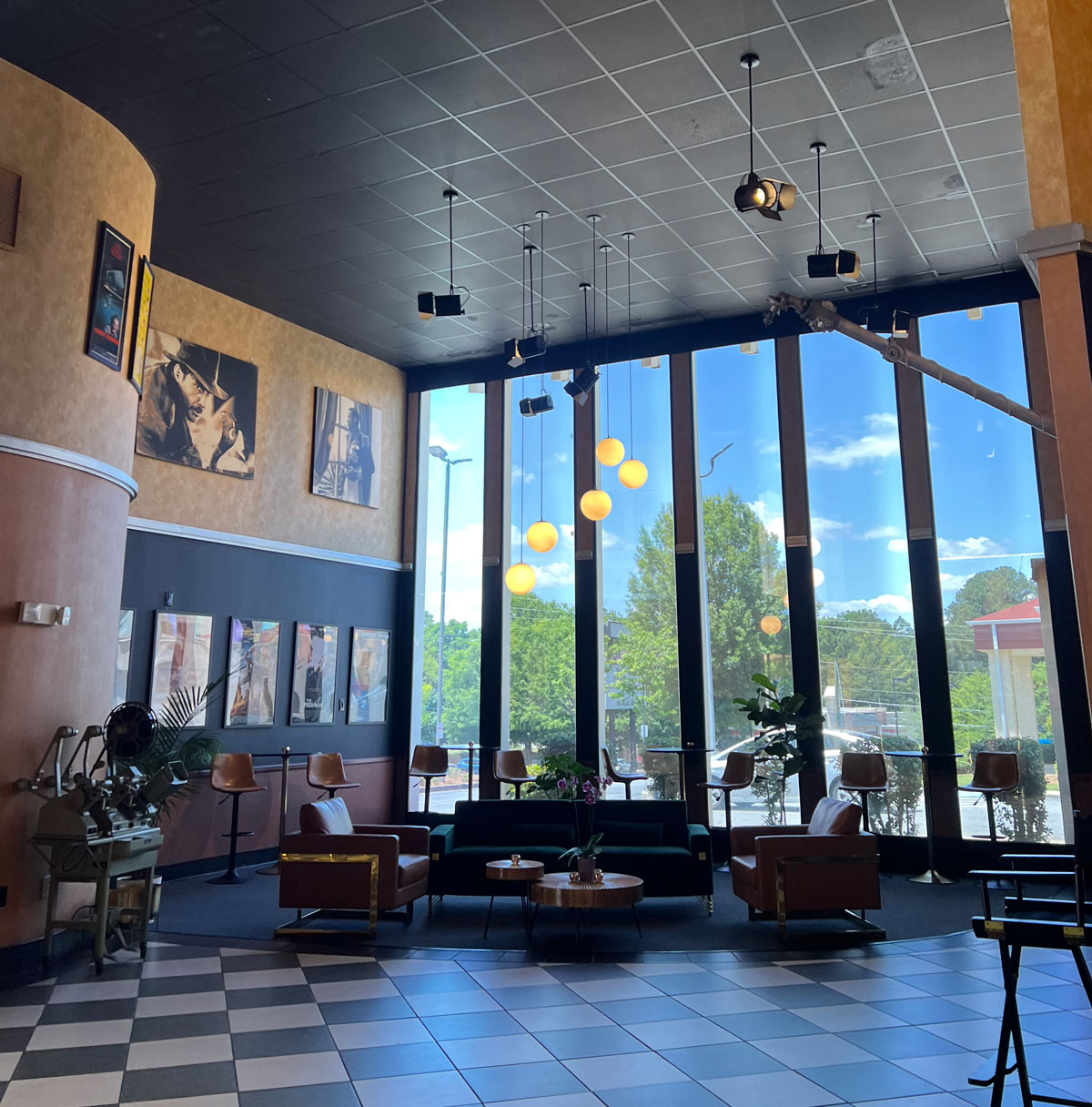 Preserving and expanding the Tara's legacy was Escobar's intention when he bought the theater this past winter. He first fell in love with it after attending the Atlanta Jewish Film Festival there a decade ago and knew it was something special. "I could tell this was a place of cinematic reverence that wasn't just playing whatever," he says. "It's a place where people who didn't know each other were striking up conversations about what they'd seen; it has a social element that's about so much more than just going to the movies."
I saw many movies by myself at the Tara throughout the years, but I never really felt alone. I'd get a bowl of ramen at Hajime before and sneak into a showing just as the trailers rolled, but after, I'd run into friends and realize we'd been at the same movie as we compared notes in the parking lot. I could get dinner, culture, camaraderie, and groceries at the nearby Publix all in one place. Tara's convenient location was an appeal, but what kept me coming back was how it reminded me of my other favorite indie theaters: the Cameo in Edinburgh, Scotland, with its roster of foreign films or Ragtag Cinema in Columbia, Missouri, with its quirky patrons. It made me feel like a member of not just the Atlanta film scene but the international film community.
When Regal abruptly closed the theater in early November, I and plenty of other Atlantans were deeply disappointed, and Escobar was immediately interested in the Tara's future as a vital part of the Atlanta film festival community. Despite his enthusiasm, resurrecting the theater was a challenge: Regal took its projectors, and the building didn't even have blueprints. He created a fundraising campaign where patrons could either donate or buy presale tickets to help relaunch the theater. Escobar described it as "taking the temperature" on how motivated people were to save the Tara and if it would translate to actual attendance. Sure enough, Atlantans showed up, raising more than $70,000 from nearly 600 different donors.
"We keep losing great places, so for us as a community to get one back because of the community chipping in was such a collective win," Escobar says. "It will be nice to celebrate together."
The atmosphere in the lobby was giddy when I went. The cashier told me people were excited to be back, and that energy was even more apparent in the theater. Before our screening of the new Julia Louis-Dreyfus comedy, You Hurt My Feelings, two employees welcomed us back, and a man seated in front of me recognized Escobar among them. "Hi, Chris!" he waved. It was a sleepy Sunday in a half-full theater, but it felt like a sold-out opening night.
The most memorable thing about Tara has always been its patrons. Some remind me of the joy of seeing a movie communally, like the older man who twirled his way into a seat for the West Side Story remake. Others reminded me of the pitfalls of public places, like the woman who snapped her gum throughout half of Belfast until someone politely told her to shut up. But nothing encapsulates a Tara screening like the time everyone applauded at the end of La La Land on its opening night. Ultimately, we don't go to a particular theater for its projectors, film selection, or even location—we go for the collective joy of watching a story unfold together.