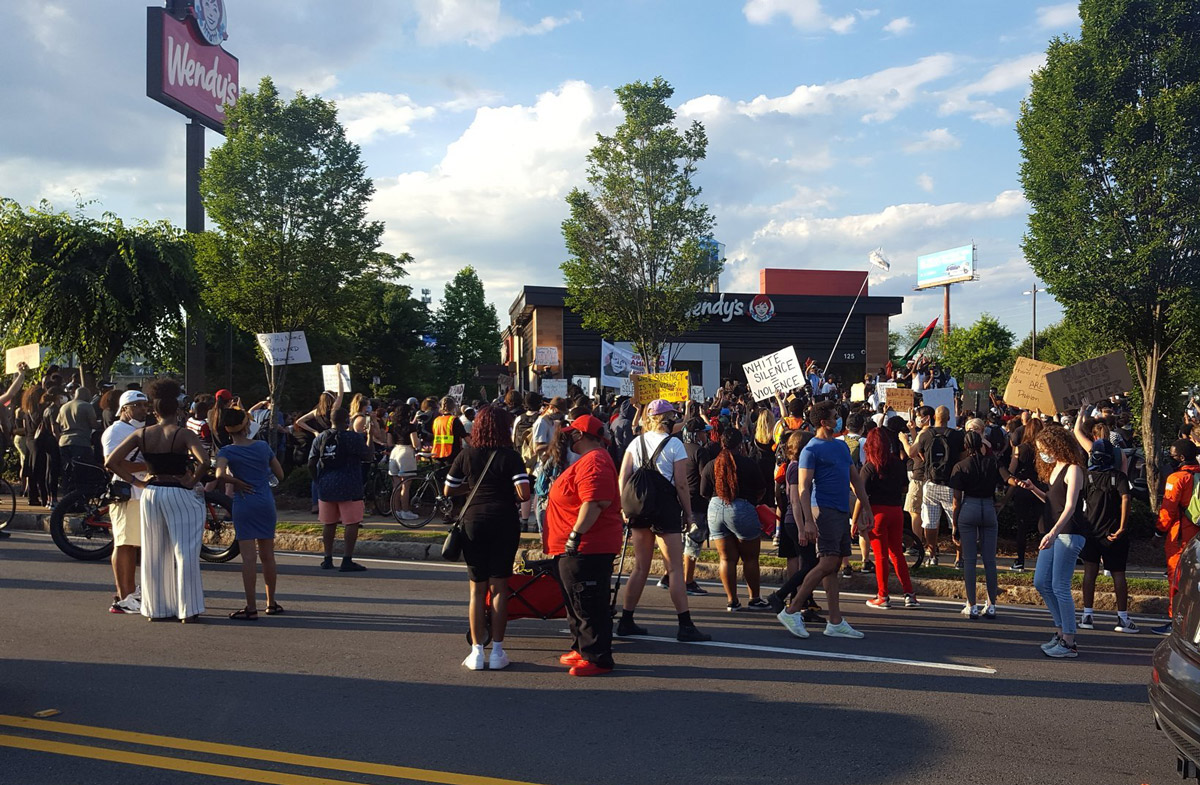 On the evening of Friday, June 12, 27-year-old Rayshard Brooks was shot and killed by an Atlanta Police Department officer in the parking lot of the Wendy's restaurant on University Avenue in Peoplestown. Here is what we know so far; we will update this story as more news comes in. This story was last updated at 6:13 p.m. on June 17, 2020.
What happened to Rayshard Brooks:
According to the Georgia Bureau of Investigation (GBI), who is investigating the case, the Atlanta Police Department arrived at the Wendy's at 125 University Avenue to respond to a complaint of a man asleep in his vehicle in the drive-thru, blocking it and causing customers to have to drive around the vehicle to pick up their orders. APD conducted a field sobriety test on the man, later identified as Rayshard Brooks, 27, of Atlanta, who failed, according to GBI. Officers then attempted to place him in custody. "During the arrest, the male subject resisted and a struggle ensued. The officer deployed a Taser. Witnesses report that during the struggle the male subject grabbed and was in possession of the Taser." GBI initially reported that Brooks was shot in the struggle over the Taser.
However, cellphone video circulating widely on social media, allegedly from the scene, appears to show a struggle between Brooks and police, the Taser deployment, and Brooks running away as an officer deploys a Taser on him. Then, gunshots are heard, and Brooks is seen on the ground.
At a 3:45 p.m. Saturday press conference at GBI headquarters, GBI Director Vic Reynolds gave a short statement to the press, clarifying that while the GBI's initial analysis of the incident had been based off of body cam footage, after reviewing Wendy's surveillance footage and the social media video, they now believe that after Brooks took a Taser from one of the officers, he ran "about 5, 6, 7 parking spaces" from the officers while holding the Taser. Then, Reynolds said, Brooks turned, and "it appears to the [naked] eye that he points the Taser at the Atlanta officer. At that point, the Atlanta officer reaches down and retrieves his weapon from his holster, discharges it, strikes Mr. Brooks there on the parking lot." Reynolds says that information was corroborated by a witness and that the Wendy's surveillance video has not yet been digitally enhanced but that GBI plans to do so.
The GBI then released the 46-minute Wendy's surveillance video. At about 28:32 (10:22 p.m. according to the video's timestamp), Brooks runs into the frame with the APD officer running behind him. Brooks is seen falling to the ground at about 28:38, about 5-6 seconds later. The video is available here. (It can be slowed down using the gear button on the right side of the player.)
During the Q&A portion of the press conference, Reynolds described the video again, saying, "[It appears that] he is fleeing from Atlanta Police officers, [and] that as he is fleeing, he turns back over his shoulder with what appears to the naked eye to be this Taser that a witness has told us they saw the individual have that belonged to one of the officers . . . the Atlanta officer literally reaches down to get his service weapon and as he gets his weapon, Mr. Brooks begins turning his body away from him, I presume to flee, and it looks like that's when the discharge of the weapon goes off then."
The GBI then updated their statement of what happened next, acknowledging the social media video and Wendy's surveillance. They also said that "an earlier account of this incident was based on the officer's body cam which was knocked off during the physical struggle, preventing the capture of the entire shooting incident."
After he was shot, Brooks was transported to Grady Memorial Hospital, where he died after undergoing surgery. An autopsy determined he died as a result of two gunshot wounds to the back.
Just after midnight Sunday morning, APD confirmed that the officer who killed Brooks had been fired and identified him as Garrett Rolfe. The other officer involved, Devin Bronsan, has been placed on administrative duty.
APD releases the bodycam footage from Rolfe and Bronsan:
On early Sunday morning, the Atlanta Police Department released bodycam videos from Bronsan and Rolfe. According to Bronsan's bodycam video, he was first to arrive at the Wendy's just after 9:40 p.m. Bronsan walked over to a white Toyota Camry that was in the drive-thru line, where Brooks appeared to be sleeping in the driver's seat. Bronsan woke Brooks and had him move the car to a parking space nearby. After talking with Brooks, Bronsan requested a DUI-certified officer.
Rolfe arrived at about 9:55 p.m. according to bodycam timestamps and began questioning Brooks. Brooks appeared to be confused about where he was, telling Rolfe that he was in Forest Park on Old Dixie Highway. He would later tell Rolfe that he was staying at the Home Lodge Inn, which Brooks thought was nearby. (There is a Home Lodge Inn on Old Dixie Highway in Forest Park.) Brooks said several times he had "one and a half" alcoholic drinks.
Rolfe asked Brooks to step out of the car at 10:02 p.m. according to bodycam timestamps. He asked to do a weapons pat-down on Brooks, which Brooks consented to. Rolfe didn't appear to find any weapons. Rolfe then performed two field sobriety tests on Brooks. Rolfe continued to ask Brooks about his sobriety and how he got to the Wendy's, and Brooks answered his questions. With Brooks's consent, Rolfe administered the breathalyzer test at 10:22 p.m. Brooks and Rolfe again discussed what and how much Brooks had to drink. On Rolfe's bodycam footage, the breathalyzer appears to say "0.108." At 10:23 p.m., Rolfe told Brooks, "I think you've had too much to drink to be driving." He reached for Brooks's elbow and asked Brooks to put his hands behind his back. Rolfe took out handcuffs and started to place them on Brooks when Brooks suddenly moved. At this point, in both Bronsan and Rolfe's bodycam footage, the camera rolls and spins, and an officer is heard saying, "Stop fighting, stop fighting." Then an officer yells, "You're gonna get tased!"
"Mr. Rolfe," a voice, presumably Brooks, says twice. Then an officer yells, "Hands off the Taser!" During the struggle, both body cameras appear to fall off the respective officers. On Bronsan's body camera, we see Rolfe deploy a Taser at Brooks. They run out of the frame. Bronsan radios and runs after them. At 10:24 p.m., there is what sounds like a Taser deploying, followed by the sound of three gunshots.
WSB-TV has posted the videos of both Bronsan and Rolfe's bodycam footage here. The videos are raw and contain graphic footage and language.
Fulton District Attorney announces charges against the officers:
On the afternoon of June 17, Fulton County District Attorney Paul Howard announced that arrest warrants had been issued for Rolfe and Bronsan.
"We've concluded at the time Mr. Brooks was shot, he did not pose an immediate threat of death or serious physical injury to officer or officers," Howard said, citing the amount of distance Brooks was from Rolfe when he was shot (18 feet and 3 inches, according to Howard) and that the taser Brooks was holding had been fired twice, making it was "no danger." Howard also said that when Brooks fired the taser, it appeared to be fired above Rolfe.
Howard also stated some additional information about what happened after Brooks was shot. Howard says that while two of the three shots fired by Rolfe hit Brooks, the third shot went into a Chevy Trailblazer that was in the drive-thru line. Howard also said Rolfe failed to inform Brooks that he was under arrest before attempting to handcuff him and that Rolfe and Bronsan did not administer medical attention quickly enough, instead waiting 2 minutes and 12 seconds before administering aid.
Howard said that Rofle was heard saying "I got him" upon firing on Brooks and said that Rolfe kicked Brooks while he was on the ground after he was shot. He presented a photo of Rolfe appearing to kick Brooks. Howard also said Bronsan stood on the shoulders of Brooks while he was on the ground and said Bronsan admitted to standing on Brooks's "arm." (Howard says that when asked why he did this, "[Bronsan] said something to the effect that he really didn't know what was going on and he was trying to ensure that Mr. Brooks did not have a weapon. And we found that kind of strange because Mr. Brooks had already displayed to them the fact that he did not have a weapon.") Howard said that Bronsan had agreed to be a state's witness in the case, however, Bronsan's attorney immediately denied that, telling the AJC his client has not agreed to be a witness, nor has he admitted guilt or wrongdoing.
Rolfe is charged with one count of felony murder, three counts of aggravated assault (to Brooks and to two witnesses who were sitting in the Trailblazer the drive-thru), and seven counts of violation of oath of office, including for failing to properly announce arrest, tasing a suspect who was running away (a violation of APD policy, Howard said), not administering medical aid in a timely manner, and kicking Brooks. Bronsan is charged with one count of aggravated assault for standing on Brooks and two counts of violating oath, one for standing on Brooks and the other for not administering medical aid in a timely manner. Both men are asked to turn themselves in by 6 p.m. on June 18. The DA recommended no bond for Rolfe but a $50,000 bond for Bronsan.
The AJC reports that on Wednesday morning, Rolfe's attorneys released a statement saying that, "Rolfe's actions were justified under O.C.G.A. §17-4-20 and O.C.G.A. §16-3-21. A peace officer may use deadly force to 1. arrest a suspected felon when he reasonably believes that the suspect poses an immediate threat of physical violence to the officer or others, 2. to protect himself and others from a life-threatening injury, and 3. to prevent the commission of a forcible felony. Mr. Brooks violently attacked two officers and disarmed one of them. When Mr. Brooks turned and pointed an object at Officer Rolfe, any officer would have reasonably believed that he intended to disarm, disable, or seriously injure him."
The GBI tweeted just before 5:30 p.m. that it was unaware that Howard would hold the press conference, that they were not consulted on the charges, and that they will continue their investigation. Howard said during the press conference that he felt due to the amount of video evidence, he did not need to wait for the GBI to determine charges.
Protests:
Protestors were on the scene outside the Wendy's shortly after the shooting and continued protesting outside the fast food restaurant all day Saturday. In the evening, protestors blocked I-75/85 at the University Avenue exit and peacefully demonstrated; APD shut down traffic in both directions on the interstate. Some protesters on the interstate were arrested. The AJC reported that protestors broke windows and threw fireworks in the Wendy's, which caught fire at about 9:30 p.m. (APD is looking for two persons of interest in the Wendy's fire.) Protestors then peacefully demonstrated outside the Atlanta Police Department Zone 3 precinct on Cherokee Avenue. Peaceful protests continued on Sunday outside of the Wendy's, where a memorial for Brooks was created. Protests continued Monday outside the state capitol, the Wendy's, and in downtown Atlanta.
APD Chief Erika Shields resigns:

Just after 5 p.m., Mayor Keisha Lance Bottoms held a press conference at City Hall. As she described what happened to Rayshard Brooks, she noted that Brooks appeared to fire the Taser at the APD officer as he was running away, after which the officer shot Brooks. "While there may be debate whether this was an appropriate use of deadly force, I firmly believe there is a clear distinction between what you can do and what you should do," the mayor said. "I do not believe this was a justified use of deadly force and have called for the immediate termination of the officer." She clarified she was only calling for termination of the officer who fired his weapon and that the other officer involved had been placed on administrative duty.
The mayor also announced the resignation of Chief Erika Shields, saying, "There has been a disconnect with what our expectations are and should be as it relates with interactions with our officers and the communities in which they are entrusted to protect. Chief Erika Shields have been a solid member of APD for over two decades and has a deep and abiding love for the people of Atlanta. And because of her desire that Atlanta be a model of what meaningful reform should look like across this country, Chief Shields has offered to immediately step aside as police chief so that the city may move forward with urgency in rebuilding the trust so desperately needed throughout our communities."
Deputy Chief Rodney Bryant is now the interim chief of police and a nationwide search for Shields's replacement will commence. Shields, who became chief under former Mayor Kasim Reed in December 2016, will not leave the APD entirely but her role has yet to be determined. Bottoms says an advisory committee to examine APD's force procedures has already convened and expects feedback in two weeks and final recommendations in 45 days.
Earlier in the day, the Georgia NAACP called for Shields's resignation. Brooks's killing follows two high-profile APD incidents in recent weeks: two college students were tased and forcibly removed from their car on May 30, and dental hygienist said collarbone was broken after being bodyslammed by an APD officer in Buckhead on May 29.
The family's attorneys hold a press conference:
Around 8 p.m. Saturday, L. Chris Stewart and Justin Miller, two of the attorneys representing the family of Rayshard Brooks, held a press conference. Stewart opened his remarks by saying that they had just returned a few days ago from George Floyd's funeral. His firm represents Floyd's daughter Gianna, is council in the Ahmaud Arbery case, and has represented the families of Walter Scott, Alton Sterling, Gregory Towns, and Deaundre Phillips, among others killed by police.
Stewart said the "one thing that nobody can disagree with" about Brooks's killing is that "it shouldn't have happened."
"In Georgia, a Taser is not a deadly weapon," Stewart continued. "That's the law. That's what the cops are trained to do. I've had cases where officers have used Tasers on victims, and they argue with us in court that Tasers aren't deadly. That's the case law here . . . You cannot have it both ways. You can't say [Brooks] ran off with a weapon that could kill somebody when you say it's not deadly." Stewart questioned why the police didn't use other methods of restraining Brooks, such as "boxing in." He also said police had been given "leeway" to use lethal force for too long.
Stewart said that witnesses claimed officers "put on plastic gloves and picked up their shell casings after they killed [Brooks] before rending aid." And in watching video of the incident, he said the legal team "counted 2 minutes and 16 seconds before [officers] even checked [Brooks's] pulse." He also said he was told by witnesses some details that contradict the GBI's official statement. He said some witnesses said there was no sobriety test administered. "There was no count to 100 or whatever it is, or walk this line. [The witnesses said police and Brooks] were just talking, and it seemed to be a decent conversation. And then all of a sudden one of the officers grabbed him and told him he was under arrest," Stewart said. [Bodycam footage from Devin Bronsan, released to media by APD early Sunday morning, shows that Garrett Rolfe did perform field sobriety exercises and administered a breathalyzer test after Brooks consented to taking one. On the same bodycam video, after administering the test, Rofle tells Brooks that he had too much to drink and begins to handcuff him.] Stewart also said that Brooks was "not blocking the [drive-thru] line." [Bronsan's bodycam footage shows Brooks's car was in the drive-thru lane when Bronsan arrived first on the scene. Brooks appears to be asleep in the driver's seat; after Bronsan woke him, Brooks moved his car to a nearby parking space.]
"Want to know how this could have been avoided?" Stewart said, "Talk to him. Talk. Hey Buddy, you fell asleep in line, you okay? Why don't you pull your car over there and call an Uber. And then you walk over, and then you leave. Why is that so hard for police officers? A conversation. He wasn't doing anything crazy or violent or harming anyone. Hey buddy, I think you've had something to drink . . . pull over there, call an Uber. I guarantee you that happens hundreds of time a night in college towns with young white kids or other places in America. But we don't get that benefit of the doubt."
Miller said if the officer had been more empathetic, Brooks likely wouldn't have died. "Policing in this country and in this city needs to change to something more empathetic, to something more community-based," he said. He cited training, leadership, and fear as the three failures in the situation. "We need to keep pushing. We need to let everyone know this is unacceptable and we're not going to just move on to the next tragedy," he said.
Stewart and Miller addressed why they think Brooks ran from police. "If you're sleeping in your car because you're trying to [sleep] something off and you get officers knocking on your window hard, the current climate of police officer and Black male interaction is not the best," Miller said. "So that might scare you at that time of night. So, yes, you stand up and you're talking to them, and they're telling you they want you to do something, that might not be what you want to do at that time. So, yes, he tried to get away, that's what it looked like. But they would not let him get away, they were hell-bent on stopping him. And they stopped him." Stewart also added that officers did not draw a weapon in the "tussle" on the ground but instead waited until Brooks ran. "Their justification went out the door after they let him run," Stewart said.
Stewart said that Brooks worked at a "tortilla place" and had been celebrating his 8-year-old daughter's birthday on Friday. Brooks has two other daughters, ages 3 and 1, as well as a 13-year-old stepson. Stewart said the house they visited on Saturday was full of family "that love him more than life." Miller added that Brooks was supposed to take his 8-year-old skating on Saturday as part of her birthday celebrations. "She had her birthday dress on because she was waiting for her dad to come pick her up to take her to go skating. Yesterday, her and her dad went, she got her nails done and her toes done, they got something to eat, and today she was waiting on that. So while we were over there they had a birthday party for her, 8th birthday today with cupcakes, while we were sitting there talking with her mom about why her dad's not coming home."
What are people saying:
The Fulton County District Attorney's office released this statement:
JUST IN: The #FultonCounty DA's statement about the @Atlanta_Police involved shooting Friday night. pic.twitter.com/Z3mwwvOnNz

— Mike Petchenik (@MPetchenikWSB) June 13, 2020
Atlanta City Council member Antonio Brown, who represents District 3 (Vine City, English Avenue, Atlantic Station), went to the scene Friday night and gave an interview to 11 Alive. "This is a reflection of what is truly transpiring in our country. It's not just the city of Atlanta; people are outraged at what is transpiring right now, and I think what's important is that information is properly discriminated about what has occurred," he said.
He later tweeted,
Today I was asked by the @nytimes whether Chief Shields should resign? Here's my thoughts: all @atlcouncil & @KeishaBottoms should resign too. We're all equally responsible for the unarmed black lives lost to police brutality. We could've been passed legislation to address this!

— Antonio Brown (@AntonioisMuted) June 13, 2020
Atlanta City Council member Joyce Sheperd, who represents District 12, where Brooks was shot, spoke with protestors outside the Wendy's on Saturday. "Running away from the police officer, he don't have a gun, is there any reason for them to shoot him? No. So my position is that they got to go," Sheperd told protestors.
Andre Dickens, Atlanta City Council Post 3 At-Large:

Rep. Hank Johnson, U.S. House GA District 4:
Black man suspected of DUI shot in the back killed by the police after brandishing taser? When did we lose the true concept of policing? We must fix policing in America! #JusticeInPolicingAct #JusticeInPolicing

— Rep. Hank Johnson (@RepHankJohnson) June 13, 2020
Bernice King:
"officers responded to a Wendy's restaurant on University Avenue after receiving a complaint that Brooks was asleep in a parked car in the drive-thru"

One of my first thoughts: Why were the police even called? What responsibility do we have to each other? https://t.co/6dmVHNAGvt

— Be A King (@BerniceKing) June 13, 2020
Bottom line: #RayshardBrooks should be alive. His death reflects that low to no value was placed on his life. Rayshard's life shouldn't have even been endangered by a call to police because he was sleeping in his car in a drive thru. I'm learning more and talking with community.

— Be A King (@BerniceKing) June 13, 2020
Stacey Abrams:
The killing of #RayshardBrooks in Atlanta last night demands we severely restrict the use of deadly force. Yes, investigations must be called for – but so too should accountability.

Sleeping in a drive-thru must not end in death. https://t.co/LKsiwA48Ll

— Stacey Abrams (@staceyabrams) June 13, 2020
T.I. walked in one of Saturday's protests:
Atlanta's @Tip seen at protest for Rayshard Brooks, who was shot and killed by an Atlanta Police Officer Friday night. Full story here @cbs46 : https://t.co/T1R0D8sWhi pic.twitter.com/1PfzQo2Ykd

— Jasmina Alston (@JasminaAlstonTV) June 13, 2020
Lil Yachty:
ATLANTA PD SHOT AND KILLED AN UNARMED BLACK MAN LAST NIGHT.

— comeback season boat (@lilyachty) June 13, 2020
Correction 6/14/20: An earlier version of this story said that Bronsan had been placed on administrative leave. He has been placed on administrative duty.