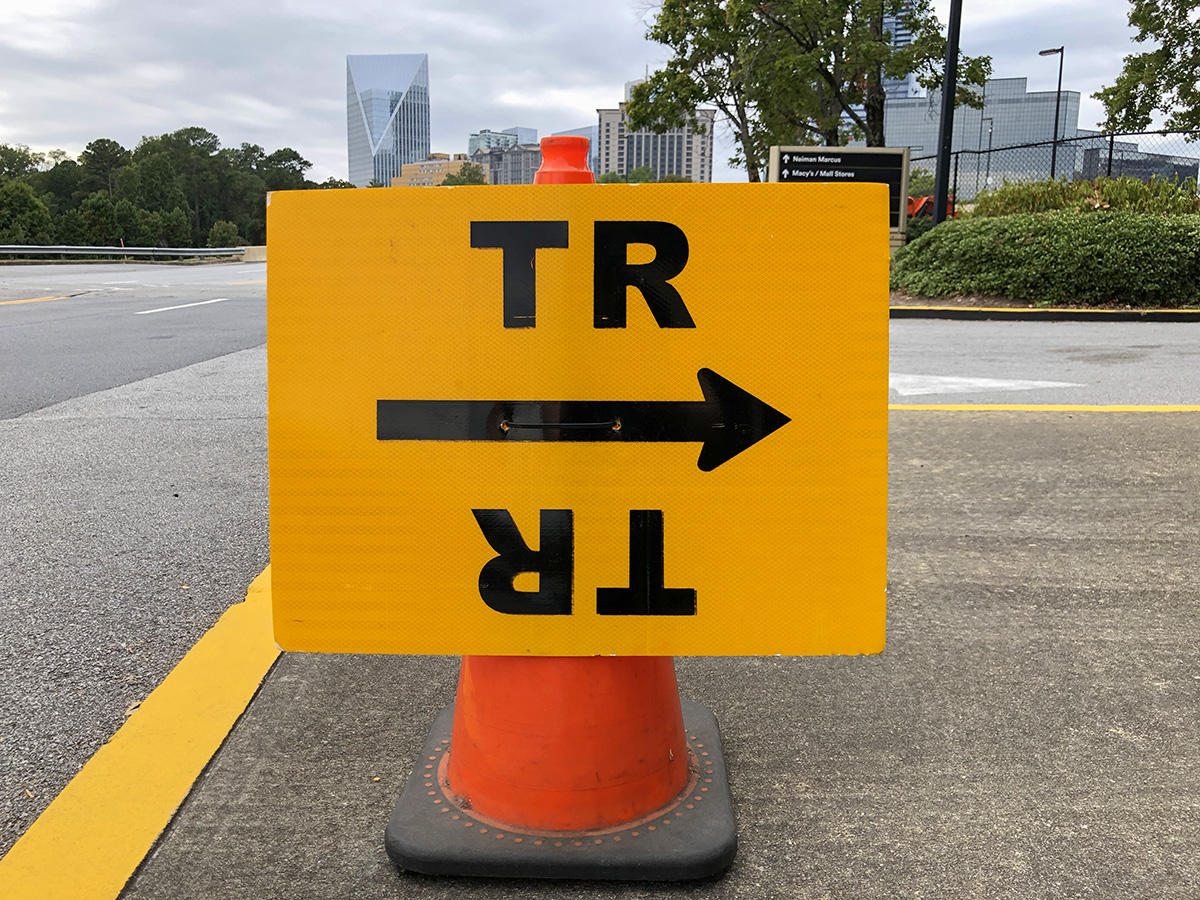 The weather may be starting to cool off, but that just means it's time for the fall busy season for Atlanta's film and television industry. Here's what's filming around town, where we saw it, and what those signs mean.
Last month, we teased that James Gunn's The Suicide Squad (production code: EEE) was beginning production at Pinewood Atlanta Studios in Fayetteville. The star-studded sequel, including Margot Robbie, Idris Elba, Taika Waititi, John Cena, Jai Courtney, Pete Davidson, and Viola Davis in its cast, now has a month of filming behind it. Despite that, it hasn't been spotted out in the wild often. Scenes were shot at Pinewood on September 27, as well as October 7, 9, and 10. Signs were up in North Druid Hills on October 13. Two days later, crews were seen in Piedmont Park. From October 16 through the 17, production set up at the Atlanta Motor Speedway. Most recently, on October 18, filming came to Cartersville.
And if that's not enough comic book movie for you, Disney/Marvel's Black Widow (WALK) has also been quietly filming, mostly in Rome. Helping to hide the secret, recently on social media a photo of a vehicle bearing a striking resemblance to police chief Hopper's truck from Stranger Things led many to believe that Black Widow was actually the Netflix series' fourth season. Trucks at the basecamp were labeled as belonging to "Romanoff Productions" however, a telltale giveaway of what was actually shooting. Between October 2 and 3, the Scarlett Johannson-led film set up a basecamp in Tucker at Holy Cross Catholic Church on Chamblee Tucker Road. On October 4, signs were spotted along Jimmy Carter Boulevard in Norcross.
https://www.instagram.com/p/B3Rs2MPgE_8/?igshid=l6g7kzpyur6t
New this month, Chris Pine, Ben Foster, and Gillian Jacobs, are in town for Violence of Action (VOA), a film about an ex-Marine betrayed during a black ops paramilitary mission in Europe. The action-thriller filmed around Lilburn and Stone Mountain between October 4 and 5. On the 7th, signs were spotted at Piedmont and Peachtree Roads in Buckhead. Later that evening, crews were also filming back in Stone Mountain. On October 10, crews were filming near Kennesaw Mountain.
Also new, Thunder Force (TF) has begun production. The film, being produced for Netflix, is another comedy from husband-and-wife team Ben Falcone and Melissa McCarthy, who have shot several movies over the past few years in Atlanta. Thunder Force will follow two ordinary women, played by McCarthy and co-star Olivia Spencer, suddenly getting superpowers and having to enter the world of heroes and villains. Thunder Force was spotted at Pratt-Pullman Yard on September 26. On September 30, signs were up on East Ponce de Leon Avenue and DeKalb Industrial Way in Decatur. A basecamp was set up at First Baptist Church Snellville on October 2. More recently, on October 13, scenes were shot in Midtown.
Disney+ is filming a movie about former Clemson University football player Ray Ray McElrathbey, Safety (BR). The film will follow the true story about how McElrathbey secretly raised his younger brother on campus. Safety filmed in McDonough on September 27. On October 2, production moved to Riverdale Town Center. Signs were placed in Decatur off Covington Highway on the 4th. A basecamp was set up near Georgia State Stadium on October 14. Additional scenes were shot in Central Park in Old Fourth Ward on October 16. Most recently, crews set up at Emory University on the 18th.
Chris Pratt's Ghost Draft (BONEYARD), a sci-fi film about a future war's outcome resting on one man's ability to confront his past, continued to film this month. On October 2-3, a basecamp was set up at Yaarab Shrine Center on Ponce De Leon Avenue. Filming took place nearby at the Briarcliff Mansion. On October 8, signs were spotted on Marietta Boulevard and Bolton Road in northwest Atlanta. Filming took place in northwest Coweta County on October 10. The next day, crews were in Midtown. Signs were up again OTP on the 14th, stretching between Carrollton and Newnan. On October 15, filming once again returned to Midtown.
Ozark (KRAZO), the Jason Bateman-led Netflix series ended September at Stone Mountain on the 30th. Crews remained in the area until October 1. Between the 2nd and the 3rd, filming moved to Jonesboro. On October 10, scenes were shot in downtown Conyers. A few days later, the production was spotted on Emory's Briarcliff campus. On October 17, the series filmed in Red Top Mountain State Park near Lake Allatoona. On the 18th, filming took place in-studio in Norcross.
HBO's Jordan Peele and J.J. Abrams produced series, Lovecraft Country (RP) filmed in Newnan from September 30 until October 2. After that, on October 7, the series shot in Pullman Yard. Most recently, between October 11 and 15, North Dekalb Mall was transformed into a massive 1950s period set.
Saw so much filming today! Pic 1 is Suicide Squad at Emory Univ. (was trying to take a subtle pic & walk at the same time haha) and pics 2-4 are Jordan Peele's Lovecraft Country filming at North Dekalb Mall. #atlanta @olv @AtlantaMagazine pic.twitter.com/zgG3BBSB40

— Haylee Fisher (@haylee_fisher) October 14, 2019
The CW's Black Lightning (SIGN) was in Decatur on September 30. From October 1 through the 2nd, scenes were filmed in Old Fourth Ward near Parkway-Wabash Park. Signs were also spotted at Piedmont Avenue and Ponce de Leon Avenue during this time. On the 3rd, crews returned to Decatur.
CBS's MacGyver (EYE) filmed in Woodstock on September 27. Crews were in downtown Atlanta on Piedmont Avenue the following day. A basecamp was spotted at the First Redeemer Church in Cumming on October 5. The production moved to Juliette on October 11. Most recently, on October 17, filming took place in Marietta, not far from the square.
Also filming, Coming 2 America: The Quest (QST) had signs posted along Campbellton Road near Greenbriar Mall on October 17. Greenland (GLD), starring Gerard Butler, filmed along Barrett Parkway between Bells Ferry Road and Cobb Parkway in Kennesaw between October 5 and 6. FOX's The Resident (TR) was in Conyers on October 2 and 10, and ITP at Lenox Square on October 11-12. Netflix's Slutty Teenage Bounty Hunters (MCFLY) filmed at Oglethorpe University between October 14 and 15. The CW's Legacies (LGC) was in Monroe on October 5. On October 10, a winter scene, complete with fake snow, was shot in Loganville at the Kent Rock Manner. The CW's Dynasty (CROSSEYE) filmed in Midtown on October 1, and in-studio in Norcross on the 4th, 8th, 9th, 14th, and 21st.