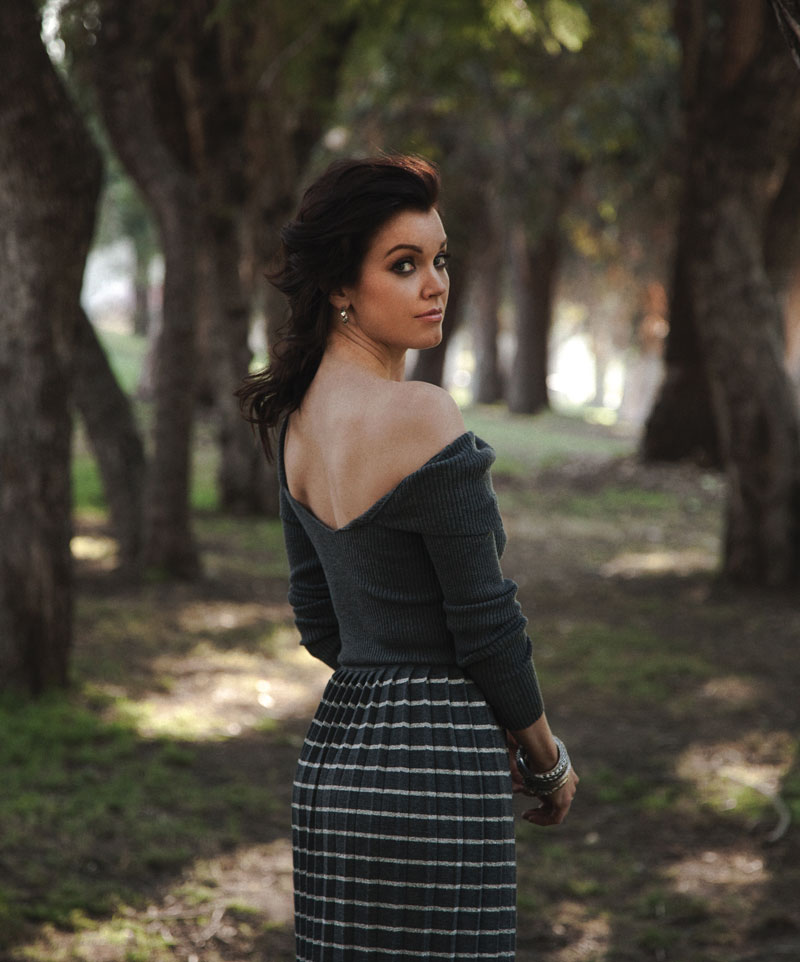 Although she now calls New York City home, actress Bellamy Young says she'll always be a Southern girl at heart. Born and raised in Asheville, she returns to her hometown several times a year to visit her mom and extended family and friends.
The actress, who rose to fame as First Lady Mellie Grant on the hit television show Scandal, currently co-stars in the TV crime drama Prodigal Son. She discovered her love for acting and singing when she was a child taking classes at the Flat Rock Playhouse in nearby Hendersonville. She continued performing throughout her years at Asheville High and sang in an a cappella group at Yale University. After college, she moved to New York City, where she was cast in both touring and Broadway musicals, including Meet Me in St. Louis and My Fair Lady.
"Singing is my solace and my release," says fifty-one-year-old Young, who in 2015 recorded Far Away So Close, a collection of songs inspired by growing up in North Carolina. ("Funny how they say some things never change," she sings in "My Sweet Carolina," a cover of a Ryan Adams ballad. "Oh my sweet Carolina, what compels me to go?")
While on hiatus from filming, Young still performs at venues across the country, and she says she'd love to one day return to Broadway. But for now, she mostly sings in her New York City apartment, accompanied by her boyfriend of three years, percussionist Pedro Segundo. "Pedro and I bought a keyboard for my apartment, and we enjoy playing music, singing songs, and posting silly videos on Instagram," she says.
When Young travels to Asheville, she's usually accompanied by Segundo, who gives her the chance to see her hometown through new eyes. The two regularly indulge their love of music by exploring attractions like the Moog Factory. "Pedro actually introduced me to it," she says. "It's where they build electronic musical instruments by hand. We went on a tour of the factory, and it's amazing to see the work that goes into handcrafting these instruments and carrying on the legacy of Dr. Robert Moog, the inventor of the Moog synthesizer."
Young's mother appreciates music, too; Bellamy has fond memories of attending a show at Isis Music Hall with her. "It's a family-owned venue and a fun place to take my mom for an evening of good food and live music."
Mother and daughter also love to explore the River Arts District, where hundreds of artists showcase their handmade jewelry, glass pieces, metalwork, and other creations. "It's a wildly eclectic area, and it's easy to spend an entire afternoon window shopping, visiting with artists, and enjoying lunch at one of the downtown restaurants," she says, adding that she highly recommends White Duck Taco Shop. "It serves the best tacos with imaginative fillings like shrimp and grits and banh mi tofu."
After lunch, Young says she'll often take a walk down Riverside Drive to hit one of her favorite guilty pleasures, the French Broad Chocolate Lounge. "Not only do they have a wide assortment of gluten-free and vegan chocolates made on-site in their factory, but their Liquid Truffle Drinking Chocolate served in a little cup is to die for," she says.
When Young thinks of home—which is often—one of her favorite childhood memories is traveling with her grandparents along the Blue Ridge Parkway. "We'd wake up early in the morning to explore the Parkway area and stay to see the Brown Mountain Lights," she says of the mysterious orbs that are often spotted in the fall months. (Legend has it that if you see the lights, you'll be lucky in love.)
Among the best viewing spots is Wiseman's View Scenic Overlook in Marion, about thirty-five miles east of Asheville. "I remember visiting as a child and walking through the woods before reaching this impressive observation area," Young says. "Standing there gives you an incredible view of the North Carolina mountains and the Brown Mountain Lights."
On the clearest of evenings, it also offers a glimpse of Asheville, the city that Young will always hold close to her heart. "I love everything about it," she says. "The smells, sights, and history. All of it."
Vegan Dining in the Land of the Sky
Bellamy Young marvels at Asheville's vibrant dining scene, which she says has grown by leaps and bounds in the years since she called the city home. The actress, who went vegan as a college student in 1988, says Asheville is a great city for foodies, including those who embrace a plant-based lifestyle. One of her favorite dining spots is the Scarlet Bee in North Asheville. "They have a really inviting atmosphere and amazing mezze—Mediterranean small plates that can be shared," she says.
For a casual lunch with family, she recently brought her mom and aunt to Mela Indian Restaurant. "I visited India after wrapping up the first season of Scandal, and I can honestly say Mela has the most authentic, delicious Indian food," she says. "They even bake their bread in a genuine tandoor oven."
A visit to Asheville isn't complete for Young without a stop at the Hop Ice Cream Cafe. "My mom used to take me there as a little girl, and we still go there whenever I visit," she says. "Not only is their ice cream delicious, they also serve these amazing vegan milkshakes with unique flavors such as Fresh Mint Swirl Hemp Milk."
This article appears in the Spring/Summer 2021 issue of Southbound.