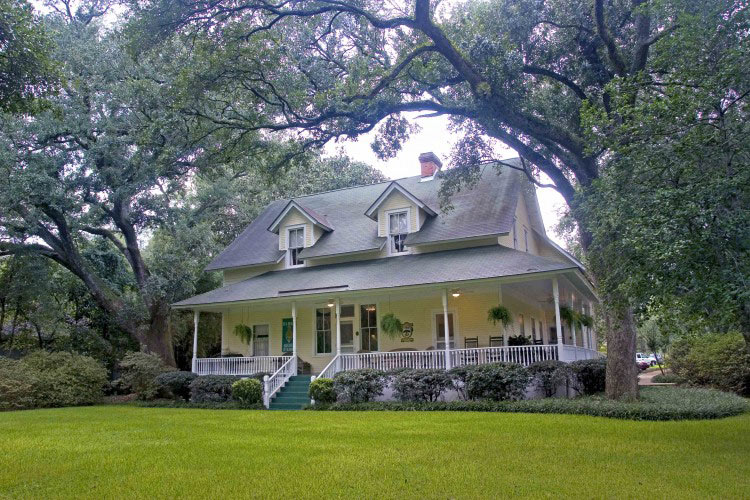 Hidden in the bayous of south Alabama, Magnolia Springs is a 600-acre postage stamp of a town. I have yet to meet anyone who has heard of it. Even my mother-in-law, who lives an hour east in Pensacola, told me its name didn't ring a bell. So when my husband and I arrived there, I was surprised by how familiar it seemed. A canopy of live oaks shaded the main road, and homes stood on wide lawns framed by picket fences and dotted with magnolia trees. Turning into the driveway of the town's namesake bed and breakfast, complete with a wraparound porch, I put my finger on it: The whole place felt like a scene out of Forrest Gump or Fried Green Tomatoes.
Turns out, I wasn't far off. Forrest Gump author Winston Groom used to live in Magnolia Springs, and Fannie Flagg kept a home here while writing Fried Green Tomatoes at the Whistle Stop Cafe. She also based the characters and the fictional town in A Redbird Christmas on Magnolia Springs' salt-of-the-earth residents and unhurried way of life.
We learned all this from David Worthington, owner of Magnolia Springs Bed and Breakfast. A north Alabama transplant, he purchased the 1898 structure—an Alabama State Landmark—in 1996. With the help of his partner, Eric Bigelow, he refinished the floors, updated the five rooms, and opened it to guests. It's the only bed and breakfast in Magnolia Springs, and Worthington is the toast of the community. (He's also popular for bringing the chicken-and-broccoli casserole to the monthly town potluck.)
He told us to check out Magnolia River from the private dock across the road—"Tell 'em David sent you." On that dock, we found a mailbox. Turns out the riverfront homes here still have their letters delivered by boat.
Throughout our stay, we took note of the two-story inn's special details, like heart of pine floors, stained-glass windows, and original chandeliers. Our suite was trimmed in curly pine, and the wavy-glass windows looked onto the live oaks whose branches curled toward us as if ready for an embrace. In the evening, we nibbled chocolates Worthington left for us at turndown; in the morning, he served us a three-course breakfast.
As we left town, my husband at the wheel, I turned to watch the live oaks fade from view. Thanks to two bestselling books and a little Hollywood magic, Magnolia Springs is a place I came to know long ago—yet the town proved a true discovery.
14469 Oak Street, Magnolia Springs, Alabama • 800-965-7321 • magnoliasprings.com
While You're There
Wine and Dine
Situated in a 1922 building listed on the National Register of Historic Places, Jesse's Restaurant features craft cocktails, more than 100 wines, fresh-caught fish, and steaks made with dry-aged Buckhead Beef. The adjacent Cold Hole bar offers the same menu but a more casual setting; come Thursday evenings for live jazz. jessesrestaurant.com
Take a Side Trip
Named one of America's most romantic towns by Travel + Leisure, Fairhope, Alabama, is sixteen miles northwest of Magnolia Springs, right on Mobile Bay. Browse several blocks of charming boutiques like Gigi and Jay's, and enjoy a leisurely lunch at Panini Pete's in the town's French Quarter. cofairhope.com
Explore By Boat
Hop on a small fishing boat for a guided tour of Magnolia River, which received the state's highest designation for purity. You'll see osprey, pelicans, and plenty of dolphins. If you have time, opt for the four-hour tour, which includes a stop at Gaillard Island, a remote nesting site for tens of thousands of shorebirds and seabirds. gulfviewballooning.com