British settlers first arrived in Norfolk in the early 1600s, and thanks to its Chesapeake Bay location—at the mouth of the Elizabeth River—it became a key port in the New World. The city was largely destroyed at the start of 1776, however, to prevent British forces from establishing a base there. Today, it has reassumed its status as a maritime powerhouse as the site of the world's largest naval base. With miles of sandy beaches, a thriving arts scene, a host of independent restaurants and breweries, and a mostly temperate climate, it's a year-round destination. Norfolk embraces its seafaring past and earned its "Mermaid City" nickname in 1999 when local sculptor Kevin Gallup cast 130 mermaids for area artists to paint and display around plazas, parks, sidewalks, and storefronts. See how many you can spot.
History Buff
FEAST 
First built as a Presbyterian church in 1873, Freemason Abbey Restaurant is a favorite spot to indulge in signature dishes such as she-crab soup and slow-roasted prime rib. Keep an eye out for original architectural details, from the cathedral roof trusses to the stained glass in the bar and bell tower.
WANDER
See the city's history come to life through three centuries of architectural styles in the Freemason Street Historic District, Norfolk's oldest neighborhood. Admire the 1791 Taylor-Whittle House's Federal style, as well as noteworthy examples of Greek Revival, Italianate, Beaux Arts, and Queen Anne architecture.
REFLECT
Embark on the self-guided Waterways to Freedom tour, highlighting Norfolk's key role in the Underground Railroad. Pick up a map at the VisitNorfolk center, and follow the 12-stop trail that runs along the downtown waterfront. You'll see spots where sympathetic boat captains secreted away precious "cargo" and encounter individuals' harrowing stories along the way.
STAY
Find an elegant home away from home in one of four adults-only suites at Four Eleven York in the Freemason District. The 1890s home was thoughtfully restored, maintaining its original pocket doors, floor-to-ceiling windows, and antique chandeliers, while introducing modern upgrades such as heated bathroom floors and rain showers.
EXPLORE
Learn about Norfolk's rich maritime history at the Nauticus Museum. Interactive STEM exhibits engage all ages, and guests can explore the retired battleship Wisconsin, one of the largest built by the Navy. Extra credit: Book an overnight stay on the ship to learn more about its WWII history from retired naval officers.
ART LOVER
APPRECIATE
Since the Chrysler Museum of Art is always free, it's easy to pop in to see a favorite piece among its 50 galleries housing more than 30,000 pieces, from pre-Columbian artifacts and ancient Egyptian sculptures to European paintings and Civil War photography. Want to create something of your own? The affiliated Perry Glass Studio offers classes and daily demos.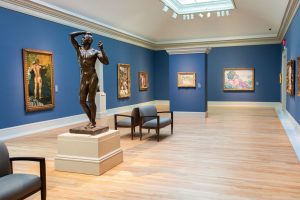 SHOP
Take home an artistic keepsake from the historic Selden Market, built into a 1931 art deco building downtown. A rotating roster of emerging artists and craftspeople sell their wares, so depending on when you visit, you might find handmade leather goods, jewelry, candles, photography, or blown glass.
EXPERIENCE
Score tickets to Virginia Opera or Virginia Symphony Orchestra shows at the Harrison Opera House. Once a World War II USO theater that provided entertainment to troops, the 1,632-seat venue, with its box seating and a cantilevered balcony, is a grand spot to take in the performing arts.
SETTLE IN
Book one of 117 rooms and suites, each adorned with original glass art, at the Glass Light Hotel & Gallery, an Autograph Collection Hotel. Built into the restored 1912 Royster Building, the property includes the free-to-visit Perry Glass Art Collection, with more than 65 pieces by both local and internationally known artists, such as Dale Chihuly.
ADMIRE
Follow your artistic passion on a stroll through the Neon District, the city's first official arts quarter. View 29 artists' works at the D'Art Center, see an improv show at Push Comedy Theater, play life-size chess at the Plot urban park, see colorful street murals, and shop for locally made fashion, all within the span of a few blocks.
OUTDOOR EXPLORER
ROAM
Whether you walk, run, bike, or ride a scooter, the 10.5-mile Elizabeth River Trail is a fun way to get the lay of the land. The urban trail follows the river with public parks, landmarks, and more than a dozen art installations along the route. Just in case: Several bike repair stations are at the ready for on-the-go fixes.
FROLICK
Norfolk is home to more than seven miles of sandy shoreline with three public beaches, each with parking, restrooms, and benches. The 6.5-acre Ocean View Beach Park is a year-round favorite for soaking up the sun, walking along the water, and playing volleyball and Frisbee. Entrance ramps make it possible for everyone to access and enjoy.
SAIL
Get your sea legs with a two-hour intro to sailing workshop on the Elizabeth River with Sail Nauticus. An experienced instructor takes novice mariners through the paces, teaching participants how to steer and trim the mainsail, as well as educating them about water safety and key parts of the Harbor 20 sailboat.
REEL ONE IN
Cast a line from the Ocean View Fishing Pier. The wooden structure extends a third of a mile into the Chesapeake Bay, and the tackle shop has everything you need for reeling in a trophy striped bass, bluefish, or spotted seatrout—no license required. Don't fancy catching your own? Leave it to the pros and order from the on-site restaurant.
REFUEL
Smartmouth in the Chelsea district has been a local favorite brewery since it opened in 2012. After a day of adventuring, sample signature beers such as Alter Ego Saison and Savage Mondo Hazy IPA on the outdoor patio, and dine on gourmet burgers made with locally sourced ingredients from resident food truck Ghost Kitchen.
This article appears in the Fall 2023 issue of Southbound.