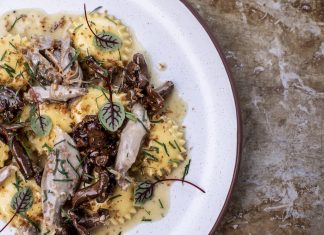 Chef Mel Toledo's original restaurant Foundation Social Eatery is rising from the ashes one suburb over. The fine dining establishment closed in Roswell on December 31, 2020, after the lease ended. Toledo and wife Sandy, along with operating partner Nick Hassiotis, had a new location in Halcyon picked out, but decided against it due to the pandemic-induced economic instability. Two years later, the Foundation Social Eatery team has a new space—55 Roswell Street—in Alpharetta. It is slated to open the first week of December with an adjacent Parisian-style café called Petite FSE to follow in January 2023.
Though previously confirmed as an incoming Dekalb Avenue Inman Park tenant, Mel and Sandy Toledo's
Foundation Social Eatery
will open in Roswell behind
Aqua Blue
this December. Mel says the husband-and-wife team had signed a lease for the Inman Park space, but the landlord lost funding for the project. When that happened, they decided to look closer to their Marietta home for a location for their "rustic new American" restaurant.