Start exploring! Full of history and Southern charm, Forsyth is the perfect place for visitors to relax, refresh, and renew. Explore the historic sites and outdoor amenities, and enjoy delicious dining and unique shopping. Your visit would not be complete if you miss the famous Whistle Stop Café or the events at the Monroe County Fine Arts Center and Rose Theater. There is plenty of family-friendly fun at Hamlin Hills Farm and Indian Springs and High Falls State Parks, perfect for kids of all ages. Visit the latest attraction, Fox City Brewing Co., and shop at CoTique Boutique on the Square.
This virtual tour through Forsyth is the perfect planning guide for an actual road trip:
Her Majesty is a pop up kitchen + catering company. With a passion in culinary arts, Chef Chelsia began her culinary pursuit in a small New Orleans kitchen owned by her beloved grandmother, Jewel. Chef Chelsia provides authentic culinary experiences to foodies near and far. She is also available for catering businesses, weddings, and special events, and caters to the film industry.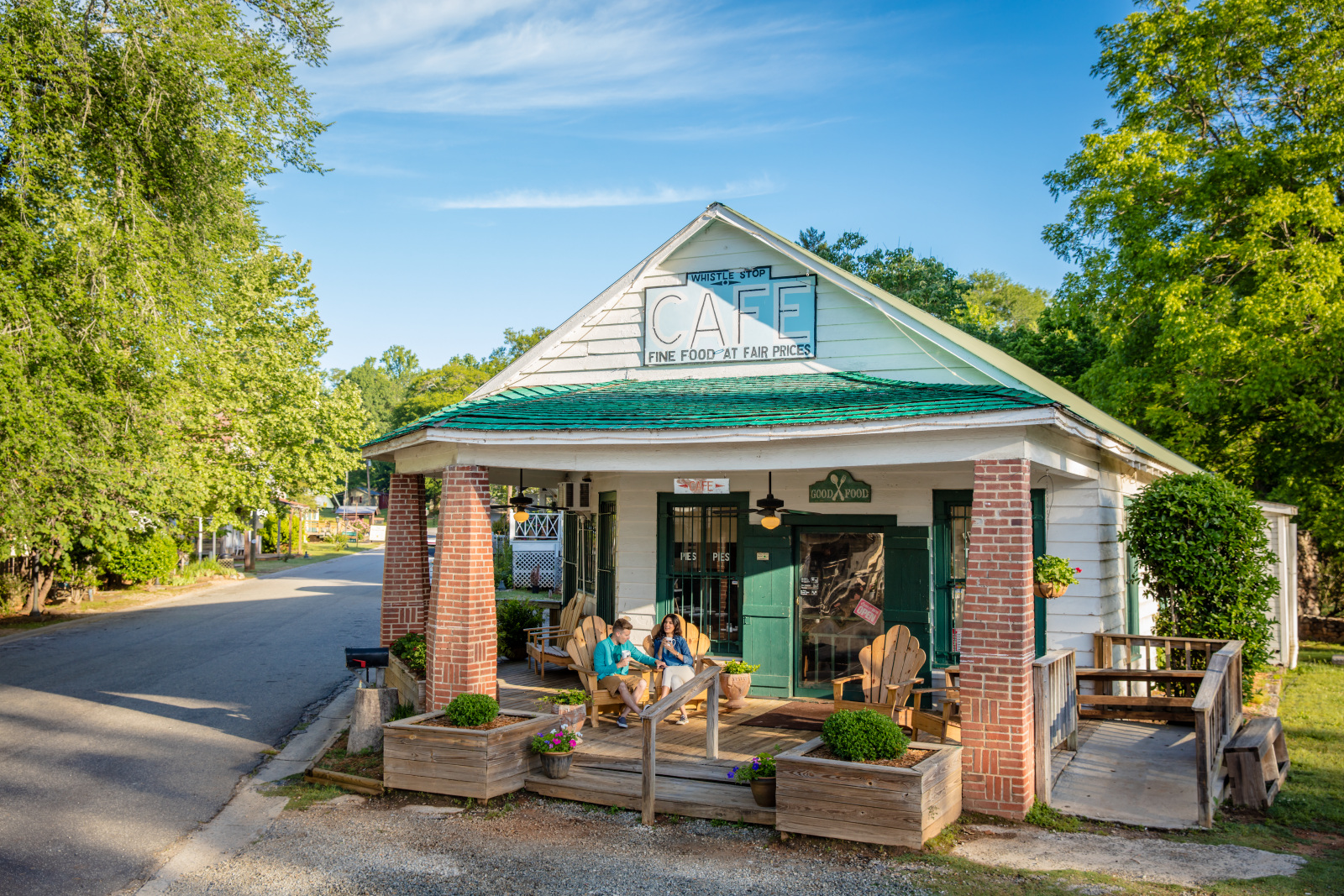 The Whistle Stop Cafe, built in 1927, was originally a general store. In 1991, Juliette, GA became the movie set for the film Fried Green Tomatoes. Today, it is a charming and vibrant community where guests step onto the movie set and can have their very own plate of fried green tomatoes—just as Idgie did—at the Whistle Stop Cafe. After lunch, leisurely tour the rest of the set with a stroll through the unique shops along McCracken Street. Be on the lookout for the grave of Buddy's arm!
The 1823 Artisan Guild was founded to support and encourage creativity while displaying appreciation and patronage of the arts. The Guild showcases artist works throughworkshops, classes, and its permanent gallery in the heart of Forsyth on the square. ​The guild recognizes the history and talents of Monroe County and celebrates local artisans from all over the Middle Georgia area in the annual Art Walk. 
Grits Café's " Southern Fusion" focuses on traditional Southern food with a dash of creativity and imagination. Many menu items spotlight farm-to-table fresh, local ingredients. A feast for the eyes and the palate is guaranteed.
The Rose Theater is truly a Forsyth gem. Located on the courthouse square, the Rose has been offering live performances and community theater by The Backlot Players since 1994. The grandeur of a restored movie house awaits each visitor as they enter the historically registered theater. The high ceilings with gently sloped rows of cushioned seats provide a great view for everyone regardless of where they are seated. An ambience of luxury and comfort pervades this refurbished theater space and its new marquee, thanks to the support of their loyal members, volunteers, and patrons.
Anchor of Hope Foundation, Inc. provides advocacy, counseling, financial support, respite care, and resources to families who are facing Developmental Disability (DD). With a diagnosis of DD affecting 1 in every 6 children today, the foundation strives to be a "yes" to families who so often hear "no" when seeking support.
Anchor of Hope actively seeks to raise community awareness and increase community engagement. Their Annual Autism Awareness Festival, held every April, and their monthly Parents' Night Out respite program promote inclusion by engaging community members in conversations about DD and the need to reframe societal perceptions of disability. The next Annual Autism Awareness Festival will be held Saturday, April 24, 2021. 
CoTique Boutique
Looking for something fun and casual? CoTique Boutique has a large selection of beautiful items in store and online for women and girls of all ages. Whether it is an outfit for a special date or an accessory to brighten up your brunch outfit, you are sure to find it (and more!) at CoTique. 
At Fox City Brewing Company, a brewery and restaurant in Forsyth's historic downtown, time slows down. There's no need to dress up or dress down—just be you. That's how FoxCity lives, and that's how Fox City brews. Expect a casual, not-hurried experience with entertainment and mighty fine beer. You'll always feel at home at Fox City.
With an abundance of sweet treats, you are sure to be in sweet tooth heaven. Feast your eyes on chocolate treats and wall-to-wall candy. With 32 flavors of ice cream, 10 types of cones, gourmet coffees, and popcorn, Scoops is not your average ice cream shop.
Monroe County Fine Arts Center
The MCFAC is a state-of-the-art facility that serves as an arts-education hub for Monroe County Schools. In addition to student engagement, the 1,200-seat performance venue presents a variety of professional touring entertainment for Monroe County and the surrounding Middle Georgia communities. Recent performances have included The Ten Tenors, Don McLean, and the Gatlin Brothers—to name a few.
Hamlin Hills Farm is must for agritourism and family fun. The farm is located in the city off I-75, exit 185. Enjoy fresh produce, Fat Moon BBQ, an eclectic collection of vintage farm equipment, classic vehicles, an old airplane and helicopter, and a petting zoo. Check out their seasonal strawberry picking, summer sunflowers, and the corn maze in the fall.
Pizza may have been invented in Italy, but Jonah's on Johnston has perfected the art of making the pizza pie. Their special brick oven crust, topped with fresh ingredients, is used in all of their original chef-inspired recipes. Come for the pizza and stay for the great family atmosphere.
Kick off spring with the Forsythia Festival, held annually the second weekend in March, in downtown Forsyth. This free, family-fun event features a two-day arts-and-crafts show, children's fair, a 5K run, sporting tournaments, live entertainment, and much more. On Saturday night of the festival, join FaithFest, a singing competition celebrating music, faith, and the Forsyth community.