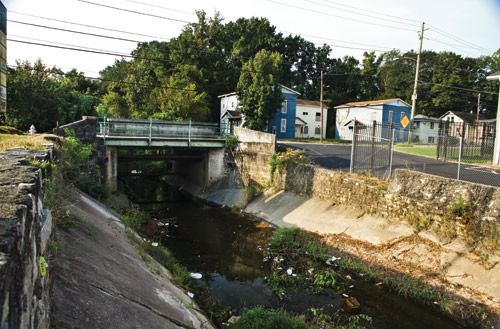 There's nothing particularly remarkable about an urban waterway strewn with debris, contaminated by sewer runoff, and prone to flooding. There's nothing particularly notable about eco-activists resolving to clean up said stream, nor about investors striving to revitalize blighted communities. But the movement to rejuvenate Proctor Creek and the rundown northwest Atlanta neighborhoods through which it snakes is revolutionary because of its coalition of oft-adversarial agencies—federal, state, local—along with environmental nonprofits, city planners, and private investors. The project has the potential to transform a polluted and neglected piece of the city on a scale exponentially larger than the conversion of Atlantic Steel's industrial brownfields into Atlantic Station's enclave of restaurants, businesses, and homes for 3,000 residents.
Proctor Creek became one of only eleven locations added in 2013 to the Urban Waters Federal Partnership, a program that facilitates collaboration between federal and local agencies and communities. In addition to cleaning up the creek and monitoring water quality, the plans include a 400-acre streamside linear park (Atlantic Station, by contrast, covers 138 acres) connected to the Atlanta BeltLine by seven miles of trail. Nearby Maddox Park will be refurbished, and the city plans to install other green infrastructure along eleven miles of creek and the surrounding watershed, which encompasses 10,600 acres. To make this happen, the EPA is working with more than a dozen federal and state organizations, including the U.S. Army Corps of Engineers and FEMA (advising on flood control), Emory University (consulting on stagnant pools that have become mosquito breeding grounds), the Department of Housing and Urban Development (working on redevelopment in adjoining Vine City and English Avenue), Alpharetta-based real estate firm Emerald Corridor, and the Trust for Public Land.
"I think we've kind of all surprised ourselves," says Debra Edelson, senior program director for the Trust for Public Land. "We've created a groundswell of cooperation that none of us had expected."
This combined momentum is moving toward opening the first piece of the linear park sometime in 2014, with the entire project expected to unfold over the next decade. But the result should be a creek clean enough to fish and swim in again, adjacent greenspace that will attract residents and businesses to enliven the community, and a supportive neighbor of the BeltLine. Plus, since Proctor Creek flows into the Chattahoochee, the cleaner water would benefit the entire region. "Everybody wins," says Edelson.
This article originally appeared in our November 2013 issue.