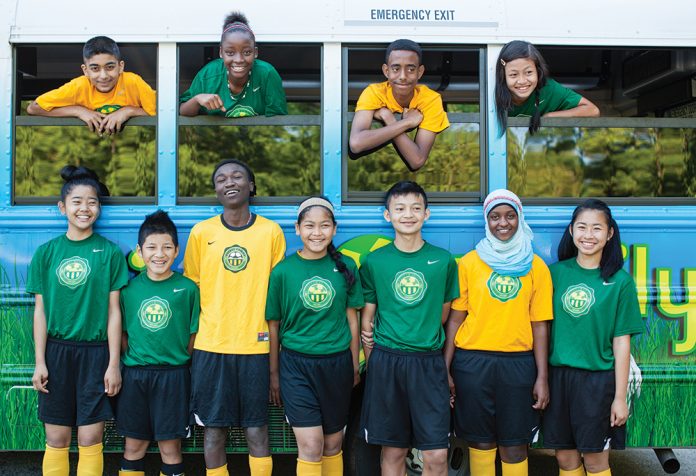 Photograph by Dustin Chambers
Fear is what Aylin Aeshaea most remembers about her early childhood in Baghdad. She was afraid to leave her house except to go to school—and even school wasn't safe from bombs and gunfire.
Today school is the joyous center of Aylin's life because she is a Fugee. "It's different from other schools; it's fun," says Aylin, fourteen, of the Fugees Academy in Clarkston, where she improves her English, struggles with math, plays soccer, and blends with refugee children from around the world. Like Aylin, many of her classmates fled war-torn countries and lived in refugee camps before coming to America. Fugees Academy provides a transition between their old lives there and their new ones here.
The academy's origins are rooted in happenstance. A decade ago, Luma Mufleh got lost while driving through Clarkston and came upon a group of barefoot refugee kids playing soccer on an empty asphalt lot, with rocks as goal posts. Mufleh decided to organize a soccer program with better equipment and grassy fields for practice. But soccer became more than a game for the Jordanian-born Mufleh and her players. They formed a team, the Fugees (short for "refugees"), that became a bridge across cultures—a safe place for the kids to heal, grow up, and adapt to American life.
Mufleh offered tutoring and helped her players keep up with their schoolwork. Then one day she realized one player, a sixth-grader who had been making mostly Bs in public school for four years, couldn't read. In 2007, she pulled six students together and hired a teacher.
The next year, she doubled the number of students. Then doubled it again. Meanwhile, the Fugees attracted national attention. New York Times reporter Warren St. John chronicled a season as these plucky players and their dedicated coach struggled to find a practice field in Clarkston. His front-page story and subsequent book made Mufleh and her team a cause celebre, prompting television interviews, an option for movie rights, and a stream of donations.
It would have been easy to stick with soccer and to coach the team to championships. But instead, Mufleh expanded the scholastic portion of her program, using the media attention to grow the Fugees Academy to educate both boys and girls in grades six through twelve. Today the academy enrolls about 100 students from more than twenty countries. Soccer remains central; a soccer tryout is part of the admissions process. That said, natural athletic ability isn't important, insists Mufleh. But perseverance is. Twenty-one former students are in college, and three are college graduates. The school is accredited by the Southern Association of Colleges and Schools and the Southern Association of Independent Schools.
"Being refugees, at times, can be very isolating," Mufleh says. "Finding a group of kids who has your back at all times is a good way to create an educational model."
Even with dozens of volunteers, it costs about $14,000 per student to cover schooling, meals, soccer uniforms, summer academic camp, and other expenses. There is no tuition; the cost is covered through donations. Mufleh has obtained property and plans to build a campus in Clarkston. For now, however, the school meets in a cramped space at the Clarkston United Methodist Church and plays soccer at Armistead Field.
Like many refugee children, Aylin had fallen behind in her schoolwork. At the Fugees Academy, with classes of about fourteen students, she is slowly catching up. "Our coach, Luma, she tells us to not give up, to keep trying it," Aylin says. "She's the best."
Photograph by Dustin Chambers