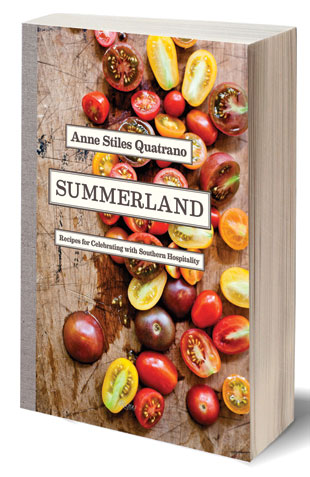 When I asked Anne Quatrano, the brilliant chef behind Atlanta's most enduring fine-dining restaurant, why she'd decided to put out a cookbook now, she replied, "Most people ask why I've taken so long to write one in the first place!" Her gorgeous opus, Summerland (Rizzoli, $39.95), finally arrives October 1, but it's not as if she's been lollygagging. Twenty years ago, Quatrano and her partner, Clifford Harrison, opened Bacchanalia in a quirky cottage on Piedmont Road in Buckhead. Their seasonal, ingredients-speak-for-themselves approach to cooking championed local foods earlier than most Atlanta chefs, and the restaurant offered—and still offers—an experience that was rarified without being intimidating. They've since opened Floataway Cafe and Abattoir, as well as Quinones and tony market Star Provisions in the same building as Bacchanalia, which relocated to the Westside in 2000.
Quatrano decided on a menu-driven cookbook "because, to me, that's what food is about—the complete picture," she says. She organized the recipes by month, beginning with September: "That's when things shift most interestingly in the South's growing season." Local photographer Brian Woodcock documented feasts she laid out at Summerland, the farm on family property in Cartersville, forty miles northwest of Atlanta, where she and Harrison live. The pictures of tables set with sumptuous linens and ornate china say as much about Quatrano's eye for styling as they do about her cuisine. (She sources the kitchenware and fabrics sold at Star Provisions herself.)
A few recipes from her restaurants—such as Kumamoto oysters with caviar and Champagne gelee, in rotation on Bacchanalia's menu—appear in the book, but Quatrano concentrates mainly on homier dishes: pork chops with tomato gravy, Italian wedding soup with lamb meatballs, angel food cake with macerated strawberries and poached rhubarb. The biggest surprise, though, is the personal tone. Quatrano has always been a cook who let her food express her personality, so it's quite enlightening to learn, for example, her thoughts on lovey-dovey dining: "I won't pretend that we set out to make Bacchanalia a romantic destination." If you're starting to think about holiday shopping, this is, hands down, the one cookbook to give Atlanta food lovers this year.
Featured Recipes
Roasted Turkey with Gravy Two Ways
Apple-Cranberry Dressing
This article originally appeared in our October 2013 issue.