Home
Authors
Posts by Crysta Jones
Like many middle-schoolers, Mason Wright is into video games and science. But one particular after-school activity sets Wright apart from his peers. For more than two years, the 13-year-old from Lithonia has operated a street vending hot dog stand, Mason's Super Dogs.
As a child, Reza Nourali daydreamed of being like the Superman and Spider-Man action figures he collected. So, the 45-year-old created the MiniMe Factory, an Alpharetta-based company that creates pint-sized versions of people—or even their pets—with 3-D printing technology.
Play silly games at Dad's Garage's new annual fundraiser, the Big Stupid Parking Lot Carnival; get colorful at the Color Run 5K at Six Flags, and stroll through the Spring Festival on Ponce.
Baseball season is back and you can join a watch party at The Battery Atlanta while the Braves as open their season, Jeff Dunham is bringing his "Passively Aggressive" tour to State Farm Arena, and help support local art at Candler Park Art Block.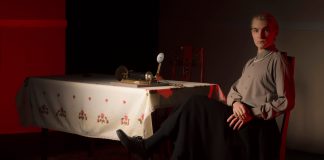 Out Front Theatre's latest production, I Am My Own Wife, marks the first time the Pulitzer- and Tony Award-winning show has been staged with a transgender performer, Peter Smith, playing all 35 roles.
The self-described as the world's largest tattoo convention tour, Atlanta Tattoo Arts Convention, comes to AmericasMart, celebrate the MLS champions at the Atlanta United Block Party, and sip a mimosa at Atlanta Brunch Festival.
Mariah Carey visits Atlanta as part of her Caution World Tour; science fiction and fantasy geeks dress up for Cardboard Con; and enjoy 60+ beers, 40+ bourbons, and all the barbecue you can stomach at Atlantic Station's Beer, Bourbon, & BBQ Festival.
Even if you can't make it to New Orleans, there are plenty of places in Atlanta where you can find crawfish boils, beads, and Hurricanes just in time for Mardi Gras.
A locally funded, A Prairie Home Companion-esque show, the Good Gracious Variety Show will celebrate a collection of Southern artists and talents when it holds its 14th event on Saturday.