When I think of my fondest memories as a child in the South Carolina Lowcountry, I always think about a porch. Whether swatting mosquitoes on the swing or overhearing my elders discuss the latest gossip or gathering for Mother's Day brunch, I have enjoyed the most mundane and the most important aspects of life on the porch under a haint blue ceiling.
My family has lived in the Lowcountry since slavery as part of the Gullah Geechee community, which still inhabits the Sea Islands of South Carolina (where the culture is called Gullah) and Georgia (Geechee) and whose culture bridges the connection between Africans and Americans. Being a part of this community is something I'm very proud of.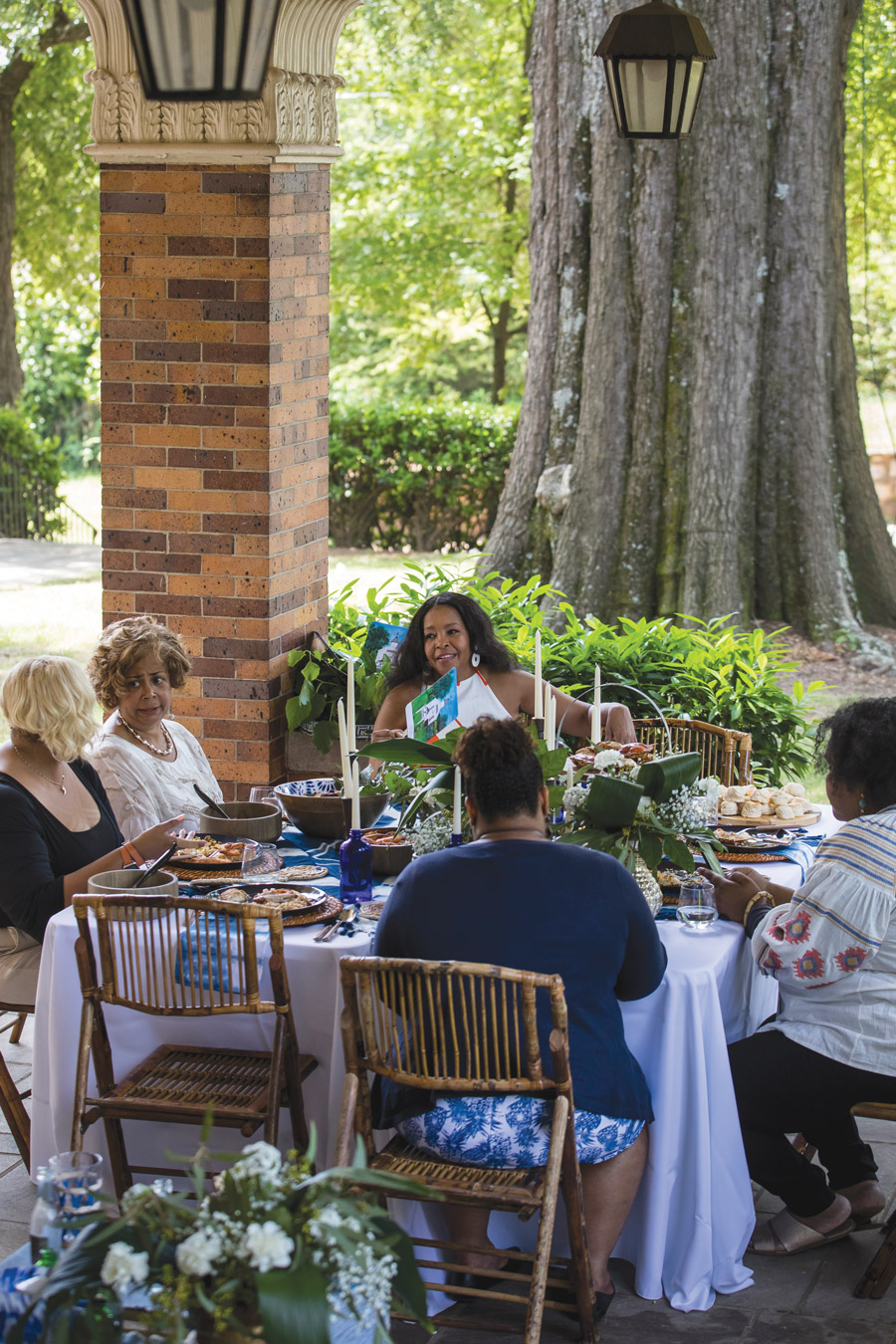 All my life I was taught about the importance of the land to my family, heritage, and community and its ability to provide life, beauty, enterprise, and, most importantly, food.
Many African American families in Georgia have roots in the Sea Islands, often expressed through food that revolves around seafood and rice and okra, which were introduced to the Americas from West Africa during the slave trade.
The Herndon Home has one of the grandest porches in Atlanta, and the house museum provided a meaningful setting for my gathering of Gullah Geechee friends because of its connection to African American entrepreneurship and landownership—a crucial issue for the Gullah Geechee people. The home was owned by Alonzo Herndon, the founder of Atlanta Life Insurance Company, one of the first black-owned insurance companies which supplied many home and land policies in black communities, including the Sea Islands.
Our group created a summer-ready brunch that honors our heritage, right down to the decor, with indigo, church fans, and the traditional blue bottles. My friend Renee created the floral arrangements from her family's farm on their 'heir properties' on the coast, a term for land passed down from Gullah ancestors. Here are some recipes from chef Gina Capers-Willis, a native Savannahian, that you can use to create your own Lowcountry-style brunch at home—on the porch, if you have one.
THE MENU

Grandma Lucy's deviled crabs
My mama's biscuits
Fried okra, corn, and tomatoes
Gina's peach pound cake
Grandma Lucy's deviled crabs
Serves 12
4 tablespoons butter
½ medium onion, finely diced
½ green bell pepper, finely diced
1 pound lump or claw crab meat plus 10-12 crab shells
½ cup mayonnaise
1 egg, lightly beaten
1 teaspoon Old Bay seasoning
½ teaspoon paprika
¼ teaspoon garlic powder
¼ teaspoon pepper
1 sleeve of crushed Ritz crackers
Preheat oven to 350 degrees. Melt butter over medium heat in a large pan. Add onion, celery, and bell pepper, and cook until soft. Remove from heat, and let cool. Pick through the crab to remove any pieces of shell, and place crab in a large bowl. Add remaining ingredients to bowl along with cooked onion and bell peppers. Gently mix it all together. Pack mixture into crab shells. Sprinkle with a little paprika if desired. Bake for 20 minutes. I also like to add little pats of butter on top of each crab.
My mama's biscuits
Serves 12
2 ¼ cup self-rising flour
2 teaspoons baking powder
½ teaspoon salt
¼ cup Crisco
¼ cup very cold, unsalted butter, cut into small cubes
¾ cup buttermilk
Preheat the oven to 475 degrees and line a baking sheet with parchment paper. In a large mixing bowl, whisk together flour, baking powder, and salt. Using a pastry blender, cut the shortening into the flour mixture. Add the buttermilk and stir until evenly distributed throughout the batter. Gently knead the dough, just until it comes together in a ball. Transfer to a lightly floured work surface, and roll out until it's ½- to ¾-inch thick. Dip a drinking glass into a mound of flour, and use the glass to cut out the biscuits. Place on the prepared baking sheet about 1 inch apart, and add the pats of butter on top of each biscuit. Bake for 10 minutes, just until the tops are golden.
Fried okra, corn, and tomatoes
Serves 12
2 slices bacon
2 cups raw corn sliced off the husk
2 cups sliced fresh okra
1 cup grape heirloom tomatoes cut in half
½ cup diced bell peppers and diced onions
½ teaspoon thyme
½ teaspoon salt
½ teaspoon garlic powder
¼ teaspoon pepper
In a large skillet, cook the two slices of bacon until brown and crispy. Remove and set aside. On low heat, add okra and cook until the slime has absorbed. Stir in bell peppers, onions, seasonings, and corn. Cook for 10 minutes. Add tomatoes and saute until they start to blister. Cover and cook for an additional 6 to 7 minutes. Top with crumbled bacon.
Gina's peach pound cake
Serves 12
½ pound (2 sticks) butter
3 cups sugar
1 cup sour cream
2 tablespoons peach preserves
½ teaspoon baking soda
3 cups all-purpose flour
6 large eggs
1 teaspoon vanilla
Preheat oven to 325 degrees. In a large mixing bowl, cream the butter and sugar together. Add the sour cream and peach preserves, and mix until incorporated. Sift the baking soda and flour together. Add to the creamed mixture alternating with eggs, beating each egg one at a time. Add the vanilla, and pour the mixture into a greased and floured 10-inch tube pan. Bake for 1 hour and 20 minutes.
This article appears in our Summer 2020 issue of Atlanta Magazine's HOME.