John Lewis came to Atlanta five decades ago as a founding leader of SNCC—the Student Nonviolent Coordinating Committee—and with an already impressive resume as an activist. As a Fisk University student he'd racked up civil-disobedience arrests leading sit-ins and protests. In 1961 he helped spearhead the Freedom Rides (and was brutally attacked during one). And on August 28, 1963 he addressed the March on Washington.
"I was speaker number six. Martin Luther King was number ten," he said last Friday during the dedication ceremony of a mural in his honor. "Out of the ten people that spoke, I'm the only one still around," said Lewis.
Most people today remember only one of those speeches: King's famous "Dream" exhortation. But Lewis, who was just twenty-five when he addressed the 200,000 assembled at the Washington mall, delivered one of the day's most fiery speeches. His original text reportedly was toned down at the request of other march organizers, but the final version is notable for its direct boldness. In his opening lines, he pragmatically said that although the march was intended to rally support for a civil rights act, "we support it with great reservations." Lewis went on to say: "There is nothing to protect the young children and old women who must face police dogs and fire hoses in the South while they engage in peaceful demonstrations."
Two years later, Lewis led 600 people in a peaceful demonstration across a bridge in Selma, Alabama, and was confronted by state troopers who released tear gas and wielded clubs and nightsticks. Lewis's skull was fractured in what would become known as "Bloody Sunday." The public outrage sparked by that event gave politicians the backbone to pass the 1965 Voting Rights Act.
Today, voting rights are still threatened, Lewis reminded the attendees at the dedication ceremony. This spring Lewis—who was elected to Congress in 1986 and has represented Georgia's Fifth District ever since—chastised fellow Georgia rep Paul Broun for trying to repeal part of the Voting Rights Act.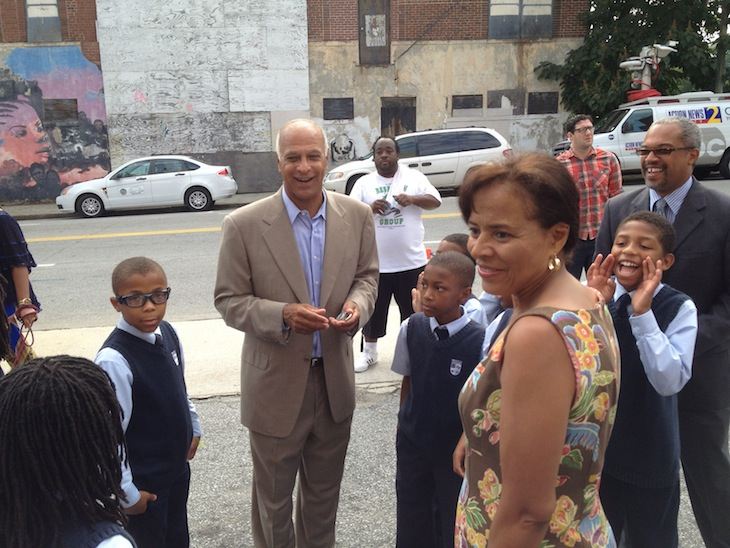 On this sunny morning at the corner of Auburn Avenue and Jesse Hill Jr. Drive, Lewis was serenaded by kids from the Renaissance Learning Center, praised by Central Atlanta Progress chief A.J. Robinson, and lauded by city councilman Kwanza Hall: "This mural honors not only one of Atlanta's wonderful citizens but one of the nation's great leaders." There was a surprise appearance by actress Lynn Whitfield (Madea's Family Renunion), who gushed, "Thank you for being a hero all of my life," and another by former mayor Bill Campbell, who stood at the back of the crowd with his wife Sharon and posed for photographers.
John Lewis, who grew up on a sharecropper's farm in Troy, Alabama, said that the full implication of the mural struck him when he caught a glimpse of it while driving by on the Connector. "Growing up in a little town in southeast Alabama, I never would have dreamed that there would be a mural of me on the side of a building in Atlanta that is so big it could be seen from the highway," he said.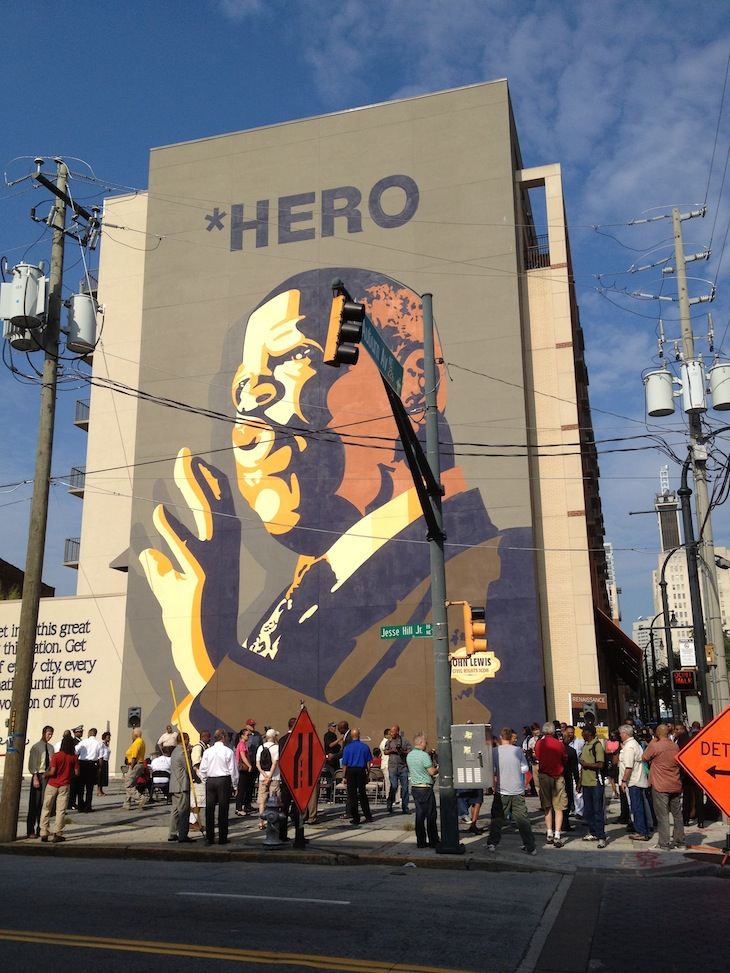 After the ceremony was concluded, Lewis joined muralist Sean Schwab painting the final touch on the mural—the dot over the "I" in his last name. Schwab, member of the Loss Prevention art collective, said he was "honored" to work on the tribute to the local hero. "There are murals all over town that are just art for art's sake. I wanted to do something with meaning."
And that raised one nagging question: Why the asterisk next to the word "hero"?
"It's really just a design element," said Schwab.
So, no footnote or commentary denoted? "No," he insisted. Anyone who thinks so is just being pedantic about punctuation.