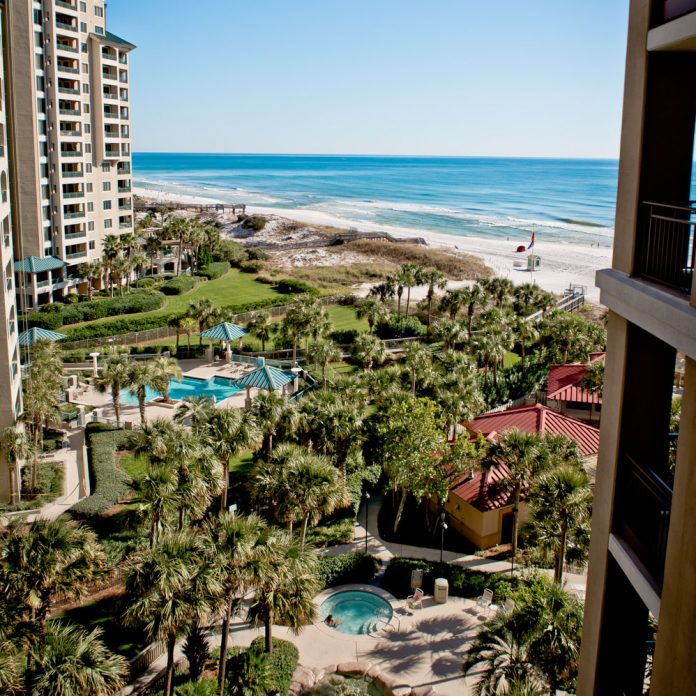 Jamey Guy
With its platinum blond sand, cerulean water, and sexy New Urbanist architecture, the Panhandle is the supermodel of Florida beaches. But beauty, as your mother warned you, isn't everything. Eventually you're going to want to do something besides gaze at the ocean. Golf, tennis, and fine dining are all there, but may require a drive down the highway. That is, unless you're staying at Sandestin.
This 2,400-acre resort is so large—more than three times the size of UGA's Athens campus—that it's often confused with an actual town. In fact the gated community is located in Miramar Beach, eight miles east of Destin proper. Sandestin includes thirty neighborhoods with thousands of residences, from quiet lakeside townhouses to luxurious beachfront high-rises, fifteen tennis courts, a 113-slip marina, four golf courses, and a sprawling retail and entertainment district called the Village of Baytowne Wharf. With the Gulf of Mexico to the south and Choctawhatchee Bay to the north, the development hugs seven miles of waterfront. And all of this is easily accessible via bicycle, golf cart, or free tram.
Let me put it in perspective. Little kids can spend the morning at Club KZ, happily playing balloon volleyball or creating sand handprints, while their parents relax at a spa or championship golf course. In the village, tweens race from EuroBungy to the Laser Maze while Mom and Dad applaud from the beer garden. In the evening, adults enjoy softly lit romantic dinners while teens congregate safely on the beach (trams run until late at night on spring weekends). Call me jaded, but in my opinion, togetherness is overrated in family vacations. The best escapes allow everyone a little space.
Granted, between Osaka Sushi Rocks and Grin-Go's Tex-Mex Cantina, the New Orleans–flavored village feels a bit like Bourbon Street for beginners. Or maybe Epcot. Theme park haters, you may prefer hanging out at Captain Joe Lee's at the marina. It's a cozy wood-paneled bar where regulars gather—many perched on director's chairs embroidered with the names of their boats—to toast the sunset, as the day's designee rings a bell and fires the cannon.
In Baytowne Wharf, the most French Quarter–like dining choice is Acme Oyster House, an actual Louisiana import. Oddly, area fine-dining options—Bistro Bijoux, Marlin Grill, and Seagar's—shine best with steaks rather than local seafood. For the quintessential fried fish basket (with hushpuppies, natch), head a few miles east to Stinky's Fish Camp. Put your name on the wait list and kill a couple of hours at nearby shops along Scenic Highway 30A. Be sure to try the restaurant's Cajun specials, like blackened trout with crawfish etouffee and pepper jack cheese grits (which help explain the spinning frozen drink machines up front).
Cajun flavors also star in Sandestin's annual Gumbo Festival (February 16), which has attracted sell-out crowds for more than twenty years. If you miss it, check out last year's winning sausage-and-chicken gumbo at 98 Bar-B-Que, where you can pair it with bite-sized, fried creamed corn nuggets and ice-cold, custardy banana pudding.
Sandestin offers a full spectrum of water sports—paddleboarding, kayaking, boating, fishing, parasailing—but golf is its raison d'être. The four courses here offer a range of challenges, all with marsh or bay views. It is the only place in the world where courses by renowned golf architects and brothers Rees and Robert Trent Jones Jr. meet. The premier course, Burnt Pine, is a semiprivate club in a lushly manicured community of Spanish-style mansions, but is accessible to guests of Sandestin Resort.
Like many Panhandle destinations, Sandestin's beach can be standing-room-only during peak weeks, but that's the beauty of the double shorefront. You can always escape spring-breakers by ducking through the pedestrian tunnel under the highway and emerging on the quieter bay side—because sometimes all you really want to do in Florida is gaze across the water.
This article originally appeared in our February 2013 issue.