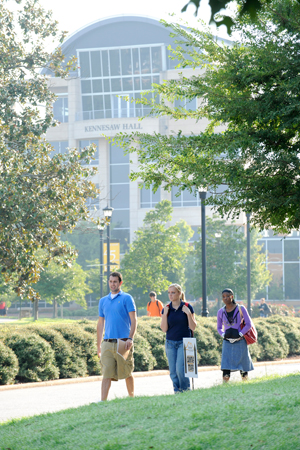 Near historic Kennesaw Mountain National Battlefield Park, Kennesaw State University is located in suburban Cobb County. Founded as a junior college in 1963, the school transitioned to a four-year institution in 1976 and did not become a university until 1996. Now, with more than 23,000 students, KSU is ranked thirty-second among regional public universities in the South by U.S. News & World Report and is the fourth-largest school in the University System of Georgia.
Through schools of business, education, health, humanities, arts, and science and mathematics, KSU offers fifty bachelor's, twenty master's, and several doctoral programs, as well as two education specialist degrees. Coles College of Business enrolls the second-highest number of business majors in the state, and Businessweek ranks its part-time M.B.A. fifty-sixth in the country. KSU also operates one of Georgia's largest nursing programs, now housed in Prillaman Hall, which opened last August. The $56 million facility includes fifteen health and science labs, several large-scale classrooms, an auditorium, and a pediatric lab.
With a mixture of both traditional and nontraditional students (the average age is twenty-four), KSU has more than 1,500 international students representing 131 countries. The U.S. Center for Citizen Diplomacy has recognized the school as one of ten higher education institutions nationwide for fostering strong international involvement; through KSU's Year Of initiative, lectures, performances, and special courses focus on a specific country for the entire academic year. (This year is Romania.) A variety of study abroad opportunities are available, including international business studies in Dubai and a marine biology program in Belize. This year also marked the start of doctoral studies in international conflict management.
KSU has made concerted efforts to create a sense of community with the opening of a $46 million, 915-bed residence hall for freshmen in 2008 and the university's first full-scale dining hall in 2009. Ways to get involved include more than 230 registered student organizations and twenty fraternities and sororities. Other recent additions include new intramural fields in 2009 and a soccer stadium in 2010; a football team may start as early as 2014 if approved. Of course, since admission to all sporting events is free with a student ID, fans enjoy cheering on the Owls' existing fourteen NCAA Division I teams.
Photograph courtesy of Kennesaw State University/David Caselli