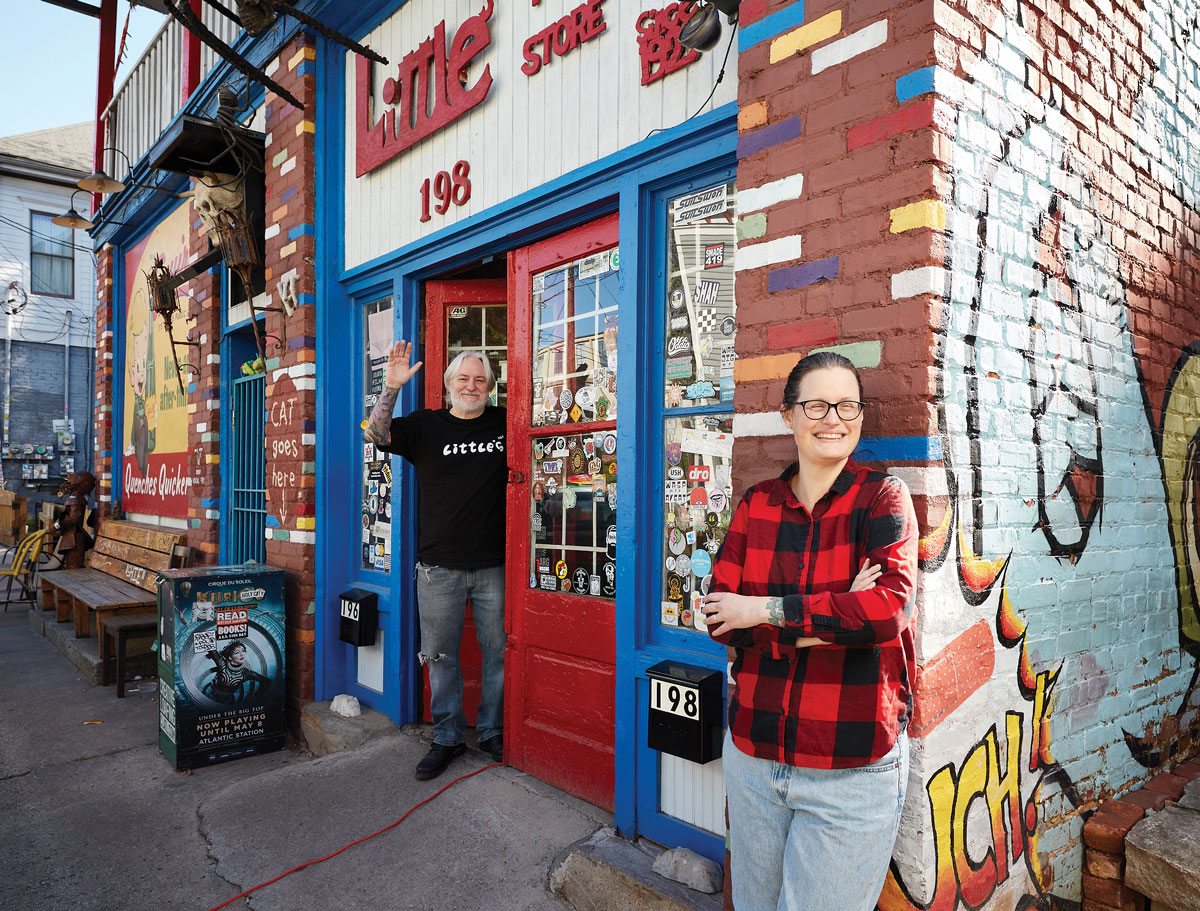 Brad and Nina Cunard want to keep Cabbagetown shitty. In a good way. As developers contort the urban landscape surrounding the quaint, historic neighborhood just east of downtown Atlanta—building glassy condos, cookie-cutter apartments, and swanky dining halls—the owners of Little's Food Store feel compelled to preserve their community's legacy as a gritty, artsy, tattooed, tight-knit enclave. Gentrification has complicated that mission, but the Cunards are dug in.
Perhaps Atlanta's only bona fide bodega, Little's has been slinging burgers and dogs mostly uninterrupted since 1929, when Marvin Little—and later his son, Leon, who still owns the building—ran the pint-size Carroll Street shop, and when Cabbagetown was a rough-and-tumble mill village anchored by the Fulton Bag and Cotton Mill, a redbrick compound since transformed into pricy apartments and half-a-million-dollar condos. The Cunards have lived in Cabbagetown since the mid-2000s—before the BeltLine weaved its way through the neighborhood, before more patrons started showing up with pressed shirts and coiffed hair—and they expect from transplants the same manners they expect from loyal regulars.
When the Cunards took control of the iconic establishment in 2010, Brad said, "no one was taking pictures of themselves to post on Instagram that they were at a cool place—and we weren't trying to be the cool place. The more things changed around me, the more I wanted to hold on to what I had and keep it that way."
Little's is still anything but pretentious. It's a neighborhood mainstay that provided Cabbageheads with milk, eggs, and toilet paper in the throes of the Covid-19 pandemic; a reliable source of juicy community gossip; and a necessary stop before a picnic or house party or night on the town, its shelves lined with beer and wine, chips and charcuterie, condoms and bars of soap.
Little's has evolved a bit since the days of old. Customers could smoke inside until the mid-aughts; the store doesn't even sell cigarettes anymore. The cost of grub has risen: When the Cunards took over, sliders went for $2; they're now more than $4. But the old-school attitude survives, and the couple doesn't intend to get swept away by the forces of gentrification. Real estate speculators have come sniffing around, kicking Little's tires, a few times since the Cunards took over. They aren't going anywhere anytime soon. "This place means so much to so many people," Nina said. "The Littles served their community for so long, and we want to keep that going."
"Keep Cabbagetown Shitty," a community credo coined by a longtime neighbor—and plastered on bumper stickers, T-shirts, and hats, courtesy of a former Little's employee—is something the Cunards want to embody.
"It means that independent artisan spirit," Brad said. "Some of that's disappeared." But there are still plenty of weirdos in the community, he adds. "And I've watched people become Cabbagetown. You'll see them move in, with short hair and uptight clothing, and after a year or two, their hair is getting longer, and they're comfortable being not so done up as they go out."
Nina lamented the metamorphosis of other iconic Atlanta areas, like Ponce de Leon Avenue, where developers promise major transformation. "Everything is changing so rapidly that it's nice to have some touchstone of what's always been here. This is one of the last spots that's genuine," she said. "I really want Carroll Street to stay Carroll Street."
This article appears in our June 2023 issue.