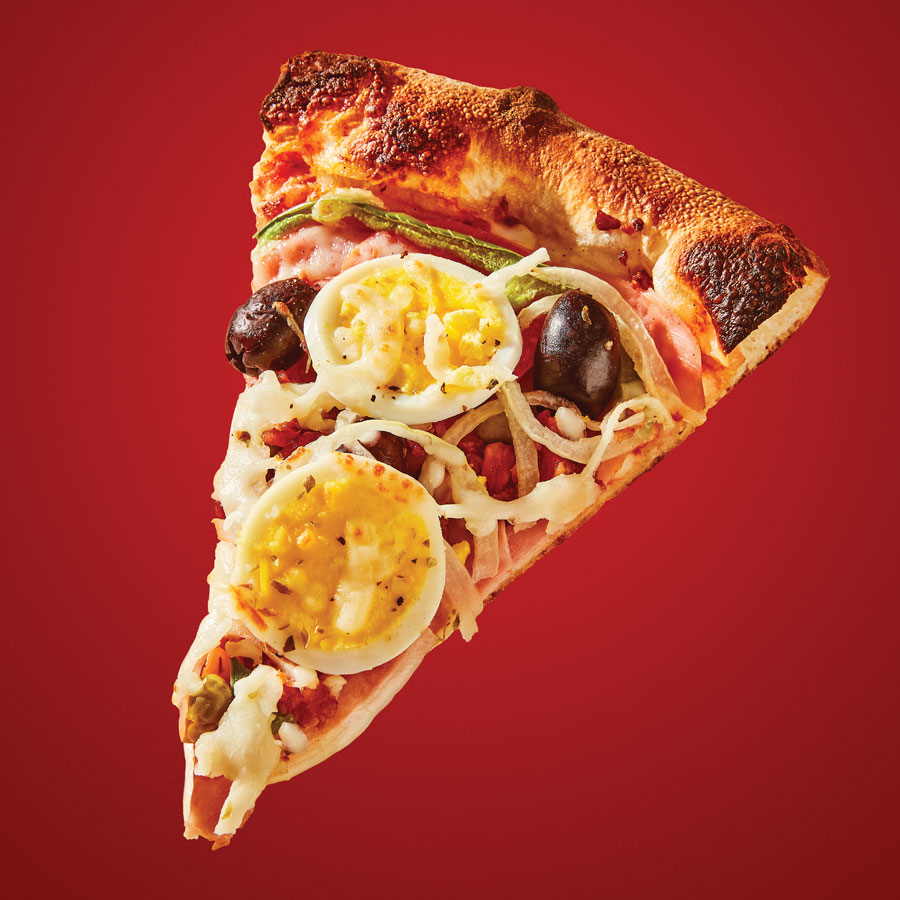 New York, of course, leads the world in pizza consumption. Second place: Sao Paulo, Brazil, which has more inhabitants of Italian descent than any city in the world—including any city in Italy. Six years ago, Thiago Machado and Nicollie Conovalow moved from Sao Paulo to Orlando, where Machado worked in a Brazilian pizza parlor; in 2021, the pair moved to Atlanta and struck out on their own, opening a small business—takeout and delivery only, operating out of a Westside ghost kitchen—that specializes in Brazilian pizza.
The savory pies from Brasiliana Pizza feature toppings like olives, tuna, hard-boiled eggs, Calabresa sausage, and the soft processed cheese Catupiry (see previous page), but Machado and Conovalow also pay tribute to another Brazilian tradition: the dessert pizza. Their Brigadeiro, for instance, is a takeoff on Brazil's famous fudge balls that comes showered in chocolate sprinkles. Brasiliana is one delicious ripple in the endless stream of pizzerias opening in Atlanta these days, offering pies in just about every style imaginable—Detroit, New York, Greece, Naples, Sicily. Has the Colorado Springs–style pizza yet been invented? If so, you'll probably be able to get it here soon. Until then, some other worthy newcomers:
Archna Malhotra Becker, long one of the city's best Indian chefs, opened Tandoori Pizza and Wing Co. last year in Politan Row in Midtown. The menu is fusion at its finest, with pizza options like the New Delhi (with chutney marinara, assorted veggies, and cilantro) served on a naan crust.
Kafenio owner Johnny Gianoulidis modeled his new Brookhaven spot, the Greek Pizzeria & Gyros, after a restaurant his parents owned when Gianoulidis was a kid. No need to choose between the two food groups referenced in the restaurant's name: The Greek Special—with lamb or chicken, feta, olives, and tomato—is basically a gyro pizza.
Nina & Rafi owner Billy Streck opened Pielands in December in Virginia-Highland, serving New York–style slices and whole pies like the marinara-, mozz-, and basil-topped Noni Style. Another highlight: bottled cocktails,like a rum-based old-fashioned, that can be drunk on site or taken home.
Launching Emmy Squared first in Brooklyn in 2016, Emily and Matthew Hyland have since expanded across the country, with new Atlanta locations in Glenwood Park and Midtown. Their Detroit-style pies—focaccia-esque dough with irresistibly crunchy edges—include the Colony Squared, with pepperoni, pickled jalapeños, and a drizzle of honey.
In October, the team behind the Sandy Springs Italian restaurant Il Giallo opened G's Pizza next door. The pies are takeout only and Neapolitan in persuasion, and come in varieties like the Anti-Carnissima (roasted peppers, artichokes, caramelized onion, rapini) and the Lasagna, topped with short rib.
This article appears in our March 2022 issue.