A modern Mexico City-inspired taqueria overlooking the central green opens at Atlantic Station on October 25. Azotea Cantina—pronounced "Az-oh-tey-ah"—boasts 4,300 square feet with a patio, two bars, and a rooftop deck. Kevin Maxey, formerly of Ford Fry's Rocket Farms Restaurants, is consulting on the concept, helping owner Diego Velasquez (founder of Tacos & Tequilas) walk the line between avant-garde and approachable.
"Diego wanted to open something really inspired by the modernist movement in Mexico City," Maxey says. "Modern Mexico City cuisine is typically a little fussier, with a lot of manipulation of food textually and visually. We have the same attention to detail with the ingredients and spices without playing with the food so much."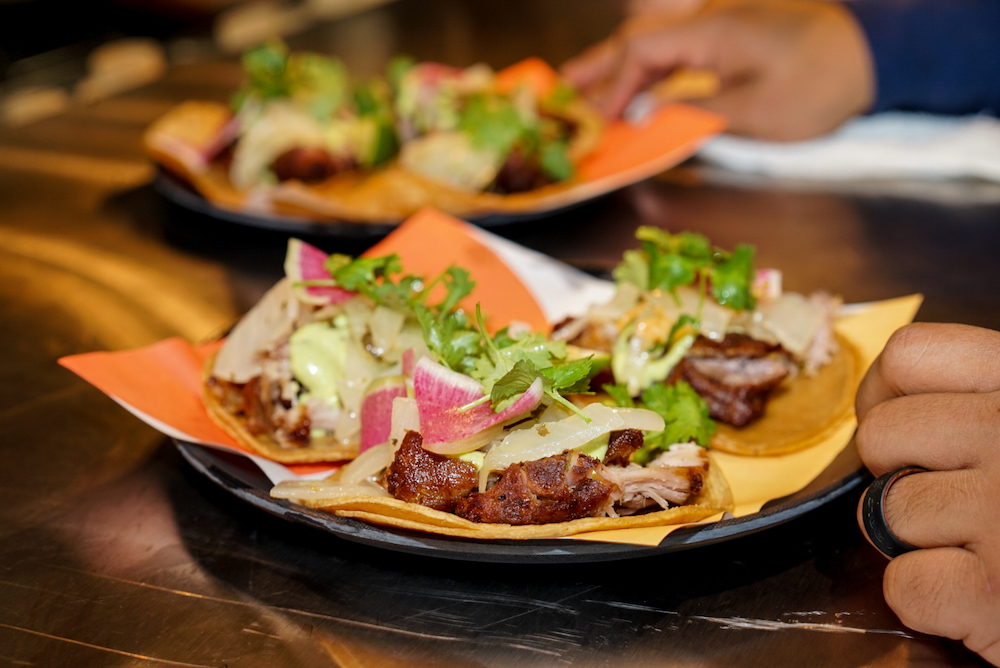 The biggest example of how this comes to life is the tortillas. Made by hand with nixtamal (fresh corn) instead of dried corn flour, the tortillas come in small batches from a local tortilla maker. The result is moister tacos with a better crisp.
At Azotea, the menu features approximately 10 tacos—including one with ribeye steak, onions, peppers, cheese, bacon, and crispy shoestring fries in the taco. For appetizers, there's three types of guacamole (think pineapple and pomegranate, or carnitas-style), octopus tostadas with spicy peanut salsa, and more. A concise selection of entrees, such as baby back ribs, fish, and steak, round out the menu.
"We don't have enchiladas; there's no melted cheese on anything," Maxey clarifies. "It's fancier than Minero but has that same vibe."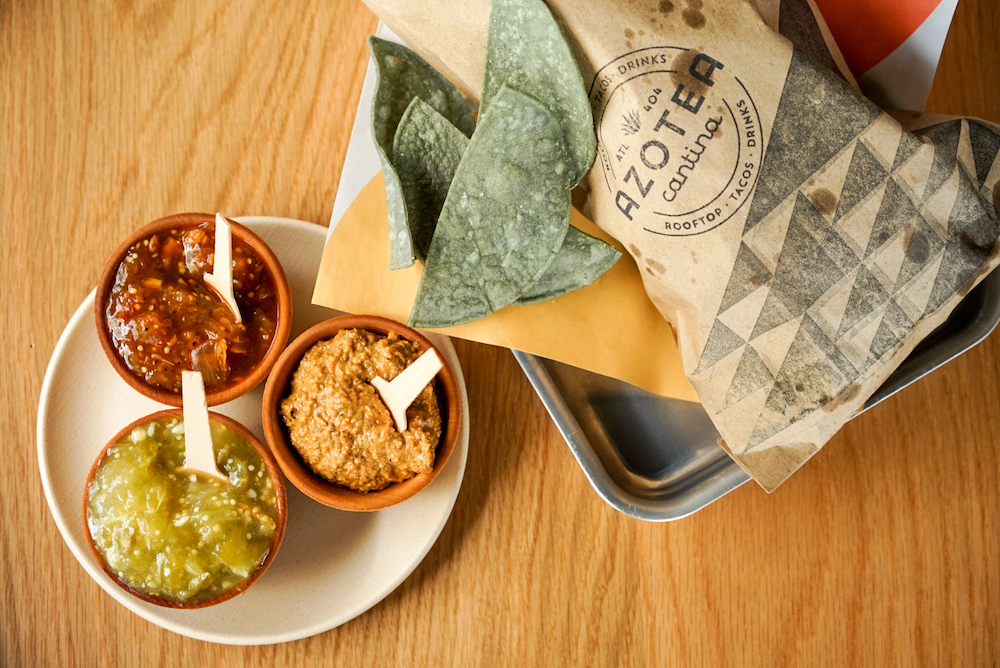 Though the menu is "cheffy," the star of the rooftop-focused restaurant is the house-made drinks. There are six margaritas, including the "Passionate and Committed" with chipotle-infused tequila, passion fruit puree, agave, and citrus juices. Headlining the six signature cocktails is the "Eastern Atlantic" with bourbon, Averna, orgeat, and lemon juice.
"It's a Southern take on a tiki drink by way of Mexico," Maxey says.
Beers include both local varieties and Mexican lagers. A limited selection of wines is available, too.
With a name that means rooftop in Spanish, Azotea is adorned with murals featuring sunset-inspired colors and tropical plants. Black and white photographs by Ken Rabe depict desert scenes, and modern garage-style doors open the dining room to the outdoors.
"It's a place to come to get some tacos and an amazing cocktail and hang out," Maxey says.