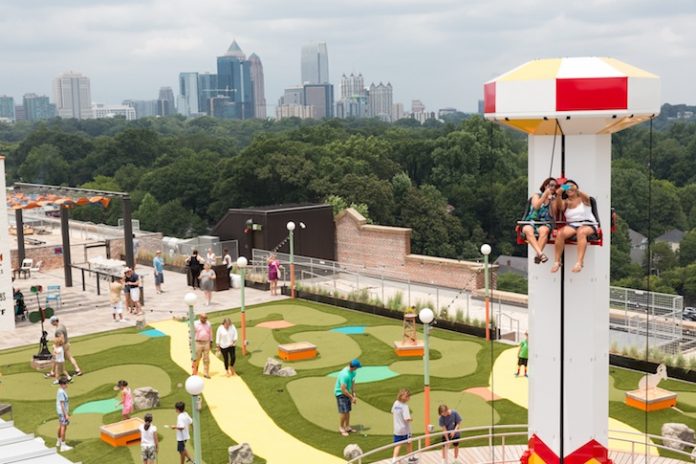 Photograph by Amy Sinclair
In a spread-out city like Atlanta, you'll have to either climb a few hundred feet or drive out a few miles to catch a glimpse of the skyline. The Roof at Ponce City Market gives us that and much more. Spanning the majority of The Roof is Skyline Park, a carnival inspired amusement park with games like ring toss, skee ball, and horse derby and grub like spiked frozen lemonade and gourmet hot dogs. The park also features an 18-hole miniature golf course pricing up to $10 a round. And for those who want just a bit more of a lift, a Heege ride (a miniature free-fall) and three-story slide scaling the side of the Ponce City Market sign are available as well. Heege rides cost $5 per person and three-story slides cost $1 per ride. Tickets to The Roof are available by general admission and have a "pay-as-you-go" style credit card. The Roof is in memory of the historic Ponce de Leon Amusement Park that opened in 1903.
Ponce City Market is also building a biergarten. Nine Mile Station will offer 12 beers on tap, indoor dining, patio seating, and live music. The restaurant and beer garden serves small, medium and large plates centering around American cuisine. Both Nine Mile Station and Skyline Park offer full-service bars as The Roof gears towards the 21 and up crowd after 6pm.