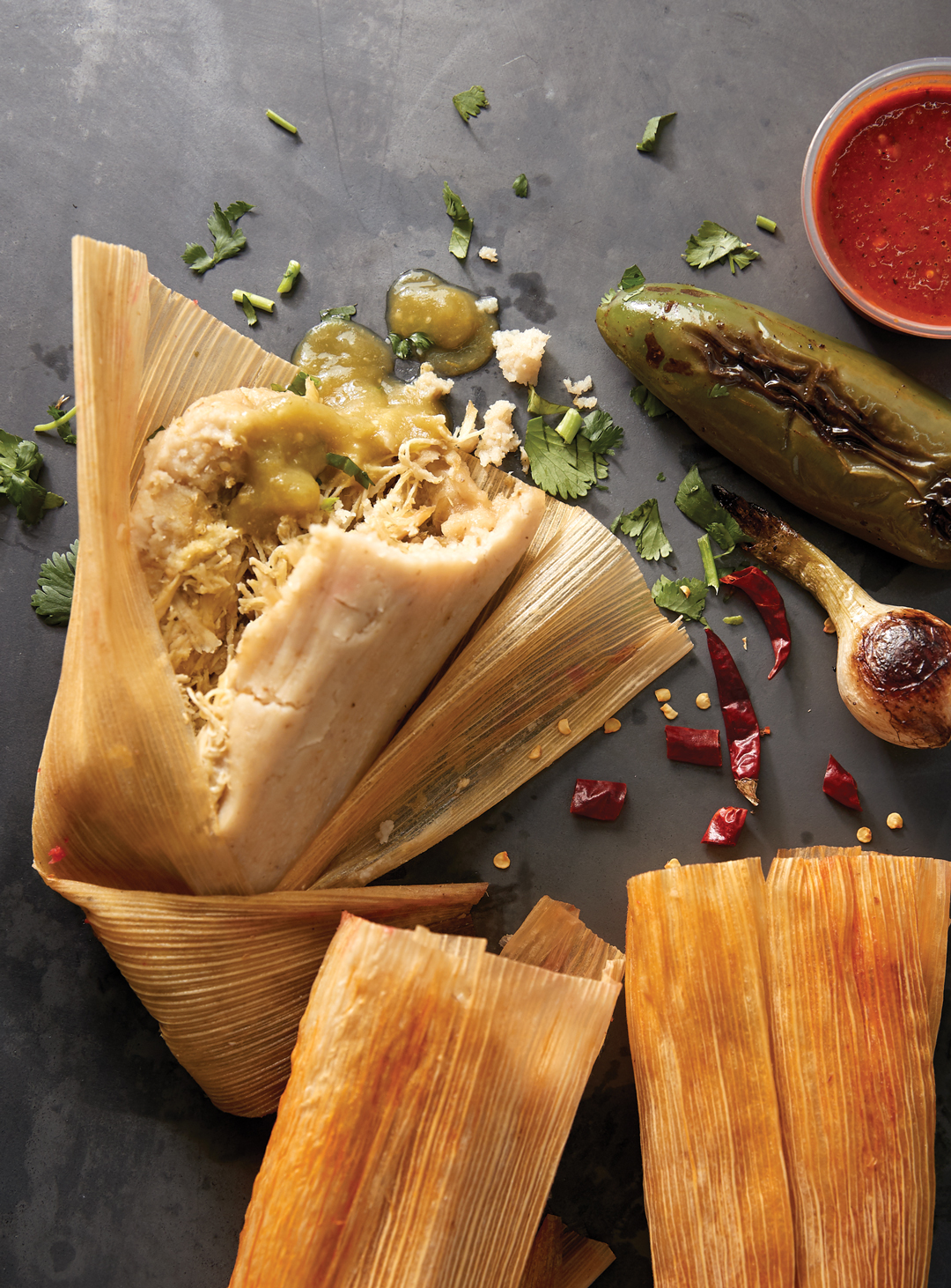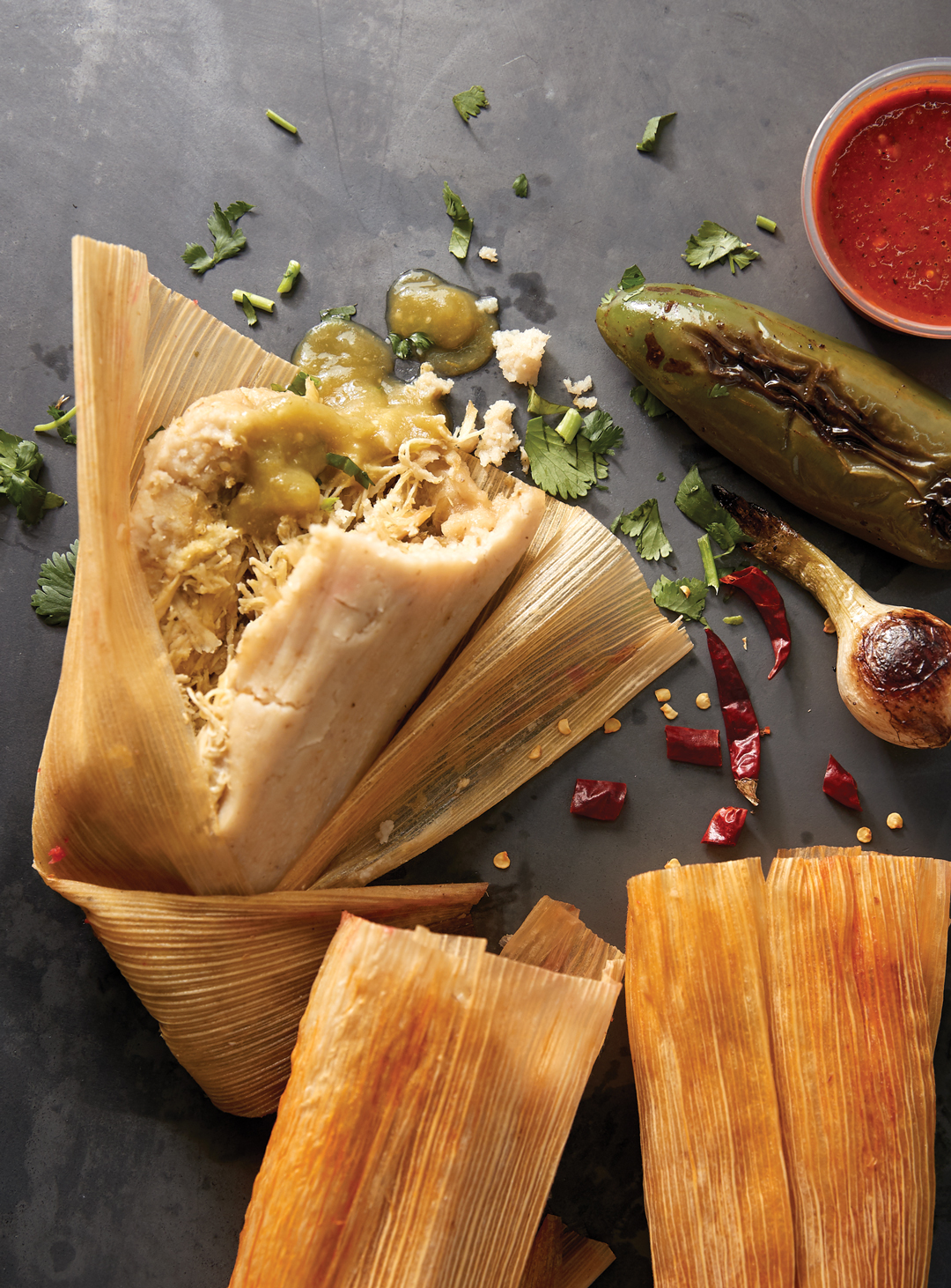 "There are two things in Mexican cuisine that take forever," Marco Martinez says. "Mole and tamales." According to Martinez, a proper batch of the latter can demand more than 10 hours. "Tamales are very labor intensive, and it's messy to cook them," he says. "You cannot skip any steps."
Martinez ought to know. As owner of 100% Artisan Foods in Chamblee—a literal tamale factory—he's responsible for the production of 3,000 tamales per week. Traditional tamales consist of a thick shell of soft but dense corn masa filled with meat or vegetables and wrapped in corn husk (in landlocked areas) or green banana leaves (near the coast). Depending on where the cook is from, the masa may contain lard or vegetable oil.
"A good masa [requires] a flavorful broth, heavy in vegetables, with a pinch of salt," Martinez explains as he dons a face mask and enters his tamale-making facility and kitchen. "That's the starting point."
Martinez, who opened Midtown Mexican restaurant Zocalo with his brother and sister in 1995, founded 100% Artisan Foods after his restaurant regulars encouraged him to sell his tamales and salsas retail. They're now available at local farmers markets and Whole Foods. Of the 16 flavors of tamales he sells, the chicken and mole is his favorite. "My grandmother used to make those for me," he says.
Martinez's favorite tamale trick: "Place a few pennies at the bottom of the pot. When the water boils, you will hear them clacking around. If they stop moving, you don't have enough water, and your tamales will burn."
In his quest to perfect the art of tamale-making, Martinez has tasted everything from store-bought frozen versions to handmade ones in restaurants across the city. Here's where he picks up his favorites (aside from his own kitchen)—all within a half mile of each other on Buford Highway.
Chicago Supermarket
Wrapped in a banana leaf, Chicago Supermarket's fresh masa—made in-house like the restaurant's tortillas—stands out among the rest, Martinez says. For a longer list of tamale options, both sweet and savory, come on the weekend. Martinez gushes over the chicken and red mole variety, adding that all of them taste like the cooks "spent the 10-plus hours that you should while making tamales." Martinez suggests pairing them with a side of chicharrones (fried pork skins). 5263 Buford Highway, Doraville, 770-452-1361
El Taco Veloz
The small tamales from El Taco Veloz are near the top of Martinez's list, and the chicken with salsa verde is his go-to flavor. "The salsa is a bit spicy, definitely more spicy than mine. It has a lot of jalapeños in it." Each tamale will only set you back a dollar and change, and the taqueria offers several off-menu options for fillings. Consume them immediately for the best result (not that you'll want to wait). 3245 Chamblee Dunwoody Road and other locations*, 770-936-9094
Xelapan Cafeteria
Guatemalan tamales have a firmer masa than you may be used to, and the ones on Xelapan Cafeteria's Spanish-only menu include a version with chicken and green salsa wrapped in corn husks and two others: a banana leaf–wrapped, chicken-filled tamale with a potato base and a surprising rice-based masa filled with a flavorful (but not spicy) red sauce. "Watch out for bones," Martinez warns. "You can find a wing or a small drumstick inside the masa." 5268 Buford Highway, Doraville, 770-452-8880
*Correction: The print version of this story listed the address of the Taco Veloz on Buford Highway; that location does not consistently offer tamales, though the Chamblee one does. We regret the error.
This article appears in our August 2018 issue.