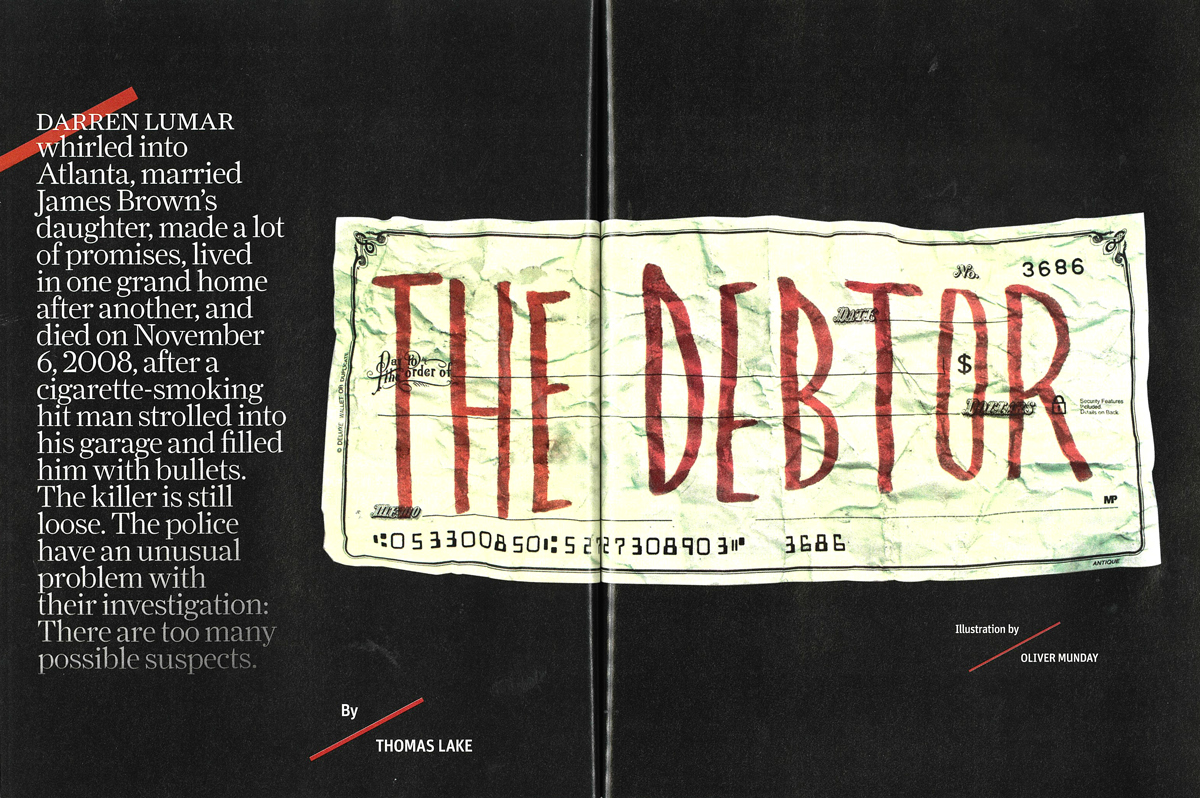 This article originally appeared in our November 2009 issue.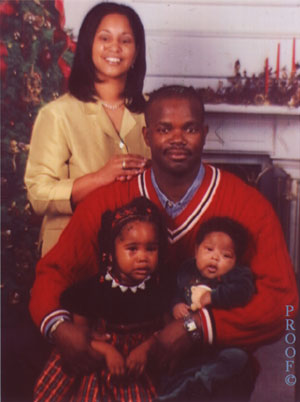 The three sons of Verna Underwood were Darren, Dana, and Darwin, and when they were young she drove them around Buckhead to spend imaginary cash. Each boy had a million dollars. She took them to Formula One Imports, where they caressed the Porsches and Lamborghinis, and she showed them the mansions on Tuxedo Road. You see that? she said. Work hard and you can have that. They were not poor. Verna drove a Cadillac Eldorado, and her new husband was a construction superintendent. They lived in a respectable ranch house outside Marietta. But Verna told her boys they could have more, if they wanted it enough. The imaginary million could become real.
Darwin died first. He was the youngest, twenty-two, with the word Trouble tattooed on his right arm. He picked a fight with a friend, and the friend put a five-inch diver's knife through Darwin's right femoral artery. Darwin bled to death. When Darren heard the news, he drove ninety miles an hour to find Dana and hugged his remaining brother so hard that Dana's feet came off the floor. After that Dana got a tattoo on his right arm. It was Darwin's name, with a rose and a cross.
Dana washed dishes at Red Lobster for a while and worked his way up to line cook and apprentice pastry chef at various other restaurants. By 1998 he was stuck making seven bucks an hour, so he moved into the furniture-moving industry for a dollar per hundredweight. He worked hard and bought his own truck and worked harder and bought a better truck and hired his own workers. Soon he was crisscrossing the country in eighteen-wheelers, moving other people from one big house to another, straining under the weight of baby grand pianos that nobody played, spending most of his capital on labor and fuel. In 2008 a dresser fell on his midsection. Since then he has lived on workers compensation.
Darren made other plans. As they cruised up Tuxedo Road all those years ago, he looked at his mother across the front seat of the Eldorado and pointed to one of the mansions and said, "I'm going to live there one day."
And he did.
You can have that. That's what Americans told themselves in this manic-depressive decade, and for a while it was true. No money down. Bad credit, slow credit, no credit, no problem. You could be like Dana and pour eleven years of sweat into something and suddenly find yourself thirty-six years old in Jonesboro, too broken to lift a boxspring. Or you could skip the preliminaries. This is what Darren did, as Dana saw it: He threw a rope toward the sky and tried to pull down a star.
One day when they were grown men, Darren and Dana walked into McDonald's. "They're all with me," Darren told the cashier, waving a hand at the customers behind him. Dana protested, because he had seen this behavior before—at the GA 400 tollbooth, at the Taco Bell drive-thru—but Darren jabbed him with an elbow and continued. He watched the people order their Egg McMuffins and coffee and hash browns and he paid for all of it, even though some would not have minded buying their own breakfast, including the weatherbeaten guy in the ball cap who said, finally, grudgingly, "Thank you, sir." A man discovers some things as he goes through life, hardly any so stunning as the paradoxical power of giving.
What Darren Lumar learned is this: With enough persistence, intelligence, and charisma, with enough shortcuts, anything is possible. You can live in a mansion without actually being rich, hire landscapers without actually paying them, drive a Mercedes that is registered to someone else, sleep with any number of women even though you have already married James Brown's daughter, take hold of a multinational corporation that does basically nothing, pal around with celebrities who are ultimately ashamed to speak your name, hurl yourself into the fight over James Brown's fortune even though you personally have no right to anything, throw lavish parties when you are about to lose your home. You can even drive yourself to the hospital when you have a mortal wound.
Ever since his early days in Louisiana, when his family lived in a mobile home by a sugarcane field near the Mississippi River, Darren knew what he wanted. At age three he carried a brown paper bag, insisting it was his briefcase. At five, when Verna dressed him in plaid pants and a Winnie the Pooh T-shirt, he said, "I'm not going to school looking like this," and he would not be satisfied until she clothed him in khakis and a navy blazer.The boys' father, Harold Lumar, left when Darren was six, even though Darren begged him not to go. Around that time Verna taught Darren to count change. He learned so well that she soon sent him alone into the Club Grocery with a five-dollar bill and a shopping list. He raised a ruckus in the store when they shorted him a penny.
Darren watched Sesame Street every day, singing along with the theme song, sucking his left thumb, stroking his hair with his right hand, although he preferred someone else's hair if he could get it. He did not love toys, except those with some practical use, such as the Rubik's Cube, which he could solve on command when a dollar was on the line until word got around that it was a losing bet. With Dana and various cousins at his side, he waded through the swamp in high rubber boots, catching crawfish and small alligators, and he swam through the currents of the Mississippi, occasionally climbing the cables to the container ships that were moored on the levee. Then he trudged home to study stock tables in the paper.
Darren's initial public offering came at age seventeen, around 1987, after Verna and her new husband, Charles Underwood, moved the boys to Marietta. For one dollar, you could get a piece of the Robusty Light Company, of which Darren was president. It was a school project. For one dollar, when Darren came to your door, you could buy a lightbulb that had not passed inspection.
For a clue to the course Darren's life would take over the next twenty-one years, see his experience with the football team at Smyrna Christian Academy. The Smyrna Christian Patriots were an awful team, even by the standards of their eight-on-eight league, but they were convinced that could change when Darren arrived. He said he had been an all-state quarterback in Louisiana. He was a senior, tall and muscular; no matter who was talking, he could talk a little louder, and no matter who was getting attention, he could find a way to shift it to himself. At Smyrna, he was not a horrible quarterback and not a great one. But he had stage presence. Whenever the score was especially lopsided or the play especially catastrophic, he'd fall on the turf, clutching a hamstring, making sounds of agony. He always came back for the next game. Presently his teammates took to grabbing their own hamstrings in jest behind his back, and when the yearbook came out, someone had written under Darren's picture, All-state???
A few years later, on a summer afternoon, an Atlanta radio DJ told listeners that a guy named Darren was having a pool party at a house near Stone Mountain. Everyone was welcome. Carloads of people showed up: guys looking for a good time, girls with bikinis under their clothes. Darren greeted his new friends as his stepfather worked the grill. Once in a while someone had the temerity to ask where the pool was. Darren led them to the backyard and pointed out a tiny plastic kiddie pool. "Hey," he said, throwing up his hands and smiling, like an irrepressible sitcom character. Some guests were displeased, but they stuck around to see how the next guests reacted. In time it became a real pool party, or a close approximation.Darren left town for a while in his twenties, and neither his brother nor his mother could be sure where he was. He would later say he had gone to play semi-pro baseball and had briefly been a replacement player during the 1995 Major League strike. He said he had attended Loyola University in New Orleans and pledged Kappa Alpha Psi at Tulane. His left arm carried evidence of the pledge: a scar-tissue brand of the letter K inside a diamond. But a Loyola spokesman says the school has no record of him. Tulane and Kappa Alpha Psi say the same.
But Verna didn't ask too many questions. She had always thought of Darren as a gift, ever since his birth four years into her first marriage. By then she had nearly despaired of having children, and when she found out he was growing inside her, she joyfully announced her condition to strangers on the streetcar. Now that Darren was a man, she stayed out of his business. He never told her his problems. They were both happier that way. When he came around, he brought her jewelry, or took her shopping for clothes at Dillard's, or met her outside Houston's on Mother's Day with a vase of red roses.
After running a construction crew for a few years, Darren became a self-employed broker of private loans. He found people with money and entrepreneurs who needed money and he connected them, taking 10 percent when the loan was paid out and another 10 when it was paid back. There was no textbook for the things he taught himself: shake hands firmly, turning your wrist counterclockwise to subtly affirm your dominance; conceal your stress-relieving habits of chewing Red Man tobacco and sucking your thumb; find pools of money by hanging around the lairs of the wealthy, such as the Capital Grille or Houston's in Buckhead, looking as sharp as you can, impersonating them, even if you have a thrift-store tie and a hole in the sole of your shoe and your old black Porsche is running on fuel that was purchased by emptying the piggy bank of your best friend's child.
One day in 1996, at DeKalb Medical Center, where his stepfather had gone for heart surgery, Darren met a young pharmacy student who turned out to be James Brown's daughter. He introduced himself as a consultant who owned a company called Lumar Worldwide Industries. At twenty-six, he had mastered putting his life in compartments. That year a judge ordered him to surrender his pickup truck for overdue loan payments. A warrant was issued for his arrest on a charge of writing a bad check. (The warrant expired.) A woman sued him for $11,000 in medical bills from a car crash he caused. (She withdrew the suit.) Darren got Yamma Brown's phone number.
Yamma was the youngest of six children named in the last will and testament of the Hardest-Working Man in Show Business. James Brown had ten years to live. The value of his estate would be estimated at $86 million. Darren wrote love poems for Yamma and curbed his thumb-sucking at her request and stayed beside her in the hospital every night when she was on bed rest, after she became pregnant with their daughter, and left sandwiches in a cooler by her bed in the morning. They named their daughter Sydney. Darren talked and sang to Sydney so much during the pregnancy that when she was born she did not open her eyes for the first time until she heard his voice.
Verna didn't like to meddle, but she got the feeling that Yamma's family hated her son. "You know, Darren," she said one night, "you can still call this off."
"No, Mama," he said, and on page 39 of the August 16, 1999, edition of Jet magazine, a picture appeared with the following caption:
NO GREATER JOY
Godfather of Soul James Brown congratulates his daughter, Dr. Yamma Noyola Brown, and her new husband, Darren-Anthony Lumar, after their wedding ceremony at the Hopewell Missionary Baptist Church in Norcross, GA.
He woke up one morning in 2001 in a golf-course subdivision in Sugar Land, Texas, thirty miles southwest of Houston, in a five-bedroom house on which he owed nearly half a million dollars and in which he had little to no equity. Sleeping nearby was two-year-old Sydney, the apple of his eye, whose hair he would style before he sent her to daycare; who could compel him to buy her anything simply by looking at it; and who would soon begin learning to sing, dance, and ride horses. He had earned $80,000 the year before, and he was head of investor relations for HyperDynamics, a technology start-up, but the dot-com bubble had ruptured and the company's stock price fell from $7.75 to fifty cents a share. He was thirty-one years old. His company bio said he had an economics degree and an MBA from the University of Devonshire in London. The University of Devonshire did not exist. What if someone found out? Already gone to work was his bride, Yamma, whose new job helped bring them to Texas two years earlier. She made good money with her doctorate from Mercer University School of Pharmacy, but she also had a taste for Tiffany jewelry and designer shoes. And she would soon take leave from work because she was pregnant with their son, Carrington, whom Darren planned to dress in Polo Ralph Lauren as soon as possible, even though the landscaping company had just filed a lien against his house for unpaid lawn service and he went to Sam's Club the other day and paid with a $235 bad check.
Darren had a heart attack that fall. The doctors said it was stress. He stayed in the hospital for a while and flirted with the nurses and got out and filed for Chapter 13 bankruptcy. The spiral continued. Yamma walked into the living room one day and saw her husband and baby son watching television. They were sucking their left thumbs.
Yamma had never been sure about Darren's baseball stories, but she believed in his love. Now his business deals seemed to grow more exotic and disjointed. He talked about oil pipelines from Kenya and clothing lines from professional athletes. He seemed to have a new set of friends every week. He showed her documents full of strange jargon. Money came in from mysterious sources. Yamma wondered, but she let it be. She filed her own tax returns.
The police came for Darren on June 3, 2002. He had boiled over. By then he was working full-time with Lumar Worldwide Industries, trying to acquire a company that built set-top boxes and removable disk drives. The deal fell through. "I knew of a third company who was interested in buying him out," a neighboring businessman named Elorian Landers told an officer, "so I referred them to him. This must have upset him for some reason.'"
It did. Darren stormed into Landers's office, six foot two, 240 pounds, screaming epithets, pledging to kill Landers. He later pleaded no contest to terroristic threats and was sentenced to community service, which he did not perform. When his probation officer asked for an explanation, Darren said, "How would an investment banker look picking up trash on the road? I don't think so."
In the winter of 2003, as the bank foreclosed on their house and the Lumars fought hard enough to bring the police, Darren went to a pastor, Dr. Steve Ams, for counseling. The men got to talking. Ams told Darren a story.
A few months earlier, Ams had struck a deal with a mining company to trade precious metals from the Congo. But Ams had overplayed his hand. He had neither the technology nor the expertise to honor the agreement. He needed an international marketing strategy and a computerized mineral trading floor by the end of May, or the deal would collapse.
What a coincidence. Darren was chairman and chief executive of Lumar Worldwide Industries, an international corporate-services company with more than a hundred employees on three continents. Did he mention he was an attorney licensed in California? Ams had nothing to worry about. Darren just needed a signature.
The contract was a real work of art. Did Darren believe his own words as he wrote them? He promised cluster-certified production servers, uninterruptible power supplies, custom deployment architecture. He required four monthly payments of $35,000 and fourteen more monthly payments of $16,420. Late payments would draw interest of 10 percent per day. Incredibly, Dr. Steve Ams signed this document. He paid $140,000 over four months and got nothing resembling a trading floor. The Congolese agreement evaporated, which meant Ams's company wasted the $80,000 it spent on the Congo expedition. That's what Ams told the judge, anyway, and the judge had to take his side because Lumar Worldwide Industries never responded to the lawsuit.
Lord knows where that $140,000 went. Apparently not to Luis and Christine Gonzalez, who had sold the Lumars their home and loaned them more than $60,000 to cover the mortgage, and who, nearly three years later, had gotten nothing back; or to the IRS, which had not seen a tax return from Darren since 1995; or to Cigna, which was owed nearly $26,000 in rent for Darren's office space; or to Wesley Woods Pools, which filed a $2,500 lien on the Lumars' property for unpaid bills; or toward the care of the Lumars' Rottweiler, Risha, because when Darren gave a $241.23 check to the Grand Parkway Animal Hospital, it was drawn on a closed account. When Darren filed his third bankruptcy in July 2003, there were more than $700,000 worth of claims; when he filed his fourth later that year, he was reprimanded for abusive serial filing.
It was time to leave Texas. Darren called Dana and said he needed a truck and a crew. Dana came running. There was a lot of stuff in that five-bedroom house. It was a $20,000 job. Dana never asked for the money.
"You don't want my life," Darren said, and he moved his family into Sandstone Estates in Lithonia, the secluded hillside settlement of the African American elite, full of doctors, lawyers, and Ivy League graduates. Yamma got a new job and secured the lease. The house was dazzling white, with thirty-foot ceilings, worth roughly $1.5 million. It had six bedrooms and seven bathrooms. You could stand on the street and gaze through a massive grid of sixteen windows above the front door and see the greenery of the backyard, but if you were a process server sent by a former landlord in Texas, you could show up at least four times looking for Darren and never find him.
Yamma filed for divorce in 2005, saying in court documents "there are no prospects for reconciliation." They reconciled eighteen days later. She won't explain why she left or why she returned, except to say they had some counseling. She told Darren to chew gum, eat candy, do anything to break his thumb-sucking habit. He couldn't. It soothed him when nothing else would, and on occasion he did it during business meetings.
In the realm of fly-by-night corporations, Darren's new enterprise had an advantage. It looked like a real corporation. Pinnacle International Partners had opulent offices, with black leather chairs and luminous wood, on the top floor of the SunTrust Plaza Gardens in Downtown Atlanta, in a suite subleased from KPMG, one of the four largest auditing firms in the world. It is not exactly clear who paid the rent for these offices, only that when Pinnacle flew by night, the rent was long overdue. By then Darren was calling himself Chip, an acronym for Christ Has Incredible Powers.
Say what you want about Chip Lumar, you had to admit he was generous. He gave friends the code to his home security system and let them go in his bedroom and borrow his suits. He put up musical twins named Alvin and Calvin in his guesthouse. He doled out office space like he doled out free Egg McMuffins. A freelance television producer got his own cubicle. Charles Steele Jr., then president of the Southern Christian Leadership Conference, came in for a luncheon and saw the Reverend Jesse Jackson, along with several black mayors. The SCLC was short on cash at the time. Darren wrote them a check for $6,000. It didn't bounce. Steele made Darren a lifetime member.
Darren was especially generous with membership in Pinnacle International Partners. In a proposal he wrote for rebuilding New Orleans after Katrina, he listed thirty-eight members of Pinnacle's Redevelopment Subcommittee. Only a few actually worked for Pinnacle, and several were people he had never met.
The real Pinnacle partners included Yamma, who was in charge of the Media & Entertainment division, which was said to finance films and records but never actually did. She drove a Range Rover (monthly payment: $958) that had not yet been repossessed, which was purchased under the name of another Pinnacle official, an accountant named Greg Takesian, who would soon plead guilty to wire fraud in a case unrelated to Pinnacle. Darren drove a Mercedes SL500 roadster (monthly payment: $1,057) that had not yet been repossessed, which was purchased under the name of yet another Pinnacle official, Edmond LaFrance, who would soon plead guilty to wire fraud along with Takesian, earning a harsher sentence because of his 1989 conviction for money laundering in the same IRS investigation that ensnared the Georgia congressman Pat Swindall.
The question of what Pinnacle did is perhaps less important than what Darren "Chip" Lumar said it did, and he said it provided venture capital for start-up companies. Applicants were plentiful. A Utah company wanted to build an online clearinghouse for medical records. A man in California wanted to manufacture debit cards that would allow immigrant workers to wire up to $2,500 back home for only $5. A group of African chieftains needed cash.
The money, Darren assured them, would come from a bond issue, worth at least $100 million, backed by the full faith and credit of Wachovia. The extent of the bank's actual involvement with Pinnacle may one day be determined by the courts, if the angry entrepreneurs ever file the lawsuit they claim to be preparing. (Wachovia had no official comment.) Perception, as usual, was the key. This is what the entrepreneurs say: Men who said they were with Wachovia turned up on conference calls, at the Capital Grille, inside the Pinnacle offices, assuring them that Wachovia was on board. Darren gave the entrepreneurs a presentation on a huge projection screen in a Pinnacle boardroom. He put in a password and connected to a live feed from a secure server. Numbers flashed across the screen. Darren said the bond was already being traded. They could see the money moving.
Darren hosted a party on July 8, 2006, with caterers and a photographer, at the Greek Revival mansion of his dreams. Almost twenty years earlier, in his mother's Eldorado, he told himself he would get here. Now he had arrived, on Tuxedo Court in Buckhead, around the corner from Tuxedo Road. He had nine bathrooms, five fireplaces, a kidney-shaped swimming pool, more than 12,000 square feet. Even the children had their own walk-in closets. All it took was a promise, back in February, to pay $2.941 million before September.
Along came Verna, in a purple dress and a string of pearls. She looked at her son's grand possessions and hoped he had gotten them the right way, with love and honor, but she said nothing about it, because he was no longer a boy. Along came Dana, who couldn't help wondering how Darren was paying for all this, but he kept that to himself. Along came Steve Ewing, president of Wade Ford, the seventh-largest black-owned auto dealership in America; and John Applewhite, a Pinnacle executive and inventor of toy guns for children; and Robb Pitts, Fulton County Commissioner and former Atlanta City Council president. Pitts knew Darren through a friend who had met Darren at a Sonny Perdue fundraiser. Yes, Darren was a Republican. He said Democrats take too much of your money. All this was theoretical, since Darren rarely paid his taxes.
Along came the guest of honor, Marc Morial, president of the National Urban League, former mayor of New Orleans. He put an arm around Verna and smiled. This was a big day for him. The Urban League does a lot of good things, but in order to do them it needs money. Marc Morial needs money. His salary was $425,000 that year and would be $652,885 the next. He looked very happy. He stood on the hardwood in front of the fireplace, holding a copy of the Wall Street Journal. He wanted to thank Darren Lumar for his generosity.
There is some dispute over what Darren promised. Yamma says he merely pledged to help raise $1 million. But Robb Pitts remembers Darren saying he was about to give the Urban League the largest gift in its history. This squares with the account of N. Corren Conway, a photographer who attended a party for the Lumars in Sag Harbor on Long Island later that month. Conway said Morial and the Urban League were honoring Darren and Yamma for their $5 million donation. Even Star Jones was there.
Despite calls and e-mails, no one from the Urban League would talk about this episode. As such, it's hard to say how much money, if any, Darren actually gave. According to Yamma, Darren was scheduled for further recognition at the Urban League's conference in Atlanta at the end of July 2006. That ceremony was canceled for reasons that will become clear. So was an event in New York at which Darren was to be honored alongside Russell Simmons for using hip-hop to raise awareness of third-world poverty.
On July 27, 2006, Darren called his mother. "Mama," he said, "don't watch television." He apologized to James Brown for tarnishing his name. He told Yamma none of it was true, and, though she knew about his roving eye, she believed him. WSB-TV was reporting that James Brown's son-in-law had been accused of rape.
At least five women told authorities that Darren had committed sexual misconduct in the Pinnacle offices. A job applicant from Lithonia said he led her to a conference room and touched her. A civil servant from the District of Columbia said he lured her to Atlanta with promises of riches, made her his director of human resources, and then had her fired because she wouldn't sleep with him. There were similar allegations from a minor television host and Pinnacle's resident prayer counselor, who said Darren wrestled her to the floor while she was praying that God would heal his headache. On the witness stand, the counselor faced cross-examination from Darren's attorney, Brenda Gardner.
Gardner: Is it true that you agreed to not pursue criminal charges if he paid you and three other women a million dollars?
The Counselor: Five million would be better so he could remember.
If it was only a shakedown, as Yamma believed, it's hard to explain why Darren eventually pleaded guilty to simple battery and misdemeanor sexual battery in exchange for probation and a few days in jail. On the other hand, money was clearly a driving force. The women said their Pinnacle paychecks bounced. The fifth woman was Darren's receptionist. She needed money for rent and to pay her parole officer. She had been convicted of voluntary manslaughter.
Pinnacle disintegrated near the end of 2006. The entrepreneurs say they never got a penny from the promised $100 million bond. One company paid Pinnacle $150,000 in underwriting fees and got nothing in return. One businessman lost his home. One woman had to take a job at a doctor's office. Ten days after the court hearing, a version of the company's website was preserved in the Internet Archive. Someone had written the following message:
Pinnacle Partners disappear. Pinnacle locations disappear. What happened? People who were made false promises get wise.
James Brown died that December, on Christmas Day 2006, at Emory Crawford Long Hospital in Atlanta. He was seventy-three. The causes listed on his death certificate were cardiac arrest and myocardial infarction, commonly known as heart attack. The source of the information on the certificate was Yamma Brown Lumar. At her request, there was no autopsy.
The Godfather's will was perfectly clear. Each of the six named heirs would get a share of his personal property, the inventory of which included thirty-six keys to cities, seventy-one sets of pajamas, an autographed James Brown singing doll, a white fox cape, a black seal coat, and a watch with twenty-eight circular-cut diamonds. But he directed most of his fortune—which a trustee later valued at $86 million—to trusts that would fund the education of his grandchildren and financially needy students in Georgia and South Carolina. He warned his heirs not to contest the will. He said anyone who does "shall forfeit his or her entire interest." The contesting began almost immediately.
The heirs needed a lawyer. Darren referred them to Louis Levenson of Atlanta, a Fulton County magistrate who had represented him in the sexual misconduct case.
On March 9, 2007, two Atlanta police officers were called to the mansion on Tuxedo Court. They saw drops of blood on the hardwood floor. Yamma appeared, walking slowly, apparently in pain. Her nephew Forlando Brown was there too. Yamma and Darren had been quarreling over her father's estate. Both of them had been drinking.
Yamma told the officers that Darren punched her in the nose and threw her to the marble floor, where she hit her head. The officer concluded she was not injured. Paramedics agreed. Darren said he did not hit Yamma. He said he merely restrained her because she was breaking things. Forlando also said Darren did not hit Yamma, and that she slipped on her own. There was no denying what Yamma did to Darren. She got a butcher knife and stabbed him in the right forearm. He needed twelve stitches. She was indicted for aggravated assault with a deadly weapon, though she said she had acted in self-defense.
Soon after, Darren began freelance negotiations with Buddy Dallas, James Brown's old attorney, whom Yamma and the heirs had been trying to overthrow because they said he was mismanaging the estate.
Darren and Dallas met at a hotel to talk business. What business? The heirs' attorney raised the specter of alleged bribery, or a backdoor deal involving James Brown's assets. But Darren and Dallas had another explanation. Darren's children needed tuition money for the Crème de la Crème early-learning center, and a $5,200 check from the James Brown estate averted their expulsion. After all, the Godfather wanted to fund the education of needy children.
That summer Darren's children were caught in a power struggle over custody and inheritance. As his marriage fell apart, Darren broke away from the Levenson camp and got a new lawyer. James Brown's son Terry and two of his grandsons sided with Darren. In an estate battle that made headlines around the world, Darren helped split the Brown heirs into two rival factions.
Meanwhile, Yamma moved out of the house on Tuxedo Court. When she returned for her clothes, she brought a police officer. The cop asked Darren if Yamma could get her clothes. "You'll have to kill me first," Darren said. The cop took out his chemical spray and prepared to fire. Darren stood down and apologized. But in text messages to Yamma that were later filed in court, he seemed to be losing his composure.
YOU CAN FORGET GETTING ANY HELP FROM ME, AS A MATTER OF FACT I WILL DO EVERYTHING IN MY POWER TO SEE YOU PUT AWAY FOR 10 YEARS.
He did not follow through with this threat. Yamma's assault charge for the stabbing was dismissed because Darren failed to appear for a court hearing. Dana believed he changed his mind and stayed away on purpose because, in the end, he didn't want prison time for the mother of his children.
i'm going to expose you for the phony you really are. i'm setting up interviews with any network who will listen. i know your father was murdered . . .
In July 2007, he gave an interview to Tony McNary of CBS Atlanta during which he called for a full investigation into James Brown's death. "I'm gonna bet you everything that I own that they will find everything they're looking for," he said. "Nobody ever countered my wife when she said, 'We don't want an autopsy.'"
(To this day, Yamma refuses to discuss the decision. "I had my own personal reasons for not doing an autopsy," she says.)
Darren drummed up enough media coverage to get Yamma fired from one job and squelch another offer that would have paid her $50.48 an hour. He told the Atlanta Journal-Constitution she had been trying to kill him with the butcher knife. He filed a $10 million claim against her. But he did not get full custody of the children in the ensuing divorce; in fact, a judge appointed Yamma conservator of their estates, effectively cutting Darren off from the James Brown fortune.
Dana got a call early one morning at the end of summer. "I need you to come right now. Bring the truck," said Darren, who was being evicted. Dana hurried to Tuxedo Court. He looked at the lawn and saw leather sofas, wingback chairs, a cherrywood china hutch. Later that night, Dana held his brother as Darren wept.
Here are two of Dana's last memories of Darren. One is from an Applebee's where they went for lunch. The waitress was plump and surly. Darren made it his mission to make her smile. He asked her when they were going out. "You know you want me," he said. He sucked his thumb and laid his head on her bosom. "Boy," she said, "I'm a knock you out." He left a twenty-dollar tip.
In the other memory, Darren aimed a camera at Dana's right arm and photographed the tattoo with their dead brother Darwin's name, with the rose and the cross, because he was finally going to get the same one himself. They made plans to visit Darwin's grave.
On June 14, 2008, a user named Bone Breaker posted this on the Internet forum for Darren-related grievances:
it's just a matter of time before i catch your ass better keep looking over ur shoulder. because i'm closer then u think. going to crack that head to the white meat.

At that time Darren had four floors and a rooftop Jacuzzi at the Central Buckhead Townhomes on Roswell Road. He had given the landlord a hard-luck story to get in, and he usually paid the rent on time. He had plenty of friends around there. He told them, "I make fifty grand a month," or "I won't date a woman unless she makes a million a year," or "You laugh just like my father-in-law," which of course led to the question, "Who's your father-in-law?" which led to a new line of invention. The listeners had no reason to doubt him. They were driving Jaguars and Bentleys and Aston Martins that would soon be repossessed. That was the game in Atlanta. Maybe it still is. People pretend to be rich for the benefit of others who themselves are pretending to be rich. Other people heard Darren's stories and knew they had found a master prevaricator, but they did not mind, because the stories were good.
They had a block party that summer, and someone played music on portable speakers. "You want music?" Darren said, bringing out his laptop. "I've got some music." And he spun a mix that got everyone's attention. One minute it was Liberace, then Hall & Oates. He knew all the words from Phantom of the Opera. The head of the homeowners association was Kevin Trice, a black man who made his money in real estate. He imagined Darren at home alone in the middle of the night, studying things that make white people happy, tracing the shortest path to their money.
Trice did believe one thing Darren said. They were by the rooftop Jacuzzi with a dozen women in sundresses, and Darren said, "I've slept with all of them." Trice had seen Darren lay hundreds on the table at the Buckhead Diner, pull out a dozen roses for the cougar at Johnny's Hideaway, needlessly overpay for a replacement gate clicker because a young lady was watching him count the bills. Trice took this sensory data and formed his own conclusion: When you don't work for your money, it's easier to throw it away. This is a valid maxim but not entirely relevant. Darren was always working. Anyone could see that.
On the last night of his life, November 5, 2008, Darren called his mother to say he loved her, left his children with their other grandmother, and stopped by Yamma's pharmacy. They had restored civility for the children's sake and were planning a family trip to New York. Their nine-year-old daughter Sydney had been practicing at the Atlanta School of Performing Arts, and she was going to sing "Can You Feel the Love Tonight," from The Lion King, at Carnegie Hall.
As a half moon fell toward the skyline, Darren left the pharmacy and pulled up to the black gate of Central Buckhead Townhomes in a silver Mercedes S550. The gate rolled open, and he drove between the walls of the stucco canyon. He had his iPhone, his BlackBerry, and about $4,000 in cash. He pulled into the garage.
Pop-pop-pop. Gunshots reverberated through the complex. The residents of Central Buckhead Townhomes ran to their windows and saw a black man in a hooded sweatshirt running away. They saw Darren in his Mercedes, backing out of the garage, lurching toward Roswell Road. He stopped at the exit to wait for the gate, and his car rolled back and smashed a pillar. Later they would speculate that he had passed out from blood loss until he was jarred awake by the crash. He pressed the accelerator and sped through the open gate.
The Central Buckhead Townhomes are 3.3 miles from Piedmont Hospital and 5.4 miles from Northside Hospital. As blood collected in his abdominal cavity, Darren raced for Northside. Sixteen crucial minutes passed between the first 911 call and the time he was admitted. "Call my wife," he said at the hospital. "I gotta live, for my wife and kids."
The news spread. Dana heard the phone ring, heard Verna answer and scream. They got in her Cadillac and roared up the interstate. Dana was done driving trucks. He began making his own plan to reach Tuxedo Road. He will get there the right way. There will be nothing theoretical about his product. You will hand over your money and immediately get something you can touch and taste. He will marinate the brisket for two days and inject it with spices and smoke it with hickory and pecan. His barbecue joint will be called Daniel's, after his firstborn son.
The doctors found five bullet wounds. One shot pierced Darren's left forearm and exited without hitting bone. One shot cut a groove in his left ankle. One bullet landed in fragments in his right thigh. The fourth wound was fatal. It penetrated his left upper abdomen and tore open his inferior vena cava, the major vein that sends blood to the right atrium of the heart.
Darren never got his dead brother's name tattooed on his arm. Instead, Dana got a Darren tattoo on his left arm, to match the Darwin on his right. Not long ago he visited Darwin's grave, just like he and Darren had planned. Darren was there too, in the next grave.
The fifth wound was the strangest. Dana believes the killer aimed there on purpose. Gauze covered the wound as Darren lay in the hospital bed, blood pressure dwindling. Verna kissed his forehead. She would come to believe that all his debts had been paid that night. Dana knelt at the foot of the bed, holding Darren's feet, asking God to reach down. Gone. They were all gone: Pinnacle, Lumar Worldwide, the fast women, the fair-weather friends, the uncountable riches that passed through his fingers. His left thumb was gone too. The killer shot it off.

Postscript
Nearly a year later, the Atlanta police are still chasing Darren Lumar's killer. The trail is going cold. They do not lack information; there's too much information. Darren Lumar had burned so many people that it was hard to tell which one of them might have arranged his death.
James Brown's heirs formed a united front after Darren died. The judge approved a settlement in May 2009, despite objections by two independent court-appointed trustees who gave nearly 400 reasons why they believed it was wrong. Chief among them was the damage to Brown's education trust, which, they said, would be slashed by taxes and payouts from $80 million to about $19 million. The trustees said the Brown children, including Yamma, would get assets worth about $3.8 million each.
If Darren's death caused any rejoicing among those he had wronged, they had enough sense to be discreet about it. More typical was the response from John Varsames, a land developer from Florida who gave Darren nearly $300,000 and never got it back. "I was saddened," he said, "that a guy who was so bright and talented would have wasted his life."
This article was originally published in our November 2009 issue.