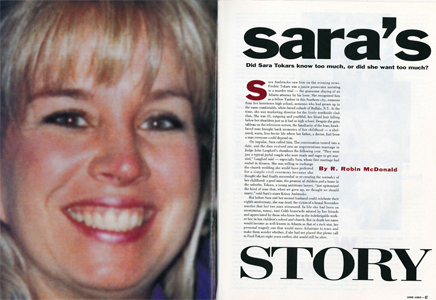 This article was originally published in our June 1993 issue.
Sara Ambrusko saw him on the evening news. Fredric Tokars was a junior prosecutor assisting in a murder trial — the gruesome slaying of an Atlanta attorney by his lover. She recognized him as a fellow Yankee in this Southern city, someone from her hometown high school, someone who had grown up in the same comfortable, white-bread suburb of Buffalo, N.Y. At the time, she was marketing director for the lively northside club elan. She was 31, outgoing and youthful, her blond hair falling below her shoulders just as it had in high school. Despite the grim tableau on the television screen, the familiarity of the lean, hawkfaced man brought back memories of her childhood – a sheltered, warm, less-hectic life where her father, a doctor, had been a man everyone could depend on.
On impulse, Sara called him. The conversation turned into a date, and the date evolved into an unpretentious marriage in Judge John Langford's chambers the following year. "They were just a typical joyful couple who were ready and eager to get married," Langford said – especially Sara, whose first marriage had ended in divorce. She was willing to exchange the church wedding she would have preferred for a simple civil ceremony because she thought she had finally succeeded in re-creating the normalcy of her childhood: a good man, the promise of children and a home in the suburbs. Tokars, a young ambitious lawyer, "just epitomized the kind of man that, when we grew up, we thought we should marry," said Sara's sister Krissy Ambrusko.
But before Sara and her second husband could celebrate their eighth anniversary, she was dead, the victim of a brutal November murder that her two sons witnessed. In life she had been an anonymous, sunny, east Cobb housewife adored by her friends and appreciated by those who knew her as the indefatigable worker bee in her children's school and church. But in death her name would become as well-known in Atlanta as that of a rock star, her personal tragedy one that would move Atlantans to tears and make them wonder whether, if she had not placed that phone call to Fred Tokars eight years earlier, she would still be alive.
Sara met Fred Tokars, she was living in a Dunwoody condominium with her sister Krissy and working for elan, the trendy Perimeter nightclub that was one of Tokars' favorite haunts. Sara had been a Florida elementary school teacher before coming to Atlanta – a move prompted by her 1981 marriage to an Atlanta health club owner she met on the beach. For a time, she had taught aerobics at her first husband's northside club, which catered to, among others, the Atlanta Falcons, young investors in Atlanta's burgeoning nightclub scene, and some of the beautiful women who eventually contributed to the breakup of her marriage.
Sara was attractive, lithe, and, according to her sister, "very into fashion." She had retained from her high school cheerleading days an optimism and a knack for infusing others with her pep-rally enthusiasm — traits she easily adapted to nightclub promotions. Tokars was then working in the Fulton County District Attorney's office. He was tall and slender, with a sensitive rather than a handsome face. He wore tortoiseshell glasses and combed his unruly, light brown hair behind protruding ears. He looked a little like Clark Kent and a lot like an accountant, which is what he had been before he earned his law degree in night school.
He was also a habitual self-promoter. Although he never prosecuted any cases that involved either white-collar crime or computer fraud, he quickly proclaimed himself an expert in those fields and began teaching at night law schools, local colleges, and accounting, tax, and law enforcement seminars, said Assistant District Attorney John Turner, who worked with him.
His nickname in the District Attorney's office was "Fast Fred" – a reference, Turner said, to endless self-promotion, his eagerness to work on projects in which he took an interest, his predilection for the city's nightlife, and because, when it came to women, he was almost always interested.
Before his marriage, Tokars enthralled Sara and Ktissy with stories about cases on which he supposedly had worked and where, in his accounts, he frequently took center stage. For the sisters, Tokars was a window on a grim and brutal world from which they had been insulated all their lives. But safe in their condominium, secure in jobs comfortably north of the city limits, they were fascinated rather than afraid. By prosecuting criminals, Tokars was doing something more important than just making money, the sisters believed. He was demonstrating moral character. "That," says Krissy, "was part of his appeal."
For Tokars — who had political aspirations and who also made no secret of his desire to become a tax attorney with a wealthy clientele — Sara was an asset. Not only was she beautiful and personable, but she also had desirable social contacts in a business to which he was attracted.
What Tokars may have overlooked or simply chose to ignore was Sara's basic nature – that she was, at heart, tradition bound. She was the Catholic daughter of a surgeon and his wife, the middle child in a family of seven sisters, who wanted nothing more than to duplicate her parents' marriage and re-create her childhood for children of her own. She saw in Tokars a man who had similar values. "They were from the same type of family," said her sister Krissy. "She just kind of assumed they'd be the same." And in the youth-driven culture that defined the nightlife she promoted, Sara was beginning to feel old. She was over 30. One marriage had already failed. "She wanted to have kids," Krissy said. "That was the most important thing."
Sara's family noticed that even early in the marriage Tokars was not very attentive to his wife. "I thought it was sort of unusual," said her father, John Ambrusko. "He hardly ever had dinner at home. He was always working late at night. … Sara used to be discouraged about the fact that he was never home."
But, family members recall, aside from the fact that her husband was away so often, Sara did seem happy. Within months of the wedding, Sara was pregnant with her first child, Ricky. She and her husband purchased a gray wood home trimmed in stone in King's Cove, an affluent east Cobb subdivision close to the exclusive Atlanta Country Club.
Sara continued to work while pregnant. But after Ricky was born, in September 1986, she wanted to quit her job to stay home and care for the child. When she broached the subject, Tokars objected. Said Krissy: "He was pretty upset that she didn't want to work." Sara may have been stunned by her husband's objections. But she also couldn't afford to have a second marriage dissolve; and she had always been the peacemaker in her family, the woman who always took care of everybody else. So after Ricky's birth, Sara spent half-days at the office and tried to do the remainder of her work at home.
By then, Atlanta's booming nightclub business was seeing a decline. Drink-and-drive laws had acquired stiffer penalties. Two-for-one happy hours had been outlawed. And AIDS was becoming a fierce reality. When the nightclubs Sara was promoting began losing money, Sara lost her job. She became a housewife by default.
Shortly after Sara lost her job, Tokars left the District Attorney's office to establish his own practice. He began doing criminal defense work, renting space from Murray Silver, a criminal defense attorney and an Atlanta municipal judge. Tokars concentrated first on criminal defense, although he later expanded his practice to include tax fraud cases and divorces. He wanted, Silver said, "to make money fast."
The year that Tokars opened his practice was also the year the U.S. Congress passed sweeping money-laundering laws designed to trace the movement of large sums of cash generated by illicit drug sales, he would later note. "Ironically," Tokars wrote in the Atlanta Business Chronicle in 1990, "these money laundering and cash transaction requirement laws became so complex, drug dealers ultimately need to hire attorneys to explain how to circumvent this new system …. For the most part, these professional services are no different than those rendered to legitimate clients. In fact, attorneys often launder money without knowing it."
The article Tokars authored for the Business Chronicle sounded remarkably like promotional copy. It also was prophetic. By 1993, federal investigators had targeted Tokars in a drug-trafficking investigation, in part to find out whether his expertise in money laundering was really as benign as he claimed.
When Tokars began defending rather than prosecuting criminals, Sara's carefully nurtured dreams were already unraveling. But her husband's new practice, which he said little about, added a new element to a marriage that was already showing signs of wear. Sara grew afraid. She knew her husband numbered criminals among his clients. Because he was often paid in cash, she suspected some of the people he defended had been charged with dealing drugs. She worried that the money might be tainted. "She was," said her sister, "concerned about the unknown." She was also disappointed. Her husband was no longer someone she could rely on to make her world a safer place.
By then, financial pressures on the marriage had ballooned – the house, although built in a tony subdivision, needed major repairs. There was a new baby, a new law practice and the loss of Sara's $40,000 salary. Tokars assumed complete control of the family's finances. He put Sara on a budget. According to Sara's sister, Tokars would not permit his wife to have her own checking account or credit cards. He began insisting that they handle all their financial transactions in cash. He balked about buying furniture and about making repairs. "Fred used to tell her she didn't know the value of a dollar," Krissy said. "He had the attitude that she couldn't control her spending." Tokars' attorney, Jerry Froelich, says Sara "was on an allowance because when he married her, she had a lot of debt."
To many, Sara's budget might not seem overly penurious. By 1992, it had risen to $400 a week. But obtaining money, over time, became a struggle in which Sara was· always the supplicant and her husband was always the final authority. Sara tried, according to her sister Krissy. She set up a small promotions company, Sara Ambrusko Productions, and began soliciting small contracts in Gwinnett County. She submitted budgets. He rejected her requests or only gave her part of what she asked.
Sara didn't understand, her sister said. She was married to an attorney, a man who had convinced her father that his accounting and law degrees coupled with the tax seminars he taught gave him access to a lucrative clientele. Sara had always thought that attorneys made good money: But whenever she asked about the family's financial situation, said her sister, her husband wouldn't discuss it. Krissy said Sara told her Fred had even banned her from the basement of their home, where he kept a safe and an array of files under lock and key.
Over time, Sara began to rebel in small ways. She quietly obtained credit cards in her name, which she used whenever her husband either refused to give her money or was away from home. But the resulting monthly payments made her financial difficulties even more acute. And gradually, the attractive woman who had, before her marriage, been a fashionable dresser began wearing her sister's hand-me-downs.
Tokars also began raising objections whenever Sara wanted to visit her closeknit family. If Sara insisted on going anyway, Tokars often would refuse to give her money for gas or a hotel room, Krissy said. Yet, despite his objections, Tokars sometimes joined his wife on those Florida visits. He would always fly, her family noticed, while Sara and the baby made the nine-hour drive down and back alone.
Sometime after their first son Ricky's birth, Tokars' growing control escalated into physical abuse, according to one Atlanta attorney who knew Sara — a claim later supported by an attorney Sara consulted and a private investigator she hired. Although more than five years have gone by, the first attorney has not forgotten what Sara Tokars told him.
The couple had been invited to attend a party he was giving. Sara called him at the office, the attorney recalls. "I feel so bad that we're not able to come to your party," she told him. "I'm not well." When the attorney expressed his regret, Sara said quietly into the phone, "I can't come because I have bruises on my left arm and side where Fred beat me."
Then she paused, he said. "You wouldn't say anything about this, would you?" she asked. "Please don't say anything about this. Don't even tell Fred I called." And before she rang off, she repeated: "I've got your word now? You won't mention this?"
Froelich says allegations that his client ever struck his wife are patently untrue. He would not permit Tokars to be interviewed, and, he added, he has received strict orders from his client not to discuss Sara.
In 1988 Sara gave birth to a second son, Michael. "I remember her saying she didn't want Ricky to be an only child," her sister said. "She wanted the two of them to have each other no matter what." Four months later she penned a two-page will on a yellow legal pad. Writing the will was no idle gesture. Two witnesses signed it, and Sara had the document notarized. In it, she revoked all prior wills, left all her property to her two young sons, and named her sister San Francisco attorney Therese Ambrusko as her executor and the boys' trustee. In the will, Tokars is mentioned only once, and not by name. Her younger sister Karen would become. her children's guardian, Sara wrote, "if my husband does not survive me."
It was the first sign Sara was worried about the welfare of her children should anything happen to her. It was also an indication that her marriage was falling apart.
By then, Tokars had taken out three life insurance policies totaling $1.75 million — all naming him as the primary beneficiary in the event of Sara's death.
After the birth of his second son Tokars still spent the majority of his evenings away from home, according to Sara's family. Krissy said that when Tokars called to say that he'd be working late, Sara would often hear chatter in the background — as if he were calling from a restaurant or bar. By 1989, Sara was convinced Fred was having an affair and sought advice from a Buckhead divorce attorney, Steven Labovitz.
"She was extremely concerned about her children, more so than anything else," Labovitz remembered. "She was certainly fearful for a number of reasons – physically and mentally fearful. … I think it took some courage for her to come."
For as Sara's marriage foundered, her husband had, perhaps intentionally, raised the ante. He had formed a partnership with divorce attorney Emily Sherwinter. He had also threatened to take custody of the children if Sara ever tried to leave him.
"She'd been talking about divorce for some time," said Ralph Perdomo, a private detective Sara eventually hired to follow her husband. "He [Tokars] told her if she ever tried to leave, he would take the kids from her, that he had the political contacts and the judicial contacts to do it … She was very, very intimidated by him."
By 1988, Tokars had become involved in politics. Not in Cobb County, where he lived, but in Atlanta – a city that Sara, like many suburban housewives, found both frightening and foreign. He had served as campaign treasurer for state Supreme Court Justice Leah Sears-Collins when she ran her winning race for Fulton Superior Court judge. He had been appointed by Mayor Andrew Young as a part-time city judge. The following year, he would appear as a defense witness for Fulton Sheriff Richard Lankford during his trial on tax evasion and extortion charges.
What has since surfaced is the extent of his financial involvement. Tokars individually gave donations and loans totaling more than $7,000 to the campaigns of Sears-Collins, Fulton sheriff candidate Jackie Barrett, and Solicitor General Paul Howard. Campaign contribution reports also list Sara – who lived in a house furnished sparely in "early rental" and was always pressed for funds – as giving $3,500 in her own name to the Sears-Collins and Barrett campaigns. The candidates who list her as a donor are Democrats, even though Sara was a conservative Republican.
Tokars' political contacts would probably not have interfered if his wife had sued for a divorce. But Sara had no way of knowing whether his threats were real or empty air. And, according to Labovitz, the attractive former nightclub executive had little self-confidence left. But desperate for her sons to grow up in a loving family and terrified she might lose them, Sara began gathering information on her husband that could be used against him if she left him. Not only did she hire the detective, she also broke the house rule. She entered the off-limits basement and obtained the combination to her husband's safe.
Perdomo eventually confirmed that her husband was indulging in an extramarital affair. And, in the midst of a media frenzy last December about his life and that of his late wife, Tokars called a local newspaper to acknowledge that affair. He knew Sara had hired a private detective to follow him, he said. But he insisted that he and Sara had resolved their marital problems. He and his wife had seen a counselor, he said. They had worked things out. But before their supposed reconciliation, Sara, still desperate for information that might help her keep her children, had called Perdomo and asked him to come to the house.
It was a hot day in August, the detective remembers, and Sara apologized because the air conditioner was broken. She had not been able to repair it for more than a month, she said, because her husband had refused to give her the money.
On that visit, Sara escorted the detective to the basement. Perdomo says she opened her husband's safe. Inside were documents, several bags, and several vials of what appeared to be prescription medication. Sara, he said, wanted him to take the documents, make copies and find out what they meant. Perdomo refused. To do so, he said, would be a violation of the law. If she was concerned, he told her, she should copy the documents and give them to someone she trusted. As for the pills, her family doctor could tell her what they were. He wouldn't be able to help her. Perdomo said Sara then asked him to turn his own investigation of her husband over to police if anything ever happened to her. At the time, Perdomo thought she was being melodramatic – another betrayed and wounded housewife. He said he and Sara had a "falling-out" over what should be done about the contents of the safe.
News reports have suggested Sara stumbled upon evidence in the safe that her husband was laundering money. Atlanta police believe she may have found large sums of cash and wanted to know its origins, and Cobb police have said "it was pretty common knowledge" that Tokars kept large sums of cash on hand. But attorneys representing Tokars and one of his business partners say nothing in Tokars' safe pointed to any criminal activity — an assertion law enforcement authorities now confirm. "I think there is more significance placed on the safe than should be," said Cobb County District Attorney Tom Charron.
But Sara's desperate quest for information and her willingness to contemplate divorce made her someone to be reckoned with in the murky world of nightclubs, politics and drug dealers with which Tokars is now known to be associated. "Sara was a very bright and intelligent woman," Charron said. "She had been in the business world before. She was not sitting at home closing her eyes to anything and everything that was going on." And a divorce and a bitter custody fight- with the requisite examination of Tokars' assets – would have surely brought to light the fact that by March 1990, her husband was not only representing drug dealers, he was, according to court documents, in business with men who were fronting for them.
"If Tokars was going through a divorce," Charron says "a fight over the proceeds could impact on the partners." And, he added, "We don't think there is any question that Sara and Fred were having problems right up to the day of her death. They were not a loving couple."
Three weeks before Sara's death, another event occurred that also might have put her at risk. Federal agents investigating allegations of drug trafficking and money laundering involving Tokars' clients and business associates subpoenaed a female companion of Anthony Brown — whom they suspected of managing a cocaine distribution ring. The government acknowledged that the woman they subpoenaed had no knowledge of any criminal activities. Federal prosecutors said they called her to testify before the grand jury to obtain information regarding assets which may be subject to civil forfeiture, a prelude to, among other things, possible charges of tax evasion.
Because Tokars had been Brown's attorney, federal prosecutors viewed him first as a potential witness and later, according to court records, as another target of their probe. By last November, the federal investigation was so wide-ranging that if the grand jury had so desired, it could easily have subpoenaed Sara, too.
What neither Sara nor Perdomo knew when they opened her husband's safe was that Tokars had already attracted the attention of Atlanta police. "He handled money for so-called black entrepreneurs, guys who got big money quick," said Maj. Vernon Worthy, head of the Atlanta Police Department's special investigations unit, which monitors Atlanta's nightclubs. "He'd show them how to get into the business. We think he would coach them along."
Tokars, he said, "was well-known if the discussion was relative to someone handling your money for you. . . . He was involved in a lot of deals." One of those deals involved the Parrot, a midtown nightclub. On March 6, 1990, Tokars became a partner in the Parrot Acquisition Corporation, which owned and operated the Parrot. In the company's initial shareholder and management agreement, Tokars is listed not only as general counsel, but also as a board member and the corporation's secretary. His partners were James Mason and Billy Carter. They were also his clients.
Carter was a former special agent with the Georgia Bureau of Investigation who was fired after he pled guilty to simple battery in Savannah in 1988. Mason was a local nightclub entrepreneur who numbers among his friends Atlanta sports figures, judges and local politicians. According to federal court documents, when Carter and Mason acquired the Parrot they were acting as front men for two men who, because of their criminal records, were banned by law from operating a club. The federal government is now, according to court documents, investigating whether money from illicit drug deals may have been used to buy and operate the Parrot.
By 1991, Tokars had resigned his corporate posts in the Parrot Acquisition Corporation, an action he formalized after he was named in a civil lawsuit involving Mason and the club. He was replaced by Julius Cline, a drug dealer who, according to the federal government, used Mason and Carter to buy the Parrot. All three men were also Tokars' clients. And when Sneakers in Marietta — another club which Sara had promoted — closed, it was Mason and Cline who reopened the club as Deion's Club 21 and became key figures in its management and operation.
Attorney Froelich insists that Tokars never knowingly permitted any of his clients or associates to act as a front man for a criminal. But Tokars was clearly keeping dangerous company. And, said Charron, "Somebody wished Sara ill will, felt that her continuing to live was getting in the way of what they were doing or was not financially lucrative to them."
In the end, Sara couldn't bring herself to leave her husband. No one, said her attorney, could promise her she would retain full custody of the boys, no matter what she found. And her sons were her life. "It was a bond like nothing I've seen," her sister Krissy said. Yet she remained uneasy, plagued with nagging fears about her husband's clientele. She confided both to a neighbor and her sister that she had urged her husband to install a home alarm system because she was alone at night so often with her sons. She complained that her husband wouldn't repair the broken lock on the sliding glass door, but seemed helpless to take care of it herself.
But mostly, Sara was just unhappy. And she decided she would simply do what she could. She would live through her children and try to re-create the lingering warmth of her own childhood for them. She enrolled the boys in a Catholic grade school, where she volunteered as a teacher's aide several times a week. A former elementary school teacher, Sara had always loved children, and she drew strength from the warm response of her own sons and their small companions to her presence in their classrooms. Sara also continued her periodic pilgrimages to Florida where her family remained her lifeline. Gradually, said her sister Krissy, Sara began talking about going back to work. Tokars reportedly suggested she work for him, but she was hesitant. She wanted the extra money for herself, and she wanted the independence.
Shortly before Thanksgiving last year, two men quietly entered the Tokars' house. The hour was early, and Sara and her two boys were sleeping. Her husband was either away or had already left for work. Curtis Alphonso Rower, a 22-year-old drug addict, was one of those two men. His College Park running buddies called him Cornbread. He had a record of smaller crimes, culminating in a car theft for which he was on probation. He had never been accused of murder. But, he later told police, he had been promised $5,000 to kill Sara by the man that accompanied him that night — Tokars' business partner Eddie Lawrence.
He also told Cobb County police that Lawrence knew Sara and her sons would be sleeping together in the children's bedroom. He knew that the sliding glass door would be unlocked. They entered the house through that door. That morning before dawn, Lawrence also knew that the burglar alarm was off, Rower later said. But once the two men entered the house, Ricky's springer spaniel, Jake, began barking. A light came on, Rower said, and they fled into the night.
Two days before Thanksgiving last year, Sara and her two children left for her parents' home in Florida. En route to Bradenton, she stopped at the Tampa airport to pick up her husband, who had flown down from Atlanta. On Saturday, shortly after 1:30 a.m., the security company monitoring the Tokars' home called. A fire alarm had gone off in the King's Cove house, but there was no fire. Six hours later, the security company called again. A second alarm had sounded.
"Sara answered the phone," her father remembered. "I don't know whether Fred told her or she decided they should disconnect the alarm." Within days, Tokars would insist that his wife, not he, had given the order to disconnect. The security company, he said, had the conversation on tape. 
Later that morning, Tokars left for Atlanta. Sara and her children stayed behind. Sara bought a Christmas tree and promised that she and the children would be back to decorate it before the month was out. By 11 a.m., Tokars was back in Cobb County and called Lawrence, a client and his partner in a mortgage company and a small construction firm  Lawrence said Tokars told him the water heater at the house was broken and asked him if he could come repair it. Lawrence turned him down.
On Sunday, John Ambrusko took his daughter and her two young sons to lunch. They left for Atlanta about 12:45 p.m. "Usually, Sara and the boys would hate to leave," he said. "They would all be crying. This time, they were singing, 'I'll be home for Christmas."'
Fifteen minutes after she and the boys departed, Sara's husband called. What time were they expected home, he asked. Nine-thirty or 10 o'clock, his father-in-law replied.
Within the hour, Tokars had placed a second call to Lawrence. "He said he had gotten somebody to fix the water heater, and then we just talked about a few other things business," Lawrence later told police. "Nothing really transpired." Tokars told Lawrence that he was leaving town. That afternoon, he left for Montgomery, Ala., where he had an appointment with a federal prison inmate.
Sara had promised her father faithfully that she would call as soon as she and the boys arrived home. But that call never came. "We waited and waited and waited for them to call us," her father later said. "We finally decided to call her. The line was busy. We waited. We called again. The line was still busy." The telephone company later told them that the phone had been taken off the hook.
It was shortly after 10 p.m. when Sara and her children pulled into the garage. Mike, the youngest, was asleep in the back seat. Sara left him sleeping while she, Rick and the spaniel left the car. Perhaps she was still fumbling for her keys, her mind already on a hot bath and bed. Perhaps she had just opened the door. But, suddenly, there he was an agitated black man wearing a dark toboggan and nervously fingering a sawed-off shotgun. It was Curtis Rower.
Jake began barking. Rower kicked the dog and forced Sara and Ricky back into the car. He climbed in the backseat behind Sara, next to her sleeping younger son. He put the gun to her head and ordered her to drive. Rower told police later that she pleaded with him: "Just don't hurt me and my kids." Rower had been waiting inside the house for at least an hour before Sara and the boys returned. He knew where Sara had been. He knew when to expect her home. He knew her husband was out of town. He knew the house alarm, once again, was off. And, once more, Lawrence was with him, Rower later told police.
At first, Rower believed Sara was Lawrence's ex-wife. Lawrence had offered him $5 000 to kill her because "she was standing in the way of a lot of money," Rower told police in a taped confession last December. But Rower also insisted that Lawrence also told him Sara was his attorney's wife. Her husband wanted her dead, Rower explained to police, because "she was standing in the way of a loan."
Once Rower climbed into the car behind Sara and ordered her to drive, he wasn't sure what to do. He still hadn't been paid to kill her, Rower said, and he suddenly couldn't locate Lawrence, who had left him in the house alone.
By the time Sara pulled out of the drive, Rower was convinced Lawrence had abandoned him. Peppering his commands with angry obscenities, Rower said he first ordered Sara to take him to an Atlanta housing project. Sara, who rarely traveled south of the Perimeter unless she was going to Florida, didn't know how to get there.
About a half mile from the Tokars' house, Rower ordered Sara to turn down a darkened street that ended in an empty cul-de-sac. Instead, Sara pulled to the side of the road. By then her younger child had wakened and, according to statements the gunman later made, had begun tugging on Rower's sleeve. But in his confession, Rower told police Lawrence had warned him: "Don't touch the kids. Don't do nothing to the kids."
Sara desperately offered Rower her purse and then begged him to leave. "You can take the car," she told him. "Just don't hurt me or my children." But Rower had spotted Lawrence parked on a nearby side street, he later told police. Within minutes, Lawrence, he said, was beside the car. "She acted like she know Eddie," Rower said. "She looked back and seen Eddie like she was shocked. I don't know if she recognized him, but she was looking like she was in shock."
The blast from the sawed-off shotgun caught Sara in the back of the head. As she slumped over the wheel, the car, its motor still running, rolled across the road and came to rest in a nearby field. Rower fled.
Covered in his mother's blood, Ricky reached over and turned the key. The engine stopped. He pulled his little brother from the back seat. They were crying. He held Mike's hand as they ran through a field to a nearby house for help. He wanted someone to call his grandfather. His grandfather was a doctor who would make his mother better.
Police reached Tokars at a Montgomery hotel later that evening. Florida police arrived at the Ambrusko's Bradenton home shortly after midnight with the news. Tokars, his attorney said, was shattered. And, his father-in-law remembers, Tokars was hysterical the first time he talked with him by phone.
Less than three weeks after Sara's murder, police arrested Lawrence. Tokars had lent him $70,000. The businesses they jointly owned were in financial trouble. Lawrence was facing criminal charges for writing bogus checks. Informants told police that before Sara's murder, Lawrence had been looking for a hit man. In a formal statement to police, Lawrence denied killing Sara or participating in her death.
Within a week of Lawrence's arrest, a man approached Cobb County police with Rower's name. He was the boyfriend of Rower's sister, who worked for Eddie Lawrence. Lawrence had offered him $5,000 for the hit, he told police, but he had turned him. down. Rower, he said, had accepted the offer. Two days before Christmas, police pulled Rower out from under a bed where he was cowering in a cousin's home in southwest Atlanta. Twelve hours later, Rower had confessed to Sara's murder, although he told police that in the end, he hadn't meant to kill her.
The day after Rower was arrested, Tokars tried to kill himself. He was in Florida but had left his children with his wife's family to go to a hotel. He locked himself in his room, placed a "do not disturb" sign on the 'door, swallowed some pain pills and washed them down with alcohol. He was unconscious when he was found.
Tokars, his attorney said, was in despair. He had lost his wife. He was being hounded by the media. Rower – a drug addict with a history of mental problems — had cobbled a confession from numerous television reports and had accused Tokars of soliciting his wife's murder not because it was true, but because it was what police wanted to hear, Froelich said. "No one could envision the pressure he was under."
On December 31, Tokars was back in Atlanta where, at a news conference, he begged the media to leave him alone. His wife's murder, he said, had cost him "my whole lifestyle." And within days, he began eradicating the remainder of his Atlanta life. He closed his law practice and began liquidating his assets, according to police. He placed the couple's house on the market. He rented a Dumpster, and what he didn't pack, he threw away. He moved to West Palm Beach with his mother, leaving his sons in the care of their grandparents and a rotating contingent of Sara's sisters. He visits with them twice a month.
Tokars won't discus's his wife's death except to assure Sara's family that he was not involved and he didn't believe Lawrence was either. He has been seeing a counselor, he told the Ambruskos, who has told him "to start looking forward, not to look back and not to discuss it with anybody."
But the gritty, dim-lit world through which Tokars often moved and that had for so long disquieted his wife, is now the subject of two separate investigations. While Cobb County police are exploring Tokars' ties to Lawrence — who along with Rower has been charged with Sara's murder – a federal grand jury is exploring the attorney's relationships with men who stand accused either as drug traffickers or their front men.
Whether or not the ongoing investigations will dovetail is unclear. Cobb District Attorney Tom Charron says it may be years before the whole truth behind Sara's death surfaces. He is, he said, prepared to wait. But others are not. Since her death, Sara Tokars has become a cottage industry. Almost everyone who knew Sara or is familiar with the case has been called by Hollywood agents and producers seeking their rights for a fee. Almost no one has been exempt — her parents, her sisters, her husband, reporters who have covered the story, the police, the district attorney, her husband's former partner, the divorce attorney and the private investigator to whom Sara had turned for help. ABC has signed a deal for the television movie. Sara is now known not for who she was, but for how she died.
Police say Sara died saving her children. If Lawrence did approach Sara's Toyota as it idled by the side of the road that dark November night, she probably recognized him. He had been to the house that summer to supervise some contract work in a downstairs bathroom, and he has told police he met Sara at that time. In the waning moments of her life, Sara shoved her eldest son to the floor, according to police reports. Then she began to scream. And according to Rower, who was holding the shotgun at her head, she suddenly accelerated the Toyota, jerking the wheel hard to the left where Eddie Lawrence stood. As the shotgun blast took her life, the 4Runner knocked Lawrence down. Rower leaped from the car as it plunged through heavy shrubbery into the nearby field. In the rush to escape, Sara's boys were forgotten. They escaped unharmed.
Nine years have passed since Sara Ambrusko Tokars first watched her husband on the evening news. Murder was the catalyst for their marriage. Murder ended it, and her husband found himself on the evening news again.
This article was originally published in our June 1993 issue.