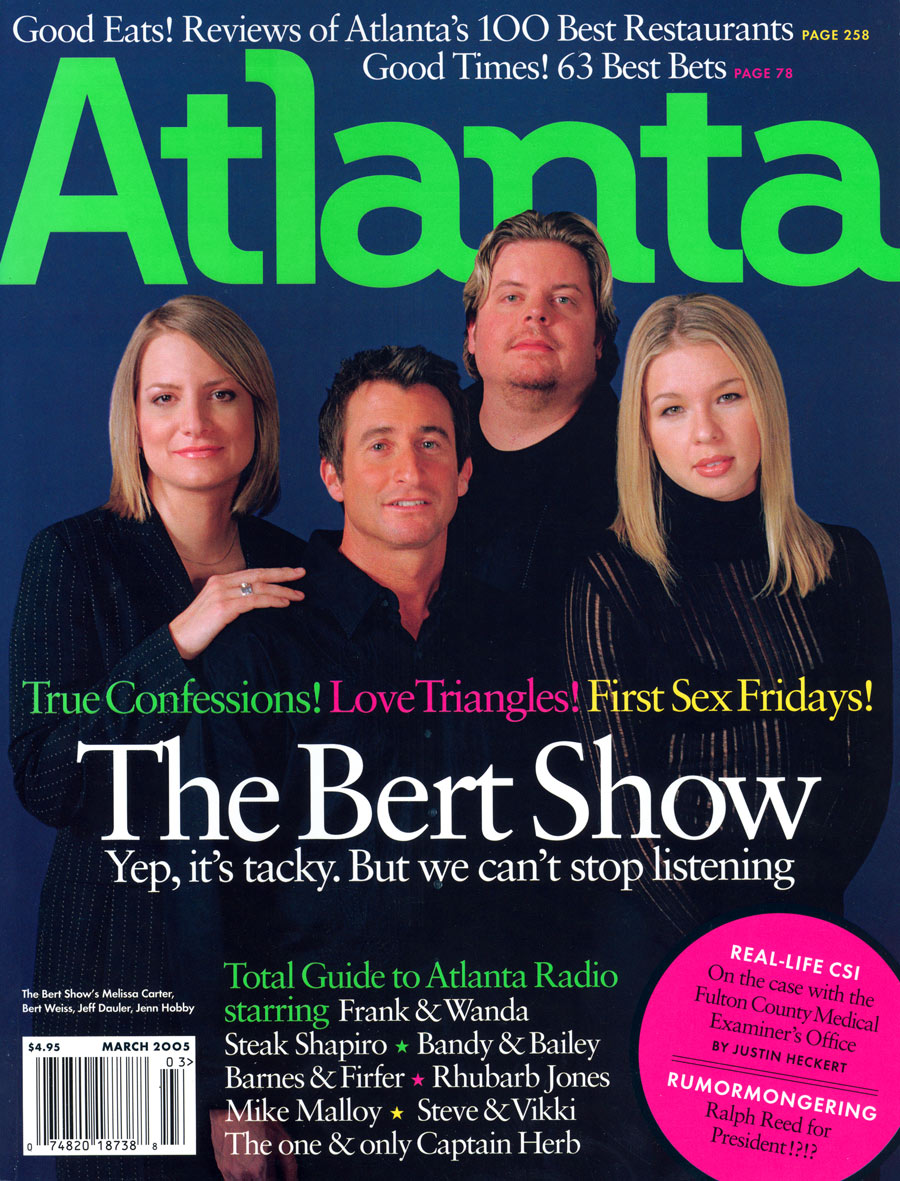 This article was published in our March 2005 issue.
The Bert Show is erupting into another mini-drama, steaming up I-285 rush hour like an overheated radiator on a minivan. This time, the relationship in question is an internal office romance. Should Tracey, the producer, needle fun-loving Scott, the promotions guy, for an engagement ring?
"My wife made me pull the trigger or get off the pot," Jeff says.
"Two beautiful cliches coming together," nods Bert.
Tracey leaves the room and a song interrupts the on-air banter. Morning commuters are left with a cliffhanger, but in the Q100 control room, the show's four stars—Bert, Jeff, Jenn, and Melissa—continue the gossipy analysis.
Says Jeff, "Scott doesn't want to marry Tracey. C'mon. He's what, 26? Going to clubs every night. And she's pretty high-maintenance. If it were my last day on the radio, that's the advice I'd give her. 'He just doesn't want to marry you.'"
"Well, you weren't completely honest then, were you?" Jenn, the sunny, blond do-gooder and youngest member of the group, points out. "Maybe we should all say the things we'd say to each other if we were quitting and this really were our last day on the radio?"
Bert, restlessly tossing a baseball up and down, loves the idea. To him, exchanging blows of cudgel-like honesty is not bad office politics; it's what entertainers call a "bit." And Bert is always chomping at the bit.
Jeff, whose persona, on and off the air, is that of the crass but cuddly curmudgeon (or "lovable asshole," as Bert puts it), shrugs and says, "But, hey, that's what we're here for, right? Let's do it! Bring it on!"
Back on the air, Jeff blurts into the microphone, "Scott just doesn't want to marry Tracey."
Across Atlanta, commuters flinch at this remark as if struck by their kids in a game of "punch-buggy red." Then they crank up the volume to hang, voyeurs restrained by seat belts, on every syllable.
Melissa, universally hailed as the show's steady "voice of reason" says, "I think we should all just shut up and leave them alone."
But shutting up is not what The Bert Show does. The cast members are talkers-without-borders, wielding their microphones as microscopes to analyze each other, their listeners, family members, celebrities—any specimen that bobs into view. Including co-workers.
"What do you have to say, Scott: Are you ready to marry Tracey?" everyone asks in chorus when he shuffles into the room with the abashed look of a recent castrato to announce one of the station's promotional giveaways.
"Probably, when the time is right," he says.
Melissa, the show's outspoken, openly lesbian cast member, attempts to lighten the mood by saying, "Well, if Scott doesn't pull the trigger and ask Tracey, I will!"
But Scott has not ponied up enough information to satisfy The Bert Show, or Tracey. The next day, he fields calls for about 45 minutes as listeners offer conspiratorial support (from men) and cautionary tales (from women) of their own. A self-described "old-fashioned guy," he ends up sweetly declaring his intentions, saying he knew Tracey was "the one" six months into their courtship, but he wants to wait for the right moment to pop the question—if that's okay with everybody?
At most workplaces, blabbing office gossip into a megawatt loudspeaker would frost the watercooler into another Ice Age.
"Here, you just have to suck it up and take it," Scott says.
Tracey adds with a tight-lipped smile, "Sometimes the opinions and advice can be harsh . . . and eye-opening."
In an age of "reality" entertainment, The Bert Show offers "reality radio": unscripted, uninhibited, and unvarnished.
Since it started in March 2001, the show has crept up the Arbitron ratings, evolving from cult hit to must-hear status, usually hovering in the No. 2 or 3 spot in the age 18-34 category. An estimated 168,000 people tune in each week from 5:30 a.m. to 10 a.m. to hear the crew members, who range in age from 27 to 37, gab between Top 40 songs with the meandering, punchy frankness of a dormitory bull session of "truth or dare."
"I made it clear form the beginning that this would be an open forum involving very private aspects of our lives," says Bert. "We bring to the table the ugliest parts of ourselves, the parts that aren't so pretty to talk about."
So every weekday morning, this foursome does the emotional equivalent of tying themselves, buck-naked, to the town clock. In a free-flowing stream of self-consciousness format, they broadcast pillow talk, family squabbles, and secrets, Viagra experiments and other "too-much-information" anecdotes. Discretion is not the better part of palaver; if you kiss, you tell. Matters generally considered nobody else's business are the business of the day.
"You have to be very careful what you say around here," Jeff says, "because Bert will overhear and say, 'Let's put that on the radio!' Like the time we rated each other's physical appearance, from prettiest to ugliest, and promised to be honest but not get offended. Yeah, right."
(They are all at least next-door-neighbor cute but concede that they all have "faces for radio.")
Given the loose lips and flapping gums of the hosts, you might think listeners would be wary of confiding secrets, but oh no. The Bert Show functions as Atlanta's catchall confidante, an audio diary for a jillion Bridget Joneses and their troublesome men.
While dropping their own veils in this burlesque, the cast takes about 15 or 20 phone calls a day, on topics veering from the poignant to the pathological. Someone might be looking for her long-lost father, or kvetching about a marital spat, or feeling fat or, to use the soon-to-be-overused new buzzword, "oversharing." A current of one-upmanship—strikingly similar to the "I'm more screwed up than you" tone of some 12-step programs—runs through many of these contributions.
When moralists speak of the "death of shame," this forum is what they have in mind. It's one thing to vent about the ex who is stalking you; it's another to admit being the stalker.
Of course, The Bert Show literally asks for it. Its Web site issues such enticing invitations as:
"Do you have a question that you are too embarrassed or ashamed to ask?"
or,
"Have you ever done something to get an ex back that you're not proud of? Then you may qualify for The Bert Show's PSYCHO HALL OF FAME! Listen each week to hear when we take nominations, and your story could get you included!"
Listener, you, too, can join the ranks of fun folks like Amy, who faked an anxiety attack and had a friend drive her to the hospital to "freak out" her boyfriend in a bid for sympathy. And Tina, who reprogrammed her phone number in the place of the "other woman's" in her boyfriend's cell phone. (That way, Tina could hear the messages he was leaving for her rival.)
Another caller bragged about sending love letters to Scott Peterson, who was convicted of murdering his pregnant wife ("he's just misunderstood"), and one woman explained how she felt conflicted after seeing photos of her handsome fiance before his extensive plastic surgery. She was wondering if she should cancel the wedding for fear of producing a homely baby.
Other ongoing high jinks include "First Sex Friday." If you're planning to seduce someone, plot your strategy for a Friday show, then call back on Monday to give a blow-by-blow debriefing (after 8:30, when the kiddies are in school).
As if there weren't enough performance anxiety in Atlanta's singles scene.
Usher Raymond's platinum-plated voice sounds as if it might crack.
"The reason this happened was this radio show right here," he says, slouching in the studio.
The R&B superstar blames The Bert Show for breaking up a homegrown celebrity institution: his romance with a member of the hip-hop trio TLC. In an earlier interview that made national news, Rozonda "Chilli" Thomas confided to Bert and Co. that Usher had committed the "ultimate no-no," meaning infidelity. The hip-hype scene reeled.
"This seems to be where all the drama started," Usher says. "So I just wanted to come down here and, man to man, look you in the face and say, how can y'all do this?"
Apparently Usher's titanium abs do not offer much in the way of thick skin.
"I think we've gotten into some trouble with celebrities because we treat them as equals and ask them questions that we feel listeners want answers to," Bert says. "We won't book a celebrity interview if the publicist gives us boundaries. I think a lot of morning shows book an A-list celebrity just because of the big name factor. But I would rather lose the interview if I can't ask intriguing questions."
Ultimately, the singer demonstrated the show's "communal intimacy" paradox by requesting a live, in-person interview to hash out a matter he insistently described as "private, between me and my woman." Usher might protest the rules of Bert's game, but he's still a player.
"I'm impressed with the fact that he came down here personally to talk with us honestly and set the record straight," Melissa says. "He didn't have to do that."
If Usher, with his entourage of handlers text-messaging with Rolling Stone throughout the Bert interview, has to drop by and have his say, how can a carpooling mom or bored-at-work paralegal resist the compulsion to call in?
The cast's confessions are delivered in a breezy, shrugging tone, but it nevertheless takes guts to spill 'em like this.
"My dad screwed around on my mom," is how Bert opens one segment. "I've always been worried that it might be in my blood, like I have high blood pressure, diabetes, and infidelity knocking on my door. But I've never screwed around on Stacie."
Later Jenn sighs, "I wish I were gay."
"Save that!" quips Melissa, 34, who made history as Georgia's first openly gay radio personality on mainstream radio. Later, off the air, she says, "Sometimes I do feel like we're circus animals on display, but as long as we're honest in what we say, and the feedback we get is honest, then I'm okay with that. I think we're creating something special."
"We're not afraid to be vulnerable," Bert says. "In fact, we're at our strongest when we are."
Jenn adds, "We are not slick people."
Nor is their conversation, which is not so much the Algonquin Round Table as Howard Johnson buffet.
"No bells and whistles, wacky sound effects, or goofy fake laughter," Bert says. "Just real life, the kind of realism where you never know what you're going to get. We're real people giving it up about real lifestyle issues."
He might not be "slick," but Herbert Weiss, the show's 37-year-old patriarch from San Diego, has an aura of mellow cool that is uniquely, recognizably Californian. Standing a compact 5-foot-4, he often wears jeans, T-shirts, and flip-flops to work. From his affable patter, it is easy to visualize the open smile, the direct eye contact, and the prominent nose—another subject of his jokes.
During his tomcat days, Bert reportedly "partied like Charlie Sheen" in a bachelor pad named "Disgraceland." His charisma won over one of his listeners in a big way. His wife, Stacie, says she discovered Bert on the dial when he worked on a morning show in Washington, D.C.
"I carpooled with a bunch of women, and they would all say that he and I would make a great couple," she says. "So, after a year of listening to him, I went to one of his promotions and introduced myself. That was it for both of us."
Now they have a toddler named Hayden, and Stacie manages "Bert's Big Adventure," which sends families with chronically or terminally ill children to Disney World. And Stacie, usually unwittingly, is dragged into the show's cast of characters in absentia. Listeners have heard all about her hair removal and her labor pains.
"I often end up having to run interference for him or explain something he said on the air," she says. "A neighbor will call and say, 'I didn't realize this was a problem . . .' But I knew what I was getting into. It was his openness on the air that first attracted me."
Throughout his career, Bert has streaked across the airwaves like an emotional exhibitionist. "The root of my approach is probably not very healthy," he says, explaining that he comes from a family marked by a number of estrangements. "I feel much more comfortable talking about my problems on the air than off the air."
He had long envisioned an off-the-cuff, ensemble format when "All the Hits" Q100 gave him control of its morning show. "I handpicked people who I knew would open up," he says, explaining that he views himself as linchpin of a "big ol' ugly dysfunctional family."
It's easy to trace the pop culture roots of The Bert Show. To use the kind of analogy that might arise, if Oprah, Survivor, and The Bachelor ever held an orgy, someone might give birth to Bert.
Bert cites other influences. "I'm not crazy about Howard Stern's material, but we really owe him a lot of clearing the way to talk about the ugliness in ourselves," he says. "But of all things, I think the sitcom Friends really opened up possibilities in radio."
So he has cobbled together a quartet of magpies who no doubt know the lyrics to "I'll be there for youuuuu."
"There are four very distinct, different personalities here," says Melissa, who had worked as a news writer for sister-station 99X. "So I think most people will hear something from at least one of us that they agree with or relate to."
Jeff ticks off their demographics: "If you're single or married, gay or straight, we pretty much have you covered. And now that Bert has a kid, he's sort of the 'family guy,' so we get to hear about all those activities, the dancing-on-ice crap, Dora and Nemo or whatever."
The long-suffering Stacie is not the only loved one vexed by the ongoing overlap of the cast's personal and public lives.
"I lost my best friend because I talked about her eating disorder on the air," Jenn says. Jeff recalls phoning some friends to make sure they weren't listening before he babbled about their adultery. "I figure if you're not losing friends and relatives or at least making people mad," he says, "you're not doing your job."
Cheaters, particularly, never prosper on The Bert Show, which enjoys nabbing them in sting operations such as the "War of the Roses." In this routine, a listener can explain why she suspects her mate of fooling around. The station will call up the unwitting man and tell him he has won the opportunity to send someone a dozen roses; he almost always sends them to his mistress. Busted!
Divas also have been known to take a dive in this no-priss zone. When Mariah Carey appeared on the show, she brought a food inspector who wiped the rim of her Coke can with an antibacterial cloth.
"Mariah did the entire interview in her sunglasses," Bert says. "And she also had a woman lift the top piece of bread with a knife to show her what was in the sandwich."
As usual, Bert and crew found a way to chew the phat. He promptly sealed the singer's partly eaten turkey sandwich and then attempted to sell it on eBay, where it brought a $751 bid before the Web site halted the auction.
For an object lesson on cyber-pervs, the crew posed as a 12-year-old girl in an Internet chat room.
"As soon as we logged on, we got flooded with responses from older guys," Bert says. One of the men gave his phone number, so the show called him, with one of the women speaking like a young girl.
"He started out making normal small talk, and then the conversation got creepier and truly disturbing," Bert says. "We told him he was on the air. It took him a few seconds to figure out what was going on, but then he quickly hung up. A lot of parents thanked us because they didn't realize how unsafe their kids are in those chat rooms."
One otherwise harmless stunt resulted in a more serious story line. Bert wanted the gals to sample a drink that purportedly would enhance their libidos. Melissa, it turned out, was keeping something private: a very serious kidney condition.
"First you have to come to terms with an illness yourself before you can talk about it with anybody," Melissa says. A 34-year-old from Nashville, she has a smart, authoritative manner softened, in person, by large, mink-brown eyes. "I had to tell Bert right then what was going on, why I couldn't drink it. It was an innocent bit, and that ruined it."
"Talking about it on the air helped me cope because I got so much support," Melissa says. "And it served the purpose of raising awareness of organ donation."
By talking about her girlfriends and leading the annual Atlanta Gay Pride parade in 2002, she also has served as an unassuming activist for gay rights. "Hearing me talk about myself and my interests may help people see the complexity of gay people's lives because so often we get defined by that one dimension of ourselves," she says. "I didn't go the show because of any kind of agenda. I'm not Melissa, who's the 'gay person' in the cast—I'm Melissa, who just happens to be gay and not really any different from other women living and working in Atlanta."
So their chatter matters, the Bertsters say. The show's yeasty, tell-all dish is leavened by Melissa's consciousness-raising and sweetened by the tearjerker bits—dispatches from the children in "Bert's Big Adventure" or an "ambush wedding" for a woman whose father was dying of cancer.
Like anything taking its cues from "reality," much of The Bert Show at times plods along with all the style and substance of white noise. The blah-blah-blah can just be that: blah.
These lags, though, can soothe a harried worker bee. Keri Croop, manager of university relations at Georgia State University, has been listening since the beginning. She describes the show as a "guilty pleasure," hastening to add that she has "never called in."
"It's the perfect thing for zoning out during the drive," she says. "It's light and funny and helps you get through it. Otherwise, I'd probably swerve my car into oncoming traffic out of frustration."
Croop, 27, tunes in during a commute downtown from the suburbs that can last anywhere between 45 minutes and two hours. She represents Bert's captive audience: the SUVs moving like sluggish bison across the plain of the downtown Connector.
"You can look at cars stalled in the other lanes during rush hour and see the other drivers laughing, and you realize that they're listening and responding to the same thing you're listening to," she says.
Croop, who moved here from Raleigh, also typifies Bert's Atlanta in the sense that she's not from here. None of the cast is, and a link on their Web site read, "Not from Georgia? Where to watch your college play: Atlanta is a transient city, so there are many in the metro area that didn't go to UGA or Tech. So where can you hang out to watch the big game? . . ."
Critics have dubbed talk radio the "last neighborhood" in America.
"We mean it when we call our listeners a community," Melissa emphasizes. "We refer to them as The Bert Show community."
It is an unusual, postmodern community. Here, people proudly let dirty laundry flutter on the clotheslines, and they reach out to each other in winks and nods across the median as radio signals blare their intimate confessions through the exhaust fumes.
"I probably should be listening to NPR," Croop says.
Yeah, but will Carl Kasell ever open up on Morning Edition and confess what he did over the weekend?
This article was published in our March 2005 issue.