Photograph by Kevin D. Liles
Billy Devaney stands on the field of a high school mega-stadium in San Antonio, staring into the weak morning light with a level, curator's gaze. Frost crunches under his feet. Short and square—think end zone pylon in sneakers and sweats—Devaney seems to teleport from one end of the field to the other, moving across the turf without appearing to budge.
At each stop he pulls a notebook from a pocket, jots something down. It contains his day's reckoning. As general manager of the Atlanta Legends, a startup in America's latest pro football league, 63-year-old Devaney is the guy who determines the fate of giants.
This morning—clear, crisp, windswept—the players are scattered on the field before him. It's three weeks into the Legends' month-long preseason camp. In another week, the team's roster will be clipped from 75 players to its final 52.
Dreams will be crushed.
The elite-athlete castoffs flown here from across the country—on-the-bubble NFLers, struggling ex-college stars, arena league up-and-comers—know the drill. They've all been cut somewhere before.
"If you belong in the NFL, you should dominate in [the AAF]. If not, most likely your football career is over."
They go at it. Pads collide with a sweet, sure violence, like the crack of a bat. Coaches bark with the bipolar intensity the game seems to demand: obscenities one minute, professions of undying love the next. In this empty stadium far from anybody's home, at a camp held for an unformed team in a high-risk, low-odds league, football remains football.
Devaney knows the drill, too. He toiled in front offices of the NFL—aka The League, aka Not For Long—for three decades: Washington, San Francisco, Atlanta, St. Louis. He's been hired and fired. He was celebrated for his role in San Diego's up-from-nothing rise in the early '90s, then axed for pushing the same team to draft a quarterback who became an all-time bust (Ryan Leaf).
"I'm a firm believer that you haven't dropped your nuts unless you've been fired in football," Devaney tells me. "It's interesting to see how people react when that happens. They either go into the fetal position or they rebound somehow."
Even with that philosophical foundation, Devaney suddenly looks distressed. Planted at midfield, he's focused on defenders near the far goal line making short-yardage stops. "Uh," he grunts to himself. "You hate to hear that."
I have no clue what he's talking about. So I wait. "Coaches have called out the same guy's name twice for making a great play," he finally explains. "And I gotta cut him. It's probably the best practice he's had since he's been here."
Devaney shakes his head. He can't count the number of times this has happened.
"Never fails," he says. "This is the profession these guys chose, and it's brutal."
---
It's called the Alliance of American Football. Billed as a spring developmental league for the NFL, as well as an off-season football and gambling fix, it's also a last-chance testing ground for players on the outside hoping to get in—or back in.
Some fell out of the NFL because of injuries. Others labored in systems where they didn't fit. Everybody has a story. Linebacker Dylan Donahue, who played at the University of West Georgia, was a New York Jet until he crashed his car while driving drunk the wrong way through the Lincoln Tunnel. "Yeah," a humbled Donahue tells me, shoulder-length hair knotted atop his head, "I'm that guy. For sure."
Atlanta is one of the league's eight mostly Sun Belt franchises that play a 10-game schedule leading up to the Alliance Championship on April 27 in Las Vegas. The teams are centrally run by AAF cofounder Charlie Ebersol, a 36-year-old documentary and reality TV producer whose backers include Silicon Valley venture capitalists and MGM Resorts International.
Football has a long history of short-lived leagues. Ebersol's father, the former NBC exec Dick Ebersol, launched the XFL in 2001 along with wrestling magnate Vince McMahon. The XFL, sometimes referred to as the Xtreme Football League, featured fan fights, lousy football, and players with nicknames like "He Hate Me." It flamed out after a season. Donald Trump owned an early-'80s team in the United States Football League, which made Herschel Walker pro football's highest paid player. Trump pushed to move games from spring to fall, led a suit against the NFL, and won a $1 judgment. That league lasted three seasons.
"I'll be back next year . . . If there is a next year."
Jeff Pearlman, author of a recent book about the USFL, notes three common denominators among the failed enterprises: "Ego, ego, ego." Yet as interest booms in off-season sideshows like the NFL combine and draft, even more leagues are scheduled to debut, including a McMahon-led XFL exhumation in 2020.
Ebersol says his experience directing an ESPN documentary about the XFL led him to believe that, done without the hokey overreach and on-field tawdriness, an alternative league could flourish. The XFL's opening-night broadcast back in 2001 drew nearly 10 million viewers on NBC—a Saturday night smash. "My dad and Vince don't see it as a failure," he says. "They see it as a public failure, not a financial one."
That potential off-season audience still exists. "The statistic that shifted everything for me is that 78 million people stop watching sports on TV the day after the Super Bowl," Ebersol says. "If I wanted to start a ride sharing company and could tell people that ride sharing doesn't exist for six months and so 78 million people stop driving, people would throw money at me."
The AAF has a multiyear contract with CBS, with games also airing on CBS Sports Network, TNT, and NFL Network. Its Saturday night debut on February 9, which featured the Legends, lured 3 million viewers, beating that night's NBA game. But the league's proprietary tech component is where Ebersol says the long-term payoff resides. It's aimed at gamers and gamblers, whose numbers should swell with the Supreme Court decision that lets states legalize sports betting. Players don wearable devices to collect data on speed and power; a ball chip tracks velocity, spin rate, trajectory. Once fully developed, it will allow for real-time proposition-type bets and fantasy league plays. Ebersol told Fox Business the goal is to build "a technology company that has a multi-billion-dollar valuation."
Key to any success is good football. Teams are led by former NFL and major college coaches. New rules are designed to speed up the game (shorter play clock, fewer TV timeouts), aid player safety (no kickoffs), and goose the TV experience (players are mic'ed). Rosters boast regional ties, like the Legends' Aaron Murray, Georgia's former record-setting quarterback who, five years after being drafted in the fifth round, had never thrown an NFL pass. When the AAF called, Murray was in Atlanta, working as a college football TV analyst and selling real estate.
Divas are out. All players sign the same three-year, $250,000, non-guaranteed contract—not far off the $8,000 earned weekly, for as many as 17 weeks, on NFL practice squads, where many of these guys were once parked. Players can bolt the AAF if an NFL team calls. Ebersol is quick to tamp down expectations, a lesson from his dad's over hyped fiasco. He says success can't be judged for at least five years, during which the league reportedly plans to spend $500 million to $750 million.
Already the league has weathered its share of what Ebersol calls ELEs, or extinction-level events—stuff that can sink a business.
"Almost every company I've had has had two, three, four ELEs in its lifetime," he says. "This company has two or three a week."
Atlanta has contributed some beauts. I sat with Brad Childress, the Legends' original head coach, back in December, at the team's local headquarters in a suburban Courtyard by Marriott. At 62, he'd briefly retired after a mostly praiseworthy NFL career, which included the head job in Minnesota.
Bald, droll, Midwestern, Childress sounded excited about coaching hungry players and "getting back to my roots: making young guys better at their craft."
He looked forward to working with Michael Vick, the rehabilitated Falcon great hired as Legends offensive coordinator. Childress was an assistant in Kansas City when Vick interned there as a coach. He saw how players responded to Vick with open-mouthed reverence. In fact, every Legends player I asked about Vick told me that, as kids, they (a) owned his jersey and (b) used him as a cheat code in Madden NFL video games.
Even the startup's inherent nuttiness amused Childress. The day before, he fried a hotel printer copying playbooks—almost 50,000 pages. Lousy Atlanta weather reduced an earlier three-day mini-camp to walk-throughs in a hotel ballroom and downsized drills at an indoor youth soccer facility.
Finding bodies was madness. When Devaney started putting together a roster last summer, before NFL teams made their cuts and swelled the player pool, Devaney leaned on YouTube and Wikipedia.
"I'd get a call from an agent who'd say, 'My client is a three-year starter at Clemson, and he'd love to play in your league,'" he recalled. "I'd look him up on Wikipedia to verify, and if there was no criminal arrest record, I'd say, 'We'll take him!'"
Still, when I talked with Childress, he mentioned his grandkids back in Minnesota an awful lot. Then, just days after the Legends camp opened in San Antonio, Childress vanished without a word to his players or coaches. Apparently, the 16-hour days were longer than he remembered, and Grandpa flew back home.
A day later, after defensive coordinator Kevin Coyle took over the top slot, a story broke on Twitter that Vick had split as well.
"It was a run on the bank," Ebersol says. "We were talking about ELEs, right? If it had happened three weeks earlier, or a week before the draft (in November), I don't know if we survive it. I don't know if it would've led to a run on the bank by other coaches."
Turned out the Vick story was fake news. Ebersol was on the phone with Vick when the story blew up on his cell. Vick, headed into a team meeting, chuckled on the other end: His phone was blowing up, too.
Still, it's hard to square Vick's hiring as much more than a stunt from the start. He parachuted into meetings and practices here and there but mostly kept working for Fox Sports. It wasn't until two days before the season opener, and a new OC was in place, that the team officially announced Vick's departure—to assume an advisory role with the league. Uh huh.
Legends players and staff shrugged off the desertions as part of the game. "I was recruited by Lane Kiffin" is all quarterback Matt Simms needed to say, a reference to the college coach who famously coaxed Simms (and others) to Tennessee one day, then skipped off to another job practically the next.
"You have to embrace the chaos," observes personnel director Nate Tice, himself fired from his previous NFL job in Oakland after a coaching switch. "If you didn't think that going into this, you're more of an optimist than I am."
---
Yes, everybody has a story, but few stories in the AAF are as breathtakingly luckless as Younghoe Koo's. His even comes with a measurable—four yards, which in his case is the distance between kicking in the NFL and not kicking in the NFL.
Koo was born in South Korea, started middle school in New Jersey, and became a viral sensation kicking field goals at Georgia Southern. (Google his backflip kick.) He arrived at the Los Angeles Chargers camp in 2017 as an undrafted free agent and beat out the incumbent.
Then came his first NFL game: Monday night in Denver. His lone attempt, from 44 yards, came with five seconds left and the Chargers down by three. A hostile crowd of 76,324 sounded like a jet taking off as Koo stepped into position.
He didn't hear anything. His vision narrowed to the snapper, the holder, and the ball—which he then hit on the button. A familiar smack was the first sound Koo heard as the ball sailed through the uprights. It took another second for him to realize a whistle had blown moments earlier, to signal Denver's timeout.
No matter: Koo loved being iced. "I soaked it in," he says. "In the life of a field goal kicker, you look forward to those moments. If you're scared, you shouldn't be in this business."
Koo reset. Again, he went deaf as the crowd roared even louder. Again, he saw snapper, holder, ball. Again, he nailed it. This time, however, a thud followed the smack. A Bronco broke through the line, leapt to within four yards of Koo's foot, and slapped the kick short.
Game over.
"I kind of spaced out, looked at the holder—I'd hit it well," Koo says. "The coach said it wasn't my fault. But you kick it, you own it."
In practice all the next week, Koo felt off. The following Sunday, at home against Miami, again with just five seconds left and the Chargers now down by only two, he missed another 44-yarder—wide by a literal inch. Koo made both his field goal attempts the next two weeks, but he sensed the jig was up. The Chargers cut him before game five.
"I'm not the first or last kicker that's happened to," Koo tells me after a team bus ride from Milton High School, where the Legends practice, to the team's suburban hotel, where he now lives. "If that kick's not blocked, my career probably goes a different way."
Koo sounds unfazed. At 24, he believes he's better for the experience. He's become a student of the game, able to break down his mechanics and tweak them if they stray.
"I know I belong there," he says of the NFL. "I believe I can be one of those guys. I just need to get another opportunity and make sure it counts."
Four days after we talked, on February 9, Koo became an obscure answer to a future trivia question: His first field goal, inside a half-empty stadium in Orlando during the Legends season opener, became the first points scored in AAF history.
Four days after that, on February 13, Koo became a cringe-y footnote to another man's fortune: Josh Lambo, the 28-year-old kicker Koo beat out in Los Angeles, signed a four-year contract extension with Jacksonville.
Total: $15.5 million.
---
The allure of stupid money like that undoubtedly motivates many players here, pushes them to go on no matter how many times they're signed and cut.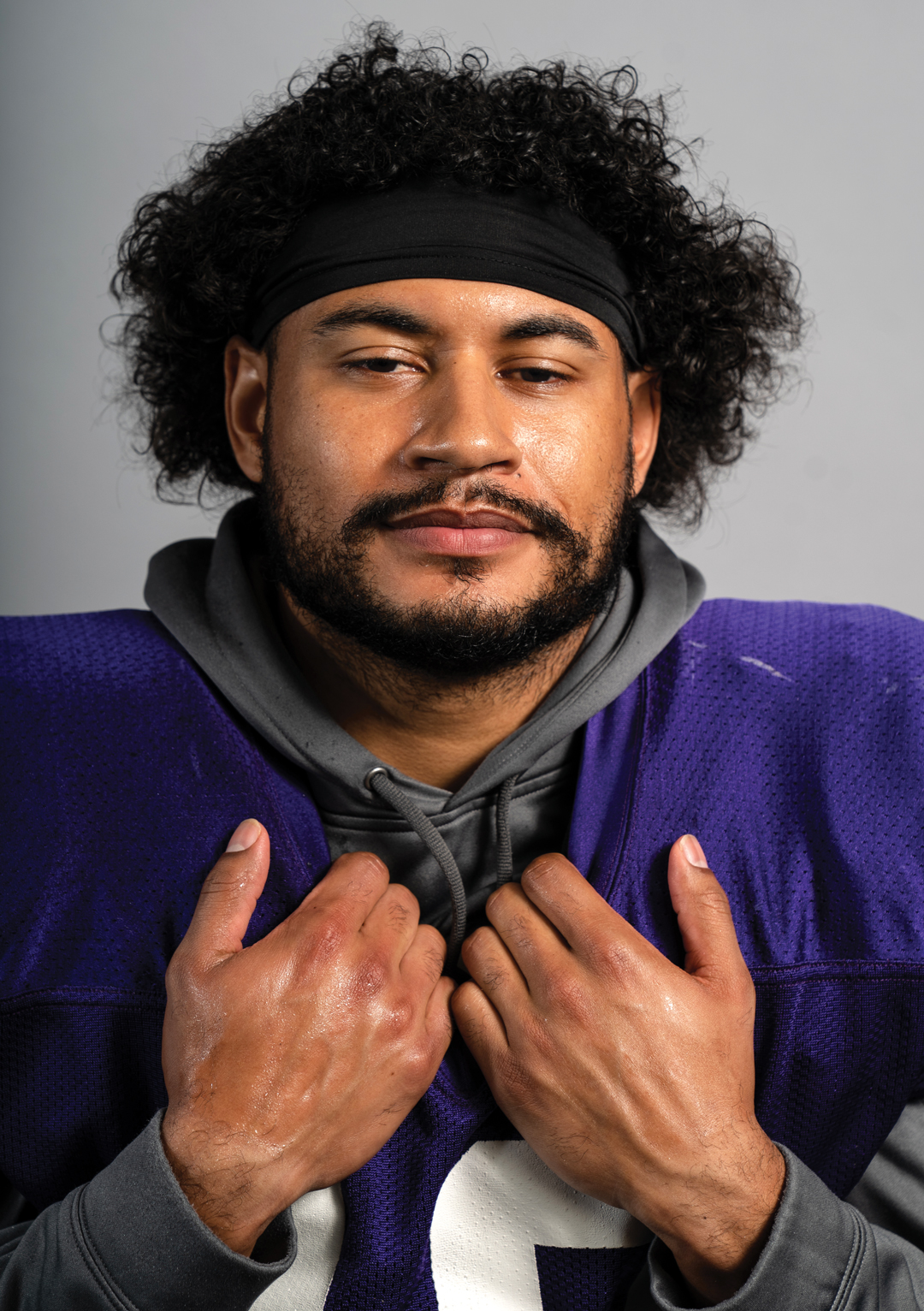 There's a subworld of players whose years-long careers consist almost exclusively of private workouts, camp invites, and stints on practice squads. Since leaving Valdosta State in 2014, receiver Seantavius Jones, a Tucker High grad, has been signed and waived eight times by four NFL teams. Former Georgia Tech quarterback Justin Thomas was signed and cut five times by Pittsburgh—in a year.
Where does perseverance stop and delusion start?
"It's almost impossible for athletes to see that line, they're so blinded by opportunity and what we think our skill set is," says retired Falcons receiver Brian Finneran, whose 12-year pro career ran through the now-defunct NFL Europe, a development league overseas. "When opportunities like this come, they get bright-eyed and bushy-tailed for another shot at the dream.
"If you belong in the NFL, you should dominate in [the AAF]," adds Finneran, who starred for the Barcelona Dragons before his decade as a Falcon. "If not, most likely your football career is over."
There's another motivation. I thought I'd grown too cynical to believe in it, but players brought it up too many times for me to ignore: They simply love the game.
"When you get hooked on a game you love, you don't want to give it up," says Stephen Hill, former Georgia Tech receiver drafted in 2012 by the Jets. Hill started 19 games over two seasons before suffering a knee injury he likened to "a bomb."
At 27, he's in San Antonio for another shot. (He'll just miss.)
"Look at basketball guys. They go to China and play until they're 40," says Hill, who lives in Atlanta with his wife and three kids. "The money [in the NFL] was good for what it was, but that wasn't my big focus. I just really love football."
Dylan Donahue, of Lincoln Tunnel fame, played four games with the Jets before injuring an elbow and surviving his headline-howling crash. The NFL suspended him for 14 games. He signed with the Legends to show he can stay sober and still play. The day we talked in San Antonio, he'd just been drug-tested for the fourth time that week. He's one of half a dozen players Legend coaches say are NFL-bound. Donahue—"NFL" inked on his calf, "Wild Man" inked under his forearm—says he hasn't had this much fun since college.
"Football is my opportunity to go out and be myself," he says. "There aren't too many places I can go and be 'Wild Man.' You become addicted to that."
Donahue talks a lot to his dad, about both drinking and football. Mitch Donahue played four NFL seasons with the wild abandon his son inherited. He became addicted to it, too. He didn't realize how much until the game was gone. Along with his son, he's been sober over a year.
"After the NFL, I had a deep sorrow in my life," says Mitch, who now runs a roofing business in the Montana town where Dylan grew up. "I missed football. I think a lot of NFL guys go through that."
Vontae Diggs, a 6-foot-3, 241-pound linebacker, could be the AAF's representative throughline. He was homeless as a kid in Chicago, headed nowhere until football pulled him out.
He earned a scholarship to Connecticut. A tryout with Washington. Now he's here. He relished the drills, the competition, the combat. Nothing looks like less fun than football practice, and nobody looked like they enjoyed it more than Diggs.
"I love the fresh-cut grass, the smell, the different vibe every stadium has," he says. "The sense of pride when you put on that jersey under the lights. It's just you and your brothers."
Diggs delivers the words spontaneously, warmly, but also a little watchfully, like a close friend's eulogy. Stuff ends. "Football saved my life," he says. "I'll be here until they let me go. Hopefully, they don't."
They did. Diggs missed the 52-man cut.
---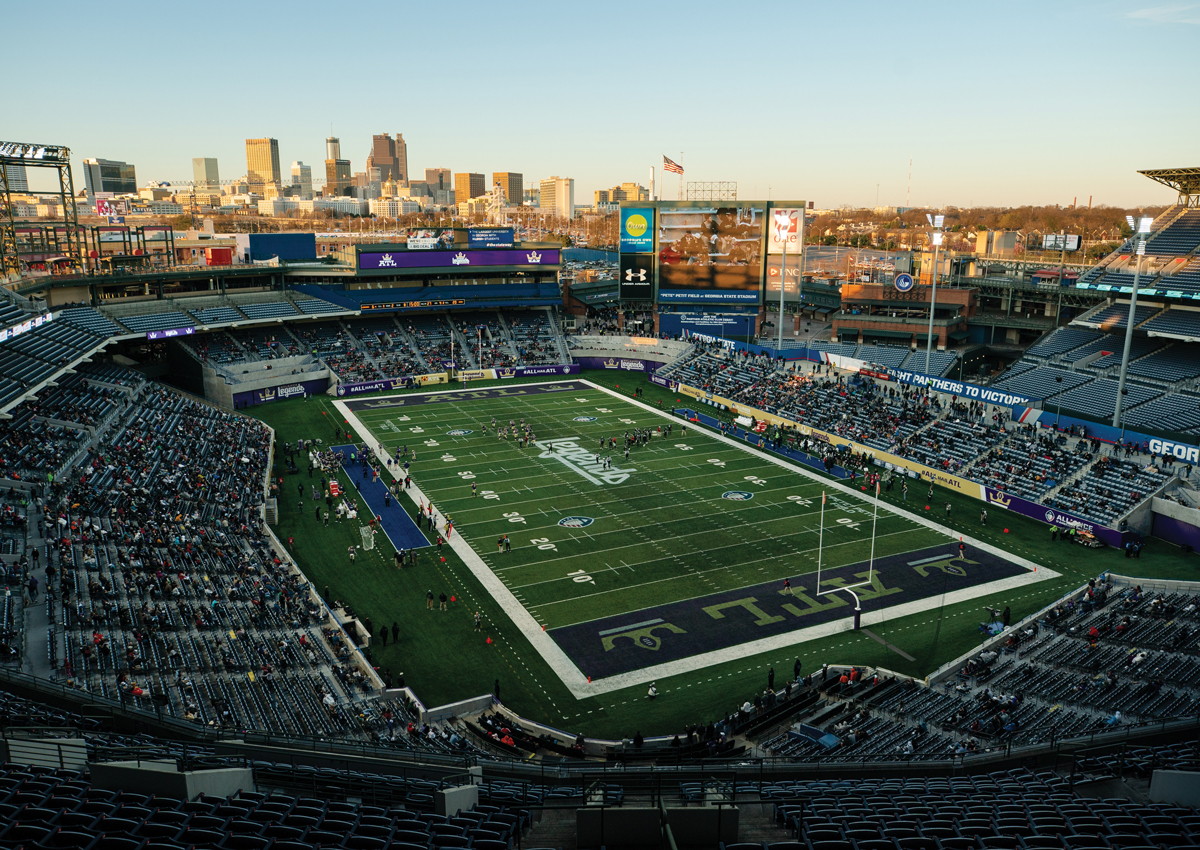 The Legends had little choice but to embrace the chaos before their first home game at Georgia State's football field, formerly known as Turner Field.
Earlier in the week, the AAF announced billionaire hockey club owner Tom Dundon had committed $250 million to the league, instantly becoming its chairman. It was widely reported as a bailout so the fledgling league could make payroll—another ELE!—but Ebersol quickly countered that a payroll snafu was caused by a glitch in a new system. He added that Dundon had considered investing early on, then jumped on board after the league's not-so-bad opening week. Sports Business Journal later reported Dundon wasn't dumping all his money in at once, that it was a "week-to-week" deal he could quit "on almost a moment's notice."
Again, Legends players remained nonplussed.
"I didn't even hear about it," Justin Thomas shrugged on the sidelines before the game, "until we had a meeting about it."
Another coaching defection, however, was harder to shrug off. Just two days before the game, offensive coordinator Rich Bartel, a former NFL journeyman quarterback, split for "personal reasons."
For a moment, it looked like the original offensive coordinator—the one Bartel himself had replaced during camp—had returned for the home opener. To a thunderous introduction and a smattering of applause from the 10,717 fans who braved the afternoon's brilliant sunshine, Michael Vick strode onto the turf before the first play. He placed a ball on the 25-yard line and motioned toward the far end zone—the AAF's equivalent of throwing out the first pitch. Then he strode back off.
The team played without an offensive coordinator. It showed. They lost 28-12, their lone touchdown a meaningless 23-yard toss by Matt Simms with 1:41 left. They fell to 0-3.
The small but willfully enthusiastic crowd—football nerds, couples ("My husband dragged me here," allowed Hillary Brown from Cornelia, "but he promised me TJ Maxx if I came"), bros with fellow bros—spent most of the afternoon chanting for Aaron Murray to replace Simms. With his UGA bona fides, Murray (along with Vick) was the early, promotable face of the Legends. Three games in, he was reduced to a backup quarterback behind a career backup quarterback—in a backup league.
Ten minutes after the game, when I was let into the locker room, Murray was already gone.
Simms, the son of former New York Giant great Phil Simms, seemed undeterred. He's 30, the oldest player on the team, and someone who's been written off, really, since his days at Tennessee, which he left unheralded and undrafted. I'd stood nearby at the end of a practice back in San Antonio while he and Bartel, the now-departed offensive coordinator, had a minutes-long, obscenity-filled standoff about commitment. It was two men, nose to nose, forcefully making their points, and then walking away. It was the most aggressively professional thing I witnessed there. The next day, Simms and Bartel tossed a ball together at midfield, business as usual.
"Our game is very gladiator-like at times," Simms explained later. "That's just football."
Now, he stood in the Legends' emptying locker room after yet another loss.
"We're doing our best," he said with practiced understatement, "with the hand we were dealt."
I spotted Wild Man—Dylan Donahue—at a far end, rubbing a towel through his hair. It was his first game in uniform after being injured at the end of camp. "We should be way worse off," he said. "We've faced a lot of sudden changes every week."
The off-field commotion wasn't lost on fans. They'd support just about anything Atlanta—to a point.
"I'll be back next year," said Bruce Sweeney, 54, of Forest Park, earlier in the afternoon, drinking a beer and eating barbecue with a group of friends.
He raised his beer about an inch.
"If there is a next year."
---
POSTSCRIPT
"It was real while it lasted!!"
That was the caption on the Instagram feed of Malachi Jones, a Roswell native and receiver for the Atlanta Legends, a day after the Alliance of American Football closed its doors—apparently for good.
With two regular season games still remaining, league owner Tom Dundon, a Dallas billionaire and NHL team owner who rescued the league two weeks into the season with a pledge of $250 million, said he was suspending operations.
Perhaps no team mirrored the league's messy uncertainty more than the Legends. Their first head coach split during preseason camp, Michael Vick quit as offensive coordinator days before the first game, and the team went on to a league-worst 2-6. The Legends averaged about 10,000 fans playing at Georgia State Stadium. Now those fans aren't even left with the losers' perennial battle cry of "Wait'll next year!"
They won't even get to finish this one.
This article appears in our April 2019 issue.