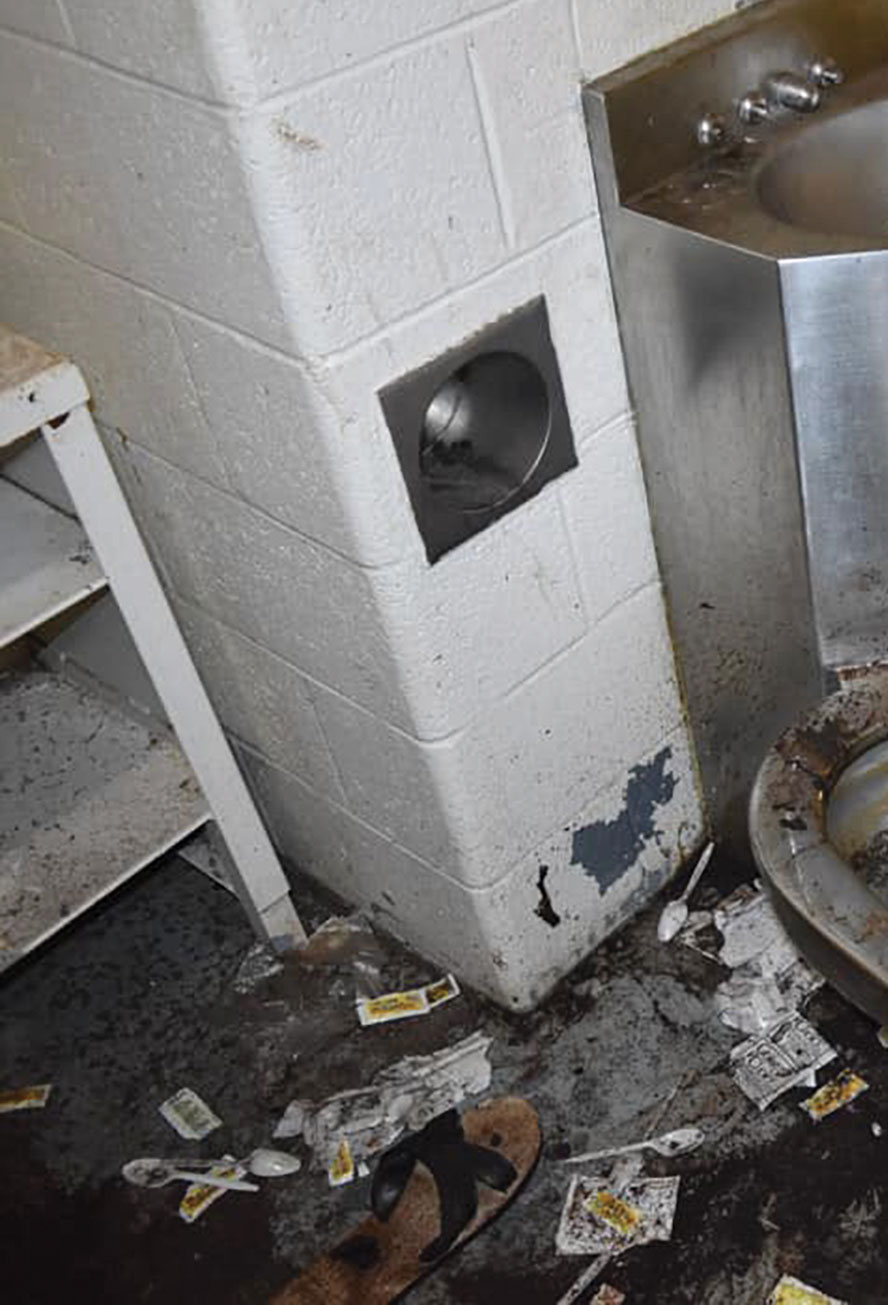 Lashawn Thompson was the seventh person to die in custody of Fulton County last year, but his was the death that finally caught the world's attention. It took a scene so squalid that the deputy who discovered it fled to retch: Thompson was found in a filthy cell on the medical wing of the Rice Street jail, covered in lice and his own waste, his head in a toilet. Just days before, the same deputy had voiced concerns over Thompson's living conditions.
His death in September was only one of 15 last year—a grim record that made Fulton County one of the deadliest jails in the country during the pandemic. At least three more people have died this year.
In April, Thompson's family announced a lawsuit. Amid new scrutiny, Fulton County Sheriff Pat Labat accepted the resignations of three employees, including the chief jailer, and called for a new medical services contractor. In a push to draw support for a multibillion-dollar replacement, he also began inviting the media in for a closer look at how the 34-year-old facility has fallen apart.
The shock and horror of Thompson's death only scratch the surface of the jail's problems. Figures released by the sheriff last year show that the facility averages more than one stabbing a day. The jail is overcrowded and suffers from disrepair exacerbated by staffing problems: Maintenance workers say they don't always feel safe enough to work. Earlier this year, three sheriff's deputies were arrested in as many months on charges ranging from sexual contact with prisoners to facilitating an attempted murder. Others—both deputies and unsworn staff—have been fired for misconduct, particularly smuggling drugs.
Thompson died on the third floor of the jail's north wing, the medical care section of Rice Street. But he wasn't the only one.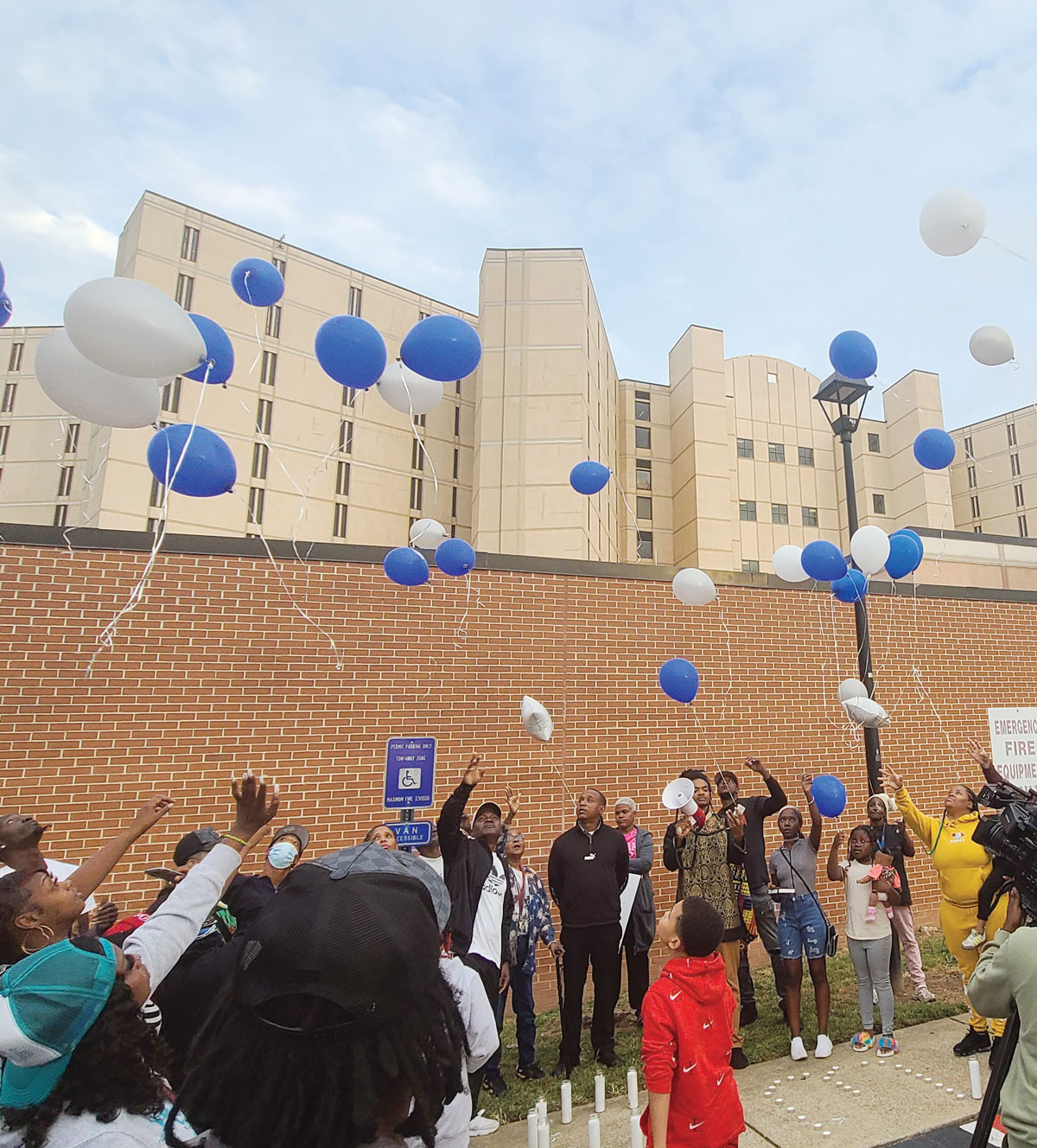 Shamar McLeroy's family released balloons in front of the jail in October, in memory of his life and death in a dingy cell on the same floor as Thompson. Behind them, the building, a mile west of the Georgia Tech campus, juts out at pinwheel angles like an AI photo gone haywire. Rice Street was meant to relieve overcrowding at what eventually became the Gateway Center, a housing services organization downtown. The new Fulton County Jail was built for 1,125 inmates but has exceeded that figure since the day it opened in 1989, instantly overwhelmed by Atlanta's burgeoning crack cocaine epidemic in the late '80s. About 2,950 people were incarcerated at Rice Street in December 2022—a figure that is below 3,000 only because of agreements with other counties to handle Rice Street's overflow. Still, about 500 men sleep in common areas, on plastic floor bunks that the jail calls "boats." In 2011, the Atlanta Journal-Constitution noted that Fulton County Jail had become the largest mental health treatment center in the state. In 2016, the Fulton County Superior Court formed a task force to address ways to keep people with mental health problems from cycling in and out of the jail. (Full disclosure: I chaired a subcommittee of that task force for a year.)
Drug and mental health problems leading to relatively petty charges drive incarceration: Sheriff Labat has said 54 percent of detainees have some kind of mental health condition, and about 75 percent test positive for drugs on arrival. At Fulton County Jail, the top three most common booking charges in 2021 were criminal trespassing (23.2 percent), possession and use of drugs (9.6 percent), and theft by shoplifting (5 percent). One in eight jail bookings last year in Fulton County were of people experiencing homelessness, according to a Prison Policy Initiative analysis. But the jail also holds a number of people for crimes of violence, often for months or years at a time, as their cases wind their way through the court's pandemic-clogged logjam.
Last year alone, the facility endured 11 fires, 534 fights, 114 stabbings, and at least two murders, including Shamar McLeroy's.
McLeroy had a serious mental illness that had him bouncing in and out of his family's home. According to the police report of his arrest in February 2022, the 20-year-old was masturbating on a park bench on the BeltLine a couple of blocks from his father's house in Adair Park, across the street from the Lee + White complex. A parent with children walked by, took a picture, and called the police. A week later, the cops arrested McLeroy on charges of indecent exposure and child molestation. At no point was McLeroy accused of touching a child, but the felony charge meant the cops could clear him off the BeltLine for a while. The jail kept him in its medical services area, the third floor of the north wing, with other people experiencing severe and persistent mental illnesses.
Eight months later, police arrested Jeremiah Collier on a murder charge. He was then placed in a cell with McLeroy. According to the October 2022 incident report, early on a Wednesday morning just 12 days later, jailers entered cell 515 and found McLeroy's body tied down, with strips of bedding binding his ankles and neck to the bed frame. Collier was charged with his murder.
No immediate public announcement was made about McLeroy's death, perhaps because deaths in custody had become that common. The sheriff's office got around to telling McLeroy's family that he was dead a few days after they cut him out of his bunk.
If you're poor and Black in Atlanta, the rituals of grief are familiar enough. McLeroy's family gathered in the parking lot of Fulton County's foreboding jail to hold a press conference the day after learning of his death. A couple dozen people attended, mostly family. The public indifference to a murdered son is familiar enough too: Somehow, the families of murder victims are expected to grieve in public, then are ignored, the street memorials overlooked in exactly the same way empty GoFundMe pages for people without a network of middle-class friends remain invisible. To see them is to sense an obligation to do something about them.
James McLeroy is a slight man, wiry and elfin, scraped thin and tempered by a difficult life. His fingers are grease-black from working on someone's engine off the books. Talking about his murdered son broke him that day at the press conference. It's hard to write about him and the catch in his voice as he talked about Shamar. "I don't have no hate in my heart," James McLeroy said, weeping. "But he cannot just be swept under the rug."
Lawyers have been tripping over themselves to represent Lashawn Thompson, who was in jail on a simple assault charge after spitting on a Georgia Tech cop, who arrested him on an outstanding car theft warrant in Alabama. Last I spoke with them, the McLeroy family hadn't been able to connect with an attorney. Murder as spectacle is reserved for photogenic victims and mass casualty events, not young men struggling with mental illness, charged with child molestation, and murdered by a bunkmate.
We're finally starting to get some spectacle now, though, as Thompson's family draws media attention to his gruesome death ahead of their lawsuit. "Rarely, severe lice infestation can result in clinically significant anemia which is not easily diagnosed at autopsy and impossible to quantify accurately," wrote Dr. Michael Heninger in the county autopsy comments. The pathologist refused to make a clear call on the cause of death, however: "In the absence of lice infestation, the death would be attributed to probable cardiac dysrhythmia." According to CNN, an independent medical review listed "untreated decompensated schizophrenia" as a contributing cause to the death, in addition to dehydration, malnutrition, and severe body insect infestation, which included lice and bed bugs, as "significant conditions."
James McLeroy could use a little spectacle, too. The families of all 15 dead men and women deserve spectacle. Hell is knowing people should care and seeing that they don't. Hell is trying to make people care and knowing you can't.
The pandemic reshaped prisons across the country and across Georgia. People imprisoned became much more likely to take their own lives, or to die from Covid-19 and drug overdoses. An endemic shortage of prison staff—an outgrowth of national labor shortages—also exacerbated things. Labor shortages in law enforcement were becoming a problem before the pandemic, driven in part by a millennial/Gen Z generational shift in work-life balance expectations and in part by public disillusionment with policing, according to a 2019 survey. The problem became a crisis during the pandemic and remains one nationwide.
The number of unnatural deaths at state prisons in Georgia has increased from 26 in 2019 to more than 50 in 2021—so many that prison officials stopped issuing announcements after deaths. The Federal Bureau of Prisons shut down Atlanta's federal penitentiary in 2021 amid a massive investigation into corruption and mismanagement.
Local jails have had no respite from an increase in inmate mortality. The DeKalb County Sheriff's Office had nine deaths in custody in 2022. Clayton County's count rose to eight last year, up from five the previous year, which had been the highest in a decade. Cobb had four inmate deaths in 2022. Gwinnett had two.
In a "normal" year, prepandemic, two or perhaps three people might die in the custody of the Fulton County Sheriff's Office while waiting for their day in court. Murders within the jail itself were rare; prepandemic, the odds of being murdered in prison or a local jail were lower than 30,000 to one.
Tracking jail deaths has been a challenge. A federal program to track in-custody deaths by the United States Department of Justice through the Death in Custody Reporting Act (DCRA) ended just as the pandemic began. "We know now that the Department has received underreporting of deaths in custody since late 2019," a spokeswoman for the Bureau of Justice Assistance said. "The Department is not releasing DCRA data from this period as it is taking steps to improve the quality and completeness of state reporting."
That makes it hard to make comparisons between Fulton County's jail problem and what we might laughingly call normality. But comparable numbers of jail deaths in other states have prompted a major response. In February 2023, the FBI began a federal civil rights investigation into deaths at the Harris County Jail in Houston after 28 inmates died there last year. The Harris County Jail houses about 10,000 inmates. Rikers Island, New York City's storied city jail, holds about 5,800 inmates. It is slated to close—and is under state investigation, in part, because 19 detainees died last year. With about 3,000 inmates, Fulton County Jail's death rate is higher than Harris County's and Rikers'.
In the wake of renewed criticism of the sheriff's office over Lashawn Thompson's death, the jail's medical service provider—Alabama-based NaphCare—said it would pull out of its $27 million contract in May, seven months early, noting assaults on its staff. NaphCare faces a lawsuit following the death of Deion Strayhorn in Gwinnett County Jail in 2021. Strayhorn died of an ulcer, in a pool of his own blood, after being ignored by jail doctors, his family says. The firm lost a $27 million lawsuit in Spokane, Washington, last year after an inmate died of a ruptured intestine under NaphCare's watch. Other jails have been dropping its services. But Fulton County is on another level: "At this point Fulton County's Rice Street Jail has become the most dangerous jail or prison facility where NaphCare is contracted to provide services in any location in the country," wrote NaphCare CEO Bradford McLane in a letter to county officials in March.
Scrambling to replace NaphCare proved fruitless; Fulton County struck a deal with the prison health services provider in June to extend services through the end of the year. NaphCare did not return a request for comment.
• • •
Two months after Thompson's death, and a month after McLeroy's, jail cameras captured video of another death. One by one, inmates can be seen hitting a blunt on a psych floor of the jail. Then they can be seen hitting the floor. The jail report from Christopher Gray's subsequent death is literary.
"Five unidentified inmates, in addition to inmate Gray, can be seen smoking the same blunt," deputy R. Williams wrote in the November 2022 report:
One by one, each inmate goes down, collapsing into varying states of unconsciousness. Inmate Gray can be seen by the zone door, having trouble standing after his turn to smoke. The surrounding inmates can be seen assisting him to his boat. A few moments later, another inmate is seen having trouble standing after smoking, and he staggers over toward inmate Gray, lands on him, and then begins foaming at the mouth—also unresponsive.
Gray, 36, had been jailed in August on drug possession and aggravated battery charges. He had "an unspecified, psychiatric medical history," according to the autopsy report, and was being held in the third-floor psych wing.
The jail report continued: "After the inmates who didn't smoke get a good laugh in, the seriousness of the situation sets in, as they realize that inmate Gray is unresponsive," Williams wrote.
It is at this point that they can be seen banging on the glass of the zone door and window, trying to get some help from D.O. Trotman. After reviewing the evidence and statements of all parties involved, I find that everyone associated with this incident did everything in their power to resuscitate inmate Gray. Unfortunately, their efforts were futile, as he ultimately passed away. A cause of death is unknown at this time. However, with further information provided by the Medical Examiner's Office, this can be updated at a later date. What is known, however, is that inmate Gray willingly smoked an unknown substance on camera, and, it seems, paid the ultimate price for doing so.
The Fulton County medical examiner's report later said Gray's death was natural, ascribed to "hypertensive cardiovascular disease."
Most in-custody deaths in 2022 were attributed to natural causes or preexisting conditions:
• Shajuana Pope, 52, died of a torn heart valve after being arrested. The jail initially refused her entry because of injuries and instead sent her to Grady. According to the medical examiner's report, she demanded to be discharged and went back to jail, where she collapsed.
• Leilani Frazier, 23 with a body mass index of 42 (indicating obesity), died of deep vein thrombosis after being in jail for two years.
• Jeffrey Jackson, 59 with a history of hypertension, had a heart attack while in custody at Grady.
• Melayshia Osborne, 28, died of epileptic seizures. She had been in jail for a week.
The sheriff's office said it has "no responsive records" to a question asking how many inmates had overdosed in the jail this year. Deputies confiscated contraband drugs 20 times between January and April.
At least one inmate was found to have died of fentanyl poisoning while in custody last year. Christopher Roper, 33, was found breathing heavily and "gurgling" in March 2022. He died five minutes after arriving at Grady. The medical examiner found fentanyl and bupropion—an antidepressant that helps users quit smoking and that can be abused recreationally—"in elevated concentration (above therapeutic range)" in his system.
Investigatory records for Lashawn Thompson, Shamar McLeroy, and others have not been made publicly available, as the investigations are ongoing, the office said in response to a records request.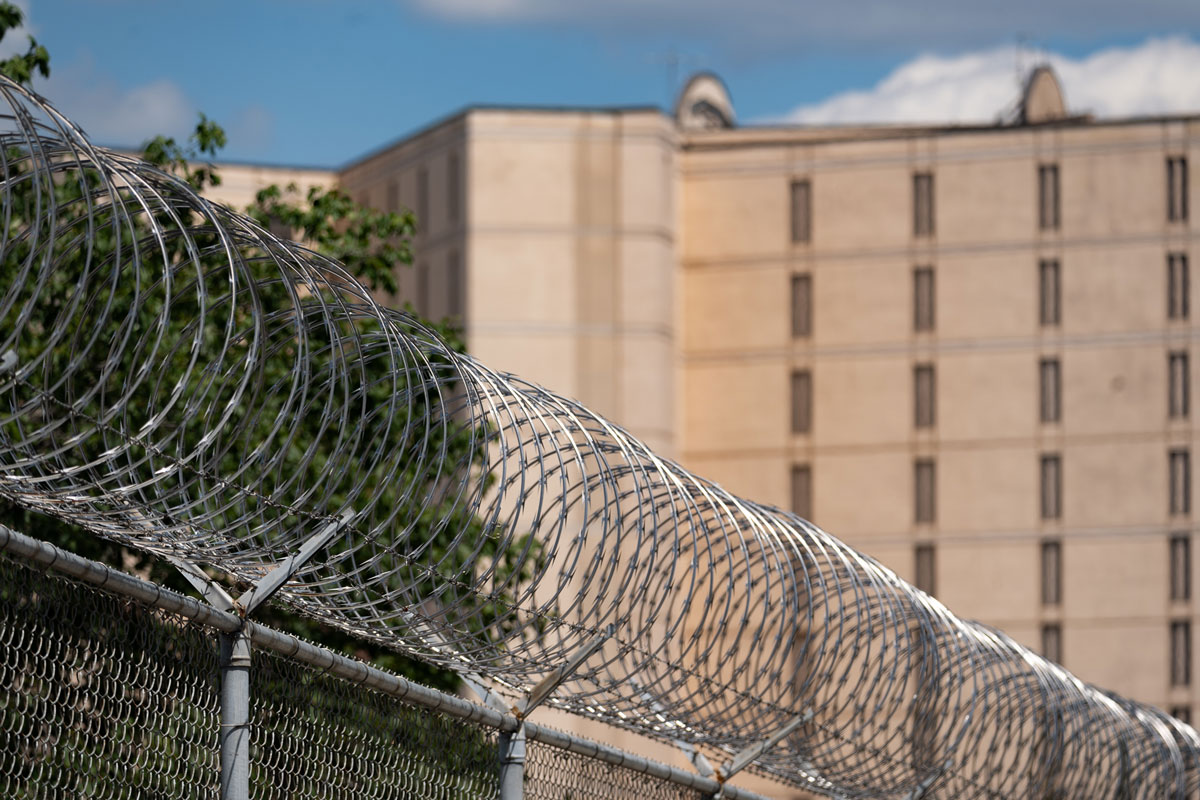 "It's rougher in here than in prison. I just did six years in prison, and I never got stabbed."
Domence Flannigan is sitting in a jail cell in Fulton County, nursing 35 stab wounds. He said a group of other inmates popped open the door to his cell on Rice Street's sixth floor, a higher-security floor, and attacked him with homemade shanks in February of this year. When I spoke to him on a call a few days after the attack, he said he was walking with a limp. "It was out of the blue," he said. "I didn't know those guys."
He feels that staffing problems contributed to the attack. The Fulton County Sheriff's Office employed 403 officers as of May, with 132 posted at the jail. The office is 40 officers short of full staffing, a spokesperson said.
For all the public focus on the horrifying death of Lashawn Thompson, to be a prisoner at Fulton County Jail is to experience fear of violence. An inmate managed to dig a hole, Shawshank Redemption–style, through the walls of the prison; he made the hole, which was found in May, not to free himself but to get to another inmate in the next cell block to stab him.
Last April, Sheriff Labat carted a wheelbarrow full of shanks into a Fulton County commission meeting to call for additional funding and the use of the Atlanta City Detention Center. At that hearing, Labat said that, on average, one inmate a day was getting stabbed. Less than a year later, Labat and other officers performed a shakedown of the jail and found 200 more weapons.
Two days after Flannigan's attack, a sheriff's deputy allegedly opened a cell door to allow an inmate, Frank Hubbert, to enter a communal area from a different section of the jail. The jail's zones are supposed to be closed off from one another, in part to prevent rival gangs from clashing. Hubbert approached two men arguing and participated in a group beating and stabbing of 26-year-old Qwayshawn Green, according to the arrest warrant charging detention officer Gloria Franklin with violating her oath of office and other charges. Rather than stop the attack, the warrant states, Franklin let it unfold. Describing video evidence, the warrant says she then escorted Hubbert back to his zone, retrieved cleaning supplies, and cleaned up the blood on the floor. She didn't document the attack, and Green didn't receive medical attention until other deputies talked to him a day later, according to the affidavit.
Franklin is one of a parade of jail staffers, sheriff's deputies, and other workers who have been arrested over the last few months for misconduct, at the jail or elsewhere. A few days after the Green assault, former detention officer Reynard Trotman was arrested and accused of opening cell doors to facilitate the shanking of an inmate.
In March, former deputy Kawana Jenkins was captured on cellphone video engaging in sexual contact with an inmate. In April, the attorney general's office indicted deputy Courtney Lofton on sex trafficking charges. In June, deputy Akeiba Stanley was charged with violating her oath and accused of smuggling contraband to Christian Eppinger, a defendant in the YSL gang trial who is accused of shooting a police officer six times in an attempt to evade arrest in 2022. Several other workers, often medical staff, have been arrested for smuggling drugs and other contraband into the jail. These cases have not been adjudicated yet, and the defendants have not admitted guilt.
The arrests are an indication that the sheriff isn't burying misconduct cases and is willing to take the very public and legally challenging step of having a deputy arrested. In that context, criticizing the office after it fires officers may miss the point: Solving the jail's massive problem means enforcing discipline. But Labat's proposed solution to the jail crisis—building a new jail—has to contend with the very basic question of whether the county could find enough competent jailers to staff it in the first place.
• • •
"Is building a $2.2 billion new jail that can house up to 4,000 inmates the only answer to the overcrowding crisis? Absolutely not." Robb Pitts, chairman of the Fulton County commission, thinks the idea is absurd, and said so in an open letter to his constituents in April. But that's the proposal Sheriff Labat has been floating around Fulton County.
To start, it's expensive: At prevailing interest rates, $2.2 billion amortized on a 20-year municipal note at 4 percent is roughly $160 million a year. Every penny of sales tax collected by Fulton County today adds up to about $110 million a year. Fulton County has an annual budget of $1.2 billion. County property taxes would increase more than 12 percent after a bond of that magnitude.
Pitts attributed the rising jail population to factors besides the crumbling infrastructure. "Arrestees are not being indicted in a timely manner, judges are not processing cases in a timely manner, and, in some instances, police are arresting and jailing people for minor offenses," he wrote. Pitts suggested that the pace of arrests and the pace of adjudication have to match the capacity of the jail. "Our system is broken and until our justice partners get their act together, the overcrowding will continue. Cases are so backlogged that many suspects languish in jail for days, weeks, and even years. Everyone knows that processing those accused of crimes would free up much-needed jail space." Fulton County Superior Court began to hold jury trials again only last year. The backlog continues despite a $5 million grant to improve conditions.
Labat called for an "intellectually honest discussion" in response to Pitts's comments.
"Anyone who suggests that it is a wise investment to spend billions of dollars in an attempt to repair the Rice Street facility is ignoring the harsh reality of the facts," Labat said. "The fact is more than a billion dollars has already been spent over the last 10 years on efforts to rehabilitate Rice Street. Just last week, an inmate carved a large hole through a crumbling concrete wall to attack another inmate . . . Those critical day-to-day safety concerns, in addition to the fact that hundreds of inmates are sleeping on the floor, makes any suggestion of rehabilitating Rice Street a preposterous proposition."
Fulton County incarcerates more than 500 inmates in other facilities around the state, he said. "Those who are knowledgeable and speaking truth in this debate know that is a temporary and feeble solution at best, especially in light of critical staffing shortages plaguing law enforcement agencies across the country. This debate is about replacing a dangerous facility that has outlived its useful life. Anyone who cares about inmate and staff safety and providing services that offer meaningful opportunities for rehabilitation should urge those in power to move forward with common sense solutions to replace the Rice Street jail."
The response from prisoner advocates to Labat's plan was unstinting.
"How dare this sheriff stand with a grieving family, pat their backs, make platitudes while he is asking for $2 billion to transfer this problem to a larger and more expensive facility," said Tiffany Williams Roberts, public policy director for the Southern Center for Human Rights. "How long will we hide from the reality that Fulton County is chronically dysfunctional and there is no humanity in a system like this?"
A report by the Georgia ACLU suggested that the best course of action would be to release prisoners held on nonviolent charges—many are there simply because they can't make bond—and release most people charged only with misdemeanors. Advocates also point to the need to sort out the court system and indict or release people more quickly. (Even though most people in the county jail face relatively minor charges, half haven't been indicted.) Many argue the need to make more use of Atlanta's prearrest diversion system to keep people out of jail in the first place.
Policing Alternatives & Diversion (PAD)receives about $4.5 million from the City of Atlanta and another $600,000 from Fulton County to staff its care navigation teams, which provide housing support, case management, and legal guidance for people who have been diverted by law enforcement or have an open and eligible criminal case in the City of Atlanta or Fulton County. PAD's efforts are miniscule compared to how much Atlanta spends on policing and Fulton County spends on jail: about $250 million and $60 million, respectively. Police divert an average of one arrest every two days to PAD; police book an average of about 50 to 60 arrestees into the jail every day.
Pitts said the result of building a new jail without looking for ways to reduce the inmate population will simply be a new overcrowded jail: "Sadly, we will be back to square one, and when that happens, I can only say I told you so."
Editor's Note: Since this story went to press, the Department of Justice has opened a civil investigation into the conditions in the Fulton County Jail. Attorney General Merrick B. Garland said in a press release that the decision to investigate was "based on serious allegations of unsafe, unsanitary living conditions at the jail, excessive force and violence within the jail, discrimination against incarcerated individuals with mental health issues, and failure to provide adequate medical care to incarcerated individuals."
This article appears in our August 2023 issue.