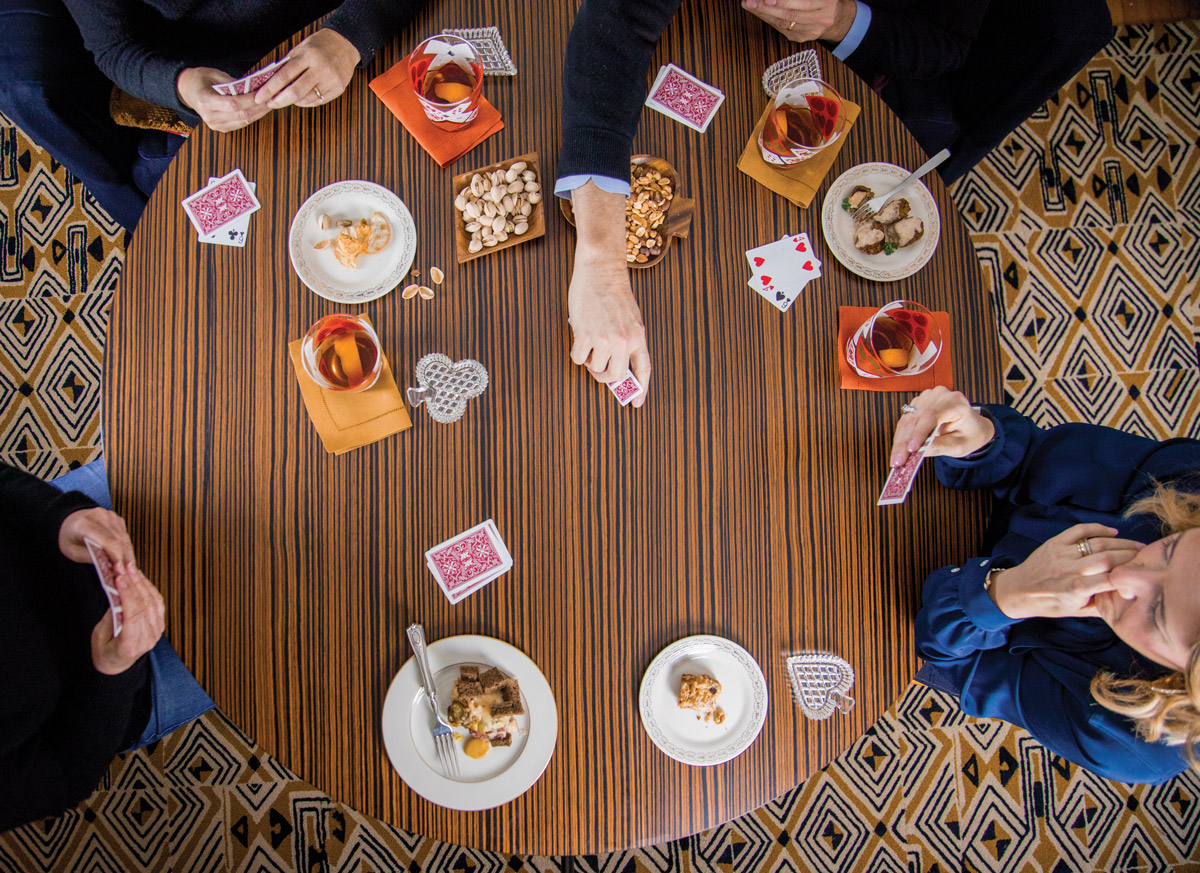 If you're not from the Midwest, you could be forgiven if you don't know how to play euchre. But for local designers Hillary Mancini of Peace Design (who is originally from Ohio), Jill and Steve McKenzie (Indiana), and Alison Weidner of outdoor furnishings shop AuthenTEAK (Michigan), the card game is a nostalgic throwback. The four met through design circles and bonded over their shared roots. Several years ago, they started gathering regularly for this four-player game of tricks and trumps, thought to have been brought to the Midwest by early German settlers. I love that the food fits the theme—classic family favorites and comfort foods like casseroles from the church cookbook and their moms' old recipe cards. For years, this group has been getting together every other month or so, despite busy schedules with travel and installs, alternating homes, sharing the cooking, and always scheduling the next round before they part.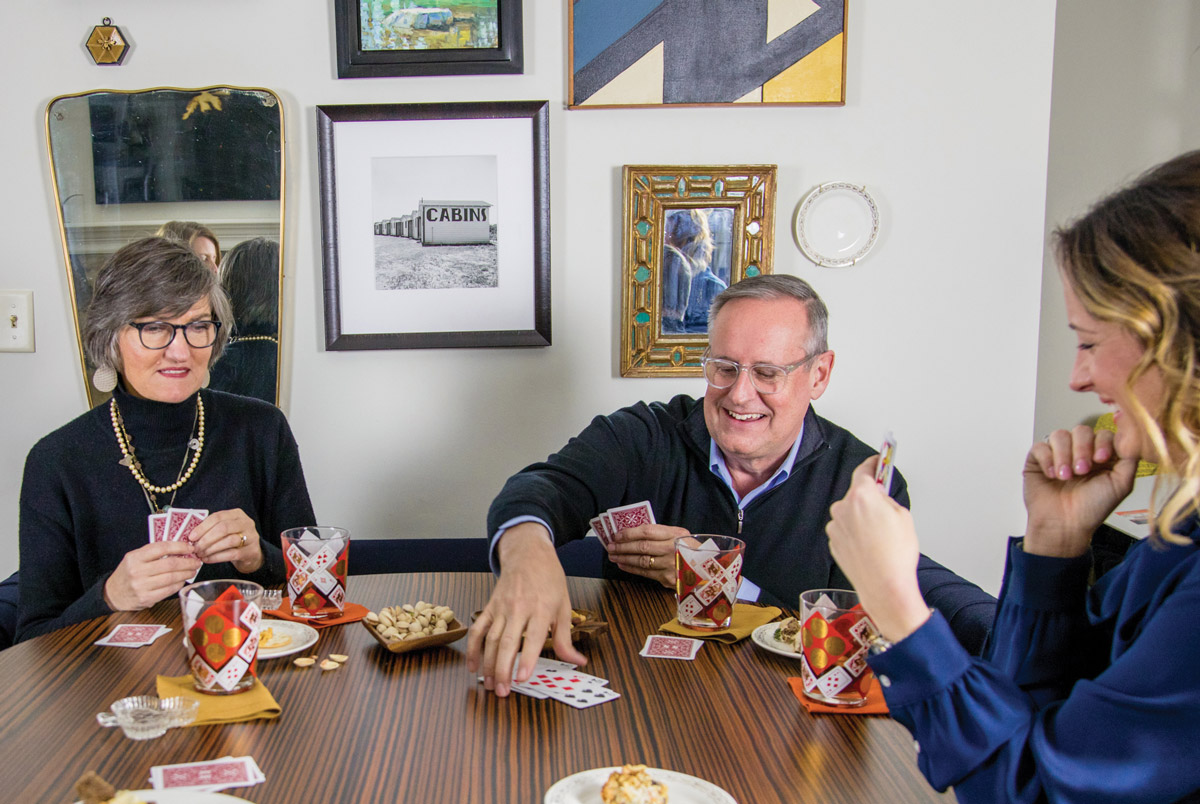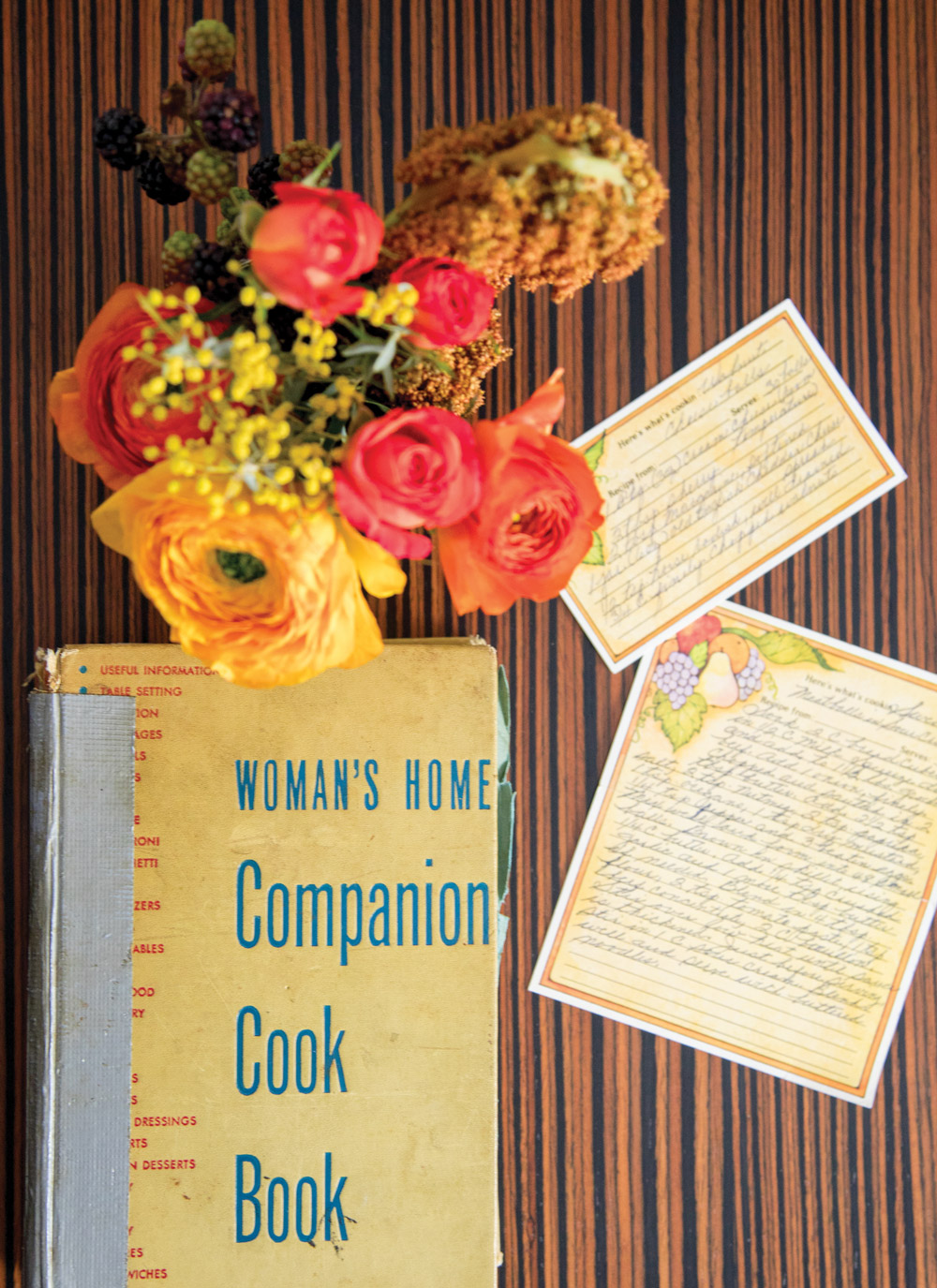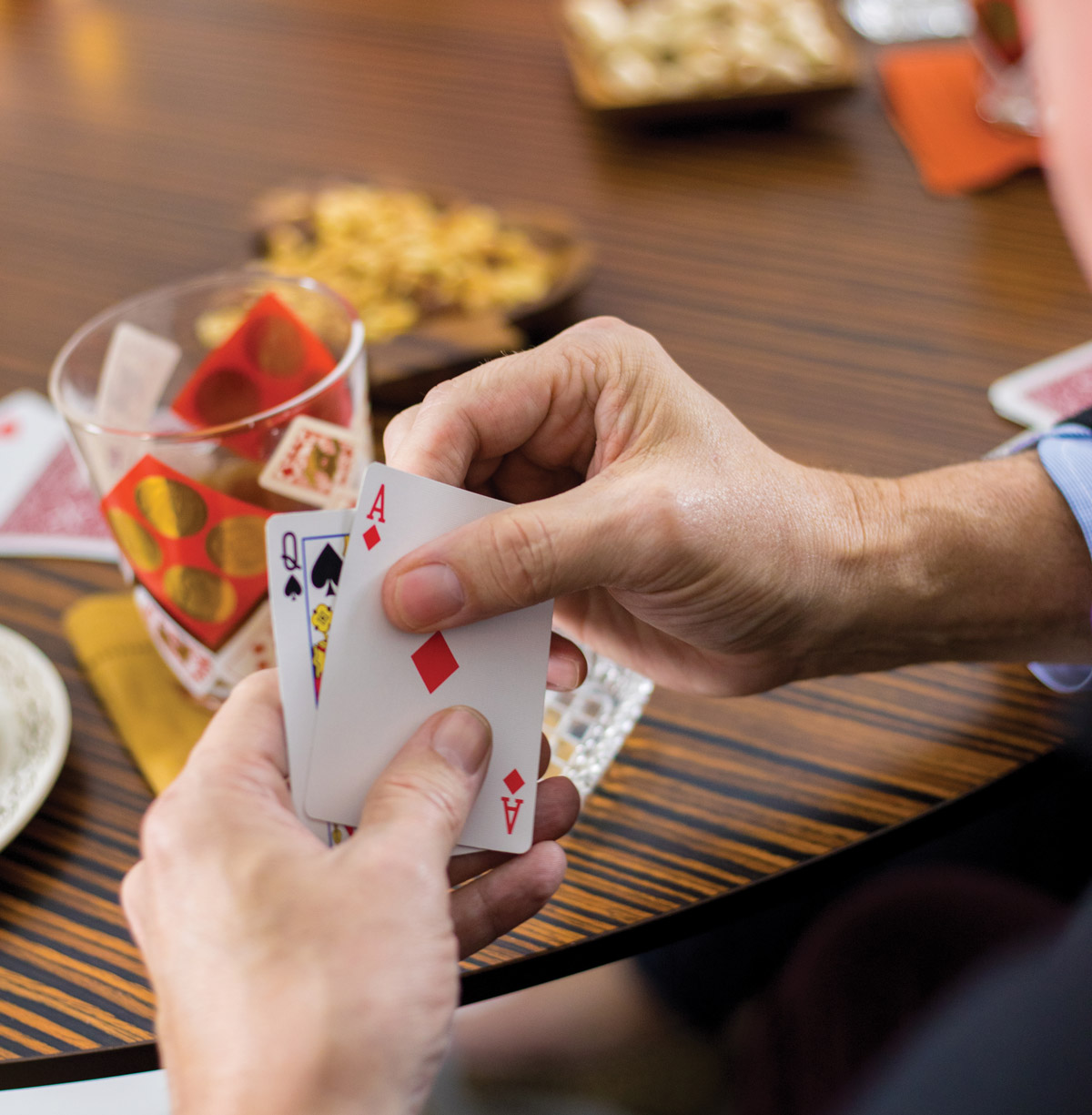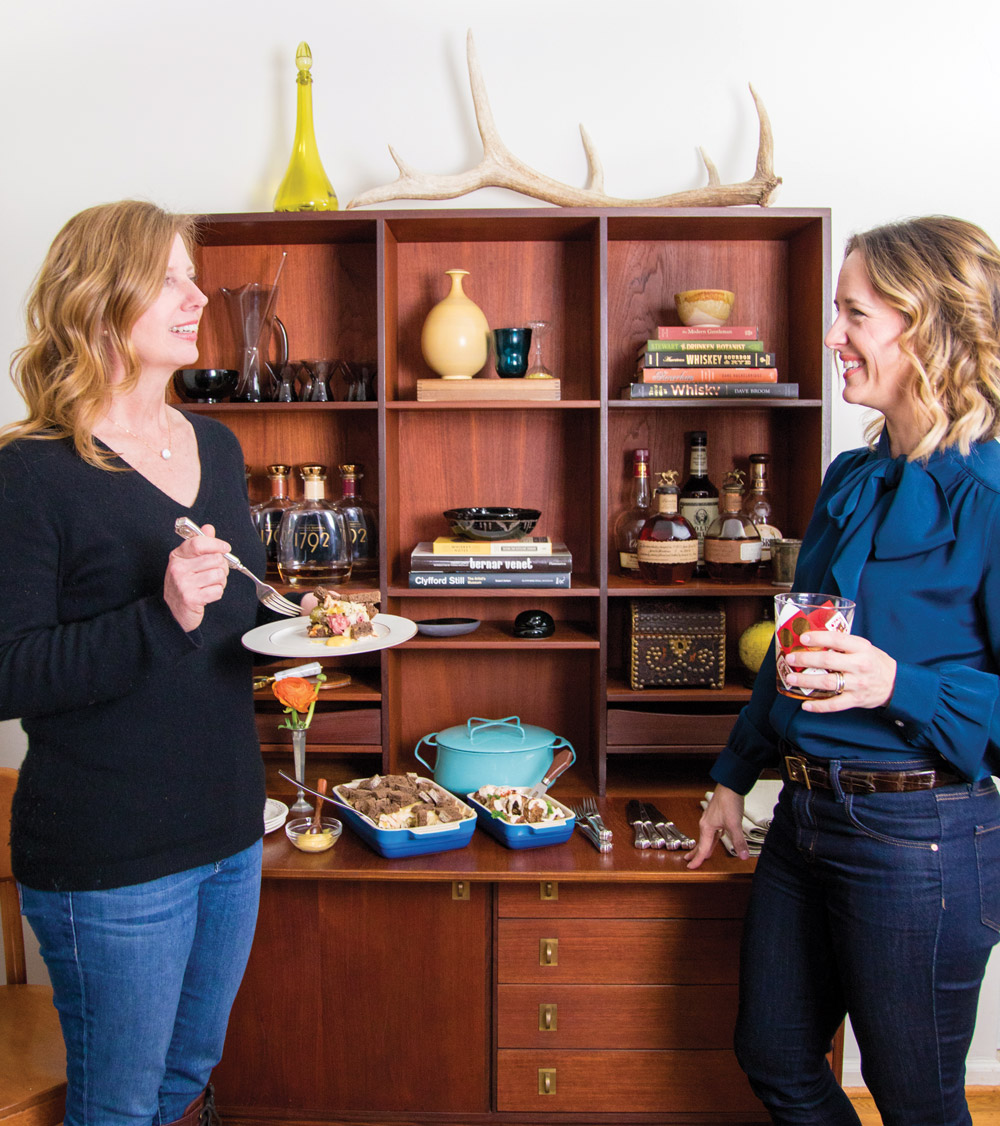 "Design is how we all met, so it would be easy to slip into 'shop talk' the whole time, but we don't," says Mancini, who hosted the game this month at her Brookhaven home. "There are usually funny stories about the recipe or what's happening back in our hometowns—we are the ones from each of our families who left the area."
Game night can allow friends to connect on many levels. I hope this inspires you to gather and play and reminisce too.
THE MENU
Classic Old-Fashioned
Walnut cheese ball
Reuben casserole
Swedish meatballs in sour cream
Classic Old-Fashioned
Serves 1
1 sugar cube
3 dashes bitters
¼ cup bourbon whiskey
Orange peel
Maraschino cherry
Ice
Place sugar in the bottom of a rocks glass. Add bitters and muddle together until combined. Add preferred amount of ice, and pour over whiskey. Stir until sugar is mostly dissolved. Hold a piece of orange peel between your thumb and forefinger, and squeeze over the glass to release the oil. If you like, you can carefully use a match or lighter to flame the orange oils for a caramelized flavor. Garnish with the orange peel and a single cherry. Recipe contributed by Jill and Steve McKenzie.
Walnut Cheese Ball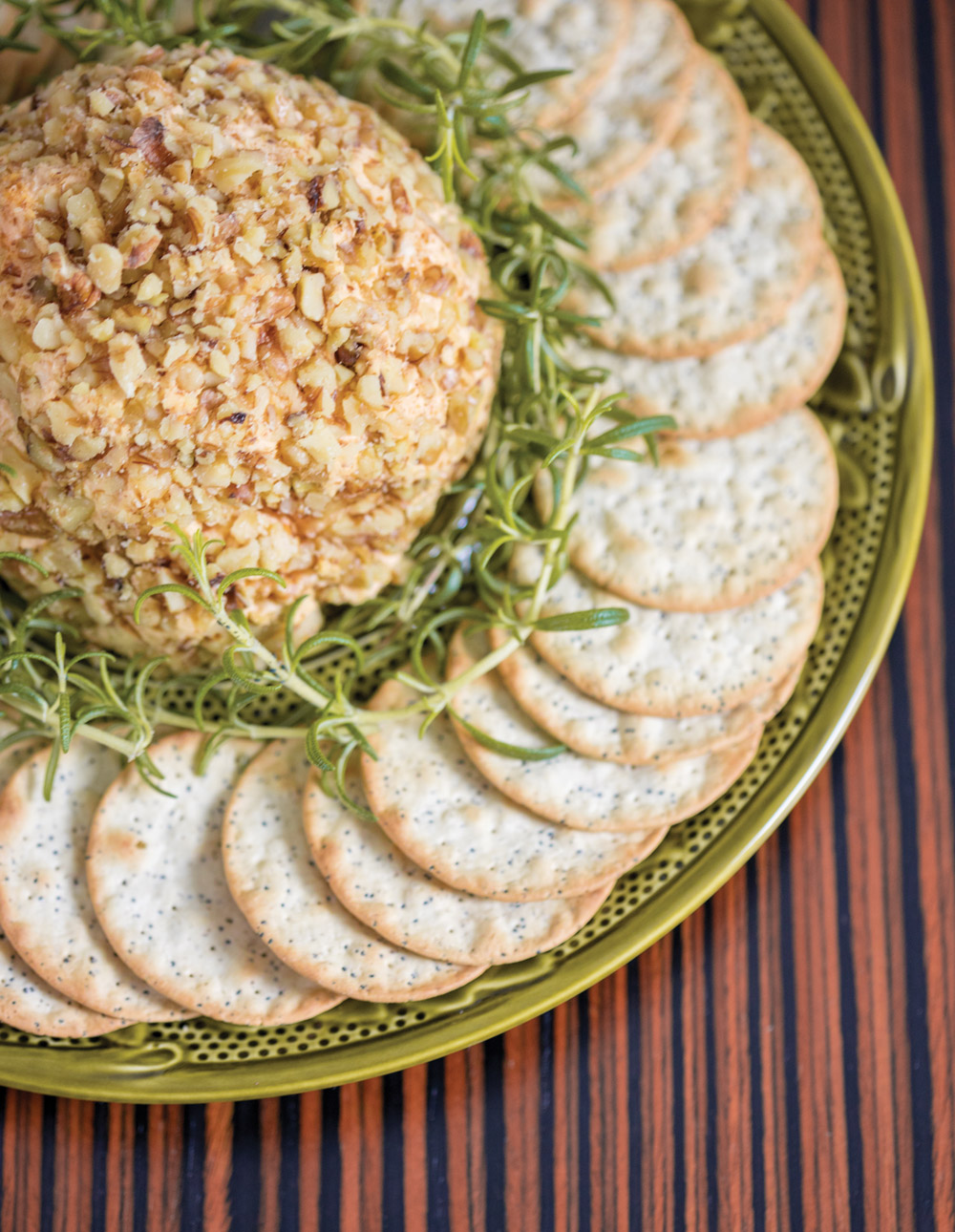 Serves 10
1 8-ounce package cream cheese, room temperature
2 tablespoons sherry
2 tablespoons butter, softened
1 6-ounce jar Old English Cheddar Cheese Spread
½ teaspoon horseradish, well-drained
¾ cup finely chopped walnuts
In a small mixing bowl, soften cream cheese, and blend in sherry. Add butter, cheese spread, and horseradish; mix well. Cover, chill thoroughly—about 4 hours. Shape into a ball, and roll in walnuts. Refrigerate until serving time. Serve with crackers or vegetables. Recipe contributed by Jill and Steve McKenzie.
Reuben Casserole
Serves 10
1 loaf pumpernickel rye, cut into cubes
8 ounces smoked or roasted turkey, cubed
8 ounces pastrami, cubed
8 ounces shredded Swiss and Gruyère cheese (find a packaged blend at Trader Joe's)
7 ounces sauerkraut and pickles, drained (find a jarred blend at Trader Joe's)
German mustard or Thousand Island dressing
Preheat oven to 350. Butter the bottom of a 9-by-13-inch casserole dish. Layer ingredients into dish like a Reuben sandwich: On the bottom, place half of the bread cubes, then half of the cheese and all of the turkey, sauerkraut, and pastrami. Then, top with the second half of the cheese. Bake covered for 18 to 20 minutes, then uncover and add second half of bread cubes. Bake another 5 to 8 minutes until cheese is bubbling and browned and bread cubes are toasted. Serve hot with German mustard or Thousand Island dressing. Recipe contributed by Hillary Mancini.
Swedish Meatballs in Sour Cream
Serves 8–10
2 cups breadcrumbs
½ cup milk
1 ½ pounds ground beef
1 small onion, finely chopped
2 tablespoons + ¼ cup of butter
2 ½ teaspoons salt
2 teaspoons nutmeg
2 teaspoons paprika
1 teaspoon oregano
1 teaspoon dry mustard
¼ teaspoon pepper
3 eggs, beaten
1 teaspoon beef broth concentrate
2 tablespoons tomato paste
2 cups of bouillon (use a brand like Knorr)
1 cup sour cream
4 cups egg noodles
Soak breadcrumbs in milk, squeeze dry with a paper towel, and set aside. Add two tablespoons of butter to a medium frying pan, and saute onion until brown. Allow to cool. In a large bowl, combine salt, nutmeg, paprika, oregano, dry mustard, pepper, onions, and breadcrumbs with ground beef and fold in the beaten eggs. Stir these ingredients until well-combined. Form into 48 1-inch round meatballs.
In a large skillet add ¼ cup butter and warm, then add about 12 meatballs at a time, turning to brown. Once the meatballs have browned, set aside on a platter, and make the sauce. In the skillet, stir crushed garlic, flour, tomato paste, beef broth concentrate, and 2 cups of bouillon over low heat until sauce is thickened, about 10 minutes. Just before serving, stir in sour cream. Add the meatballs, and serve with small forks or toothpicks.

Recipe contributed by Alison Weidner.
This article appears in our Fall 2019 issue of Atlanta Magazine's HOME.