When you think of e-commerce, Amish-made furniture is likely not the first thing that comes to mind. In fact, you probably picture online furnishings as inexpensive knock-offs made of particle board rather than envisioning the handmade, solid-wood craftsmanship that the Pennsylvania artisans are famous for. However, DutchCrafters, which recently opened a new showroom in Alpharetta, was indeed launched online back in 2003, and the company has grown into one of the nation's largest sources for Amish-made furniture. The other big surprise here is the wide range of styles—from a sleek, bouclé-upholstered chair with leather arms to Mission trestle tables and live-edge bookcases.
The new showroom helps fill a gap in metro Atlanta for American-made, all-wood furnishings available to retail customers. It is the second showroom for the Sarasota-based company founded by Linse and Jim Miller, who himself grew up in a Mennonite community in Southern Michigan, near Indiana. "The Amish have this idea that all of life is sacred," Jim explains. "It's not just what you do on Sundays that's important; it's how you work on Monday. They're not just making the furniture for themselves or for the customer. This is an expression of their faith." The Millers have witnessed this ethic firsthand, cultivating close relationships with craftspeople in Ohio, Pennsylvania, and Indiana.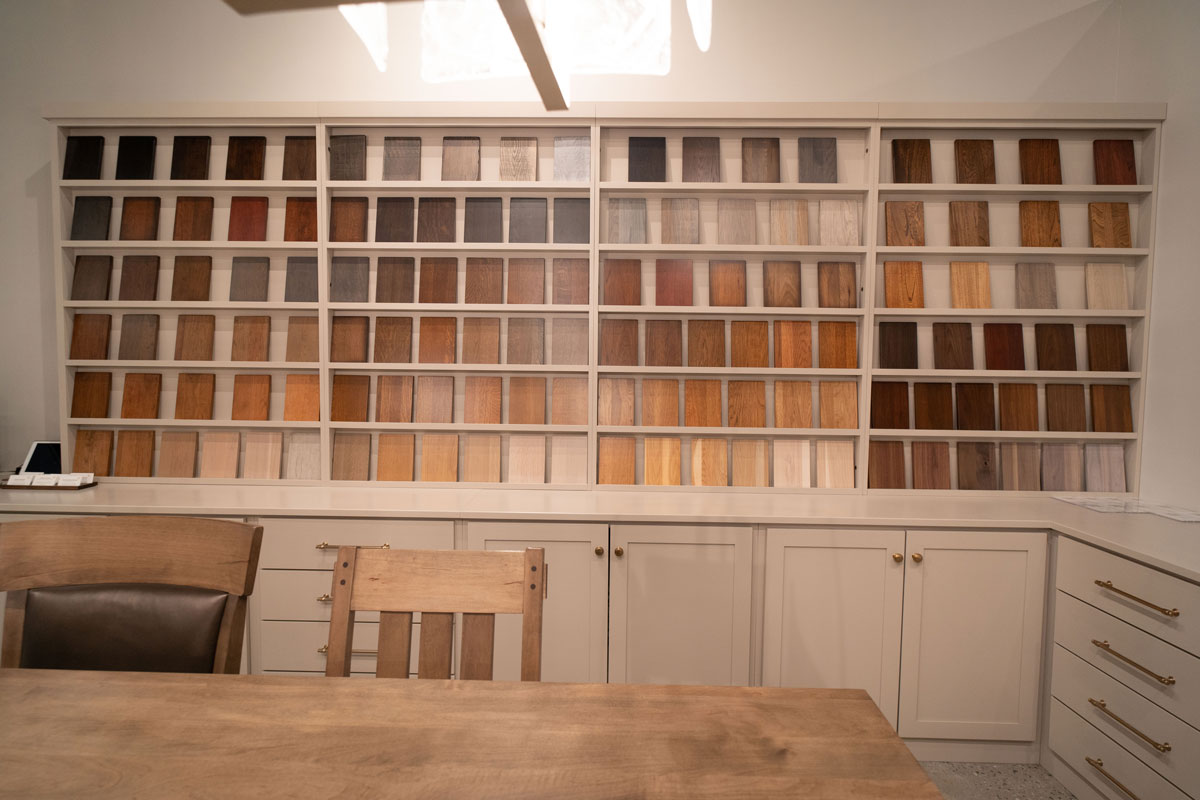 A wide range of offerings is on view at the lofty, 9,000 square-foot showroom, with samples of dozens of wood and finish options. All pieces are made to order and are delivered blanket-wrapped, directly to the customer. Quality details like handmade joinery signed by the maker or pieces crafted from centuries-old barnwood add character. Particularly clever are foldaway pieces like Murphy beds and a compact kitchen island that can morph into a 90-inch table with the addition of six hidden leaves.
The Millers are also committed to sustainability. A tree is planted, mostly in Minnesota's Chippewa National Forest, for every order they sell. So far, they've planted more than 20,000, says Jim. They also try to source their wood from responsibly managed forests. It's all part of what he calls "slow furniture," even if thousands of options are instantly searchable online.