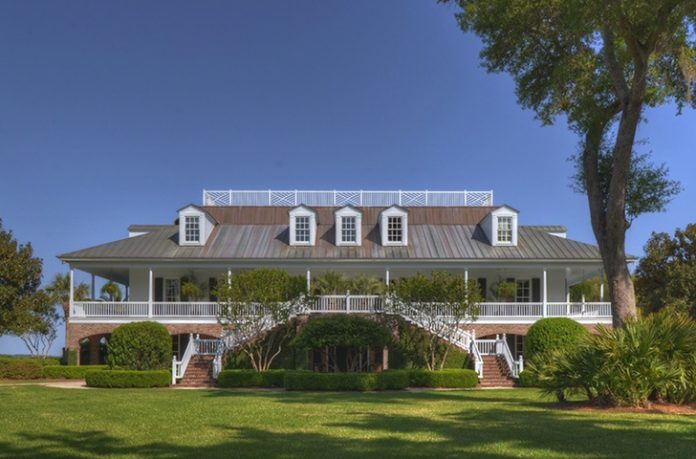 Photos Courtesy of Sea Island Properties
Sometimes even celebrities downsize. Pro golfer Davis Love, III, and his wife Robin moved to St. Simons Island in the early 1990s. Now that their children are grown—daughter Alexia married in 2014, and son Dru is a student at the University of Alabama—the couple has decided to sell their 10,253-square-foot home, Sinclair Farm, located just a short drive from the five-star amenities of the Cloister at Sea Island.
Nestled among live oaks and palms on a secluded five-acre lot with prime marsh frontage, Sinclair Farm also includes a 3,360-square-foot horse barn and stables. The house, which was designed for the Loves by St. Simons Island architect Lamar Webb and completed in 1999, is Acadian in style, incorporating Country French, Caribbean, and American Colonial design elements. According to Webb, Acadian architecture, which was introduced in the bayou regions of Louisiana in the mid-1700s, combines "classic design with timeless appeal."
A long driveway, framed on either side by moss-covered trees, leads to the home. An enormous family room, reminiscent of a rustic mountain lodge, has vaulted ceilings with exposed cypress beams. The gourmet kitchen features wide plank floors, a prominent center island, and glazed cabinets. One of the home's most unique features is a bedroom with log walls, designed to replicate an old hunting cabin.
The five-bedroom, six-bath home also has a pool, spa, outdoor fireplace, wine cellar, gun room, and workout area. And, of course, there are lots of porches for taking in the gorgeous wetland views.
The horse barn has seven stalls, with three that allow for dual boarding. The property also has two pastures—one for horse training and the other for grazing.
Sinclair Farm is on the market for $5,150,000. For more information, contact Patrick Dunn of Sea Island Properties at 912-638-5161 or patrickdunn@seaisland.com.