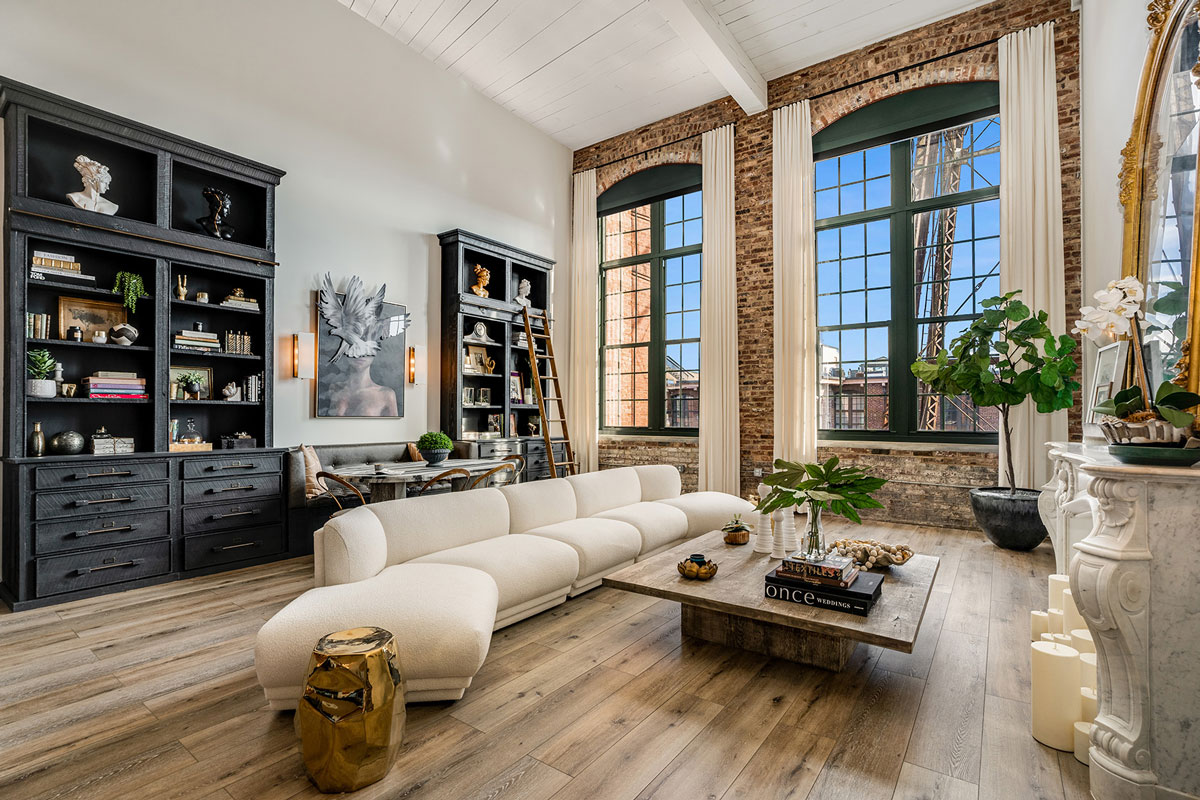 There are lofts, and then there are lofts. This quintessential downtown Atlanta condo is so chic it was on the cover of House Beautiful, and also featured in People magazine and on HGTV.
The new $950,000 listing in the Stacks has quite a list of features, as if someone spun a list of attributes—Wheel of Fortune style—to come up with every gorgeous trait anyone could want in a loft: 20-foot ceilings, custom oak cabinets and bookcases, floor-to-ceiling windows, stylish light fixtures, hardware from Paris, and an exposed-brick wall—then put it all in the hands of interior designer Alison Victoria, best known as a designer on the HGTV show Windy City Rehab. The loft's location in Cabbagetown near the BeltLine adds a unique layer of authenticity.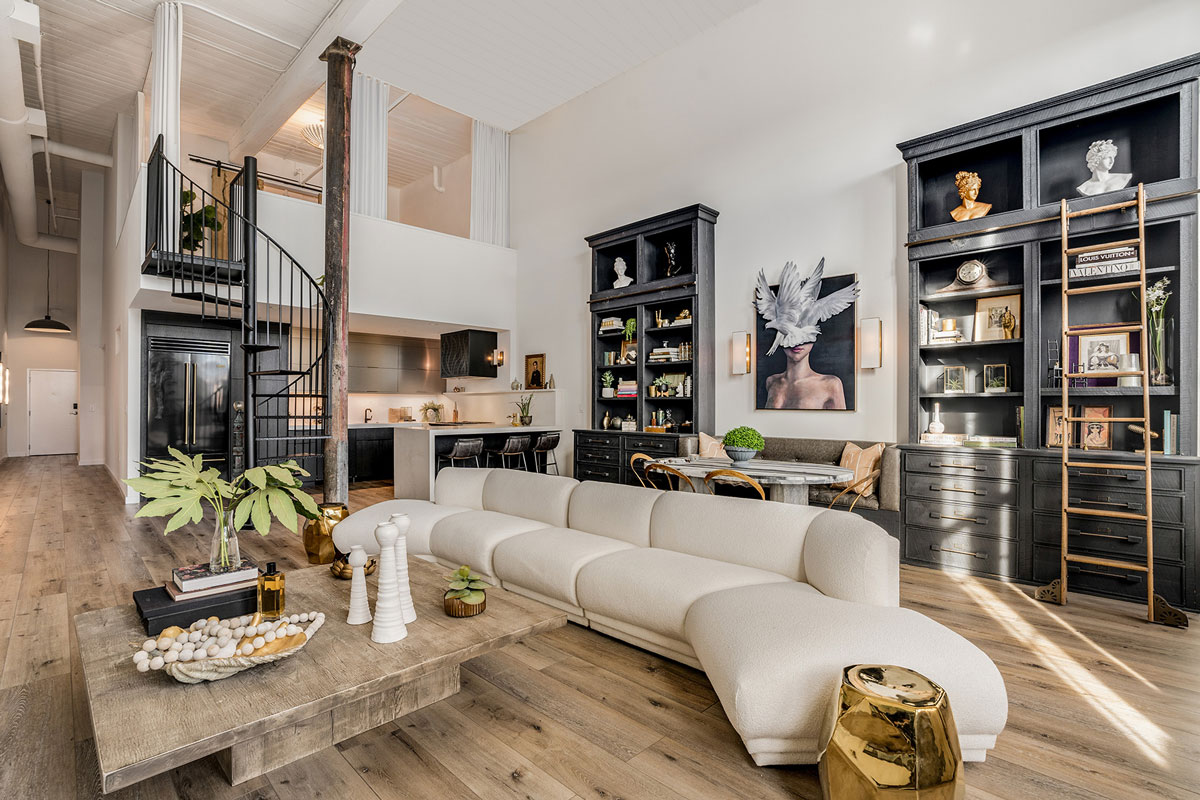 "It's really an incredible merging of history and modern luxury," says Hayden Kelly of Atlanta Fine Homes, the listing agent for the property. "The Stacks was one of the first large-scale, intown, historic preservation developments in a city that historically is known for tearing things down."
The property dates to 1881, when it was part of the Fulton Bag and Cotton Mills, a factory that operated for decades and then converted into condos in 2007 (technically, the "year it was built" on the listing has to be shown as 2007 since that's when it became a residential space, says Kelly, even though the loft is part of the original factory.) In recent times, the buildings have withstood a fire in 1999 and the 2008 tornado.
This superstar loft feels bigger than its just-under-2,000-square-feet, 2BR/2BA size, partly because it was rearranged a bit to feel more open. According to Kelly, the mezzanine was expanded and the staircase relocated to create a roomier living room and primary suite. One of the appealing features of this loft is the wall of built-ins that offer storage and balance the high ceilings. These 12-foot-high bookcases flanking the custom banquette are made of quarter-sawn oak, which even when stained retains a rugged patina that fits the vibe.
The kitchen is also custom and high-end. Oak cabinets wear a "brass shim" overlay for sheen, with a waterfall-style countertop made of Caesarstone. The appliances include a six-burner range and built-in Miele espresso maker, with a custom vent hood showing off a metalwork pattern.
For privacy, motorized shades on the living room's oversized windows can spring up or down. Window treatments, including super-sized draperies, come with the listing. And speaking of that, the owner is willing to negotiate on the furnishings already there if a buyer is interested.
The primary suite has its own swoony elements. Two-hundred-year-old French doors are a focal point in the bedroom, separating the spacious closet and bathroom area, where solid bronze trim from a salvaged 1920s elevator lines the door. Inside, a Greek marble tub, grass cloth with bits of 24-karat gold, and a glass Circa Lighting chandelier add drama. A secondary bedroom continues the theme of using salvaged wood as an architectural element.
Are lofts still a smart investment, real-estate wise? This one is particularly so, says the listing agent. "A historic industrial conversion to a loft like the Stacks can't be duplicated," says Kelly. "There are only so many of those in the city, and any new construction that tries to look historic isn't the same."
Kelly witnessed the wow factor when she visited the property with her 11-year-old son—who was more interested in his Minecraft game until he looked up and saw the smokestacks. "He literally gasped when we walked in the loft," says Kelly. "And when we left, he said, 'That made me happy.'" It just goes to show that good design not only lasts for generations—but it also appeals to all generations.