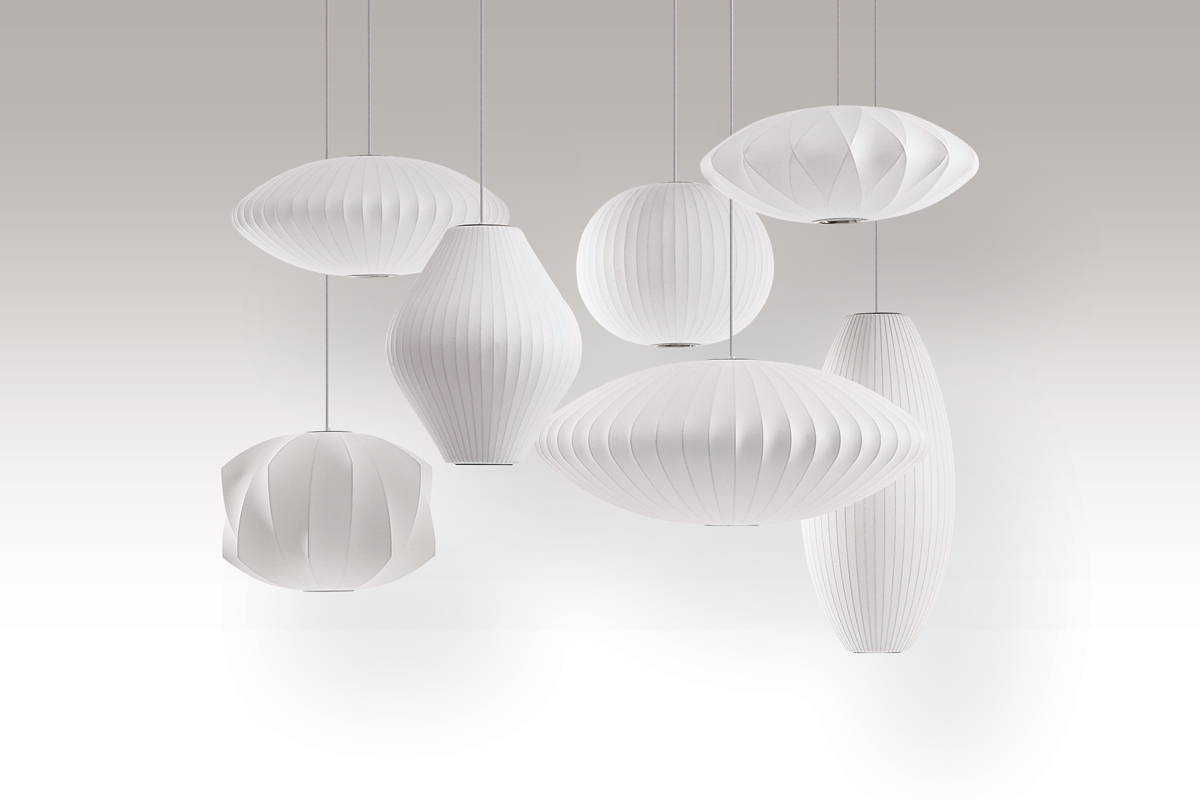 As enduring a modern icon as an Eames lounge chair, the Bubble Lamp series designed by George Nelson feels as fresh as it did when it was introduced in 1952. Made of a webby plastic over a lightweight steel frame, the lamps are simple, versatile, and can be found floating softly over dining rooms, bedrooms, foyers, and nearly every room in the house, casting a warm glow.
From 1945 to 1972, Nelson served as director of design for the Herman Miller furniture company. He oversaw the creation of some of the era's defining pieces, including Isamu Noguchi's famous coffee table and, yes, the Eames lounge chair.
Pendants, sconces, and floor and table lamps are available in dozens of shapes and sizes, including pear, apple, cigar, and the iconic saucer. Pendants can be grouped in a cluster for big drama.
Like many postwar designs, it was influenced by military materials, taking notes from a spiderweb-like lacquer used to cover decommissioned ships and planes.
At Design Within Reach at Westside Provisions District, more than 100 Nelson lamps of varying shapes and sizes hang in a "light cloud" in the two-story glass atrium, creating a traffic-stopping view.
The lamps can shed serious light—up to 150 watts. "The nice thing about the Nelson is, even though it's encased, you can still put a bright, bright bulb and just use it on a dimmer," says George Getlik, the store's proprietor.
The lamps went out of production for two decades until 1999, when Los Angeles–based Modernica acquired the manufacturing equipment and the trademark rights and resurrected them.
After disputes and a lawsuit over the rights to the design, as of 2016, the lamps are exclusively manufactured by the Herman Miller company in Zeeland, Michigan.
The lamp is part of the permanent collection of the Museum of Modern Art in New York.
Although Nelson is credited with the design, the George Nelson Foundation states that it was actually one of his associates, William Renwick, who created it.
Vintage Nelson lanterns can be found on sites like eBay and 1st Dibs (where a pendant dating to 1960 recently went for $495). New models from $295, Design Within Reach, dwr.com; hermanmiller.com; and other retailers
This article originally appeared in our Spring 2018 issue of Atlanta Magazine's HOME.