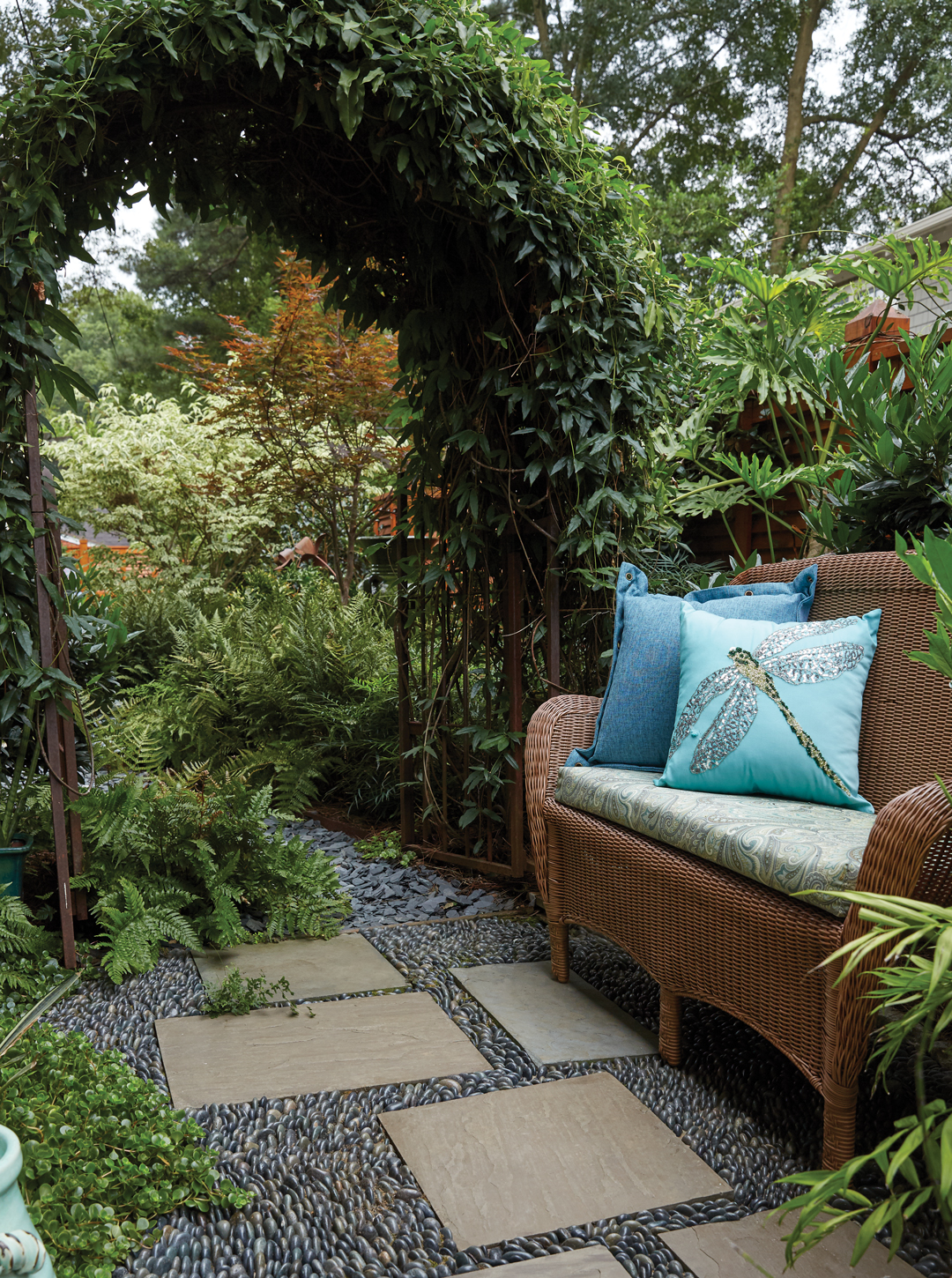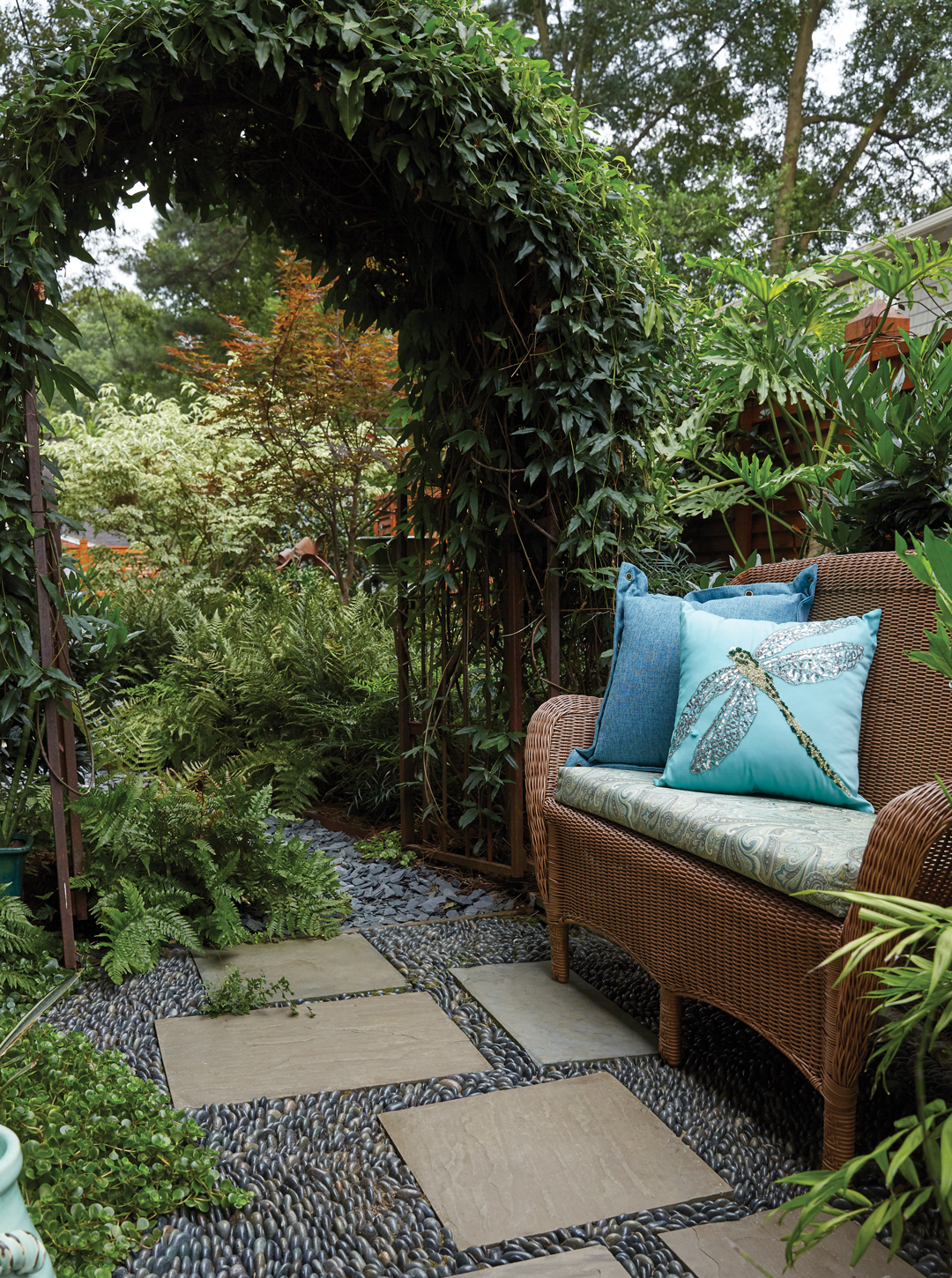 The Pocket Garden: Leafy Hideaway


Shape, texture, and green layers define this little intown escape.
Rob Lamy uses every inch of space in his cozy Virginia-Highland garden, which he has been building and layering for more than 30 years. His mostly green landscape emphasizes form and texture over color and leafy foliage over blooms.
When Rob and his late husband, Jim Hipkins, bought the house in 1985, the backyard was nothing more than grass and a gravel pad, which the previous owner had laid for backing the car out of the garage. In the front yard, Rob and Jim opted for adding a foundation border of yews, Indian hawthorn, and dwarf cherry laurels, while in the back they set out to create a shady, private retreat enclosed by a cedar-stained privacy fence.
A two-level deck overlooks the small backyard, anchored in one corner with a pergola that shelters a quiet dining space. Over the years, every inch of space would become part of the garden, including the narrow side yard which doubles as a snug reading nook.
With the help of gardening friend and landscape designer Paula Refi, Rob developed a knack for pairing monochromatic plants in contrasting combinations, such as the frilly fronds of ferns alongside the bold, broad leaves of fatsia and leopard plant. Rob, who later earned a certificate in landscape design from Emory University, learned to accent those plants with white blooming ones, such as gardenias, hydrangeas, and azaleas, as well as variegated ones like an unusual "Wolf's Eye" Kousa dogwood with green and white leaves.
"I do a lot of hiking, and when you're around so much green, you realize how many different forms and textures there are among plants when you're not distracted by a lot of bloom color," Rob says. Instead, the color in his garden comes from art, such as metal sculptures or a pair of primitive paintings hung on the side of the old garage. "I try to turn an eyesore into a focal point," Rob says of the structure.
A retired physical therapist, Rob is a master of detail, as evidenced by the pathways he created with intricate patterns of pebbles, each meticulously laid by hand in mortar. They bring the wow factor to a garden built on form and texture.
The Secret Garden: Stone Sanctuary


A rambling retreat carved into a granite hillside overlooks a formal landscape.
When Vicky Neuhauser and her husband, George, bought their classic brick house near West Paces Ferry Road 10 years ago, they had no idea the lot backed up to a vein of exposed granite that ran through their neighborhood. Vicky, with plans to create a hillside retreat to overlook their more formal gardens below, started chipping away at the stone with a trowel, unearthing tons of rock that was used to form pathways, steps, borders, benches, and even a garden house. As she and her crew (headed by Erwin Cifuentes) toiled, it quickly became apparent that the terrain—not any site plan—would drive the design for her new garden. "I just had to do one section at a time to see where it would take me," Vicky says. "It was all a big mystery that has truly just evolved."
Now, it's a stunning oasis that the Neuhausers lovingly refer to as "the hill," a sanctuary for relaxing at the end of a long day, a playground for entertaining friends, and an ongoing project that keeps Vicky intrigued by the mysteries of nature. Hidden behind a 10-foot holly hedge with only one entry, "the hill" feels like a secret garden.
It forms a striking juxtaposition to the landscaped gardens below that surround the gracious covered porch (which the couple converted from a Florida room) and a rectangular swimming pool. There, with design help from Atlanta landscape architect Graham Pittman, the Neuhausers created a traditional basket-weave brick patio and added a slate-and-turf checkerboard surface as a transition to the pool. Bordering the pool, formal boxwood-hedged beds frame rows of tree-form PeeGee hydrangeas, drawing the eye to a shady retreat: a pergola shrouded with fragrant Confederate jasmine and a tea olive hedge. "We love relaxing here, yet there is just something about 'the hill' that appeals to us much, much more," Vicky says.
At the top of the hill, Vicky designed a quaint, Cotswolds-style garden house with solid stone walls and a cedar shakes roof. The window has a wide shelf that doubles as a wet bar for entertaining. "That's the fun of gardening: There's always something that needs to be done," Vicky says. "It's like therapy."
The Art Garden: En Plein Air


Sculpture, meandering paths, and even a labyrinth make this private yard feel more like a park.



Travels to public gardens around the world, from the VanDusen Botanical Garden in Vancouver to the Storm King Art Center in New York's Hudson Valley, have informed Bob and Margaret Reiser's own expansive garden in Brookhaven. "Wherever we go, we always make sure to visit a public garden and collect new ideas," Bob says. "That's really important because one big focus of our garden is art." But as much as any far-flung locale, the Atlanta Botanical Garden has been a source of inspiration for the couple.
The Reisers have concentrated on the backyard, dividing it into three distinct sections with wrought-iron fencing and elevation changes. Margaret, who has lived in the historic home for 26 years and serves on the board of the Coastal Maine Botanical Gardens, enlisted landscape designer Jane Bath to develop an English cottage garden lush with roses, ornamental shrubs, and colorful perennials. In 2004, she married Bob, who is a lifetime trustee at the ABG and brought his own ideas to the landscape.
To the left of the cottage garden, a lawn forms a quiet transition to a terraced swimming pool and pool house. There, a contemporary kinetic metal sculpture sways in the breeze, crafted by California- based artist John Tyler, whose work was shown at the ABG a decade ago. The area is framed by a slope of azaleas and spireas and a raised garden of antique roses, perennials, and annuals.
For decades, the backyard ended with some blue hydrangeas anchored by an old well. Beyond this was just an ivy-infested forest. Bob had the bold idea to turn the area into a woodland walk.
It was a mammoth task, with a team of several workers clearing out the ivy over several days. With the help of Tim Gartland of Hamilton Land Services, Bob created an extensive collection of Japanese maples and shade plants like hostas, ferns, and even some rare finds. A curator from the ABG helped map the paths that wander through a bamboo grove, a fern dell with a dozen species, and a section of native wildflowers.
But the crowning touch is a labyrinth outlined with grasses and ground covers, inspired by one at France's Chartres Cathedral. "I walk it every day," Bob says. "But not necessarily for contemplation. I'm always picking up fallen leaves and branches!"
This article appears in our Summer 2018 issue of Atlanta Magazine's HOME.