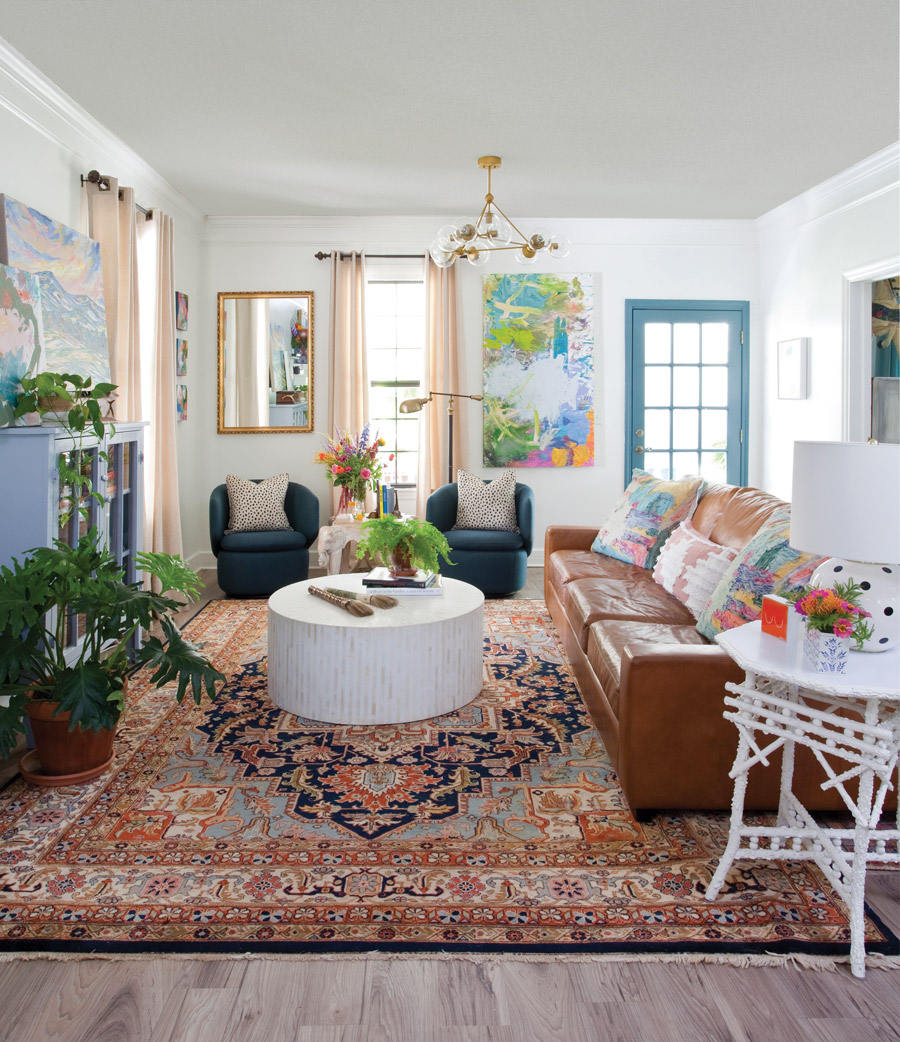 Having grown up on 30 acres in north Georgia, artist Elaine Burge was thrilled when her future husband, Richey, showed her his farmhouse in tiny Riddleville, around two hours east of Atlanta. This was eight years ago, after Elaine had lived in Atlanta and Savannah, but it didn't take long for her rural roots to lure this painter back to the country. "I guess I didn't realize until then how much being outdoors meant to me," says Elaine. "I remember driving down that dirt lane and just loving it."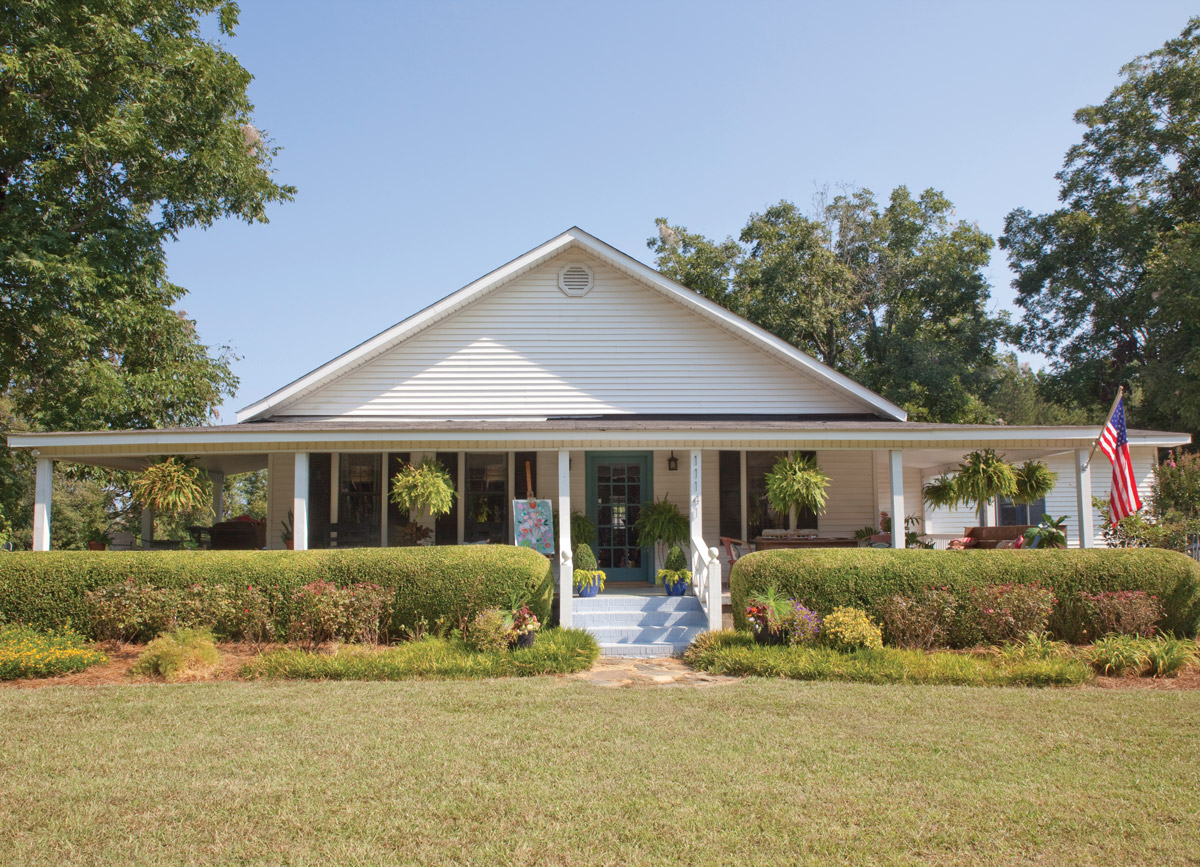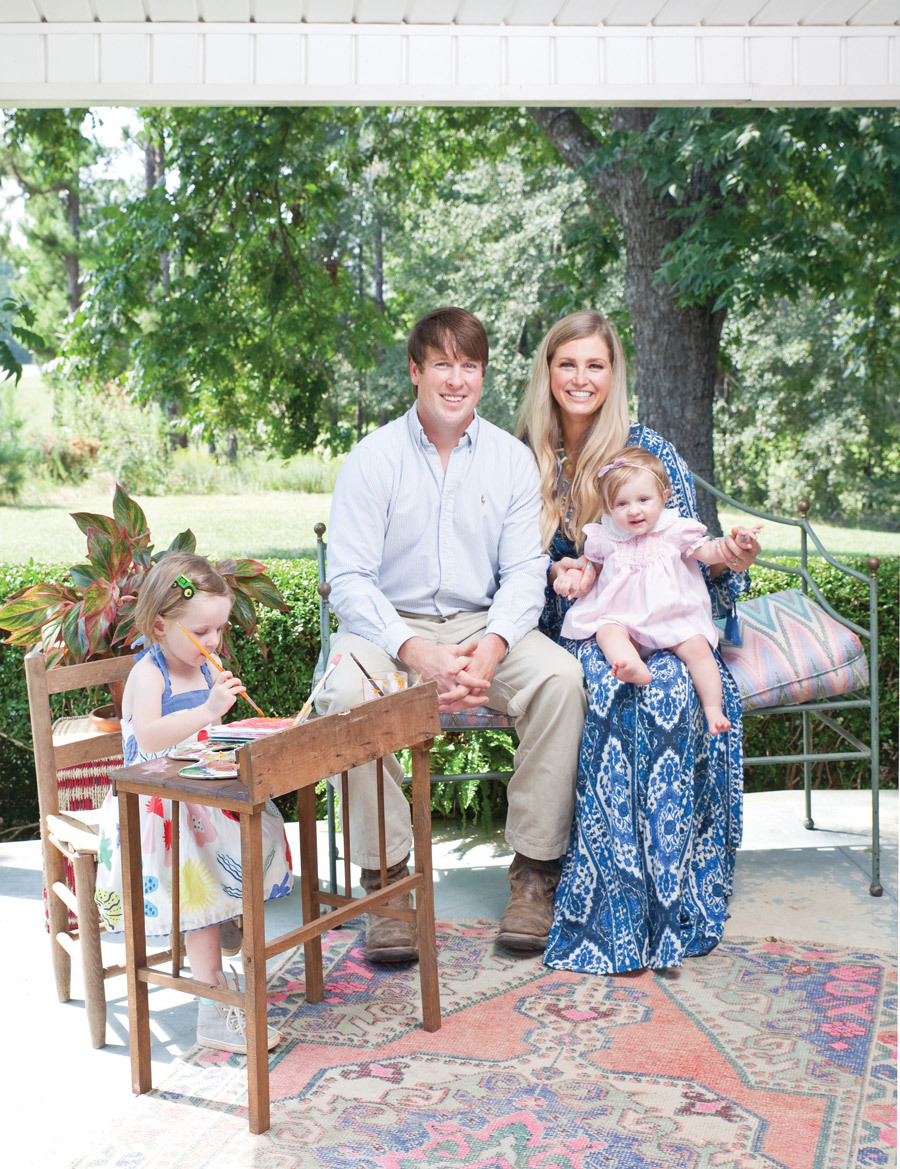 The circa-1940s, 1,600-square-foot ranch house needed some updating, which the couple has tackled in phases while expanding their family to four, with the addition of daughters Lucy and Bonnie. Out went some yellow linoleum floors and Richey's bachelor decor. They didn't have a game plan exactly, but it was only natural that the design would incorporate her love of wild color and his passion for the outdoors. The result is funky, eclectic, and highly personal.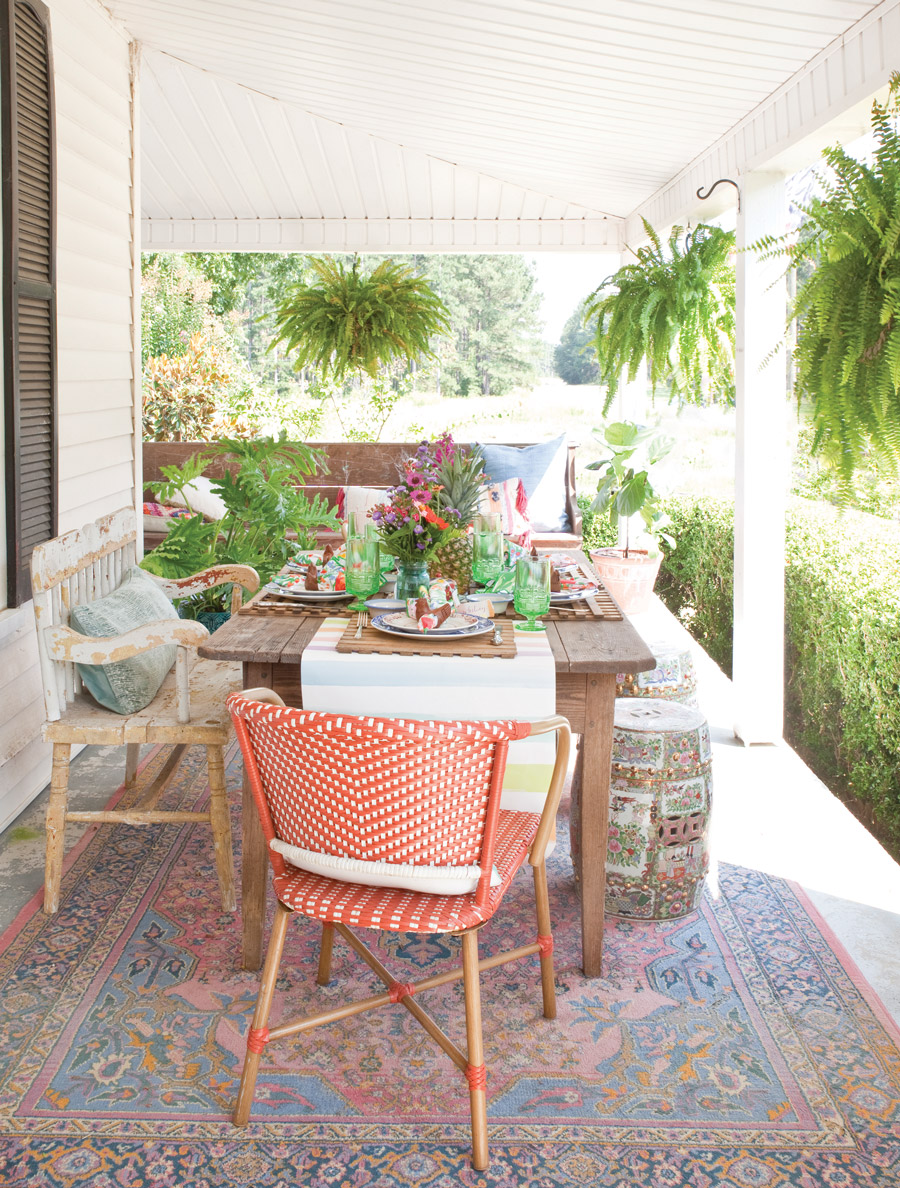 The project was done on a strict budget, and Elaine's DIY skills and knack for thrifting played a big role in the redo. "Anytime I see an antiques store or garage sale, I hit the brakes," she says. She's also a big fan of Final Cut in Augusta, a clearing house for major brands; the circular coffee table in the living room had originally been offered at Anthropologie for $1,200 but, with a few nicks in it (which Elaine cleaned up), was a steal at $80. Elaine's own nature-themed art livens up walls, and even Lucy's early skills are on display in a living-room painting.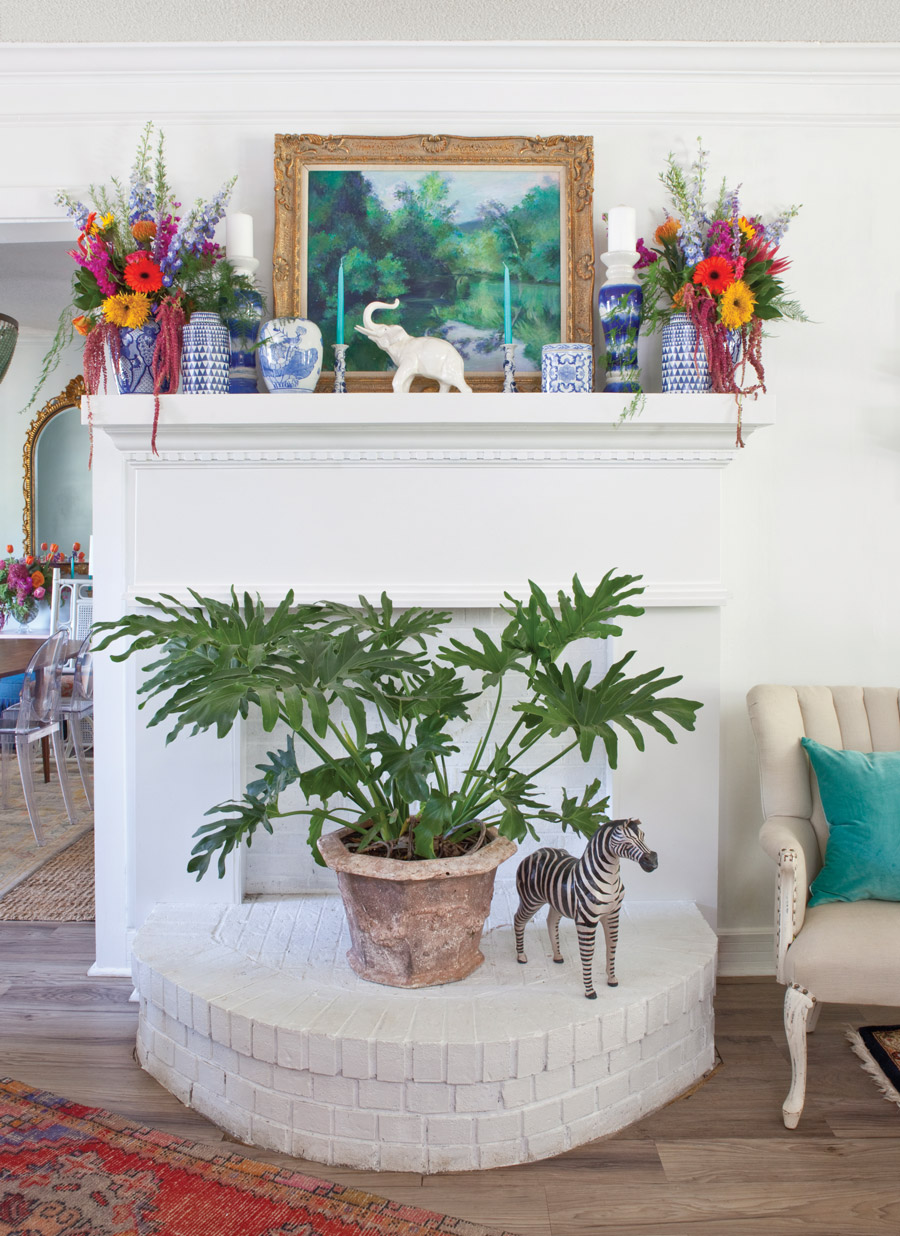 The family had the help of interior designer Whitney Durham, who was already a fan of Elaine's work. "We pulled from similar color palettes throughout the home so that there would be smooth transitions from one room to the next," says the designer. "We carefully combined large-scale patterns with smaller-scale prints so they didn't compete with each other." The two of them worked out a barter system—paintings for interior design consultation—and have become friends along the way.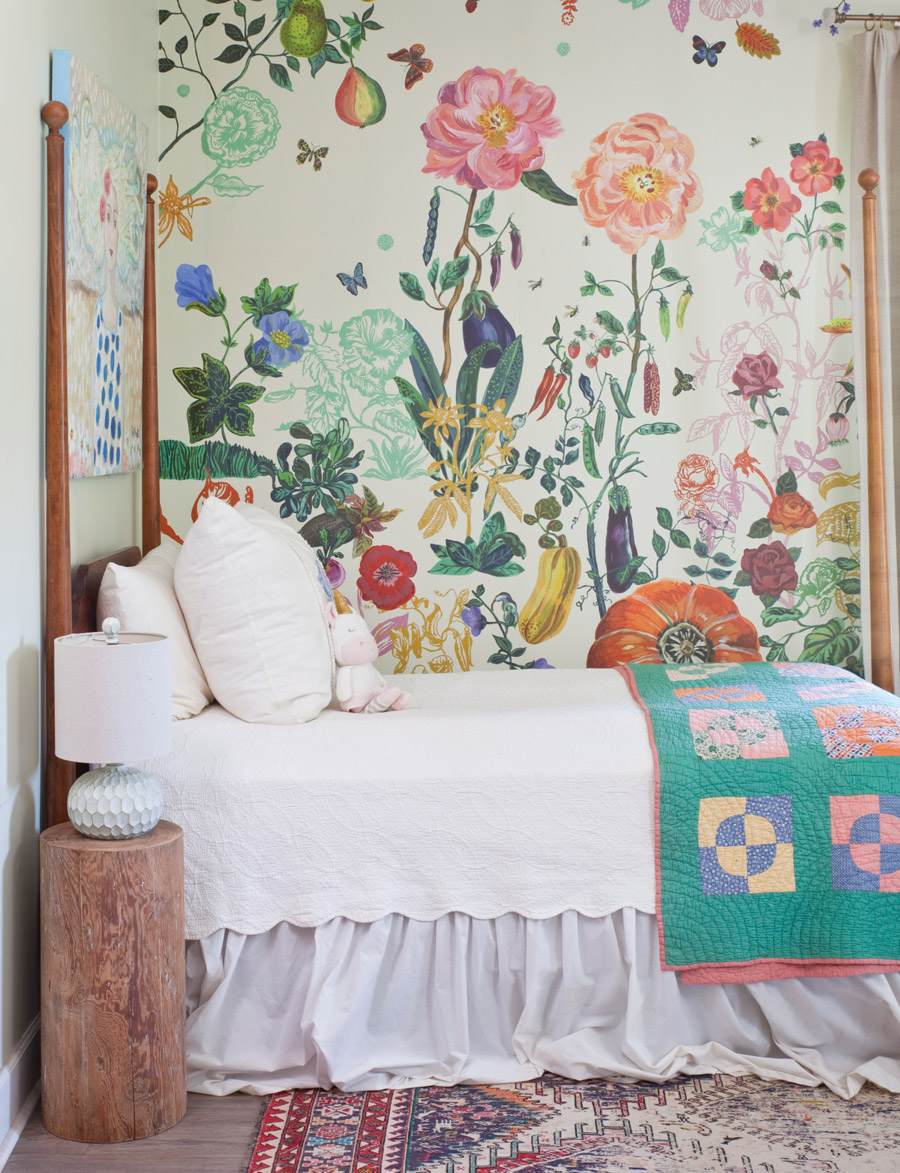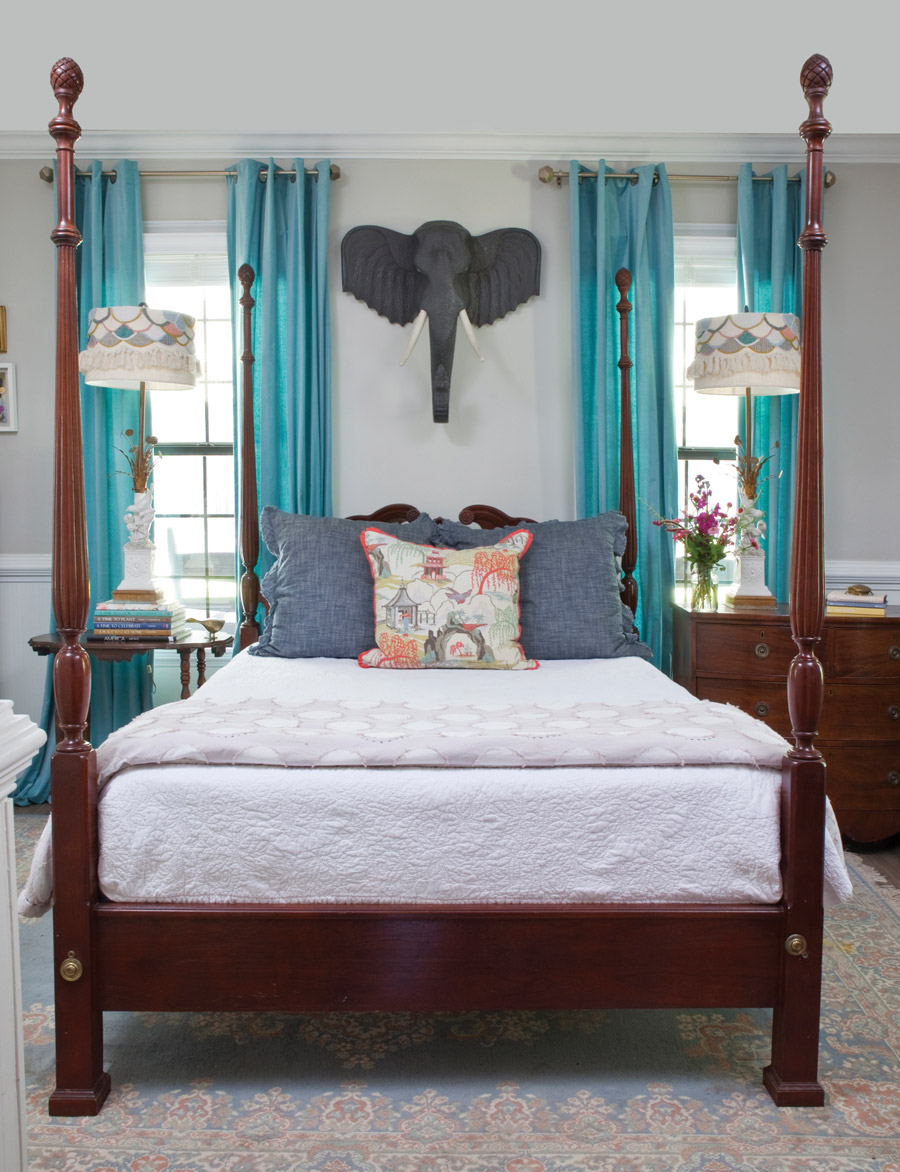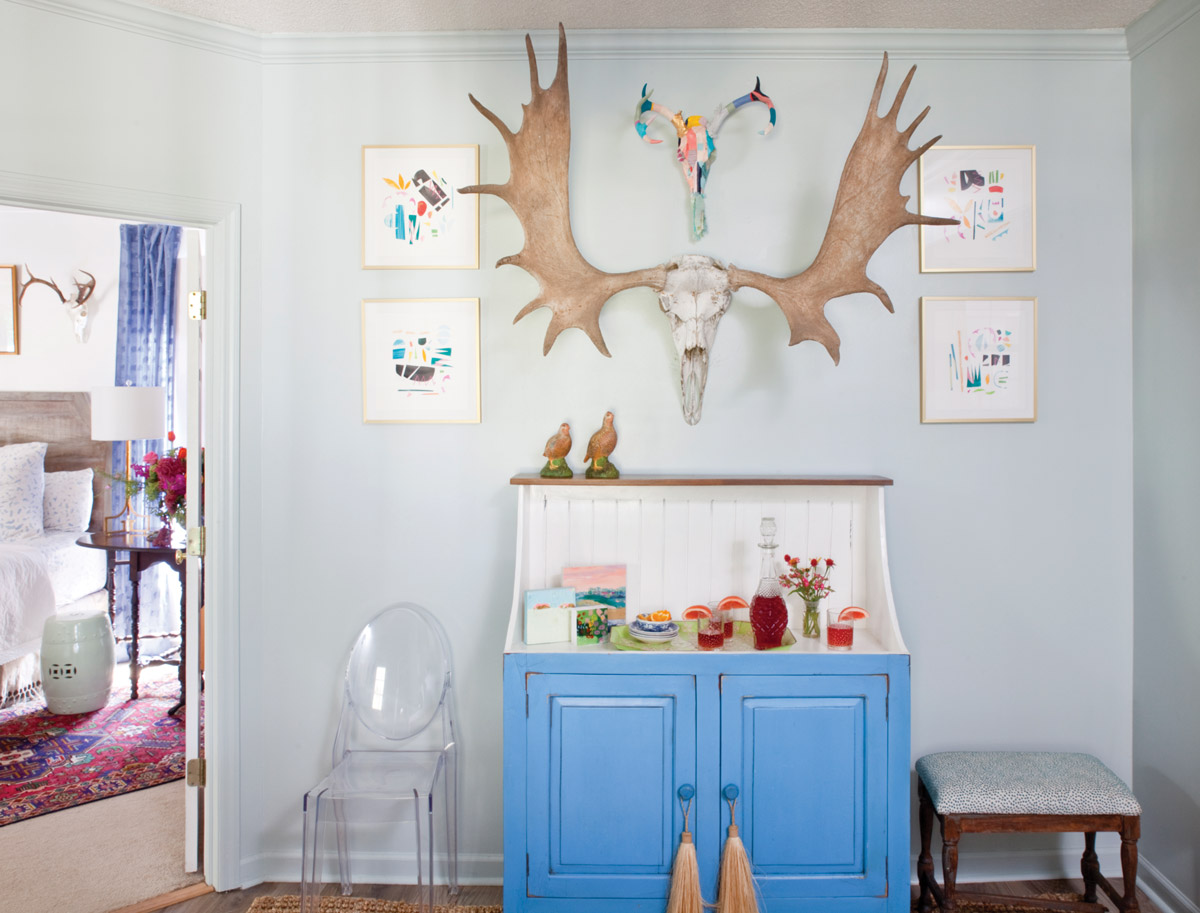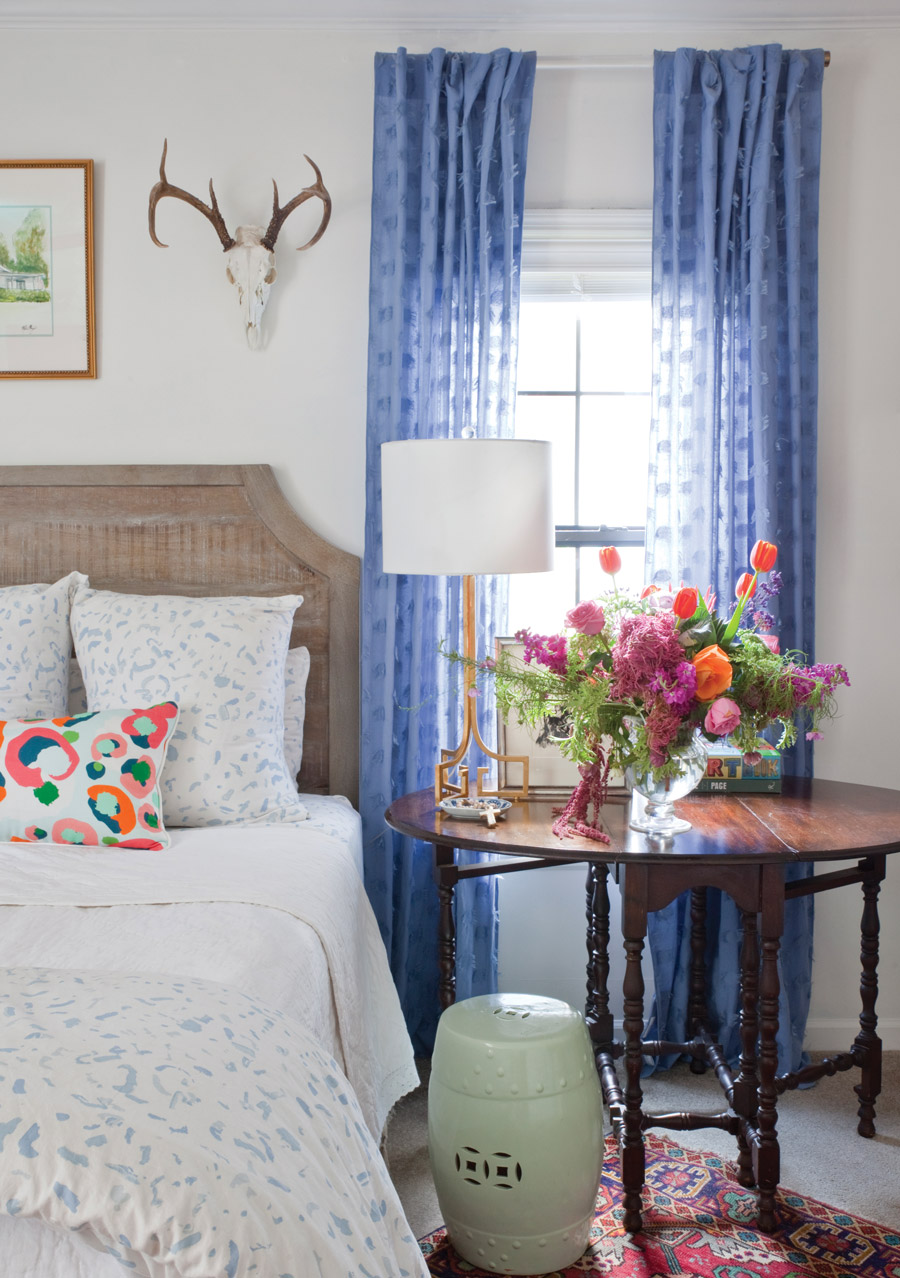 The country life has been everything Elaine hoped for. Her two young girls collect eggs from the chicken coop for breakfast. Riddleville doesn't even have its own post office, Elaine notes, but she's content with the peaceful view from their wrap-around porch. "There isn't much to do around here," she says. "Just being together is what we find to be the most fun."
Resources | Interior designer: Whitney Durham Interiors, whitneydurhaminteriors.com
Art: Elaine Burge, through Gregg Irby Gallery, greggirbygallery.com Living room Sofa: Pottery Barn, potterybarn.com. Blue swivel chairs: West Elm, westelm.com. Coffee table and velvet armchair: Final Cut (originally Anthropologie), 500 Fury's Ferry Road, Martinez. Dining room Acrylic chairs: Amazon.com. Master bedroom Pillow fabric: Emily McCarthy, emilymccarthy.com. Bed: Chairish, chairish.com. Guest bedroom Velvet draperies: Ballard Designs, ballarddesigns.com. White quilt: Target, target.com. Girls' bedroom Wallcovering: Anthropologie, anthropologie.com (discontinued).
This article appears in our Spring 2020 issue of Atlanta Magazine's HOME.