Mindful Escape
The expert: Amanda Trevelino, who operates Santosha Studio behind her home
From a tranquil carriage house on two wooded acres near the Chattahoochee River, Trevelino offers private yoga sessions, Thai bodywork, and group retreats. With residential designer and naturalist James Klippel, she renovated the 1980s 1,200-square-foot space with floor-to-ceiling windows and soothing neutral hues. The property has a meditation trail as well as a bedroom suite available for overnight rentals. Here, Trevelino's tips for incorporating a calming, natural aesthetic into a home practice.
Set up a designated space. It could be a spare bedroom or the corner of a living room. In addition to a mat and props, Trevelino recommends augmenting the practice area with sights, sounds, and smells—like crystals, meditation soundtracks, candles, or diffused essential oils—that will help "make it feel special." Hers is layered with finds from the outdoors and pieces picked up on travels, and she likes Phoenix and Dragon Bookstore in Sandy Springs for inspirational reading and altar items.
Get close to nature. While you can't always retreat to her studio in the woods, practicing near a window for natural light and surrounding yourself with plants or even a few flowers can have relaxing effects.
Use a mantra. "Repetition of a mantra—even something as simple as 'I am'—can be grounding, calming, and make you more aware of your breath," she explains.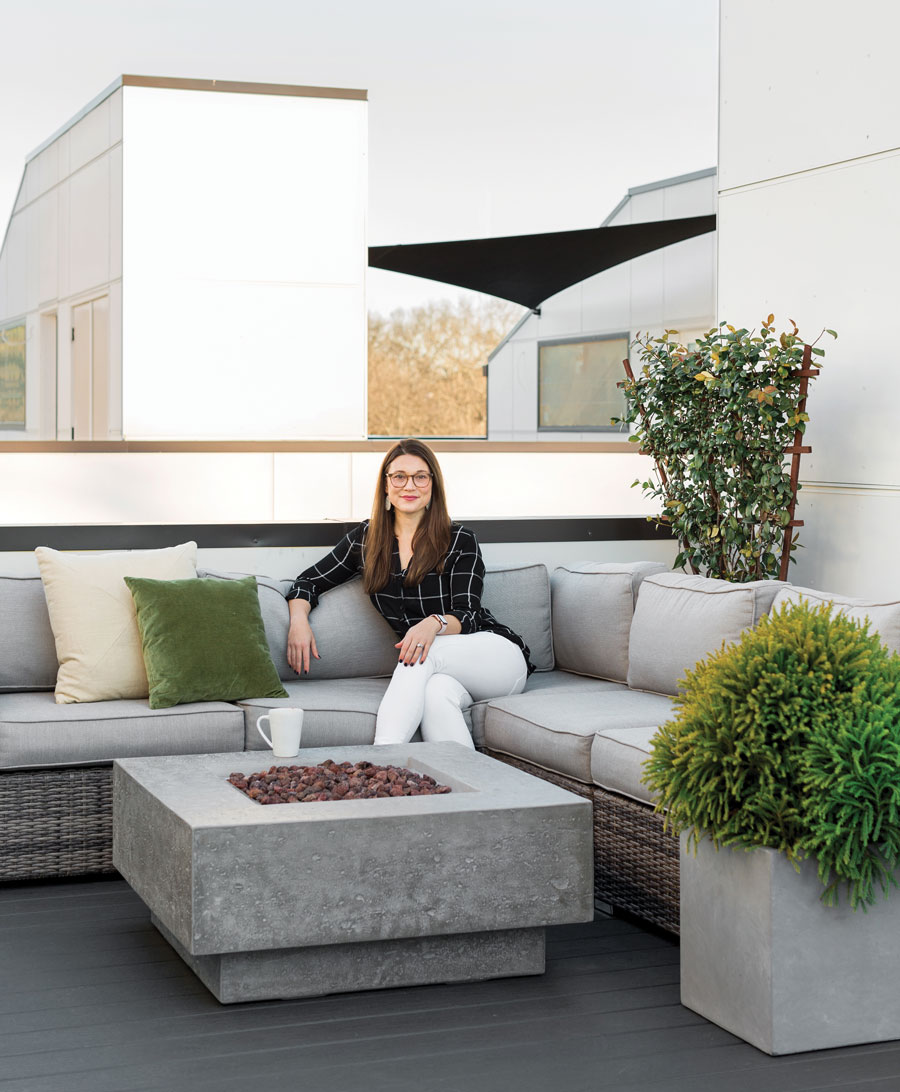 Urban Oasis
The expert: Kristin Oja, owner of holistic medical practice STAT Wellness
When Oja, a doctor of nursing practice, isn't working with patients at her Westside wellness center, she's on the rooftop deck of her East Atlanta Village townhome. At 700 square feet, the space is part garden, part living area, with evergreen plants, a cozy fireplace, and working kitchen—complete with a grill, refrigerator, and dining table. Here's how Oja recommends using outdoor spaces to relax and recharge year-round.
Start your morning outside. Hit your patio, garden, or stoop for a moment as a morning ritual. "The sunlight will stimulate cortisol production and give you energy and much-needed Vitamin D," says Oja. Instead of sipping coffee, swap it for turmeric tea, also known as a golden-milk latte. Caffeine can exacerbate anxiety and stress, while the latter "helps with inflammation and digestion."
Surround yourself with plants. Green things aren't only aesthetically pleasing but good for your health, explains Oja. "They help clean the air around you, important in a city like Atlanta with less than stellar air quality." Her rooftop is home to a cheerful variety of plants, from jasmine to pencil cactus and Oriental spruce.
Eat Well. An outdoor kitchen means lots of grilling—great for the six servings of vegetables a day that Oja recommends. At each farmers market visit, she and her husband choose a new piece of produce to plan a meal around, then spend the evening on the rooftop around the grill. "Cooking and eating outside make it feel like a special occasion," she says.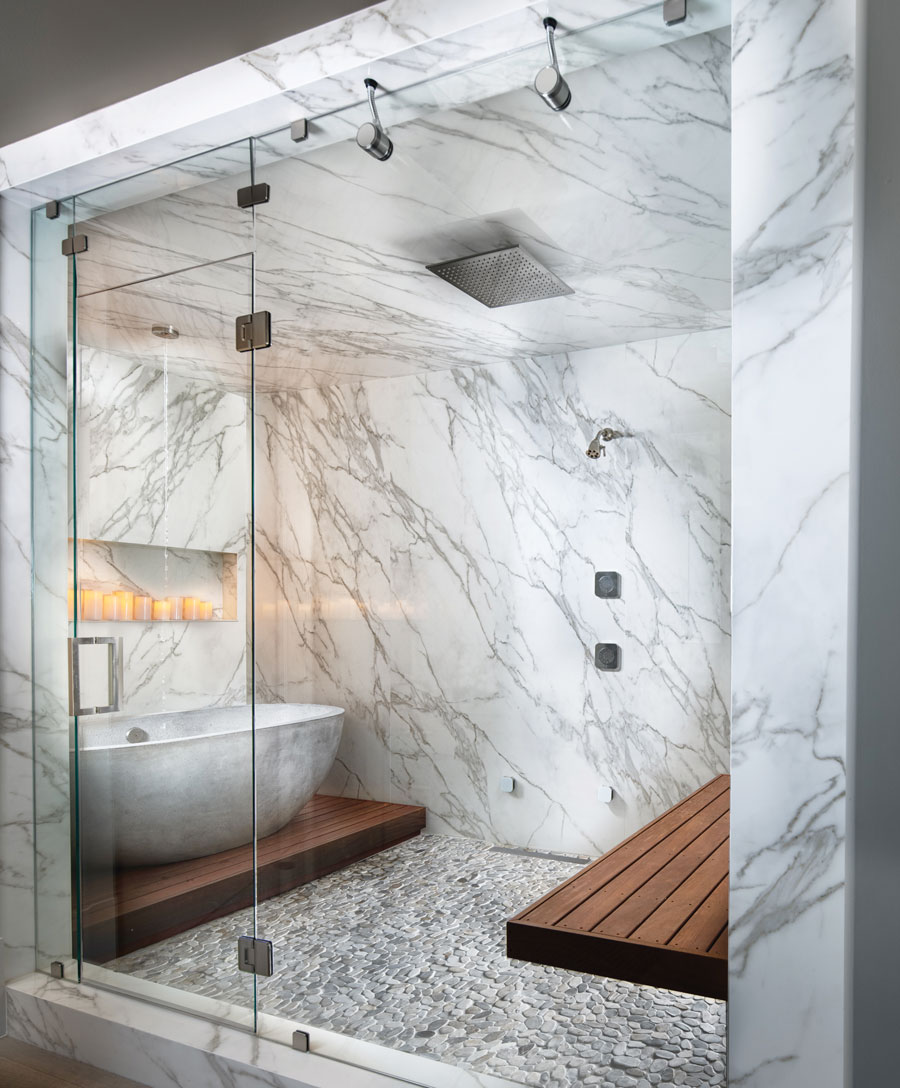 Recovery Room
The expert: Andy Arlotta, co-owner and president of Georgia Swarm, the professional indoor lacrosse team
To convert the terrace-level bathroom of their Suwanee house into a postworkout home spa, Arlotta and his wife, Brook, turned to Zach Azpeitia, Kari Mears, and Victoria Askin of Pineapple House Interior Design. The designers expanded the bathroom to 250 square feet by knocking out an interior closet and installing a steam room, complete with easy-to-clean Neolith walls, plus two steam units and a soaking tub on a floating, moisture-resistant teak platform. Azpeitia and Arlotta, a health advocate, provide tips for creating spa vibes at home.
Get lit. The Arlottas' steam room features waterproof, electronic, and remote-controlled candles in a recessed niche behind the tub, and Azpeitia says candles are an "economical" option for creating a relaxing, spa-like atmosphere in any space.
Soak up the heat. Whether it's a steam room, warm bath, or hot shower, Arlotta recommends postworkout time in hot water to improve joint mobility, flush out inflammation, and "jump-start" muscle recovery.
Add sound. Use music to wind down. Arlotta listens to jazz and classical music via audio transmitters installed by Advanced Media in the glass wall of the shower, making the entire pane a speaker. The noise of water itself is soothing. "The Kohler tub filler sends a solid stream of water from the ceiling to the tub," says Arlotta. "The sound reminds me of a river."
This article appears in our Spring 2020 issue of Atlanta Magazine's HOME.