Shelves are stacked with spools of thread in every color imaginable in Zipporah Camille Thompson's studio. Two giant looms are surrounded by a constellation of animal skulls, dried flowers, masks, mason jars, and other objects. It's enough to make the imagination run wild—and Thompson's does, exploring identity, ritual, connection, and even the cosmos in her textile and ceramic art.
The North Carolina native grew up with an artist father and learned traditional weaving as a teenager from a Palestinian woman in her hometown. At first, she found the work tedious and physically exhausting, but then, she realized the power in her hands to tell stories through threads.
"I find embracing so-called women's work to be very cathartic and meditative," says Thompson. "I'm creating my own narrative, while embracing the narrative of those matriarchs who came before and used their hands to create things."
While getting an MFA in textiles from the University of Georgia, she also became interested in ceramics. The juxtaposition between hardness and softness keeps her coming back to both mediums. Her work has been exhibited at galleries across the country, including Albany Museum of Art, Trestle Gallery in Brooklyn, the University of North Georgia in Dahlonega, and Zeitgeist Gallery in Nashville.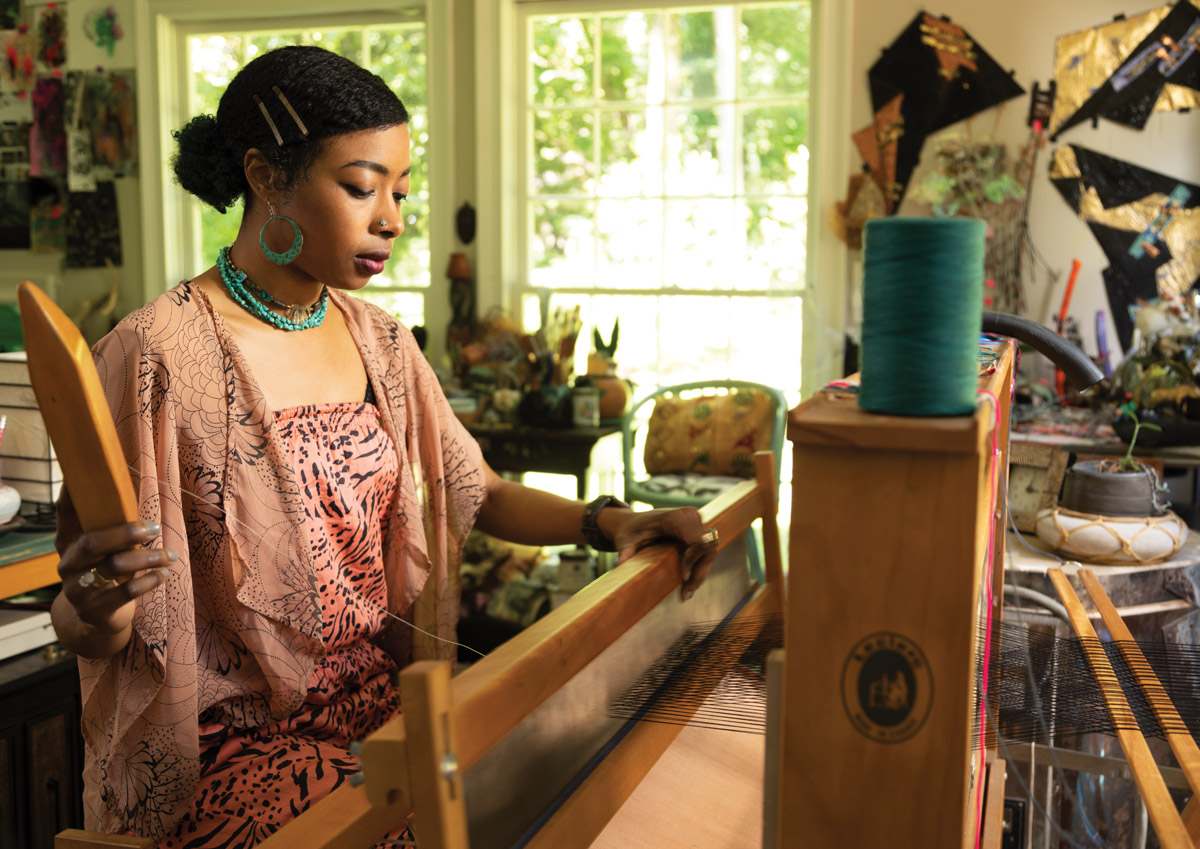 Last year, she received a grant to work on a project called Cielos Noches, roughly translated to "Dark Skies," in Oaxaca, Mexico. There, she studied traditional weaving and claymaking with a family in the region, creating a body of work about border relations. Her recent work explores cosmograms—diagrams of the universe—and navigation, drawing on the history of quilts as maps and guides but incorporating her contemporary viewpoint and aesthetic.
"There are so many rich histories in textile and cloth, especially in the African American community," says Thompson. "I'm borrowing from the quilting tradition—using what's around you, what's available—so I often am looking at trash, thrift stores, discarded objects, and then combining that with a really finely spun linen or luxurious cotton."
At the end of the day, Thompson says she just wants to create things that people love.
"You've had a relationship with cloth since you were teeny tiny. Textiles are everywhere. They're everything you're looking at."
This article appears in our Fall 2019 issue of Atlanta Magazine's HOME.