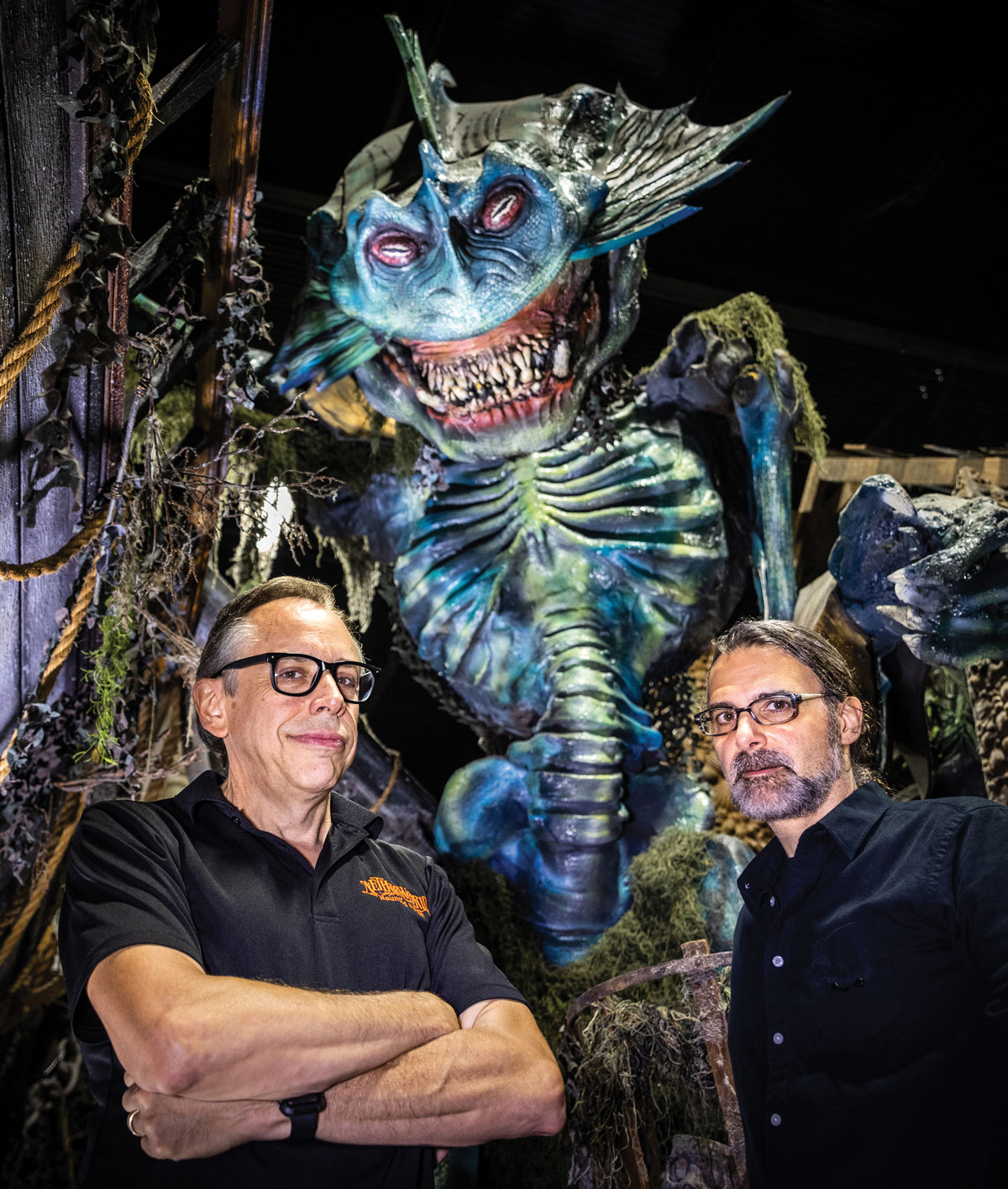 In the early 1990s, film production in Georgia was a fraction of the billion-dollar industry it is today. In between jobs as a special-effects artist, Billy Messina put his expertise to work at haunted houses. Then, a friend introduced the New York native to Ben Armstrong, a local producer for Fox 5 who once hosted a late-night schlock horror show in Tallahassee as "Dr. Speculo."
Messina and Armstrong, who had managed haunted-house fundraisers while he was still in Florida, teamed up to work for Silo X, a national chain of haunted houses. But when Silo X shuttered its Atlanta location, Messina and Armstrong decided to launch their dream attraction. They pooled their money and raised six figures from friends and family and built a haunted mansion with an original story line—an innovative concept at the time— in a 4,000-square-foot space in Kennesaw. Netherworld was born.
Twenty-five years and countless gallons of fake blood and fog juice later, Netherworld has earned national fame and become a metro Atlanta Halloween tradition that, after nearly two decades off I-85 in Norcross, now occupies 10 acres and a 70,000-square-foot warehouse in Stone Mountain. Turning a seasonal attraction into a year-round operation, the company added laser-tag courses and four escape rooms with themes like Sasquatch attacking a cabin. Roughly 24 staffers work at the complex full-time; the number rises to approximately 500 during Halloween season. Many also work on local film and TV productions when not building out the labyrinth of horrors or fine-tuning escape rooms. A museum houses Netherworld's vast collection of props, costumes, and masks from horror films like Zombieland.
Before Messina and Armstrong launched Netherworld, many fright factories around metro Atlanta relied on reenactments or depictions of licensed Hollywood (and occasionally hokey) monsters: Jason from Friday the 13th, Freddy Krueger from A Nightmare on Elm Street, and Michael Myers from Halloween. "Then, someone on the staff who was ill-trained did something silly or dangerous. And then, you walked into the next room," Messina says. The two came up with what they call the 80-20 strategy. "Give them what they want, and then give them what you want." Eighty percent of the attraction consists of frights that visitors want and expect to experience—a spinning tunnel, the constricting wall, a frozen monster coming to life. Then, the rest of the time, surprise the audience with original monsters and frights dreamed up by Armstrong and the design team, which can range from Lovecraftian Cthulhu-like beasts to alien invaders. Some scares are mandatory: When Netherworld first opened, the duo had a "no chainsaws" rule. "They're a haunted house trope," Messina says. "Guess how many nights that lasted for? I think it was one weekend."
75
Number of different themed attractions Netherworld has created in metro Atlanta since it launched in 1997
4,000
Number of seasonal jobs created by Netherworld since the attraction began
500
Number of animatronics and special effects in the haunted attractions and escape rooms
3,000
Number of costumes and masks created for different Netherworld story lines
From the beginning, Armstrong says, the group followed building codes and safety standards like sprinkler systems and emergency shut-off switches. (It helped that an early core member was a firefighter.) The team built a Netherworld-appropriate organization chart called the Order of the Netherspawn; "Nightwings" perform stunts like bungee jumping or zip lines, and "Chameleons" are makeup artists. Though their roles often overlap, Messina is more like the movie producer who handles much of the business and branding side, and Armstrong the director who dreams up the story-driven themes and then leads his band of creatives. Armstrong has become a regular at haunted-house conventions and trade shows, where he teaches seminars on best practices and peruses the latest in animatronics and costumes. Dozens of cameras throughout the 15,000-square-foot haunted house pipe images into a main control room. If a manager spots groups moving too slowly, he or she can call on a special monster called a "roper" to toss the visitors a rope, saying "I'll save you," and pulling them along to the next room.
Shortly after the traditional Halloween season ends around early November, crews begin breaking down individual rooms, and Armstrong starts turning the duo's brainstorming into the next season's reality. To mark the attraction's 25th anniversary, this year's themes are "Rise of the Netherspawn," an origin story about a subterranean army of monsters, and a second attraction, "Return to Planet X," a spiritual sequel to an earlier season's concept that includes a 3-D journey through a sci-fi world of horrors painted in vivid fluorescent colors. Tickets to both haunts can be purchased in-person or online at fearworld.com and start at $30 depending on the day guests visit, and special passes are available to bypass the lines. Capacity will be limited because of the Covid-19 pandemic.
"Our motto from the beginning has been 'We want to scare and entertain'," Messina says. "You can't scare everyone. We always wanted people to feel that there was value. It takes a lot to get in a car, drive there, buy a ticket, and wait in line. Just give people no reason to regret that experience. If you didn't get scared, hopefully you were wowed by that 30-foot monster."
This article appears in our October 2021 issue.