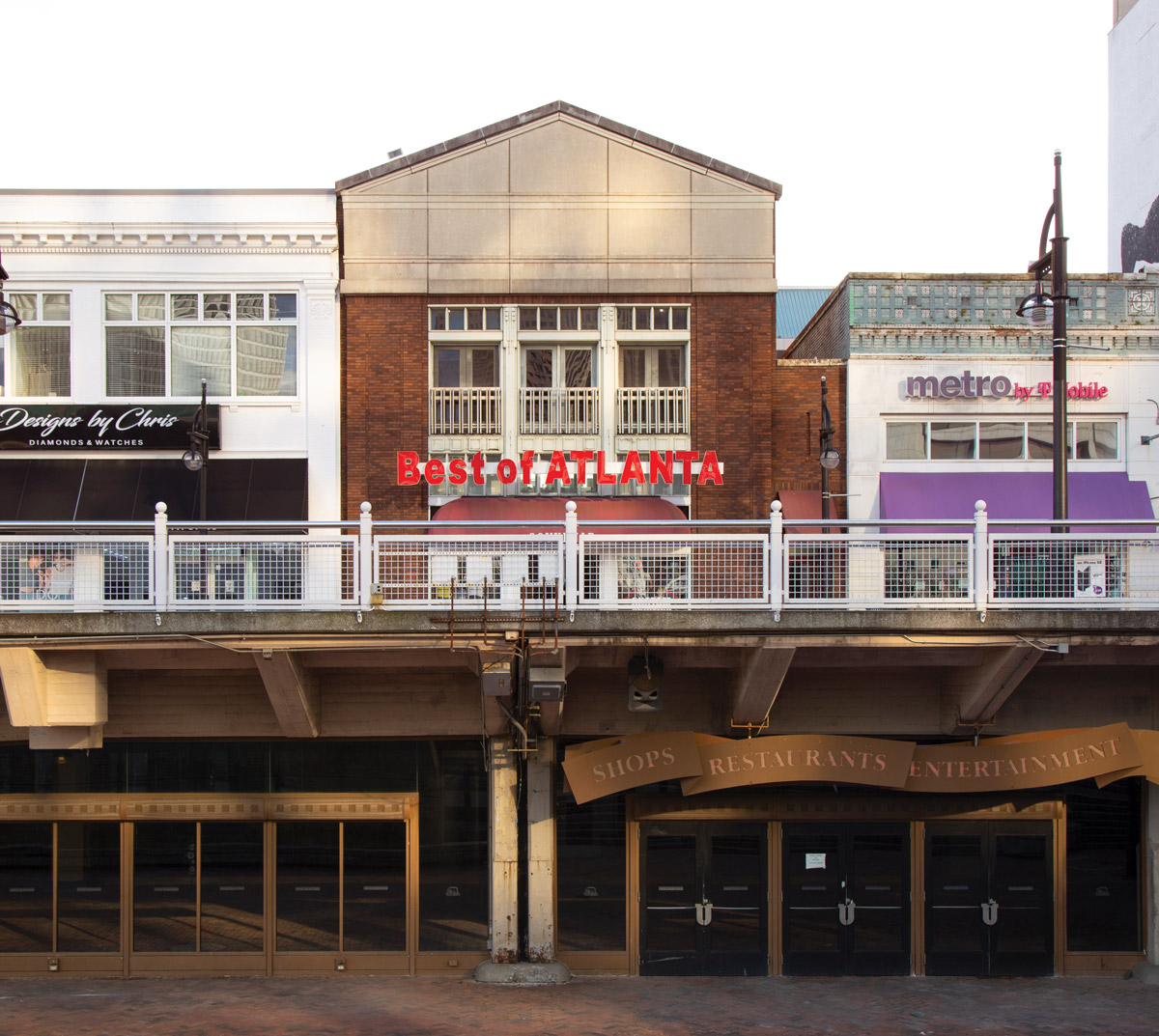 100 Edgewood Overlooking GSU's campus, this 18-story, 1960s-era office tower was formerly home to United Way of Greater Atlanta but has stood vacant for years. Florida-based Parkway Property Investments filed plans last spring to convert it to 268 market-rate apartments—and then promptly sold the building for $29.5 million to the Atlantic Companies, a team of Atlanta developers who aren't ready to go public with their plans.
104 Trinity Avenue Plans call for building 218 new apartments in an eight-story building—with 186 units reserved as affordable—on a long-vacant, 1.3-acre parcel owned by the City, across the street from Atlanta City Hall. Also in the mix: a rooftop garden with solar panels and 7,500 square feet of street-level retail space intended for a local small business.
360 Peachtree Street One of Atlanta's oldest churches has "God-size" plans for creating attainable urban housing on a couple of underused acres at its historic Peachtree Street property. Atlanta First United Methodist Church unveiled details in 2022 for a two-tower complex with 320 apartments—85 percent of them reserved as affordable, made possible by financial backing from Invest Atlanta. Mayor Andre Dickens led a ceremonial groundbreaking for the project in October.
505 Courtland Now leasing, this 17-story, upscale apartment building has claimed a vacant corner lot where downtown meets Midtown in the SoNo district (that's South of North Avenue), near the shuttered Peachtree-Pine shelter. It offers 284 "hella refined" apartments, with 483-square-foot studios starting at $1,745 monthly.
Atlanta Next In 2018, Blackstone's International Market Centers acquired AmericasMart—the world's largest wholesale market for home decor, gifts, and lifestyle products—originally designed and owned by Atlanta architect John Portman. In 2019, IMC launched a multiyear upgrade of AmericasMart called "Atlanta Next," beginning with street-level improvements to make its 7.2-million-square-foot campus more welcoming.
Broad Street Boardwalk Located in the historic Fairlie-Poplar district behind the FlatironCity building, this area has been closed to vehicular traffic since 2015. With a mix of locally owned restaurants, it had long been a lunchtime destination for students and nearby office workers, but the city added wooden decking and string lights—and dubbed the area the Broad Street Boardwalk—in 2018. Shuttered and neglected during the pandemic, it was recently refurbished and reopened with a series of lunchtime concerts last fall.
Centennial Park District Centennial Olympic Park, the 22-acre greenspace created for the 1996 Olympics, is adjacent to some of Atlanta's most popular tourist attractions: the Georgia Aquarium, the National College Football Hall of Fame, the World of Coca-Cola, the Children's Museum of Atlanta, Mercedes-Benz Stadium, State Farm Arena, and the National Center for Civil and Human Rights.
Centennial Yards Following years of controversy related to a $2 billion incentives package and a lawsuit filed by a citizens group, Centennial Yards has started rumbling to life where the Gulch's below-grade, asphalt seas have long festered. The Southeast's largest sports-entertainment district—price tag: $5 billion—will span 50 acres in the shadow of two arenas. Four million square feet of residences and 4 million square feet of retail, offices, restaurants, and hotels are planned—the majority of which may be delivered in time for Atlanta's 2026 World Cup matches. A boutique hotel and a residential tower, across from Mercedes-Benz Stadium, were planned to break ground in 2022.
Five Points MARTA Station When this station opened in 1979, it destroyed historic buildings and sliced through Broad Street. A $200 million renovation aims to connect pedestrians as well as trains. Plans call for renovating the platforms, removing the concrete canopy, and improving the plaza—which could reconnect Broad between Marietta and Alabama streets. Funding will come from the half-penny sales tax that Atlanta voters approved in 2016, $13.8 million from the state (from fees for ride-hailing services), and $25 million from the federal infrastructure law. The project is not expected to be completed until 2028.
Forge Atlanta Formerly Artisan Yards, this mega-proposal south of the Gulch would swap 10 acres of underused, industrial properties for 3.8 million square feet of development, providing a MARTA-connected hub for Atlanta's life sciences sector. Components could include a hotel, an entertainment venue, a million square feet of residential space, and a pedestrian bridge linking the complex to Castleberry Hill. Developers bought the acreage along Ted Turner Drive and Whitehall Street for $26 million in 2020 and later brought on real estate advisory giant CBRE. Timelines are TBD, but the project is expected to cost billions.
Herndon Square Atlanta Housing is redeveloping the former Herndon Home site into a mixed-use project.
Midtown Connector Project Yes, there are two proposals for topping the Connector. (This project is in Midtown, not downtown, but we include it here FYI.) This cap would create a 25-acre park from North Avenue, near the Varsity, to 10th Street. U.S. Senator Raphael Warnock has secured $3.2 million in federal funds for the initiative, which has also raised $100 million in private funds. Last fall, the MCP Foundation released renderings that include an amphitheater with a giant translucent globe. Work could begin as early as 2023.
Multimodal Terminal An early dream for the Gulch was a Space Age–looking transportation center that would link MARTA heavy rail, passenger rail, light rail, streetcars, and buses. The plan received a boost in 2011 when the Georgia Department of Transportation funded a $12.2 million feasibility study. Unfortunately, the scheme depended on passenger and freight rail sharing tracks, a plan that Norfolk Southern said was not feasible.
National Center for Civil and Human Rights Slated for a $48 million expansion in time for its 10th anniversary in 2024, the NCCHR plans to refurbish existing galleries and build two new wings, adding event and classroom space, exhibits on racial violence, and a gallery for families and children.
Nelson Street bridge Not a development per se, but this piece of downtown infrastructure replaces a crumbling bridge that spanned the Gulch for a century. Off-limits to cars, the bridge will open with public seating and landscaping in early 2023, providing a new connection between South Downtown and Castleberry Hill.
Origin Hotel Atlanta A brand with locations in Austin, Denver, Raleigh, and Lexington, Origin Hotel plans to remake a six-story, 1950s office building on Pryor Street into a boutique "jewel." Plans call for 124 rooms, a restaurant, a bar, and meeting and event space. The building sold in 2022 for $16 million.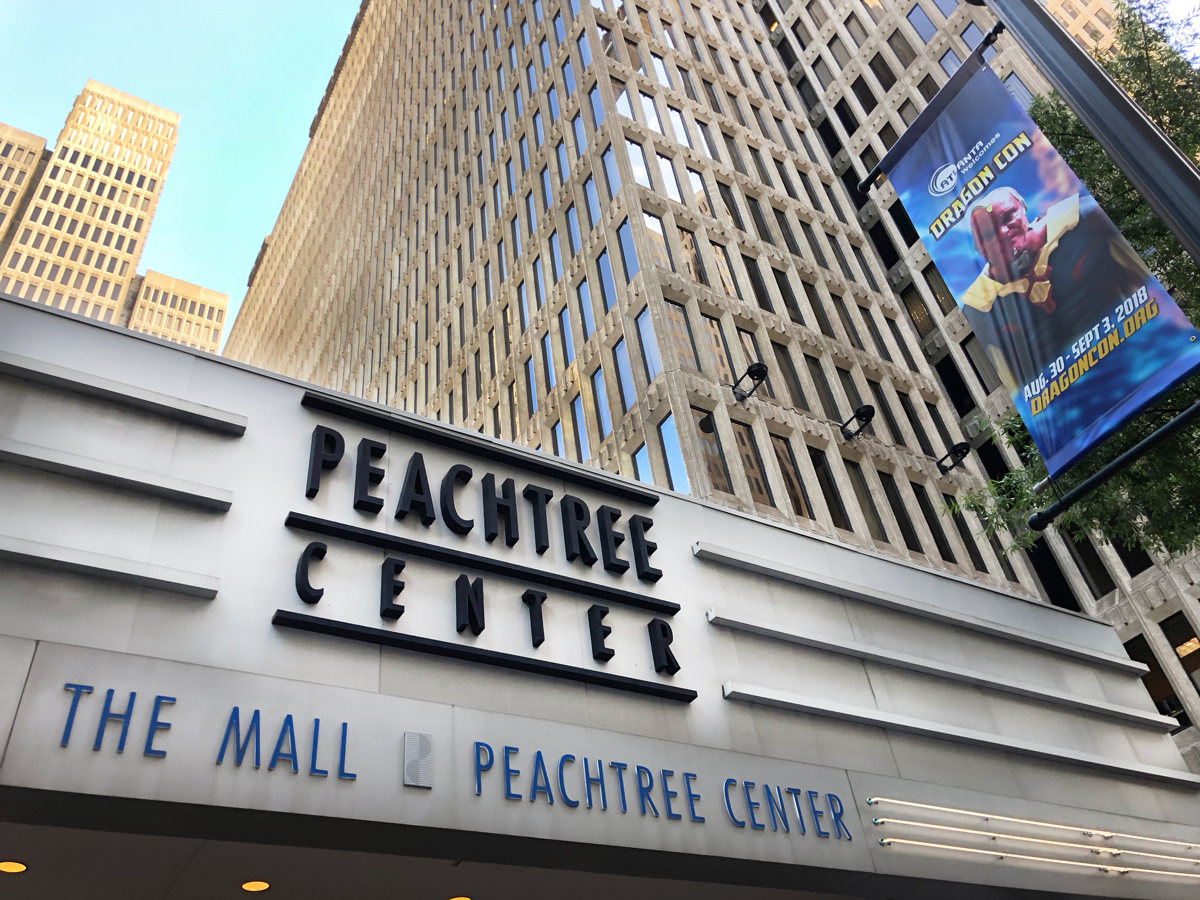 Peachtree Center Originally developed by John Portman, the mixed-use complex's office vacancy dipped to 55 percent last year and went into foreclosure despite upgrades to its public spaces in 2019.
Residence Inn by Marriott Planned to rise across the street from Centennial Olympic Park, this 19-story concept came to light in building permit records in 2021 but hasn't broken ground. It calls for 185 hotel rooms and 4,000 square feet of retail space on a 0.8-acre corner lot overlooking the National Center for Civil and Human Rights and Georgia Aquarium.
Science Square A year ago, the Development Authority of Fulton County approved a $650 million revenue bond to fund Georgia Tech's Technology Enterprise Park. Developers broke ground last summer on a 13-story laboratory and office tower—the first building in the 18-acre, $1 billion development renamed Science Square. Located in a federal Opportunity Zone, the project has a stated goal of inclusivity: Trammell Crow Co., one of the developers, announced a $500,000 grant to support job training, education, and outreach for area residents.
Signia by Hilton Atlanta This 40-story, glass-clad hotel will lord over Mercedes-Benz Stadium and the Home Depot Backyard as part of Georgia World Congress Center's expansion. With 975 guest rooms (plus two restaurants, a market, an outdoor events space, and a pool deck), the Signia will be one of Atlanta's largest lodges. It broke ground in 2021 and is expected to open in 2024.
SoNo The moniker, short for "South of North Avenue," came out of some Central Atlanta Progress brainstorming in 2005, when developers were trying to brand the then sleepy area between Midtown and downtown. Today, projects include the Emory Winship Cancer Institute, to be completed in 2023, and the Civic Center—which is on its third group of developers aiming to turn the property into a $1 billion mixed-use center.
South Downtown Newport started amassing properties here in 2016. Today, that portfolio includes 49 buildings and six acres of parking lots. The developer is helping shape a new district called "South Dwntn" with the restoration of historic Hotel Row (a collection of restaurants and shops with offices above) and the 222 Mitchell building across the street, both expected to open this year. Two new Broad Street towers are scheduled to deliver 650 apartments and a dozen restaurants and shops. More development is planned across at least 10 contiguous blocks over the next decade.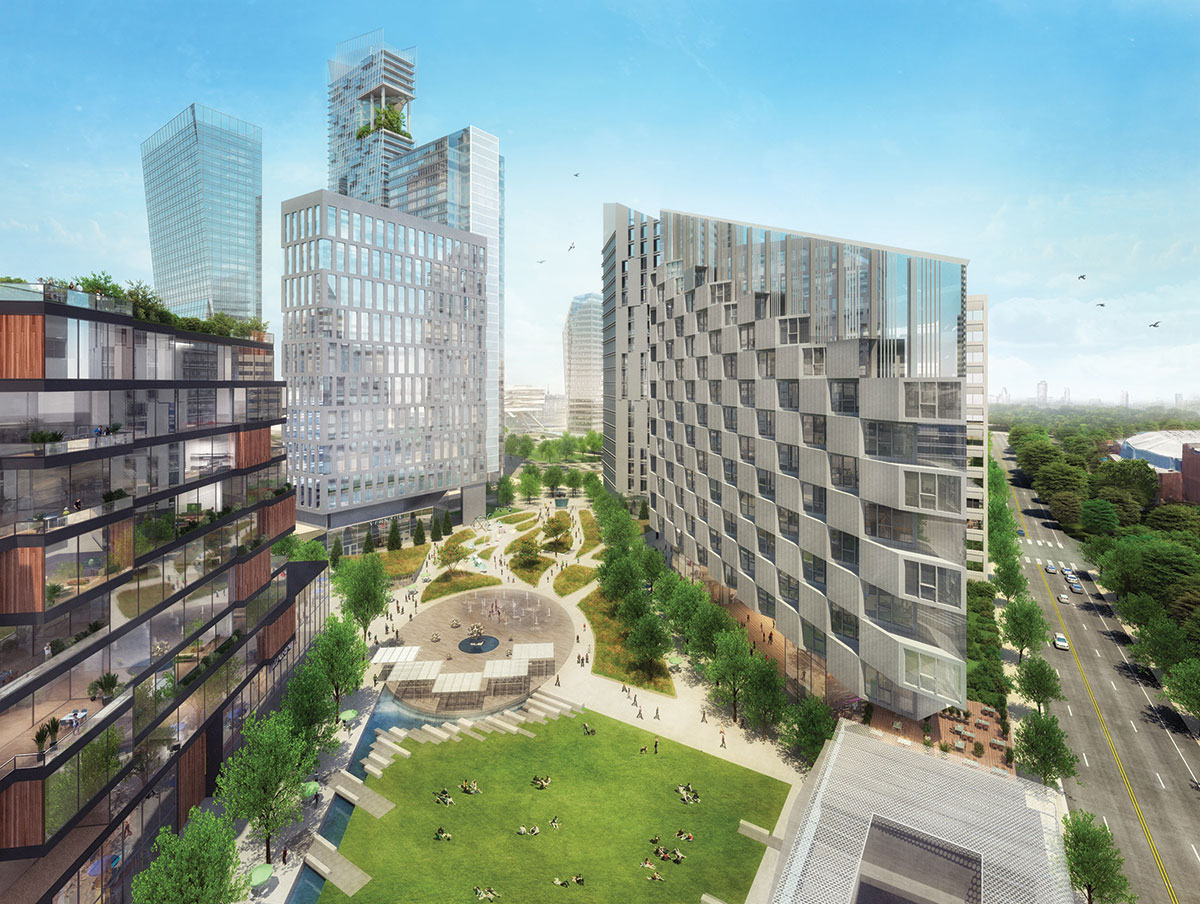 The Stitch Capping the north end of the Connector's Grady curve, the Stitch would create 14 acres of greenspace and development. The project, designed to reconnect neighborhoods cleaved apart by the federal interstate system in the 1960s, will not reach famously dissected Auburn Avenue. New spaces would include Emory Square, a plaza connecting the MARTA station, Emory University Hospital's Midtown campus, St. Luke's Episcopal Church, and the Medical Arts Building; a three-acre park called Peachtree Green; and a mixed-use area next to Georgia Power's headquarters. Construction could start in 2024 and take at least a decade.
Teachers Village $176 million, 33-story apartment tower on Cone Street with 426 units, ranging from studios to two-bedroom. Will include two stories of retail space totaling about 23,000 square feet, a rooftop sun deck, and a pool. Per developers, 47 apartments will be reserved for residents earning 80 percent of the area median income or less, with rents between $1,100 and $1,411. Rentals would be marketed to teachers, other school employees, and seniors. Groundbreaking is scheduled for February.
Underground Atlanta A former nightlife mecca with a tacky, city-owned shopping district behind it, the 400,000-square-foot complex again has a heartbeat. A food hall hasn't come to fruition, but the property recently signed Atlanta Brewing Company and Common Grounds Coffee Collective to fill street-level spaces near MARTA's Five Points station. Other concepts include Fulton County's Public Arts Future Lab, YELLE Beauty, and Daiquiriville, a restaurant and karaoke bar. Those join the Masquerade music venue and Future Showbar and Restaurant, a two-story LGBTQ hotspot. Plans call for towers to sprout around, adding hundreds of housing units and possibly a hotel.
Back to "Who is Downtown Atlanta For?"
This article appears in our January 2023 issue.