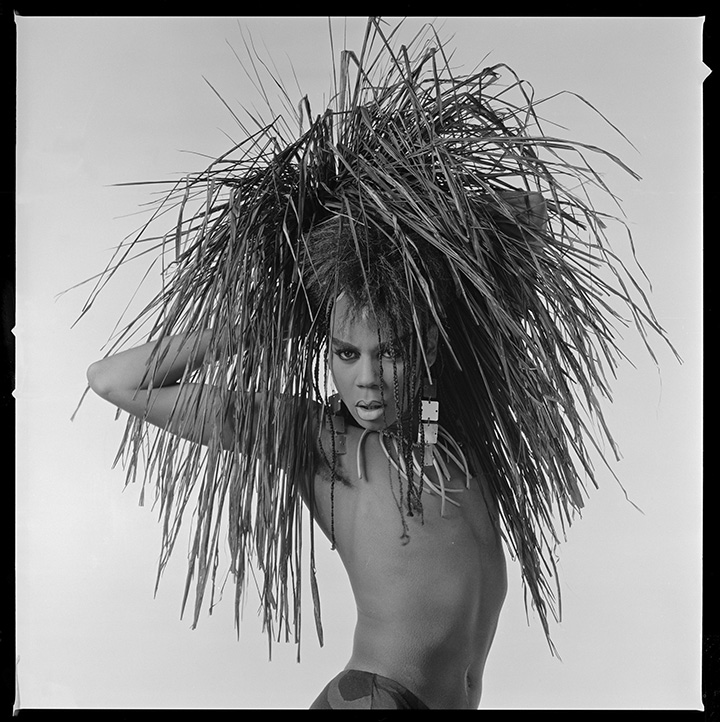 Before RuPaul Charles metamorphosed into a femme fatale household name, he was preening through Atlanta's nightlife as an avatar of androgyny known for his genius with props and accessories.
You might have seen him high-stepping in wading boots held up with garters, a loincloth, or football shoulder pads trimmed with fringe. However, when photographer Al Clayton invited him to the studio, Ru kept it simple: he stripped to the waist, donned a grass skirt as a hat, and arched his back. Elton John wanted this shot, which hangs in six-feet-by-six-feet glory on the wall of the EBD4 gallery in Chamblee as part of an exhibition called "1980's ATL Portraits of Drag Queens & Club Kids."
The show opens with a fundraiser event on Saturday called "Unseen Atlanta," benefiting Clifton Sanctuary Ministries, which does outreach work with homeless men, like the two whose portraits are featured in the show. (One of them, Joe, is the namesake of Joe's Place.) A week later, on October 19, the venue will host a dance party to celebrate the campy hedonists who made Atlanta a playground for nonconformists 40 years ago, pushing the boundaries of intersectionality long before that word and others—trans, cis, nonbinary—entered the mainstream conversation. The exhibition, which is also a part of this year's Atlanta Celebrates Photography, will then be free and open to the public from October 23-26, and will also include images from Clayton's Book Still Hungry in America and photos that were featured in the recent Ken Burns documentary Country Music.
For the youth culture living a nocturnal life, the 1980s were a time of decadence, pageantry, and creative ferment. The club kids flocked to Club Rio, Metroplex, Weekends, and Velvet, while drag queens Vogued at Backstreet and Lipstix.
"That era was a great experience for me since we were making movies, making music, doing television shows, and running clubs," says Larry Tee Thom, a photo subject and friend of RuPaul's who now hosts a reality show in Berlin. He cowrote the song "Supermodel."
"Atlanta had such a talented crew of artists, performers, and comedians, many of whom went on to bigger things—the ones we didn't lose to drug overdoses," he says.
"The 1980s also had a lot of problems," says drag queen DeAundra Peek, one of Clayton's photo subjects. "We had a president who didn't acknowledge that AIDS was decimating the gay community. So comedy was a matter of survival, to keep on keeping on. We loved to make each other laugh. People came to the clubs to escape bigotry and prejudice."
Clayton, who died in 2014, was not a denizen of this scene but had established a vaunted reputation for chronicling the South's demimonde with empathy and sensitivity.
"When people were in front of his camera, he treated them the way he would want to be treated," says David Hopkins, who was Clayton's assistant at the time. "He knew how to, with very little direction, give them a space to reveal themselves in a way so other people might really see them for the first time."
"He really appreciated the art of drag," says Charlie Brown, who was photographed applying a luscious coat of lipstick. "He got the fact that we are not men who want to be women—we are men by day who transform ourselves into women by night."
Peek marvels at the guilelessness in the images of herself as a young queen. "These photos were taken right at the beginning of my performance career," she says. "DeAundra was a sweet, innocent girl then. I think the photographer captured her wide-eyed newness perfectly."
Adds gallerist Elyse Defoor, who curated the show, "Al Clayton had the gift of capturing that soulful light that shines inside all of us."