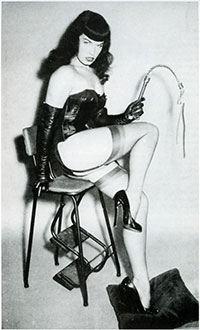 What ever happened to Bettie Page?
After just seven years as a pinup star, Page ducked out of public view and was elusive for half a century. The mystery is solved—somewhat—in Bettie Page Reveals All, a feature documentary narrated by the Queen of Pinups herself and directed by Mark Mori, a Georgia State alum and an Academy Award nominee for 1991's Building Bombs, which he made shortly after graduating.
Page, one of the first Playboy Playmates, retired in the late 1950s, weary after personal disappointments and a brush with a Senate committee that accused her of contributing to moral indecency. But her appeal endures: Forbes named her one of the top-earning deceased celebrities, tied with Albert Einstein at number eight in 2013.
Mori is the only person to get Page's authorized life story on film. In it, the then-elderly Page (she died in 2008) discusses her abusive, poverty-stricken childhood; her decades-long obscurity; her religious conversion; and a struggle with paranoid schizophrenia—including a ten-year sentence to a mental hospital after she pleaded not guilty by reason of insanity to attempted murder following a 1982 fight with her landlord. The narration is accompanied by gorgeous photos, video clips, and historic visuals, as well as interviews with celebrities, fans, and various Page exes—among them Hugh Hefner. The film, which played the festival circuit in 2013, is scheduled for wide release early this year.
Page at the Plaza
Bettie Page Reveals All, scheduled to open in Atlanta Christmas Day, will play at the Plaza Theatre through January 3.
Read more: Interview with filmmaker Mark Mori
This article originally appeared in our January 2014 issue under the headline "A Pinup's Secrets"