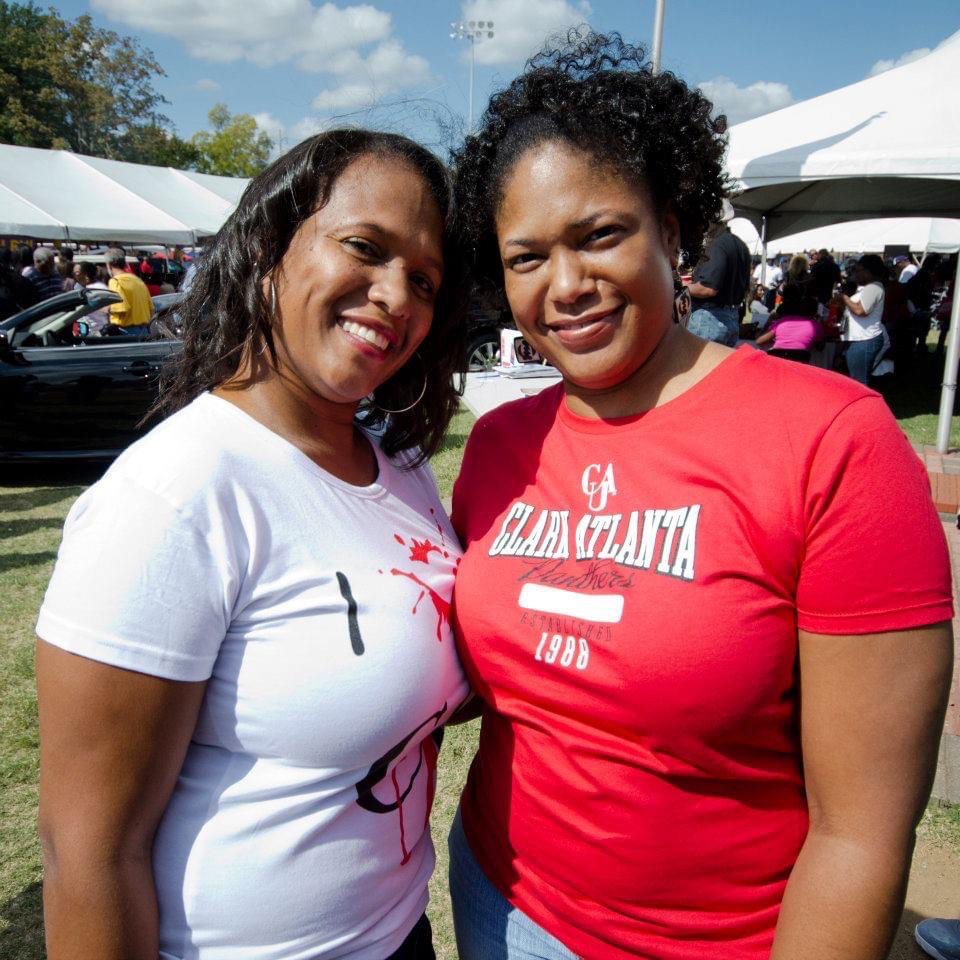 Kasey Phillips Brown (class of '94) and Minyon Frazier-Foluke (class of '93) meet up with friends for the Clark Atlanta University Homecoming nearly every year. Kasey travels from Lakewood, California, and Minyon from St. Louis. This year, Minyon's son is a freshman at Howard University, and Kasey's son started at Clark Atlanta. Both schools' Homecomings are on October 21. Minyon asked, "I guess that means we are going to CAU's Homecoming, right?" Kasey answered, "Of course." Kasey tells us how they do it.
Three or more months in advance
I usually stay with friends or family in Atlanta. Minyon books a hotel. We order easy-to-carry snacks and treats from First Batch Artisan Foods so we don't run low on our energy and get grouchy.
We also figure out what we're going to wear. Most of my classmates get a custom CAU letterman jacket from CAU alum Melvin Davis's MDJ Originals with their year and major on it. Or you see CAU sweatsuits from CAU alum George Hayne's Cosmic Park. We definitely support our fellow alums. Sororities and fraternities often have custom shirts to represent their lines or anniversaries. And you also see shirts representing college dorm rooms. This year I will be wearing my new "E.L. Simon Courts" shirt to represent where Minyon and I became roommates, my MDJ Original jacket, and a Cosmic Park sweatsuit. There will also be shirts representing college-days hangouts like "Club Woody," which is the Robert Woodruff Library, and Stegall's, which was a popular eating spot in the early '90s.
We study the schedule to decide which events to attend. There are celebrations hosted by sororities, fraternities, majors, classes, and various groups. It's an excellent time to network. I am the director of the Nan Washington Global Wellness Foundation, which promotes health and wellness. I try to host a wellness event before or after Homecoming. I'll find a school, foster care agency, domestic violence shelter, or other population to support.
At Clark Atlanta University, our two mottoes are "Culture for Service" and "Find a Way or Make One." We make sure we engage in both during our Homecoming experience!
Thursday before Homecoming
"The Fantastic 4" (a group of fellow '90s alumnae) throw a pre-party at a local bar. Last year it was at Sauce Buckhead, and people were spilling out into the streets. Previously it's been at the M Bar. The hugs are never-ending.
Friday
On Friday we hit the campus and connect with our people. Minyon was a business major, and I was a mass communication and social work major. Due to these Homecoming meetups, her friends are now mine and mine hers. It's amazing how our friendships remain intact over the years. We walk around retelling the same stories we've told a thousand times!
Friday night
We end the night at the CAU alumni house where we party and engulf ourselves in the wave of Panther love. This is the night things really kick off. It's beautiful seeing all the current CAU students on the yard having a good time, but there's nothing like moving over to the alumni house and being able to truly connect with those that know us in a way that no other person knows us. We joke about being jealous of all the conveniences current students have. Then we move into unlocking the vault of secrets and reminding each other of all the things that are never to be repeated outside these alumni house walls.
Saturday
We sleep in, then head to the game. Umm, but is there really a game going on? I must say we haven't watched a game since we were actual students. All the action is in the tailgate. There is food, music, and CAU fashion, which is unmatched. We visit all the different tents and see all the different people who make up our memories at CAU. You can smell the barbecue cooking.
Saturday night
The premier place for the '90s alumni to party is the CAU REUNION and RUNCAU event, always held on Saturday but moving to Friday this year. They have the DJs who were popular when we were students and who are now world-famous. They play all the jams from our time at CAU. You are sure to get a good "Yeek" session—a group dance where each person individually showcases their dance moves. It's not a Homecoming party until you see today's CEOs and politicians, doctors and lawyers turn into Yeek nation.
Sunday
There is an early-morning chapel service that we usually are too tired to attend. We say our good-byes and promise to see each other next October.
This article appears in our October 2023 issue.