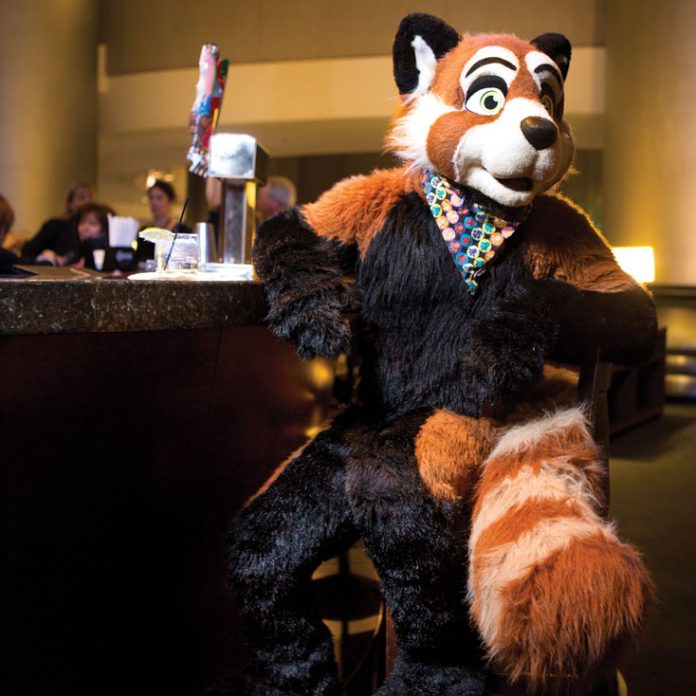 Photograph by Mike Colletta
Please don't tease the animals.
"It's considered a breach of etiquette to sneak up and pull someone's tail," says the man known as "Tiger Paw," founder and director of Furry Weekend Atlanta, which celebrates its tenth anniversary March 14 to 17 at the Westin Peachtree Plaza. "It's hard to see and maneuver inside one of these big animal heads—not a lot of peripheral vision—so you don't want to make someone fall."
However, you are encouraged to bray, roar, and howl with a cuddly menagerie at the convention, which features panel discussions on costuming, music, and dancing; video game and comic book vendors; improv skits; and art exhibits by and for furries, or people who enjoy modeling animal-mascot costumes and other customized ensembles known as fursuits.
Furry fandom, which celebrates anthropomorphic characters, formalized in the 1980s as an offshoot of sci-fi/fantasy conventions. It has suffered some image problems, such as when an episode of CSI erroneously conflated furries with plushies, or plushophiles, a separate subculture of people who sexually fetishize stuffed animals.
"That has nothing to do with us," says Tiger Paw, explaining that FWA is a PG-rated event attended by families with children. The fourth-largest fur convention, FWA should draw 2,200 this year; the biggest—Pittsburgh's Anthrocon—attracts some 5,200. Of course, "there is some partying back in the rooms, as there is any time you get thousands of people with shared interests together," says Tiger Paw. "But sexual activity is not our mission."
Furry identities vary, taking cues from Disney (The Lion King has its own following), Aesop, and anime. "It's all about anthropomorphism, or having fun with combinations of human and animal traits," says Tiger Paw, a thirty-six-year-old IT specialist. "It's a very personal quest. For some people, it's about art and creative expression, and for others, it's about an affinity with a particular totem animal."
He falls into the latter category, sporting a small feline charm with his civilian clothes. "I've always loved big cats and especially liked The Jungle Book when I was a kid," he says, noting that a percentage of FWA admission fees supports the Conservators' Center, an exotic animal sanctuary in North Carolina. Furries are big on honoring their muses.
Nationally a few dozen whimsical couturiers specialize in fursuits, which average $2,500 but may top $10,000 if they include animatronic effects. These outfits are not a requirement for attendance at the convention, and some revelers slack off with just ears and a tail or no costume at all. Occasionally a Storm-trooper, seemingly lost from Dragon-Con, wanders into the mix. "Fursuits are usually either cute and cartoony or growly and feral," says Tiger Paw, who moonlights as a red panda in his less ferocious moments.
"We're subject to trends like any other group," says Tiger Paw. "For a while, wolves and huskies were hot, and lately otters seem to be gaining steam." While these critters are as diverse as any other ecosystem, their human alter egos are predominantly male professionals in their early twenties. Happily for them, more women are picking up the scent and arriving in vixen-wear.
"Part of the appeal of being a furry is that you get to be a kid again," he says. "You walk around in a suit that makes people smile with joy the moment they see you—it's addictive."
This originally appeared in our March 2013 issue.