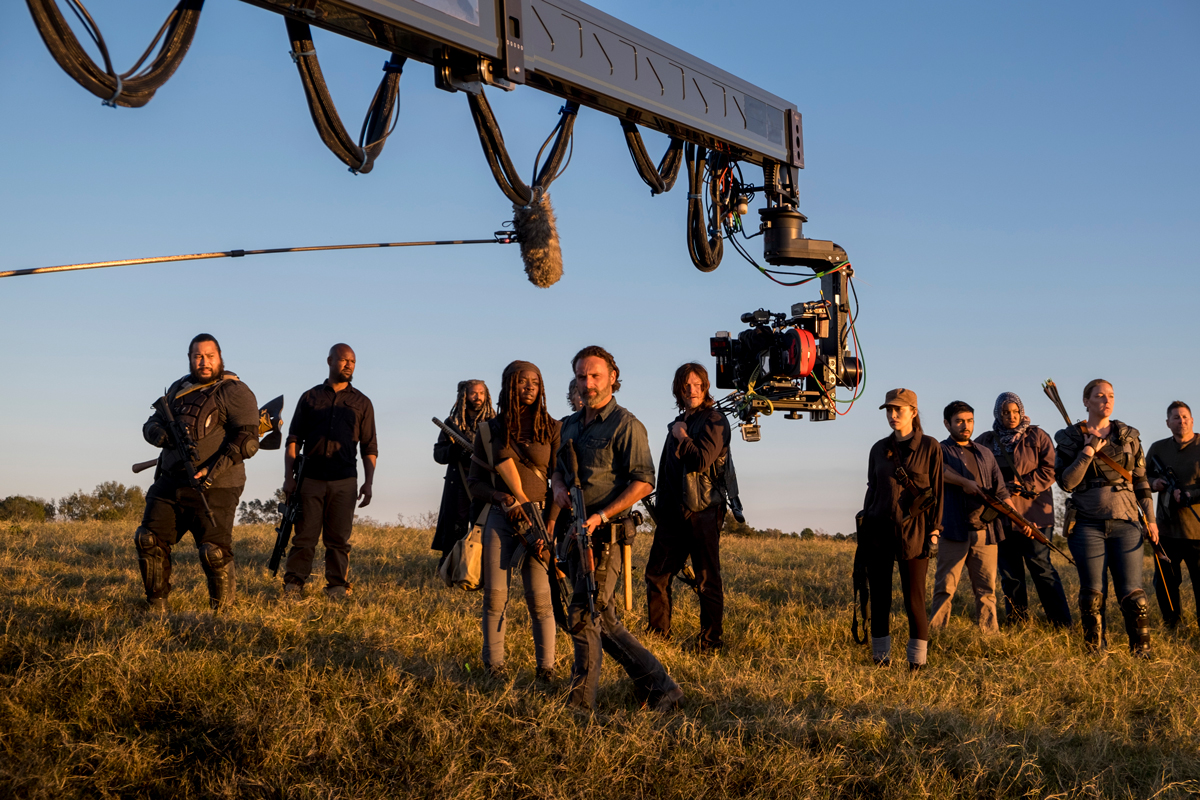 On May 7, Governor Brian Kemp signed House Bill 481 into law, effectively banning most abortions after six weeks, before most women even know that they are pregnant. The law does not take effect until January 2020, and the ACLU of Georgia and Planned Parenthood Southeast have already vowed to file lawsuits, which could block the measure while it winds through the courts. Nonetheless, Georgia's $9.5 billion film industry now finds itself anxious and uncertain. Local crew members fear boycotts, several studios have spoken out against the law, and a few productions have cited the law as their reason for opting not to film in Georgia. Below, we break down what has happened so far and what comes next for one of the state's largest industries.
Okay, so who so far has actually pulled out of Georgia?
Only two productions have confirmed they will not shoot in Georgia due to the abortion law, and neither had actually begun shooting in the state. One was The Power, an Amazon series based on the Naomi Alderman novel, that had been scouting filming locations in Savannah. Filming in Georgia would have been poor optics for the show; the dystopian novel about teenage girls who can electrocute those who oppress them was inspired by Handmaid's Tale author Margaret Atwood. "There is no way we would ever bring our money to that state by shooting there," director Reed Morano, who worked on Hulu's The Handmaid's Tale series, told TIME magazine. The other was a film called Barb and Star Go to Vista Del Mar, a comedy about two best friends (Kristin Wiig and Annie Mumolo) who take a vacation to Florida. In addition, EUE/Screen Gems president Kris Bagwell told the Atlanta Journal-Constitution that a Netflix film had left his Atlanta studio.
Who says they'll avoid filming in Georgia if the law is upheld?
David Simon of Blown Deadline Productions (HBO's The Wire, The Deuce, Treme) was one of the first, on May 8, to say that he wouldn't shoot in Georgia. Christine Vachon of Killer Films (Carol), Mark Duplass (HBO's Togetherness), Neal Dodson of CounterNarrative (Netflix's Triple Frontier), and Nina Jacobson of Color Force (Diary of a Wimpy Kid, Hunger Games) also vowed to boycott the state. Atlanta-filmed Ozark star Jason Bateman told the Hollywood Reporter he would stop filming in Georgia if the law goes into effect, and Ron Howard and Brian Grazer said they'd keep their film Hillbilly Elegy in the state this year but wouldn't return if the law stands.
What really caught the attention of industry observers was Netflix's announcement to Variety on May 28, saying that, while they'd continue shooting in the state for now, "should [the abortion law] ever come into effect, we'd rethink our entire investment in Georgia." The streaming company is one of the biggest players in Georgia right now, with Stranger Things, Ozark, Insatiable, and Holidate among the recent credits. The next day, Disney CEO Bob Iger told Reuters that it would be "very difficult" to film in Georgia if the law goes into effect. "Right now, we are watching it very carefully." Disney owns Marvel Studios, which has given Georgia its biggest blockbuster ever in Avengers: Endgame. On May 30, AMC Networks (The Walking Dead), NBC Universal, CBS, Showtime, Viacom, Sony, and WarnerMedia (which owns HBO) all released similar statements saying that if the law goes into effect, they'd reconsider plans to film in Georgia. Big studios such as Netflix and Disney drive a lot of economic power, buzz, and clout, all of which help the industry grow—and contribute to those statistics the governor's office loves to tout, such as earning Georgia the No. 1 spot in the FilmL.A. study in 2016. That ranking is based on how many of the top 100 highest-grossing movies are filmed in a state. Georgia slid to the No. 2 spot in 2017. Undoubtedly, the state would keep sliding further down without the support of the major studios.
Have any celebrities or studios talked about staying in Georgia, rather than boycotting?
J.J. Abrams and Jordan Peele announced they'd still film HBO series Lovecraft County here but pledged to donate episodic fees to the state chapter of the ACLU and Fair Fight Georgia, a nonprofit dedicated to free and just elections headed by former Democratic gubernatorial candidate Stacey Abrams. Netflix, Howard, and Fear Street producers Peter Chernin and Jenno Topping have all promised support for the ACLU. In fact, in early June, the New York Times reported that Chernin, whose company Chernin Entertainment currently has two productions filming in Georgia, would launch a campaign to donate $15 million to the organization.
Actress Frances Fisher, who is currently filming Watchmen and Holidate in Atlanta, said she opposed a boycott and urged people at the#DoBetterGA protest rally on May 25 to donate to grassroots organizations here. Production designer Hannah Beachler, who won an Oscar for her work in Atlanta-filmed Black Panther, also tweeted, "Don't boycott Georgia! Leaving comes from a place of privilege. Stay, donate, help fight with the women and children."
Abrams herself has been vocal about her opposition to boycotting. In June, she traveled to L.A. at the invitation of former CBS chair Nina Tassler and spoke to a group of anxious film industry executives and employees, defending her position on why a boycott would ultimately hurt Georgians. "Not everyone agreed, but there was much more agreement when we left than arrived," she told the AJC. "I don't disparage boycotts. They have their function. But this is a situation where the political realities are that a boycott won't have the intended effect."
What about the people who work in the industry here in Georgia? What are they saying?
Stay and Fight Georgia, a group founded by camera assistant Callie Moore, had raised more than $12,000 for the ACLU of Georgia by late June. In addition, a Change.org petition launched by local production designer Molly Coffee and several other women in Georgia's film industry had nearly 4,500 signatures as of late June and urges those in Hollywood not to boycott but rather to continue supporting Georgia workers. A small group of women at the #DoBetterGA rally, all wearing T-shirts with the "We Work Here" slogan featured on the petition, said they'd prefer people stay and fight in Georgia rather than boycott. "What we need right now is people to be on our side, not just be like, you know what, I'm outta here, because it's too messed up or it's beyond help," said Mazzy Solana, a set decoration buyer who has worked in the film industry for a decade. "We don't want to feel like we're beyond help. We need all the help we can get right now."
IATSE Local 479, the labor union that represents many crew members in Georgia's film industry, released a letter to its members in April trying to calm fears by noting that the law would likely get held up in court and that "most responsible persons in the industry and the media, as well as many politicians, recognize that a boycott of Georgia will only adversely affect the thousands of jobs created by the entertainment industry in Georgia." The union pointed out maintaining the 30 percent tax credit that incentivizes the industry—unlike many other states, it does not have a cap, making it one of the most attractive in the country—is still the most critical issue. On May 24, the union released a statement condemning the bill and thanked production companies that "are committed to stay and fight." The union said it would work to "produce a political campaign to address the challenges our industry is facing in Georgia."
Related reading: Hey, Hollywood: Boycotting our state will hurt Georgia women, not help them—a local film industry worker pens an open letter, suggesting another way to fight
Didn't this whole thing happen three years ago with the "religious liberty" bill?
Kind of. On March 28, 2016, then Governor Nathan Deal vetoed House Bill 757, which is more commonly known as the "religious liberty" bill. Critics had warned that the Republican-sponsored bill could be used to discriminate against LGBTQ Georgians, and some of the state's largest businesses, including Coca-Cola and Delta Air Lines, opposed the measure. Disney and Marvel Studios, who at the time were shooting Guardians of the Galaxy Vol. 2 in Atlanta, threatened to stop doing business in the state if HB 757 was enacted. AMC also urged the governor not to sign the bill.
When Deal vetoed the bill, he said in a press conference that Georgia was home to "warm, friendly, and loving people" who worked together regardless of race or religion. "That is the character of Georgia. I intend to do my part to keep it that way."
Because HB 757 would have gone into effect immediately rather than be submitted to the nine-month waiting period placed on HB 481, the backlash against the "religious liberty" bill was swift. The bill passed on March 16, and Disney released its statement one week later. In contrast, it took Disney 21 days to respond to Kemp's signing of HB 481. The language was also stronger for the "religious liberty" bill: " . . . we will plan to take our business elsewhere should any legislation allowing discriminatory practices be signed into state law," according to the AJC, as opposed to Iger saying that Disney is now "watching it very carefully."
How is Kemp reacting to all of this?
During his campaign, Kemp stressed that he was committed to upholding the film tax credit. But he also ran on an anti-abortion platform, and as he has reiterated since, he is upholding his campaign promise. Unlike Deal, Kemp doesn't seem unnerved by potential business backlash, at least not in the film industry. "I understand that some folks don't like this new law. I'm fine with that," he said on May 18 during the Georgia Republican Convention in Savannah, according to the AJC. "We're elected to do what's right—and standing up for precious life is always the right thing to do . . . we value and protect innocent life—even though that makes C-list celebrities squawk." He did postpone an annual trip to L.A. to promote Georgia to the film industry after threats of protests, according to the AJC. He traveled to Pinewood Studios on May 22, seemingly to try to reinforce his commitment to the film industry, visiting the Georgia Film Academy and meeting with some Pinewood executives, according to 11Alive.
Who would a boycott hurt? Who would it help?
Those advocating a boycott hope that they can send a message to Georgia and other states with their wallets. Georgia's film industry generated $9.5 billion in economic impact in 2018 and $2.7 billion in direct spending
There is some past success for boycotts: North Carolina's legislature repealed a section of its infamous "bathroom bill," which made transgender people use facilities of the genders assigned at birth, after boycotts from important economic supporters such as the NCAA. However, even after the "bathroom" clause was repealed, the bill drew criticism for barring cities from creating their own antidiscrimination ordinances until 2020, causing Netflix in January to move the $60 million production of film series OBX to South Carolina.
An industry boycott could likely play out in the Republican governor's favor among his base. As Greg Bluestein and Tamar Hallerman wrote in the AJC on May 31, "Kemp won the election by wringing out as many votes from conservatives as he could. And many of those voters, especially from rural Georgia, couldn't care less about Hollywood boycotts." Georgia's nascent film industry still imports many crew members and actors from blue states such as California and New York. Some of those people lay down roots here in Georgia and subsequently become Georgia residents (and voters). But if those people stop coming here—and if progressive voters working in the industry leave the state—that could mean more Republican votes and support for the governor and his party. That's the theory at least; not all workers in the film industry (or the people who own businesses benefiting from production spending) are Democrats.
Assuming the law takes effect, a boycott would hurt the thousands who work in the industry, many of whom are native Georgians, and those who work in ancillary businesses that serve the film industry—hotels, food service, transportation, etc. (A 2018 press release from the governor's office said that the industry is credited for more than 90,000 jobs in Georgia and allowed more than 300 businesses to relocate or expand in the state since 2010.) It would also hurt smaller Georgia towns such as Senoia, Newnan, and Covington. The latter is so devoted to its film industry ties that it actually trademarked the phrase "Hollywood of the South." Tourism has gone up in these areas thanks to fans seeking out filming spots for The Vampire Diaries, The Walking Dead, and other popular franchises, leading to additional hotel and restaurant dollars.
So what happens now?
As is the case in some other states that have recently passed restrictive abortion laws, the goal for these laws is to ultimately work their way to the U.S. Supreme Court and challenge the 1973 Roe v. Wade ruling directly. (Alabama Governor Kay Ivey mentioned challenging Roe v. Wade in her statement on May 15 when signing that state's even more restrictive abortion bill.) Unless HB 481 survives all challenges and appeals, abortion will remain legal in Georgia until 20 weeks gestation.
In the meantime, work hasn't slowed. "We're still busy, and we're going to be busy for the next year or so," said Myra Foy, a labor delegate with IATSE Local 479. "I think there's no need to panic right now. Right now, [we need] to be mindful but keep grinding. That's the most important thing."
Update 6/8/19: This story was updated to reference the May 24 statement from IATSE Local 479.
Update 8/12/19: This story was updated to match the version that ran in our August 2019 issue.