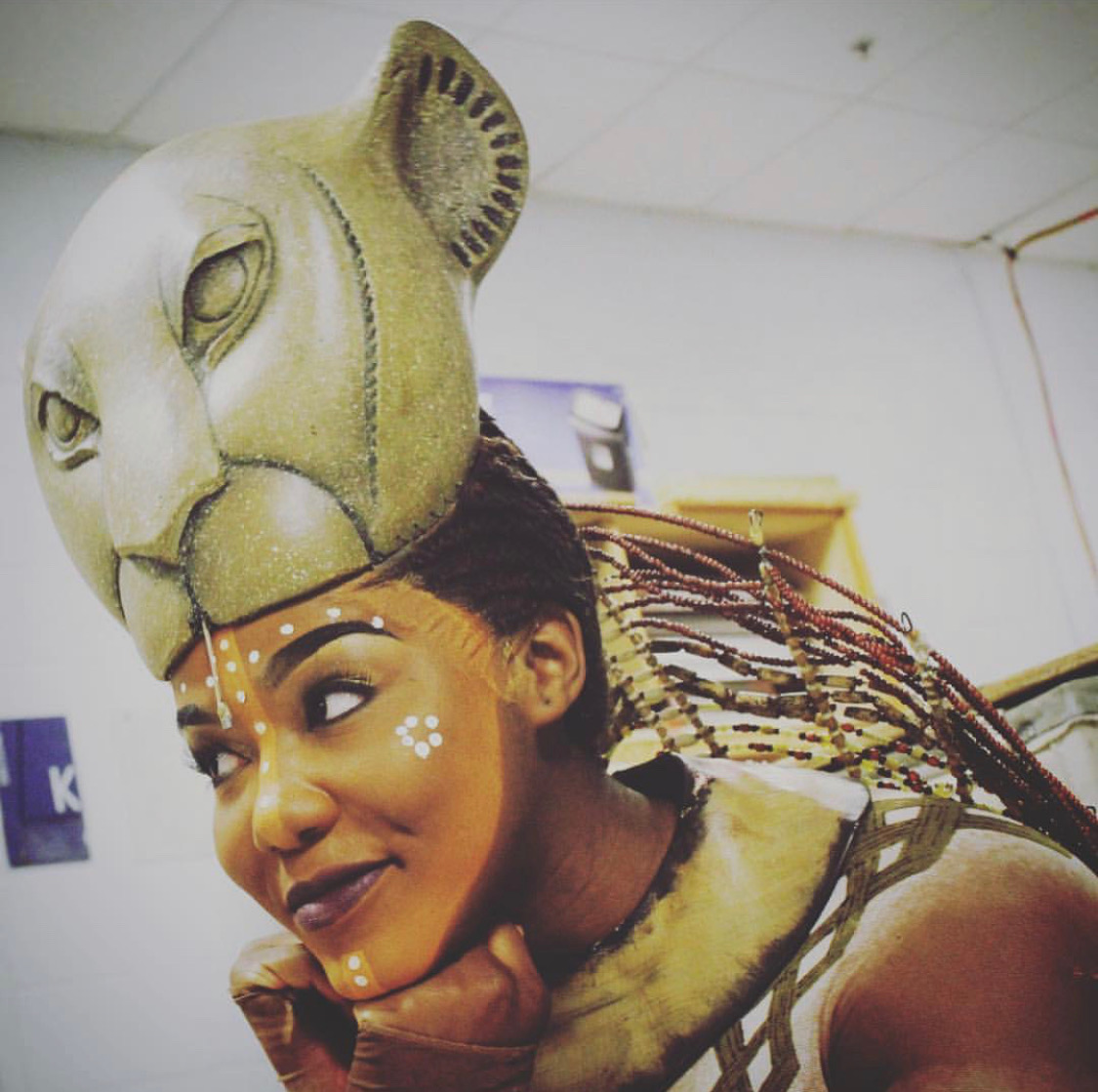 Driving downtown on I-85, the sight of the Varsity restaurant shrinks under Atlanta's tallest skyscrapers, but what it confirms to Nia Holloway is that she's home. For the past six years, Holloway has lived traveling on the road. At 17, she became the youngest person of the Disney Lion King National Tour to land the role of lioness Nala. While it's been a grind, Holloway said it's also been a dream come true.
Holloway attributes her aunt for discovering her singing talent when she was a child. "Bag Lady" by Erykah Badu played on the car radio, and in the backseat, a four-year-old Holloway sang softly. Intrigued, her aunt turned the radio down to hear her voice more clearly. "My family tells me that she just flipped," Holloway says. The rest is history, but when considering the musical roots in her family, it may seem like fate. Holloway's great grandmother is Sylvia Shemwell, a former member of R&B group The Sweet Inspirations, who later performed as Elvis Presley's backup singers. Her grandmother, Loleatta Holloway, is a legendary disco singer—her vocals were perhaps most famously sampled on the 1991 Marky Mark and the Funky Bunch hit "Good Vibrations."
Holloway's career began in the "Stars of Tomorrow"—a contest geared towards rising artists hosted at New York's Apollo Theater, where her grandmother had previously performed. By the time she was 12, she had won the competition twice. At 15, she appeared on Majors and Minors, a short-lived cable reality singing competition where 12 artists were mentored by music stars such as Brandy, Jennifer Hudson, and Will.i.Am. She spent two years doing local theater in Atlanta while attending Norcross High School, until The Lion King auditions changed her life. Below, we chatted with Holloway about what it's like to achieve a dream at such a young age and why she loves coming home to Atlanta.
What was it like to audition for the role of Nala?
The audition consisted of singing the solo that I sing in the show, a song of our choice, and reading a scene. I auditioned for Mark Brandon, who's been casting for Disney for 20 years. He was a very tough critic, and the audition process lasted two days in Atlanta. Then, about two months later, I got an email saying I could come to the final audition in New York.
New York was also a two-day audition. We did the same thing—singing, acting and dancing. It was me among 40 other women. Then it was narrowed down to me and four others. That audition was one of the best auditions I'd ever had, and it was the most confident I had ever felt. I felt like I owned it already.
Was there something specific you did that made you feel like the part was already yours?
It was a combination of humility and confidence. I was owning who I was in the moment. Two weeks later, I was on spring break. It was like 6 a.m., and my mom woke me up saying, "Good morning, Nala," and I just started bawling. By the time I got out of school a month later, I was rehearsing. My life pretty much changed after that.
How did you cope with the transition at that age?
[My parents] were very hesitant because they wanted me to finish high school, and I wanted to, too. I wanted to graduate with my friends. Disney was really good about providing a lot of tutors, and also, the people at Norcross did a good job at helping me in the year. Traveling and doing eight shows a week is grueling. It was already hard.
My first year on tour, my dad came with me. He helped me a lot, just getting acclimated to touring. I was only 17 years old, so I didn't know how to travel the country, how to pack, or eat properly. It was all happening so fast. I was really grateful that my dad came with me.
When I first started on tour, that's when I started to get into yoga. It helped me get centered. I don't get to see my family often and I perform all the time, so yoga not only helps with my body, but it helps with my mind and my spirit just to stay sane.
What do you take the most pride in playing Nala?
The show has been around as long as I've been alive. It's impacted the world in a special way, and not just because it's The Lion King, but because of the story. To be in a show that impacts so many people is humbling.
To be the youngest to ever get the role, it's unreal. As a black woman, to be a leading woman in the biggest show in the world, it's special because people will tell you that you can achieve your dreams, but you don't see any representation of it. I remember growing up, there wasn't enough representation. Now, a lot of young black kids come to the show, and when they see me, they can be inspired. I'm just glad I can be an example of something strong.
Have you found being a black woman in the industry to be difficult?
Being a black woman in this world is magical. I know we have a lot of tough things we deal with, but for me, we have so much strength inside of us. I've never seen me being who I am as an obstacle. When I walk into a room and hold my head high, nothing can defeat that. That's what I hope I give to other woman watching me, any woman [of any race]—it doesn't matter. That's how I feel like I carry myself, and I would want every woman who sees me to feel the same way.
What's the significance of your solo in the show, "Shadowland?"
"Shadowland" is a song that's not in the animation. It was written by Julie Taymor, the creator of the musical. She added it because Nala didn't really have a backstory in the animation. In the musical, you get more of her story and more of what was happening when Simba left the Pride Land. "Shadowland" is a song that talks about how her home is basically being destroyed, but she will find help for her people and restore it.
For me, it's always emotional when I think about how I'm always away from my family. Nala is leaving her family to find a better purpose. Especially in the beginning, when I was away from everyone for the first time, it was emotional to be so vulnerable on stage with a song like that, because when you actually feel like that, it can be tough. It still happens, even six years in. I get used to the performing and the tiredness, but being homesick is something I never got used to. So, "Shadowland" always hits a soft spot for me.
Where's your favorite place to perform?
It would have to be Atlanta. It's always nice to perform and then go home and sleep in my own bed. The energy too, the Atlanta audience is like no other, and the Fox Theatre is absolutely beautiful.
Is there a place you'd like to perform?
I want to go Alaska. I heard it's so beautiful, and I want to see the Northern Lights. Actually, New York City, on Broadway. That's a place I'd like to go, that's the dream.
Are you working on anything else?
TV and film is next for me. I want to do everything. I'll always come back to theater, but right now TV and film is my next focus. We say one thing, and then God has a different plan. I'm just going to work and let things play out how they're supposed to.